50 Things Economic Developers Need To Know This Week
The stories that you need to see from this week. November 11, 2021 edition.
1) Thanksgiving dinner staples are low in stock thanks to supply-chain issues: Turkeys, yams and pies are low in supply, though aluminum foil to cover it all will be easier to find than last year
---
2) Faced with soaring Ds and Fs, schools are ditching the old way of grading:
Educators are moving away from traditional point-driven grading systems, aiming to close large academic gaps among racial, ethnic and economic groups. The trend was accelerated by the pandemic and school closures that caused troubling increases in Ds and Fs across the country and by calls to examine the role of institutionalized racism.
---
3) Surging gasoline, food prices fan U.S. inflation: US consumer prices accelerated in October as Americans paid more for gasoline and food, leading to the biggest annual gain in 31 years, more signs that inflation could stay uncomfortably high well into 2022 amid snarled global supply chains.
---
4) Roads, transit, internet: What's in the infrastructure bill: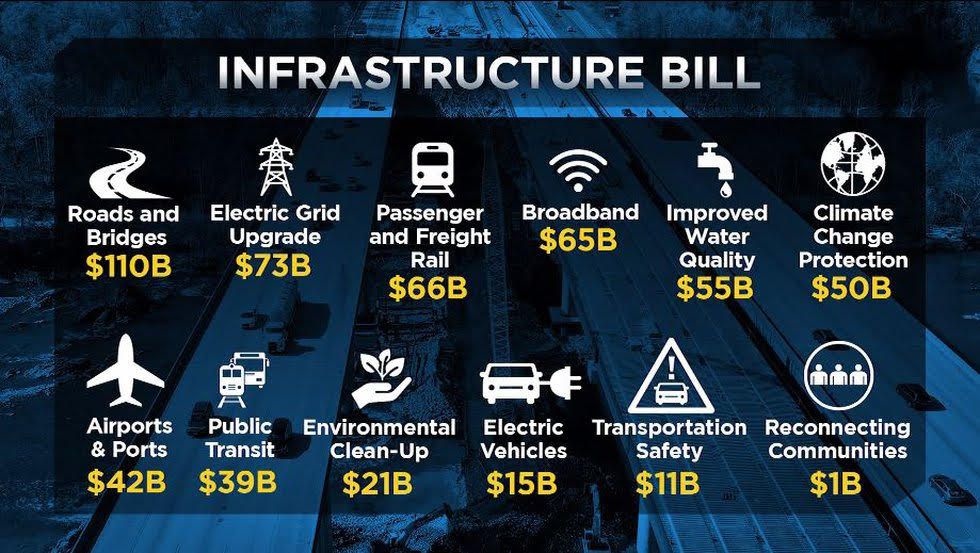 ---
5) Small Town. Big Housing Crisis: We need to address the big-picture, national factors pushing housing costs up and up. But we also need the messy, local, improvised responses—and not just in a Silverton or Mancos. Big cities should be doing the messy stuff, too. It's just that big cities have more ability to use debt to delay the day of reckoning.
---
6) How this engineering company found its new production plant in Arizona over Zoom: A Swedish medical business was looking to expand operations in the U.S., but the pandemic hindered its site search. So they made it entirely virtual.
---
7) How COVID-19 permanently digitized site selection: Digital-only site selection for big location expansions without f2f visits isn't just news for economic developers, it's also news for a business audience.  Part 1 again. and Part II
---
8) The biggest kink in America's supply chain: Not enough truckers.
---
9) A pot roast can set you back $100 as meatflation hits shoppers: Inflation's next victim might be your Sunday dinner.
---
10) How to think about the Covid recession: This was a recession like no other in recent memory. The pandemic downturn was driven by all those industries that are supposed to be recession-proof — trips to the dentist, electricity usage in offices and malls, and so on. And the normally countercyclical education sector had big enrollment drops despite the bad economy.
---
11) How far along are you in your holiday shopping?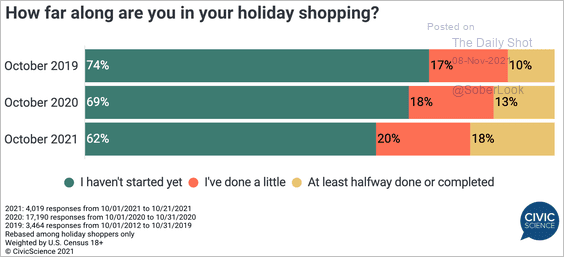 ---
12) How American leaders failed to help workers survive the 'China Shock': Standard economic theory said that the non-college-educated workers who lost their jobs would move or retrain and find work in other places or sectors. But they didn't. Most stayed put and were never fully employed again."
---
13) Help really wanted. No degree, work experience or background checks: Employers are easing job requirements and speeding up hiring procedures to survive a U.S. labor market with more openings than applicants
Amid a global supply chain crisis, how New Orleans' port has avoided major shipping delays:The reason largely reflects the broad trade geography of the Port of New Orleans. Its position on the Mississippi River near the Gulf of Mexico enables it to be both a river and sea port, serving a vast hinterland as well as a global foreland.
---
14) Americans are flush with cash and jobs. They also think the economy is awful:
The psychological effects of inflation seem to have the upper hand.
---
15) Why Americans are so grumpy about their economic boom: There's a big gap right now between consumer sentiment and statistical indicators. It should narrow, but may not go away.
---
16) Why the chip shortage hasn't been fixed yet: As with any complex supply-chain quagmire, there are a number of different factors that are building on one another, which means there isn't one simple fix to the semiconductor shortage. Here's a breakdown of what's likely to making it so bad.
---
17) America needs a new scientific revolution: A repurposed antidepressant might help treat COVID-19, a remarkable study found. The way this research was funded highlights a big problem—and bigger opportunity—in American science.
---
18) The five stages of coming to terms with a global chip shortage: It turns out those early-pandemic toilet paper hoarders were onto something, even if they missed the mark.
---
19) The effects of residential zoning in US housing markets: This Yale PhD student evaluates the effects of minimum lot areas, finding that such zoning restrictions limit housing supply and raise house prices. Halving lots in Connecticut, Song calculates, would "substantially increase the supply of small and cheap homes" without much effect on the values of existing homes.
---
20) City garbage collection is finally getting the disruption it deserves:
Trash cans are a ubiquitous, and malodorous, fact of urban life, but a few dozen cities around the world are experimenting with eliminating them. In their place, local governments are installing chutes which connect to an underground system of pneumatic tubes that use high-pressure air to whoosh garbage away to a handful of centralized collection points.
---
21) Drilling in Yellowstone could save America: A plan for generating carbon-free energy and staving off a caldera explosion.
---
22) Pandemic recovery: Have North American downtowns bounced back?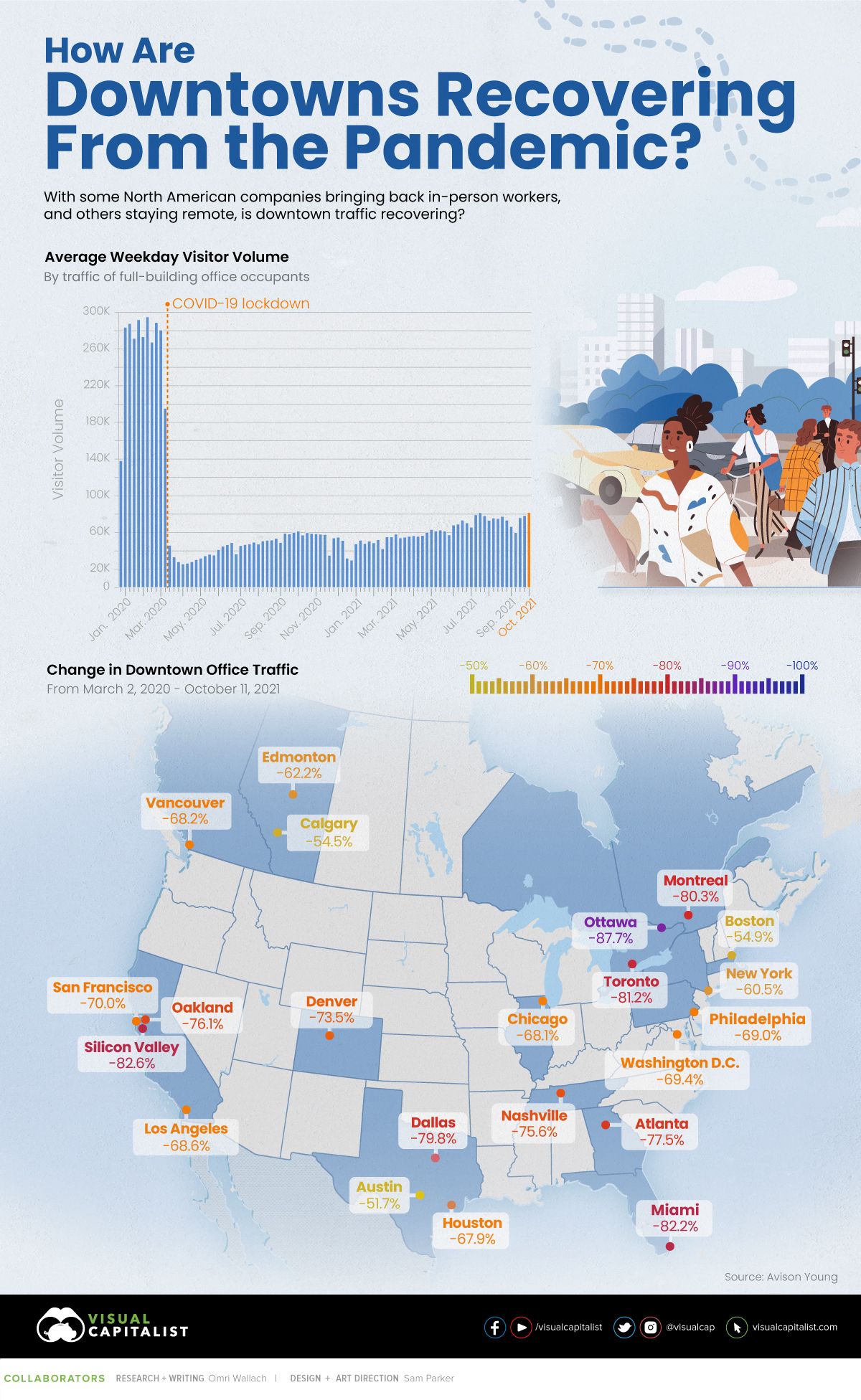 ---
23) There is not enough housing for sale or rent in communities across the country.

---
24) Was the office always this distracting? Get ruthless about your productivity now: Chatty colleagues and hybrid meetings don't have to break your concentration as you transition from remote work; 'We can reclaim control over our environment'
---
25) The 37-year-olds are afraid of the 23-year-olds who work for them: Twenty-somethings rolling their eyes at the habits of their elders is a longstanding trend, but many employers said there's a new boldness in the way Gen Z dictates taste.
---
26) A trucker reports on the supply chain crisis.
---
27) Meet skimpflation: A reason inflation is worse than the government says it is.
---
28) Research: People prefer friendliness, trustworthiness in teammates over skill competency.  People who are both trustworthy and competent are most sought after.
---
29) The LinkedIn Economic Development Newsletter for October 2021 is out.
---
30) How working from home could change where innovation happens: For decades, 'superstar cities' have been attracting talent and money. But thanks to remote work, their status is likely to change in unexpected ways, bringing tech expertise to places that have long tried to attract it.
---
31) Video: An epidemic of car break-ins in San Francisco creating a glass shortage at repair shops.
---
32) SDG President, Mark Williams, was on The Next Move Group's podcast with Chad Chancellor talking about his new book on site selection and economic development.  Listen here.
---
33) Labor shortages reach the North Pole: Santas are in short supply as demand rises and some remain wary of risking Covid-19 exposure.
---
34) Introducing the chokepoint economy, when shortages start to matter:
Everywhere you look, there are shortages and bottlenecks. Containers for shipping are in short supply and ports are struggling to keep up with demand. Semiconductors — a crucial component in everything from cars to iPhones — have been so scant that they're impacting production of cars and GDP. There are shortages of lumber and pallets.
---
35) Wall Street lunch hour dogged by bread supply crisis:
Bloomberg's Pret Index shows that transaction volume in the downtown Manhattan cluster that includes Wall Street retreated to 50% of pre-pandemic levels last week. The drop from 56% a week earlier was almost entirely the result of shortages of ingredients critical to sandwich assembly such as grains, lettuce and arugula, Pret Chief Executive Officer Pano Christou said in an interview.
---
36) Hot streaks in your career don't happen by accident:
First explore. Then exploit. Researchers found clusters of highly successful work, as determined by higher-than-average art-auction prices, IMDb film ratings, or scientific-journal citations. Bursts of high-impact works [are] remarkably universal across diverse domains. Just about everybody has a period in their life when they produce at their best — Special bursts of creativity , or "hot streaks," special creativity clusters.
---
37) The last great mystery of the mind: meet the people who have unusual – or non-existent – inner voices
Most of us have an inner voice: that constant presence that tells you to "Watch out" or "Buy shampoo" or "Urgh, this guy's a creep". For many of us, this voice sounds much like our own, or at least how we think we sound. But for some people, their inner voice isn't a straightforward monologue that reproaches, counsels and reminds. Their inner voice is a squabbling Italian couple, say, or a calm-faced interviewer with their hands folded on their lap. Or it's a taste, feeling, sensation or colour. In some cases, there isn't a voice at all, just silence.
---
38) Quitters get raises: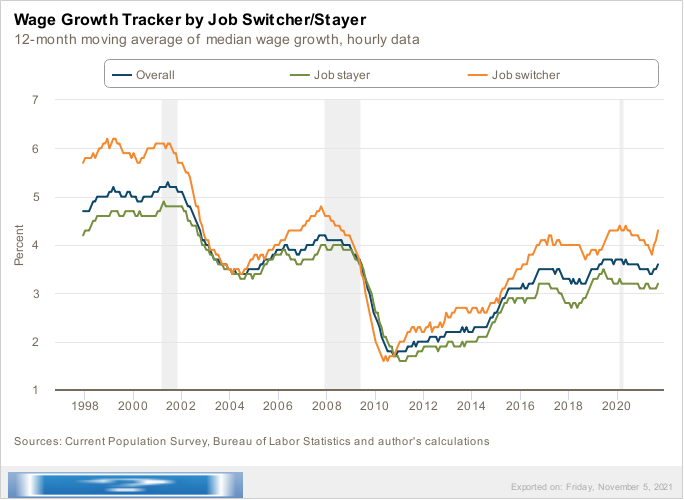 from the Federal Reserve Bank of Atlanta.
---
39) All of the Build Back Better grant applicants:  https://eda.gov/files/arpa/build-back-better/BBBRC-Phase-1-applicant-list.pdf
---
40) How Ryan Reynolds built a business empire: With a range of film and TV projects on the way, as well as initiatives through his company Maximum Effort, the actor and entrepreneur has turned his on-camera charisma into major marketing savvy.
---
41) The megaships that broke global trade With a new generation of giant container ships, firms and governments made a big bet on the future of globalization—and lost.
---
42) The top 25 Halloween costumes of 2021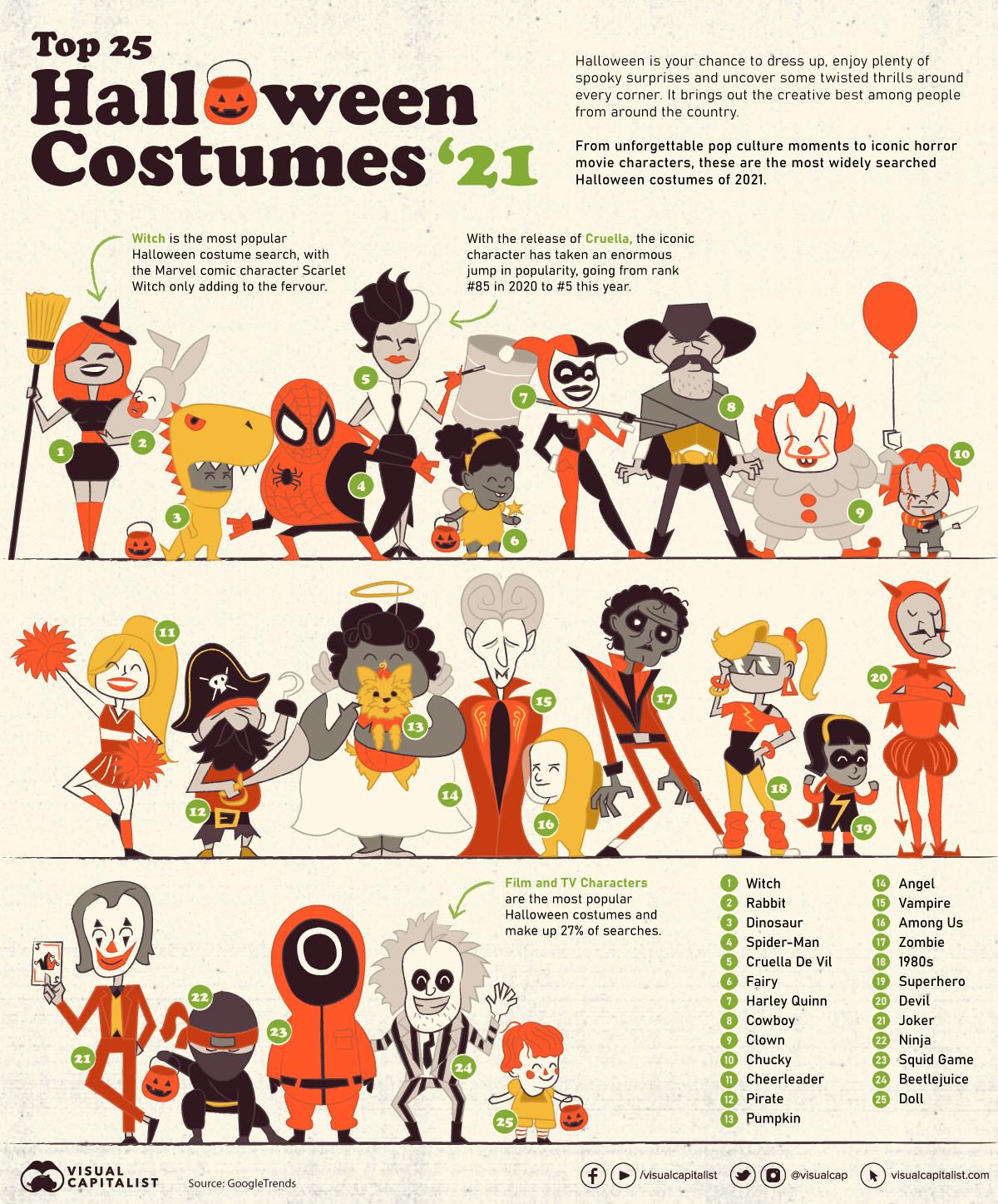 ---
43) The economics of pumpkin patches: How lucrative is the pumpkin business? We talked to farmers, patch operators, and industry experts to find out.
---
44) The best states for manufacturing: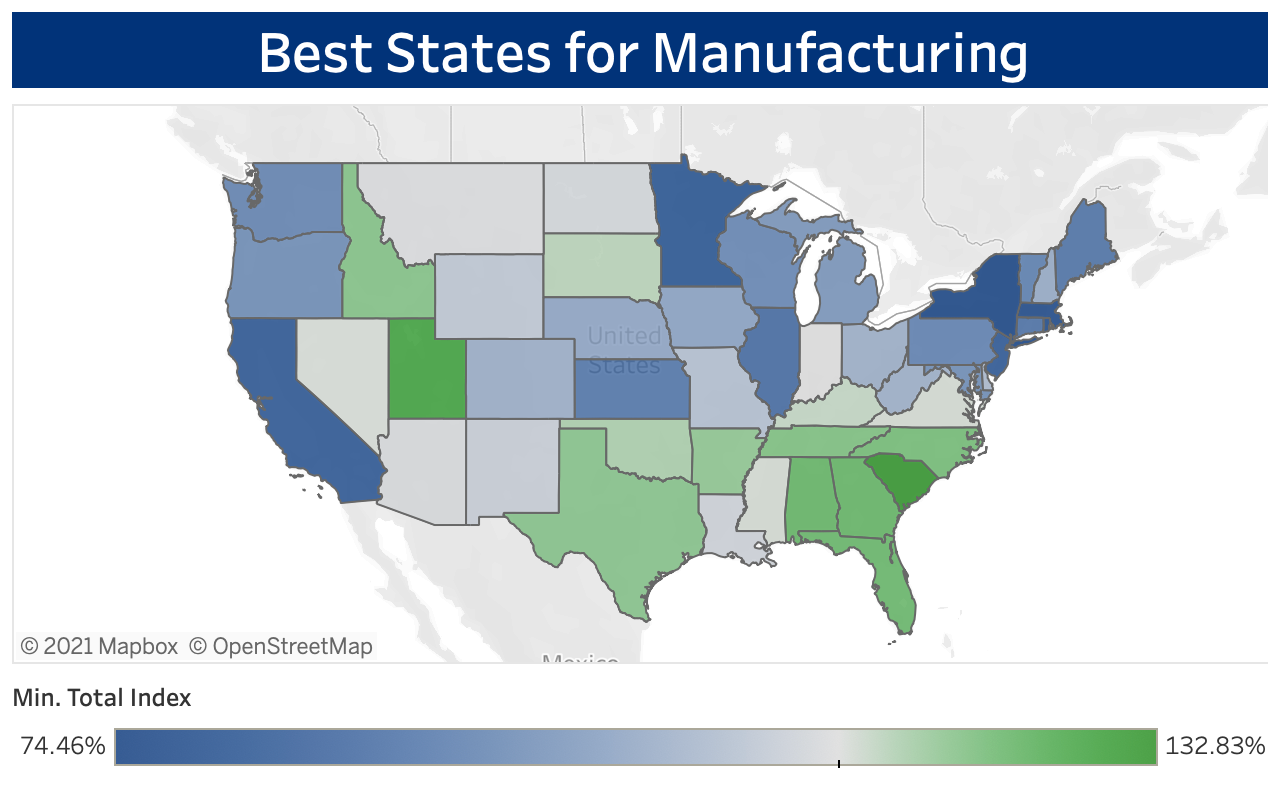 ---
45) Six strategic initiatives for supply chain and manufacturing leaders in advanced manufacturing industries: new white paper.
---
46) Does America need more planning? A long-read Q&A with Neil Chilson:
In economics, "emergent order" refers to systems of order that spontaneously emerge without any central direction or plan. It is the unplanned order of supply and demand that makes market economies work. But critics of a hands-off approach to policy contend that order is likely to devolve into chaos without rational, calculated planning. In this episode of "Political Economy," Neil Chilson discusses the lessons of emergent order for policymakers and whether this concept still applies in the complex, data-rich world of the 21st century.
---
47) People mistake the internet's knowledge for their own:
Using Google to answer general knowledge questions artificially inflates peoples' confidence in their own ability to remember and process information and leads to erroneously optimistic predictions regarding how much they will know without the internet. When information is at our fingertips, we may mistakenly believe that it originated from inside our heads.
---
48) 'I quit' is all the rage. Blip or sea change? Labor economist Lawrence Katz looks at 'Great Resignation' and where it might lead.
---
49) Stores to customers: You're already behind on your Christmas shopping. Retailers are nudging buyers to get started early for the holidays with crash courses in supply chains; 'Best time to order? Right now!'
---
50) Why there is not enough housing for sale or rent across the country:
Homebuilding collapsed during the housing crash over a decade ago and has been slow to recover. Construction of high-end homes and apartments recovered first, and there is now an oversupply in some urban areas across the country. However, the construction of reasonably priced homes to rent or own has only recently begun to increase and continues to lag demand.
Econ Dev Show Newsletter
Join the newsletter to receive the latest updates in your inbox.