52 Things Economic Developers Need To Know This Week
The stories that you need to see from this week. July 29, 2021 edition.
1) You'll never guess which one! Payroll employment up 25 states, down in 1 state, in June 2021: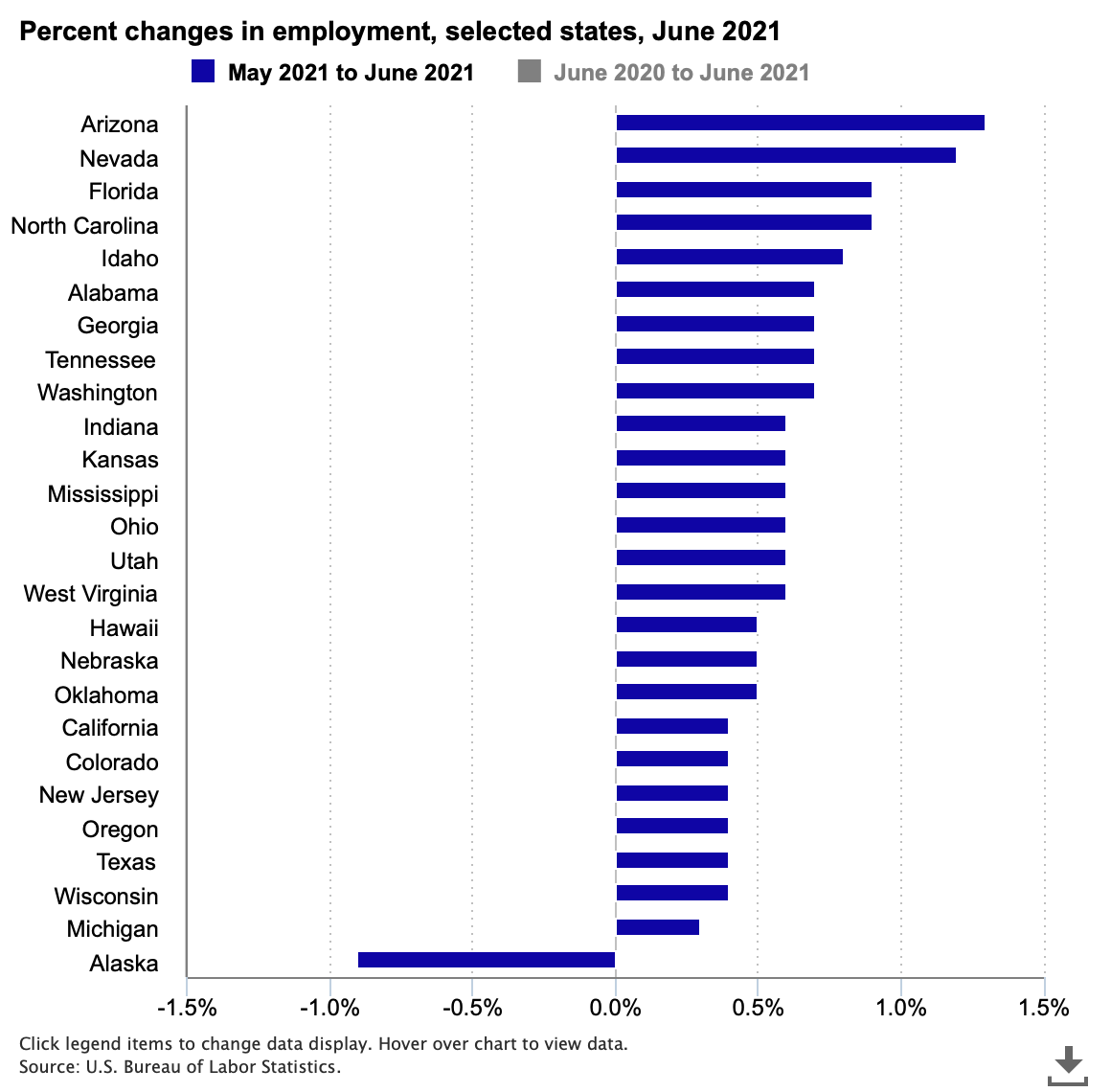 ---
2) 🏠 Underutilized office properties could represent residential conversion opportunities: Converting office properties to residential use has a long and storied tradition in major cities throughout the country. As office stock ages and becomes less efficient, it has frequently been given a second-life by urban dwellers seeking distinctive abodes
---
3) Revenue generated by curbside use: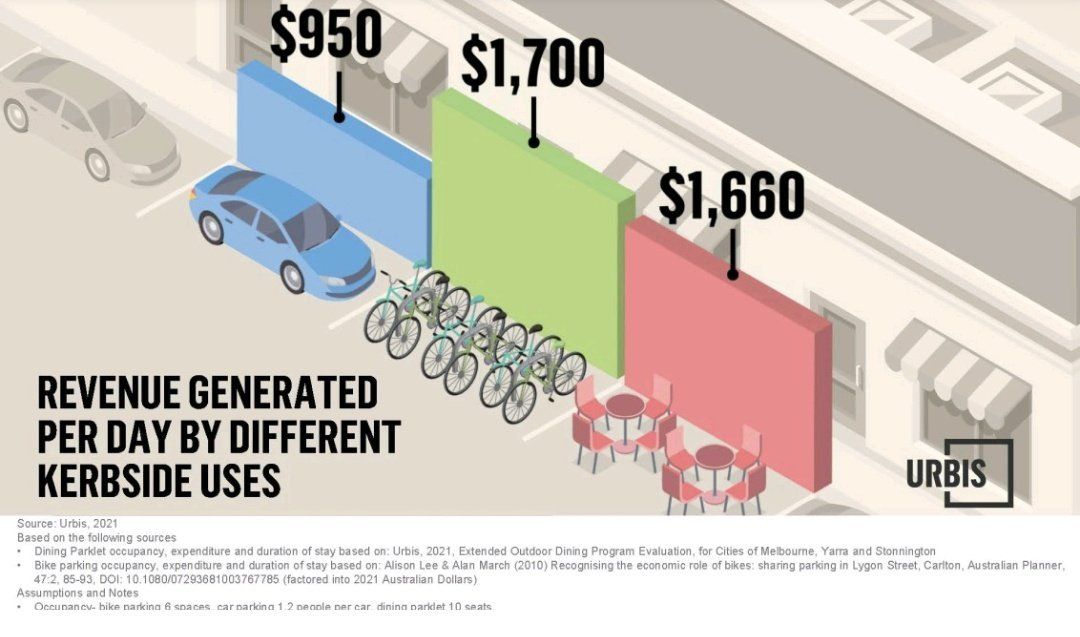 ---
4) 💰💰💰 Today the EDA announced plans for their portion -- $3 billion -- of American Rescue Plan Act. They call the plan, which consists of 6 separate Notices of Funding Opportunities (NOFOs), Investing in America's Communities. Here's the IEDC with more info.
---
5) 🎤 Site Selection Matters Podcast: Dennis Donovan of Wadley Donovan GutshawConsulting discussing how #econdev pros can effectively position their communities in the post-pandemic era.
---
6) 🛌 The battles to come over the benefits of working from home: Not having to commute was the equivalent of a big bonus for many employees. In the future, bosses may expect more hours in exchange for remote work, an economist says.
---
7) 📈 A brief history of inflation in the US: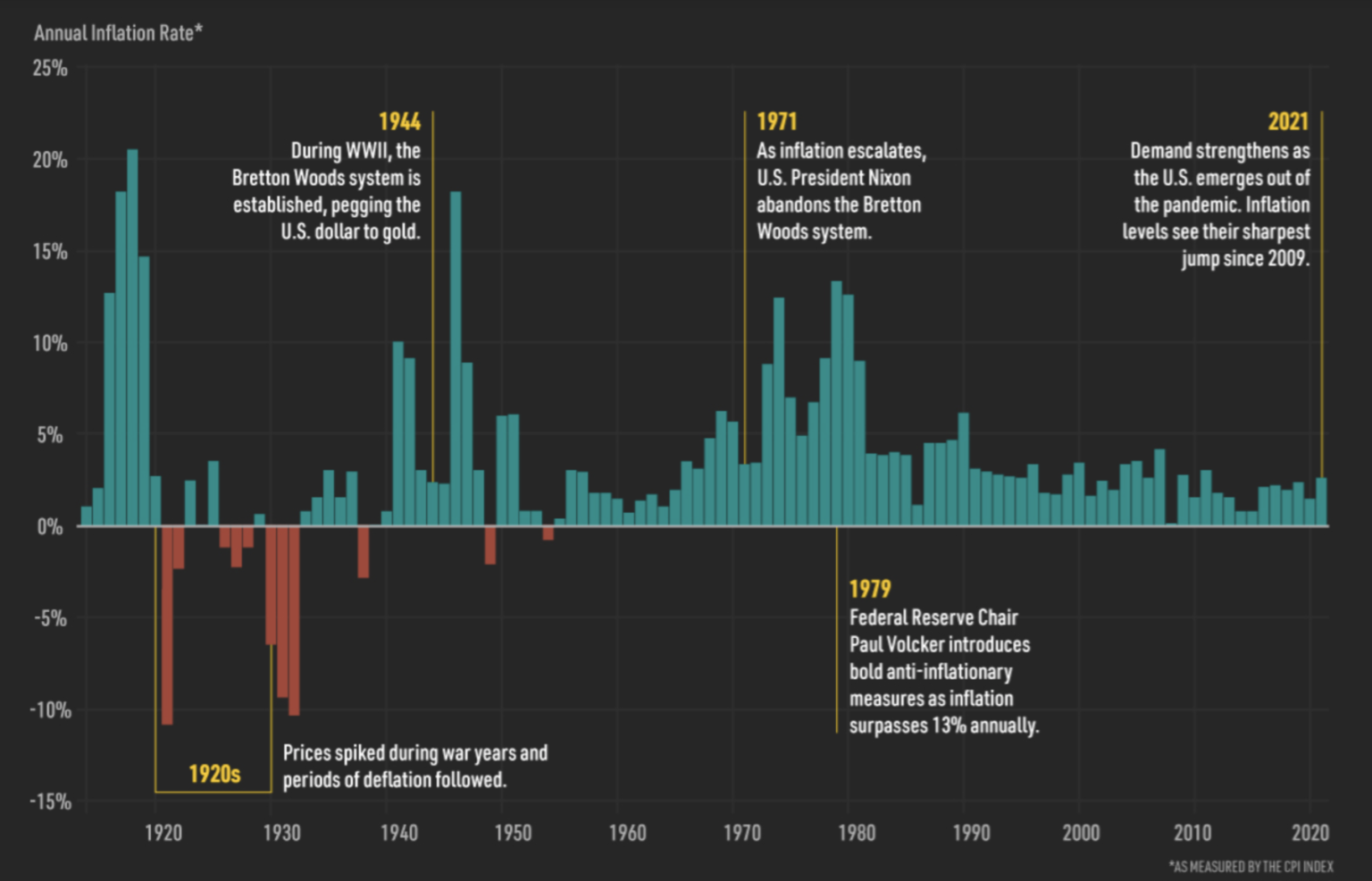 ---
8) Looking for a real career change? McCormick is hiring a 'Director of Taco Relations' with a $100,000 paycheck: Anyone is welcome to apply regardless of their taco experience.
---
9) 🇺🇸 ↔️ 🇨🇳 U.S.-China trade booms as if virus, tariffs never happened: China and the U.S. are shipping goods to each other at the briskest pace in years, making the world's largest bilateral trade relationship look as if the protracted tariff war and pandemic never happened.
---
10) The shortage of starter homes extends beyond major cities: Supply of entry-level housing in U.S. is near a five-decade low, according to research by Freddie Mac.
---
11) The 4 challenges of drayage — and the FreightTech companies solving them:
Drayage, in its simplest form, is the transportation of freight from an ocean port to its initial inland destination. These moves tend to average no more than 50 miles, taking containers to rail yards to be put on a train or sending them to nearby warehouses to be sorted, segmented and routed to their next destination.
While the distances are comparatively short, the logistics of routing 11 million maritime containers in and out of ports every year has its full share of challenges.
‌             ‌
12) Where LinkedIn members moved during the pandemic: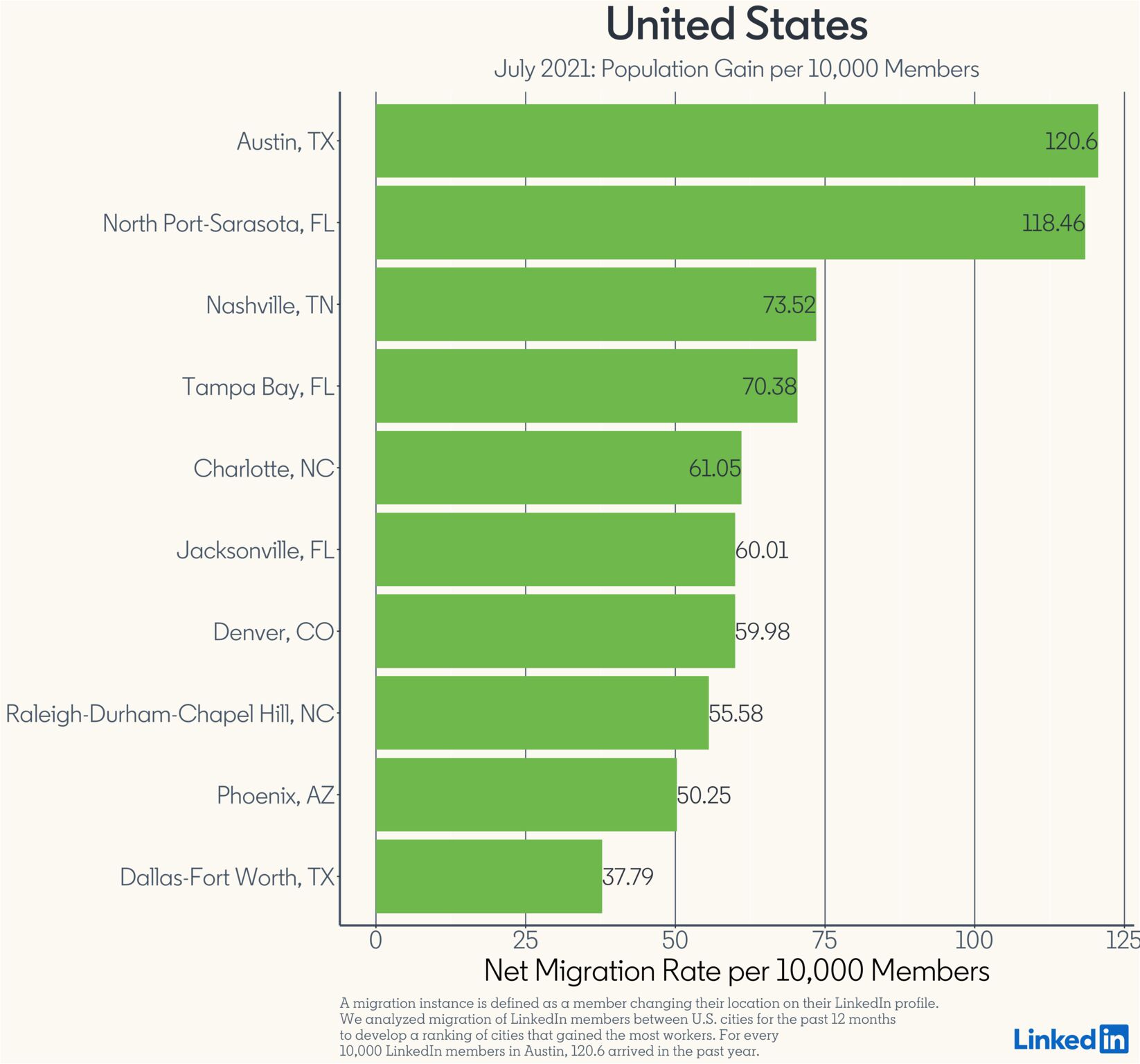 ---
13) What I'm reading: Sludge - What Stops Us from Getting Things Done and What to Do about It. Have you and your institution done a "sludge audit" lately?
---
14) Short advice from Designing Your Life: How to Build a Well-Lived, Joyful Life by Bill Burnett:
Don't fall in love with your first idea.
To become passionate about something, get good at it.
Don't pick a fight with reality.
---
15) U.S. cities with the most economic growth in 2021.
---
16) Hot zones - urban heat islands: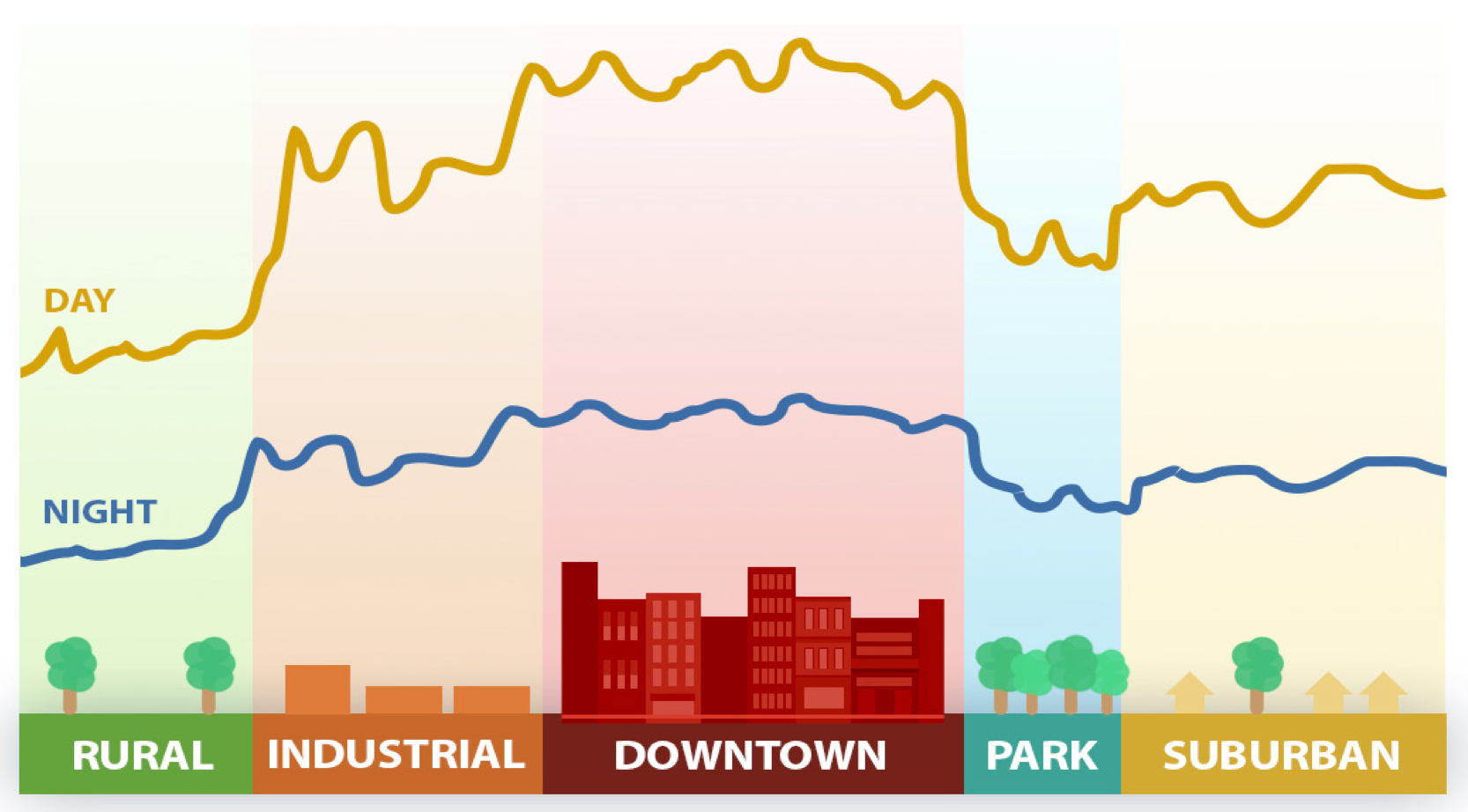 Urban heat islands are metropolitan places that are hotter than their outlying areas, with the impacts felt most during summer months. About 85% of the U.S. population lives in metropolitan areas. Paved roads, parking lots, and buildings absorb and retain heat during the day and radiate that heat back into the surrounding air. Neighborhoods in a highly-developed city can experience mid-afternoon temperatures that are 15°F to 20°F hotter than nearby tree-lined communities or rural areas with fewer people and buildings.
---
17) Can we channel speculation?
Imagine if all the speculative fervor in 2020 and 2021 could have been channeled into a productive venture or asset that benefitted society as a whole. What if, for example, the Robinhood / Reddit crowds were investing in opportunity zones (or something of that ilk) instead of meme stocks? If there was a way to get these traders excited about investment opportunities benefitting society, imagine what could get funded and accomplished?
---
18) Meet Jorge Perez.  Forty years ago, he was an economic developer in Miami. Today he's a billionaire.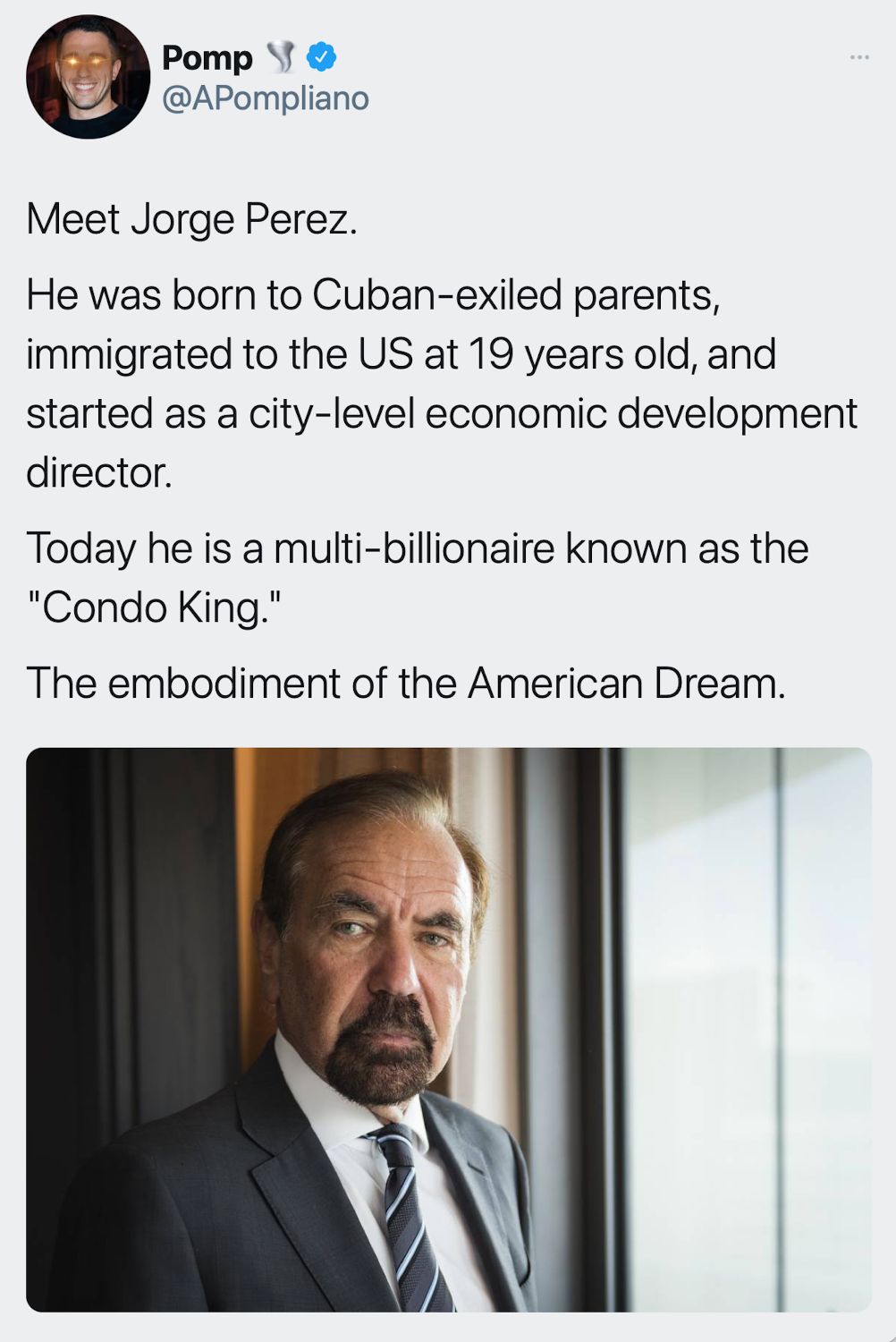 ---
19) What is economic growth? And why is it so important?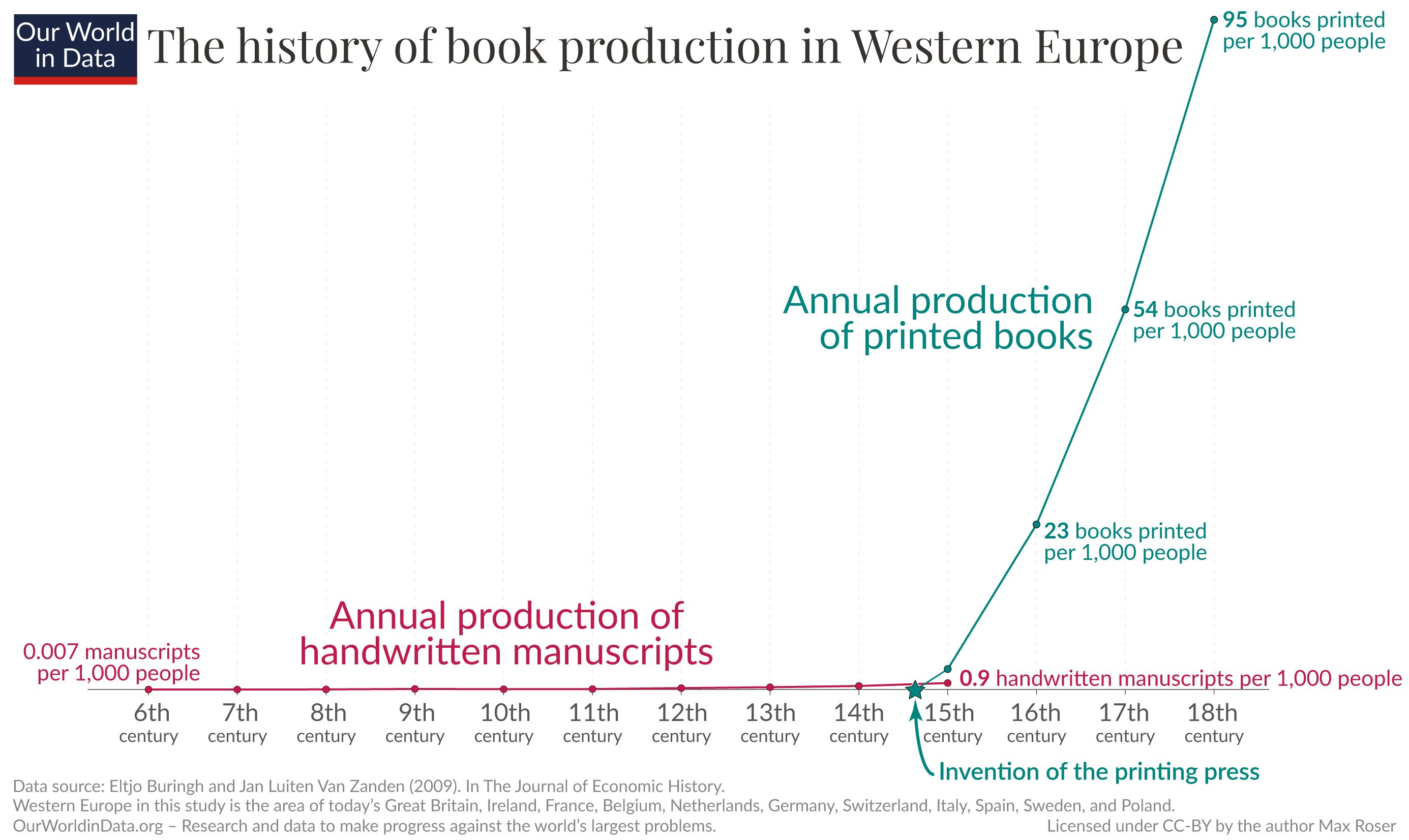 ---
20) The week the Delta variant threatened the economy: Just when Americans are getting into the throes of a hot vaxx summer, the Delta variant of the coronavirus is trying to stop the fun.
---
21) Post COVID, labor is gaining strength: McDonald's franchises to offer child care and tuition benefits to attract employees.
---
22) How vegan leather is made from mangoes:
https://www.youtube.com/watch?v=rcieZYwyEiA
---
23) Wholesale jumbo lump crab meat is selling for $60 (compared to $18-$22 normally). The reason: The Chesapeake Bay blue crab population dropped from 405m to 282m in 2021.
---
24) Experts say the 'new normal' in 2025 will be far more tech-driven, presenting more big challenges:
A plurality of experts think sweeping societal change will make life worse for most people as greater inequality, rising authoritarianism and rampant misinformation take hold in the wake of the COVID-19 outbreak. Still, a portion believe life will be better in a 'tele-everything' world where workplaces, health care and social activity improve
---
25) Pronouncing Chinese names for English speakers.
---
26) Global happiness levels in 2021: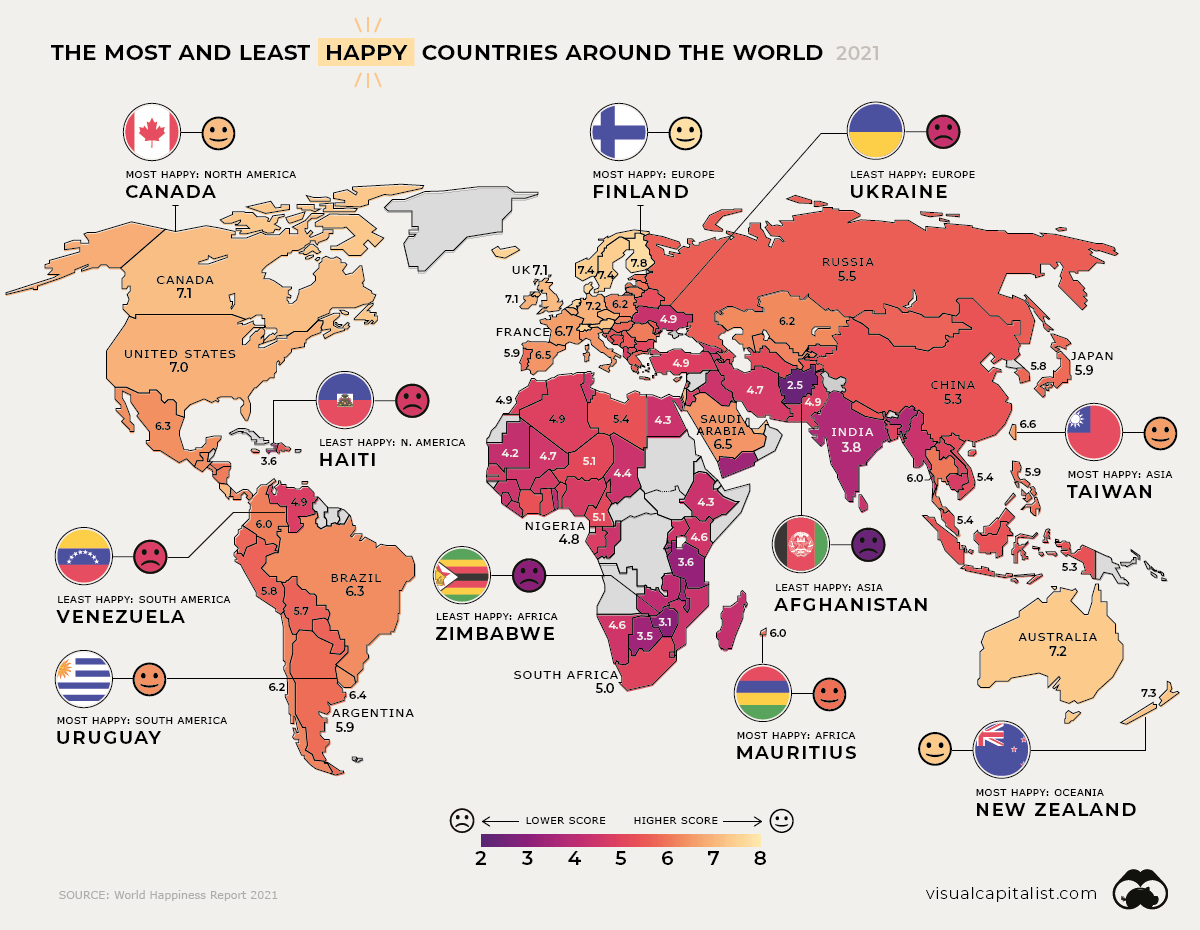 ---
27) Nearshoring comes for tech talent: The COVID-19 pandemic highlighted the vulnerability of supply chains for manufacturers, prompting some to switch from suppliers and labor forces in Europe and Asia to ones closer to the U.S. The same might soon happen to IT and back-office tech support.
---
28) More potential supply chain issues.  This time: coffee.
---
29) What is economic development: the rap video.  I kid you not.
---
30) We give the office too much credit. Nearly 40 years after researchers debunked architectural and environmental determinism, business papers and digests are filled with stories about how great offices can make employees more productive and innovative. Whatever impact the office has is limited. Years of research show the recipe for employee productivity is based on trust, communication, appreciation, and compensation, not office design.
---
31) Supply-chain backlogs turn Chicago into new chokepoint: Some railroads have restricted container shipments into the key Midwestern freight hub as bottlenecks from a flood of container imports stretch inland from the West Coast
---
32) Median weekly earnings by age and sex, second quarter 2021: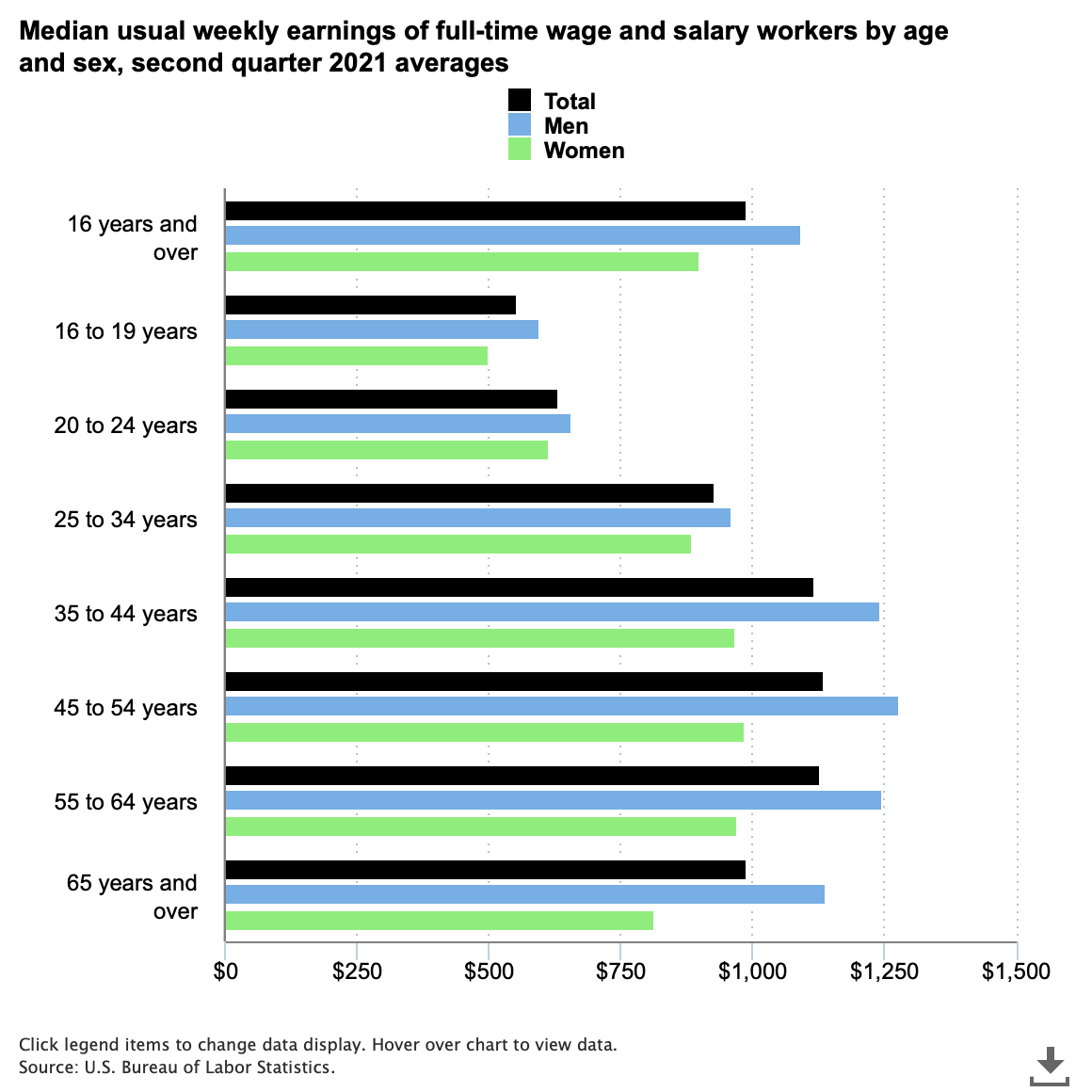 ---
33) Next Move Group economic development newscast - July 26, 2021
https://www.youtube.com/watch?v=h3WZ3dDKQl4
---
34)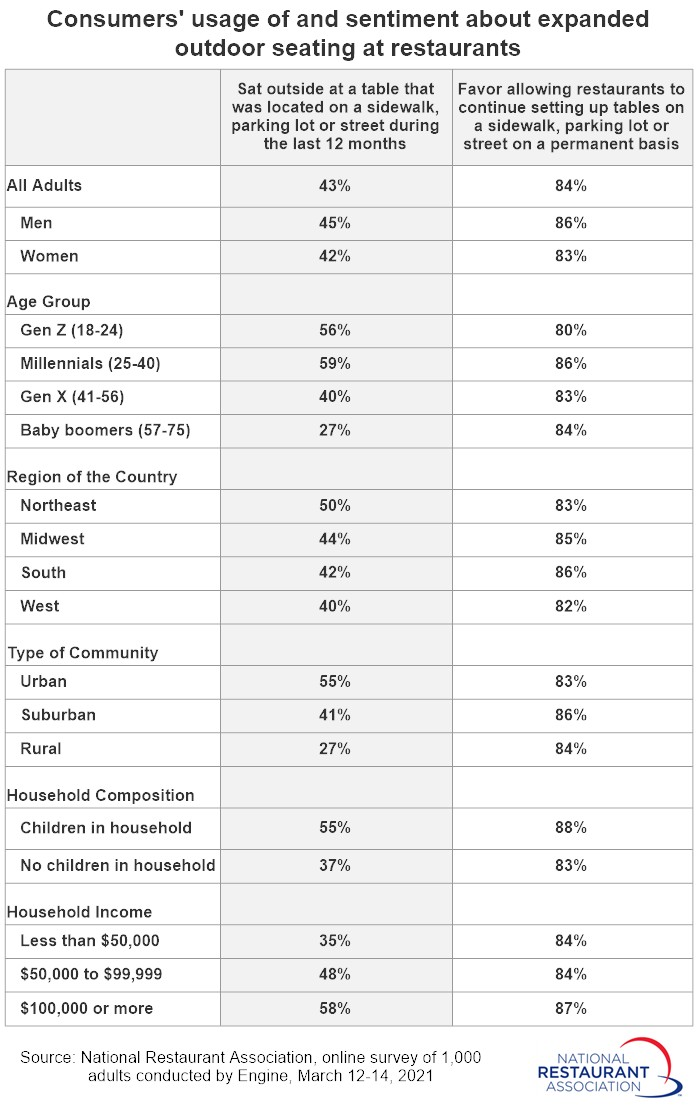 ---
35) The return to office hits a snag: Young Resisters A generation gap has emerged between them and colleagues who value the workplace over the advantages of remote work. Bridging it may require flexibility.
---
36) Delta variant vs inflation: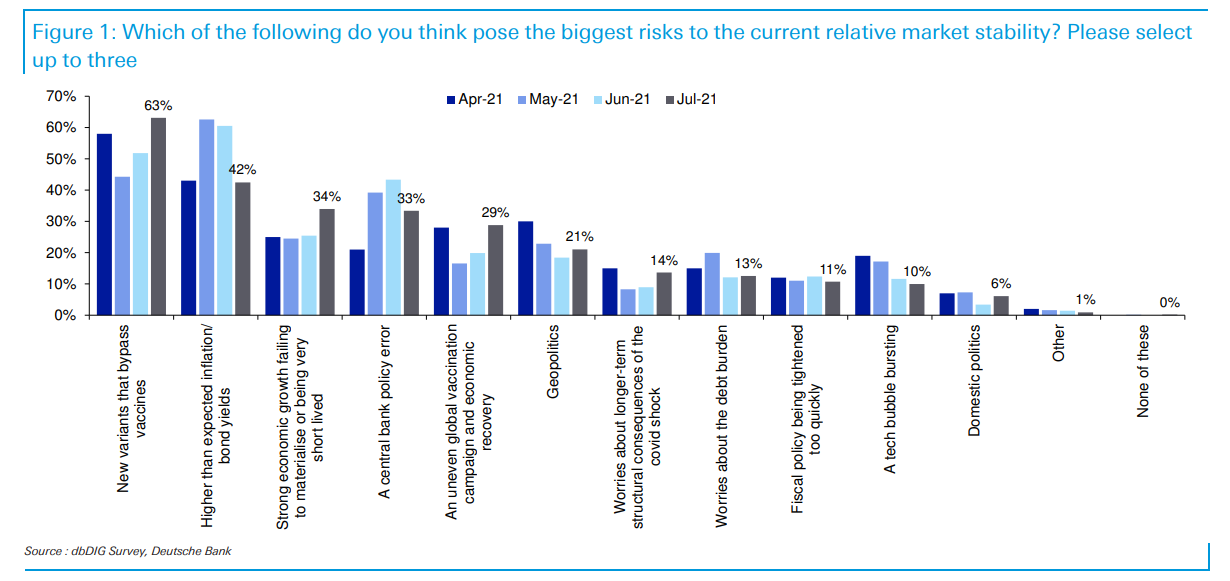 ---
37) Companies that make people return to the office will lose employees: The future of work, according to a remote work expert.
---
38) What does the Delta variant mean for the US economy? Predictions of a second "Roaring Twenties" may have proved premature.
---
39) The history and origins of site selection: If you've ever wondered where economic development came from, you'll find this history of site selection fascinating. If not, you might want to skip this.
---
40) The QR code wave is just getting started: QR code menus have taken off during the pandemic, and will likely lead to many more merchants adopting the technology.
---
41) How American SUVs are now bigger than the tanks that fought in World War II.
---
42) GDP per capita worldwide: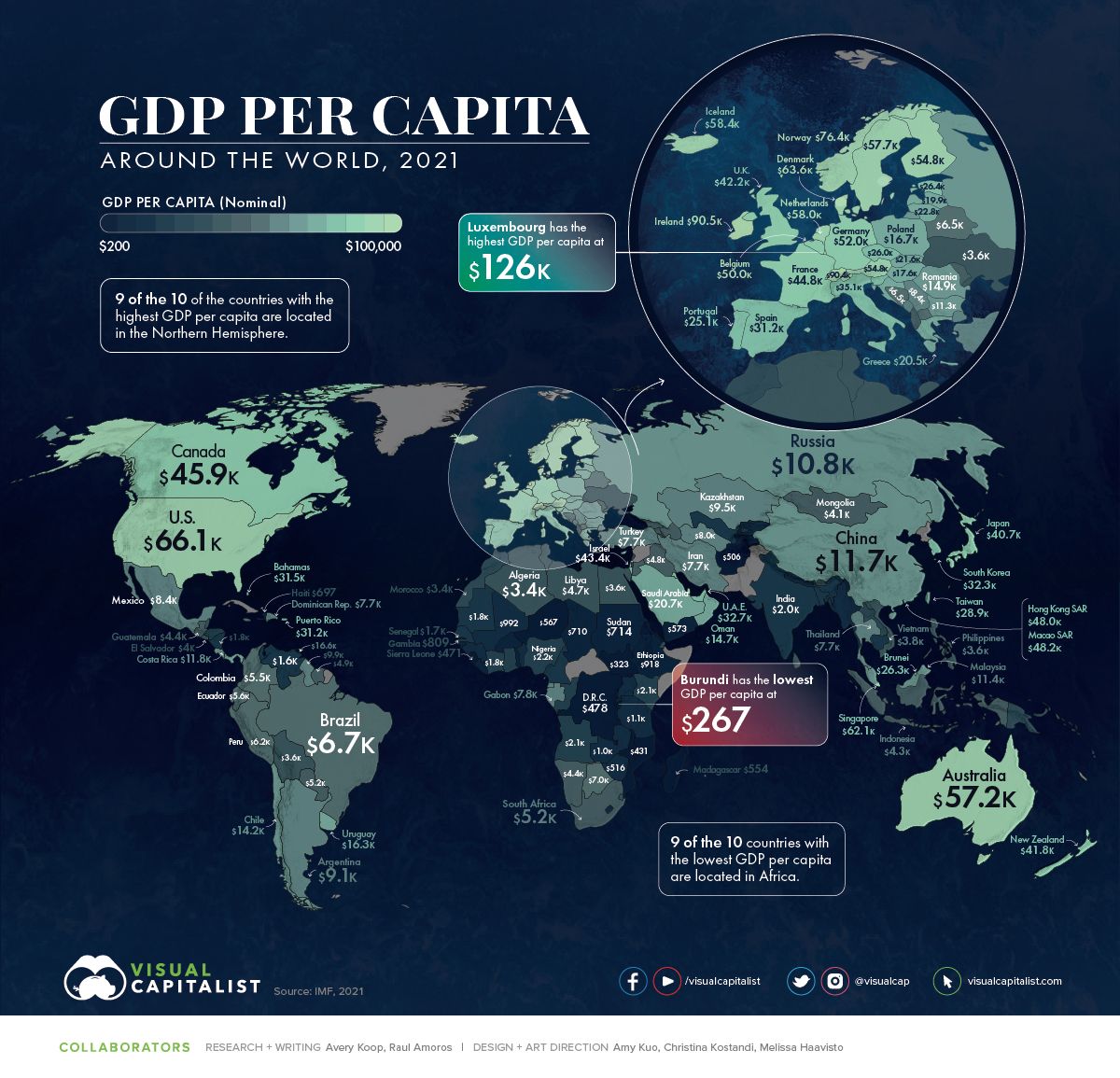 ---
43) Is the end near for U.S.- listed Chinese companies? Probably.
China's recent crackdown on public companies is a way for the country to get in front of an American law requiring auditors of Chinese companies to open up to U.S. regulators.
---
44) Workforce development 👉 Walmart is now offering free college tuition and books to its 1.5 million U.S. employees: The move by the nation's largest private employer comes as many retailers are struggling to attract and retain workers in a tight labor market
---
45) Biden signs 'Buy American' order, pledges to renew U.S. manufacturing: Revitalizing the manufacturing sector, which accounts for about 12% of the U.S. economy, is a key part of Biden's broader push to drive up wages, create more union jobs, support minority-owned businesses and strengthen U.S. supply chains
---
46) Dealing with pandemics and other threats through the resilience of technological progress:
But there is another kind of "preparedness" that policymakers must keep front of mind, and that sort is demonstrated by vaccine and therapeutic development. It is a preparedness model that depends on a society being rich and technologically advanced so that it has the capability to effectively respond to dangers — either unanticipated or ones that play in unanticipated ways — after they emerge. Of course, possessing such a capability means accepting that disruption that comes with it to jobs, industries, and communities.
---
47) Lysol. N95 Masks. UPS. For Some Pandemic Winners, the Boom Is Over. Growth is slowing for some businesses, adding to challenges as they deal with rising costs and supply constraints
---
48) Consumers' intention to spend has moderately improved after peaking in March 2021: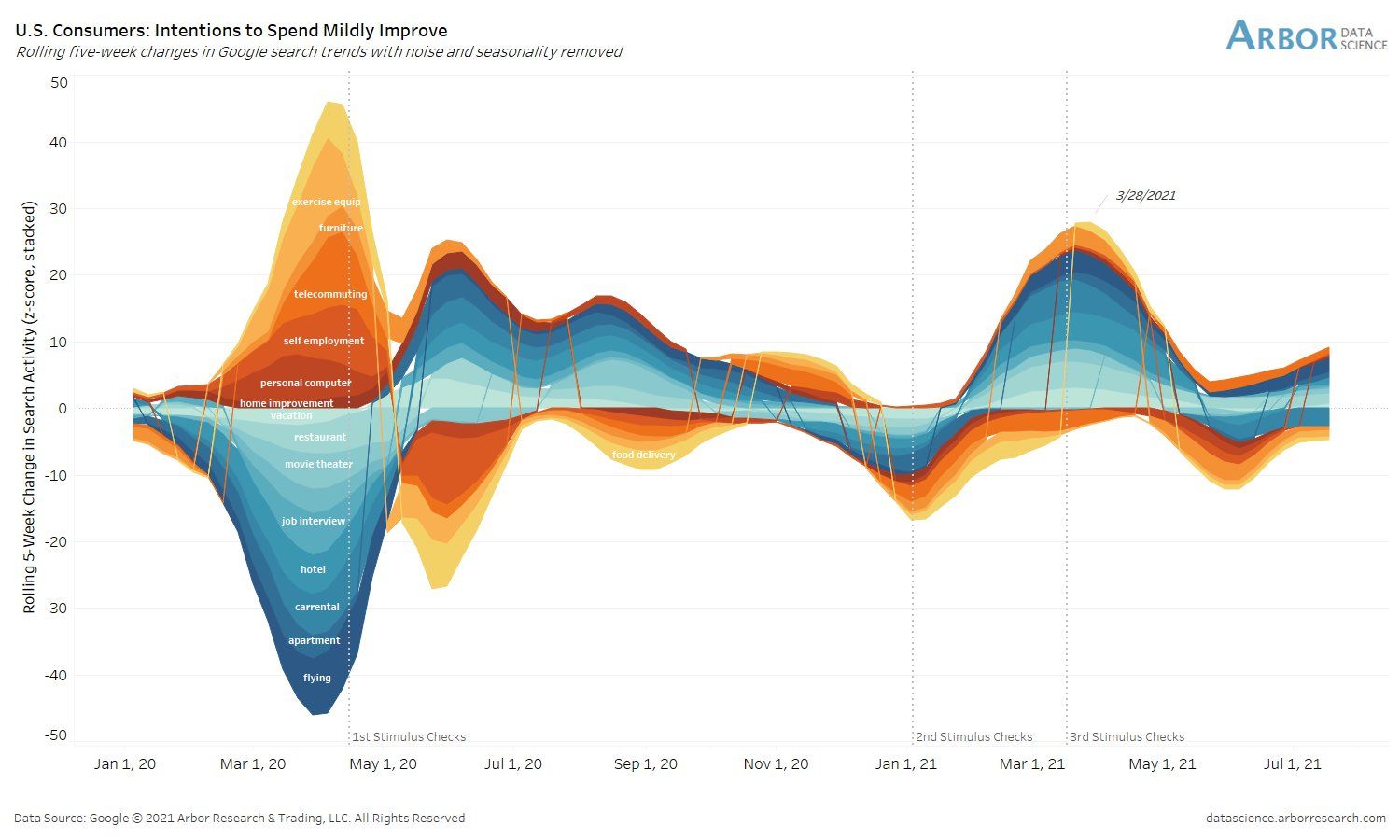 ---
Other items you might have missed this week on the Econ Dev Show:
49) Economic Development and Developers in the News - Econ dev news from seventy-seven economic development executives and organizations in 30 US states and Canada. Issue # 21
50) The History and Origins of Site Selection - If you've ever wondered where economic development came from, you'll find this history of site selection fascinating. If not, you might want to skip this.
51) Podcast episode 12: Real Rural Economic Development with Robert Harrington - As former President Harry Truman said, "It is amazing what you can accomplish when you do not care who gets the credit."
52) Economic Development Jobs This Week - 48 new econ dev jobs in 25 states. July 23, 2021 edition.
---
If this is your first time reading, or you received this in an email from a colleague: Hello!
The Econ Dev Show is a podcast, weekday email newsletter, and blog of actionable strategies, fresh news, insights, and ideas from the economic development community and your host, Dane Carlson.
Listen now in your favorite podcast player, or subscribe.
Econ Dev Show Newsletter
Join the newsletter to receive the latest updates in your inbox.