57 Things Economic Developers Need To Know This Week
The stories that you need to see from this week. October 21, 2021 edition.
1) Foot traffic at the Port of Los Angeles and Long Beach graphed:
Supply chain constraints have gotten so bad that even throwing more people at the problems wouldn't make them go away immediately. A new snapshot of port activity in California is the latest indication.
The number of workers in the ports of Los Angeles and Long Beach is down roughly 30% from pre-COVID levels, according to RBC Capital Markets data shared with Axios. RBC approximates foot traffic based on anonymized cellphone location data from geospatial intelligence company Orbital Insight.
"That's your labor shortage quantified,"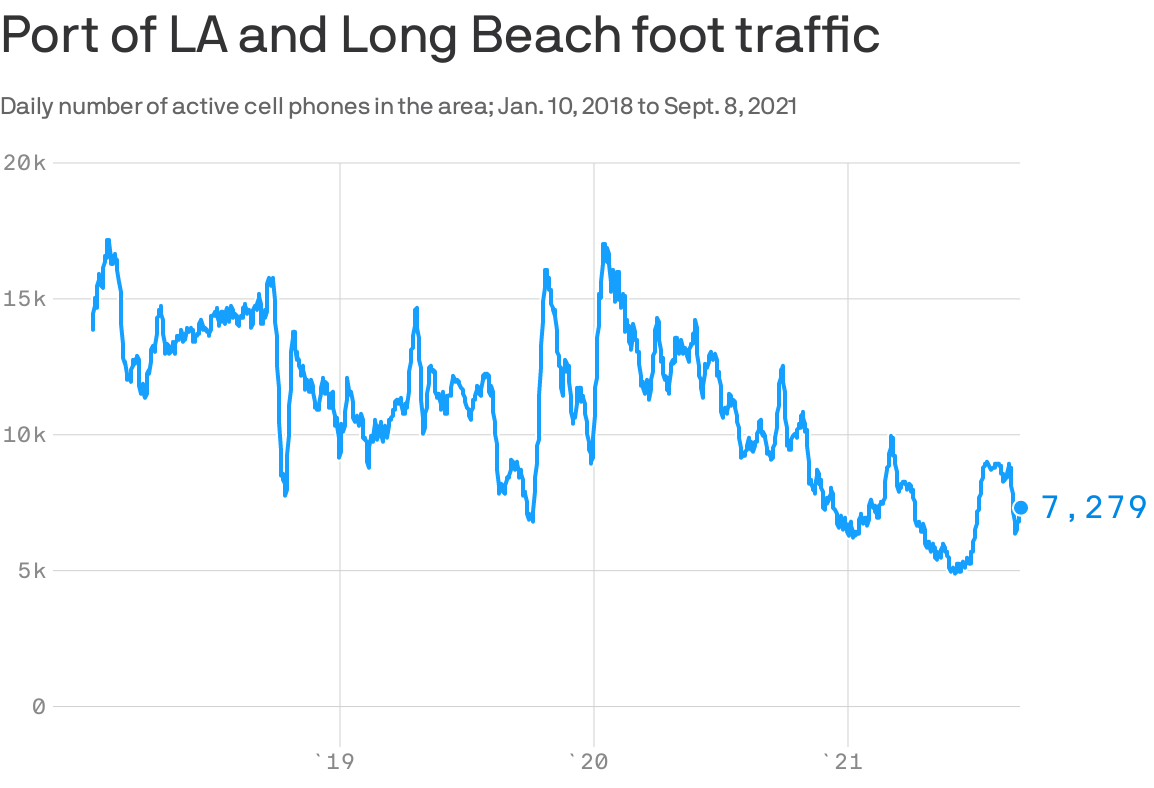 ---
2) Improvements in living standards 1870-2010: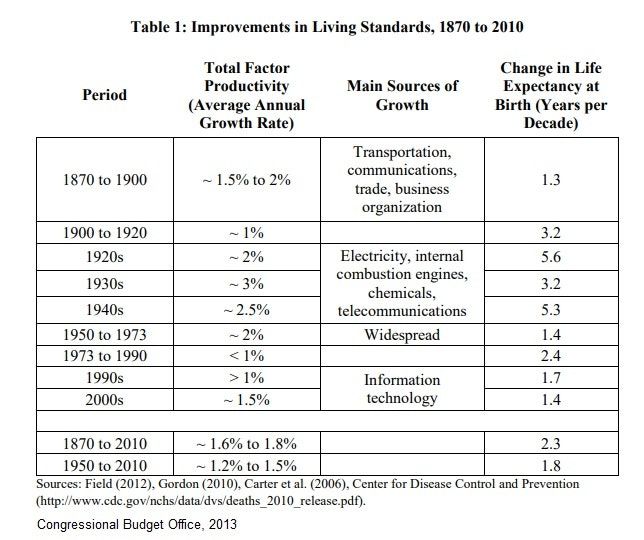 ---
3) Real cost of inflation to average American household: An extra $175 a month.
---
4) Cost of shipping between China and U.S. (post Christmas) plunges: Looming off-season and power crunch have forced prices down after record highs.
---
5) Jobless claims post sharp decline to 326,000: better than expectations.
---
6) Diesel stockpiles are at a 20-year low as US heads into winter: Current stockpile covers only 31.2 days of demand.
---
7) Dean Barber: Community colleges can fill the bill.
---
8) How playing Tetris tames trauma: Last week a group of researchers from the UK and Sweden published a study reporting that playing just 20 minutes of Tetris — in research parlance, a "Tetris-based intervention" — following an automobile accident can help prevent the formation of the painful, intrusive memories that can follow trauma.
---
9) US job growth falls to slowest pace of year: Economy added just 194,000 jobs while unemployment rate dropped to 4.8% as many workers exited from labor force
---
10) Amazon CEO, citing 'rougher' patch with Seattle, looks to 'burbs: Amazon.com Chief Executive Officer Andy Jassy is open to a reset in his company's sometimes-contentious relationship with Seattle, but made clear that he's hedging his bets with plans to expand in neighboring cities.
---
11) US is in recession if history of consumer sentiment repeats:  A decline in consumer expectations suggests the U.S. economy is in recession even though employment and wage growth indicate otherwise
---
12) The future is getting farther away:
If total factor productivity had continued to grow at its 1957 to 1973 rate then we today would be living in the world of 2076 rather than in the world of 2014." Sadly, the future is continuing to recede. Consider the graph below. If growth had continued at the rate expected by the CBO in 2005 then we today would be living in the world of 2037 rather than in the world of 2021."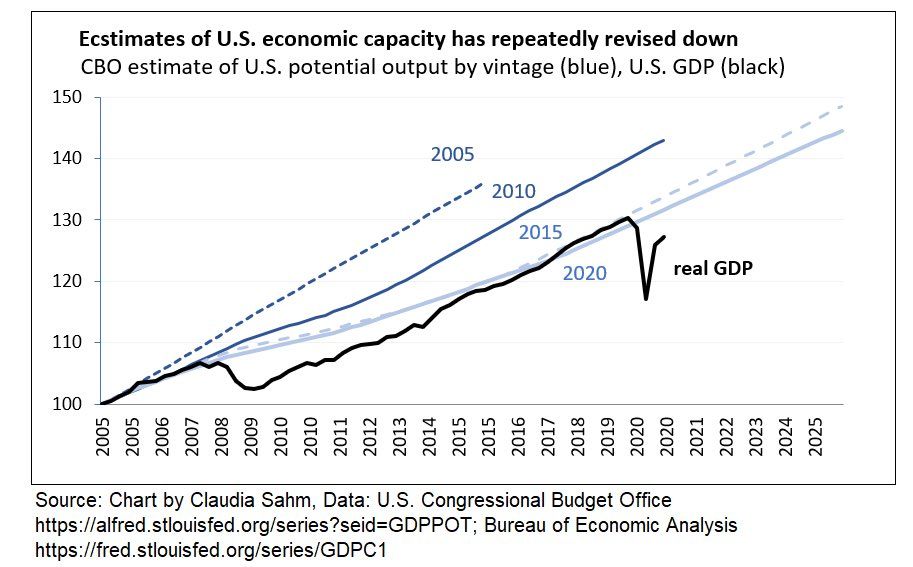 ---
13) The future of retail: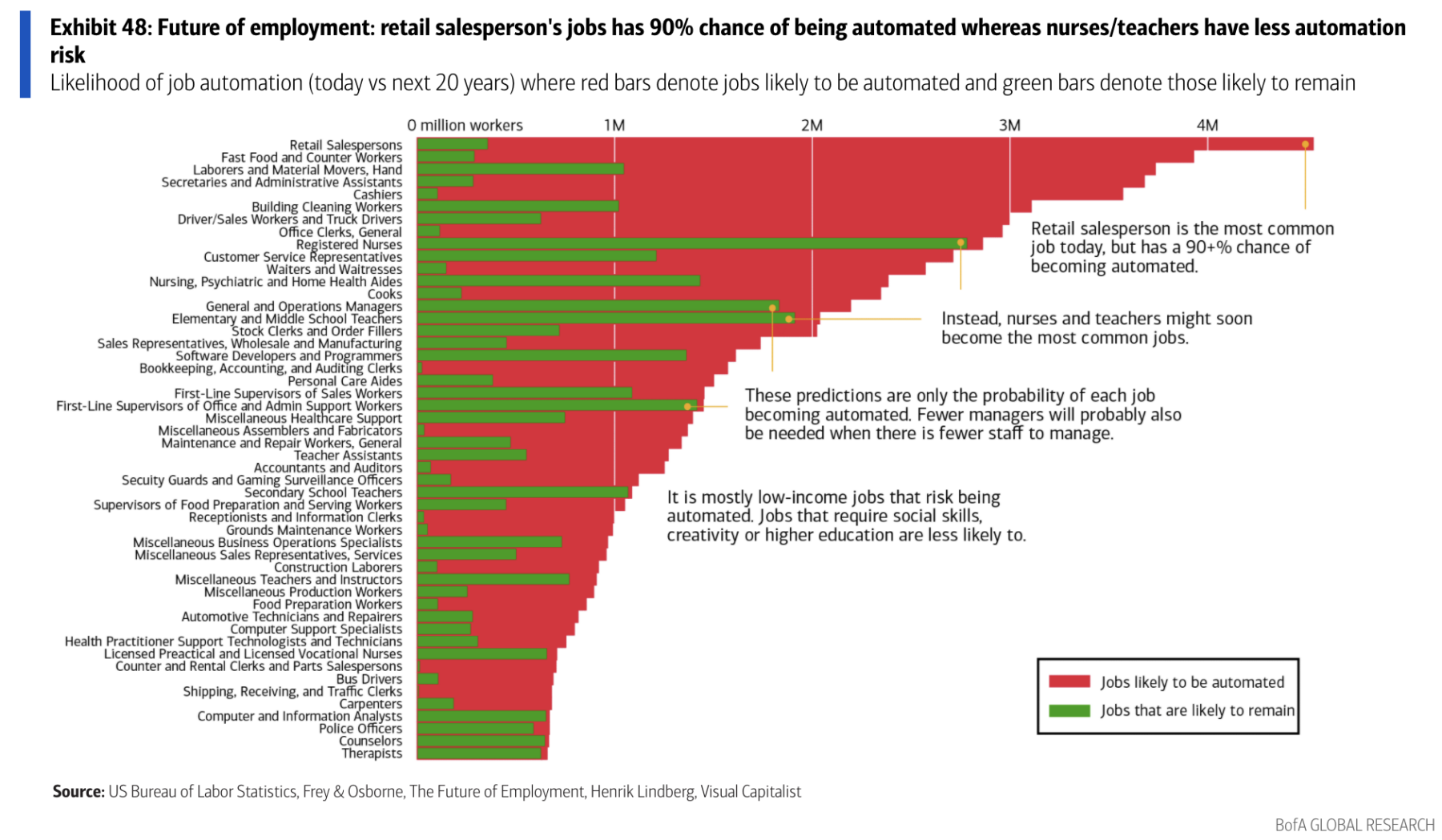 ---
14) Supply chain havoc is getting worse — just in time for holiday shopping: The most popular holiday gifts might not arrive in time for the holidays, even if you order now.
---
15) Are US housing prices becoming unaffordable?
Housing prices are rising for a number of reasons: Household formation from the millennial generation, Increased demand to move due to the pandemic, Investors looking for yield and inflation protection, Extremely low mortgage rates. The one variable that could throw a wrench into this equation would be higher mortgage rates.
---
16) It's not sustainable: What America's port crisis looks like up close.
---
17) Goldman cuts forecast for US economic growth in 2021 and 2022:
Goldman Sachs cut its U.S. economic growth target to 5.6% for 2021 and to 4% for 2022 citing an expected decline in fiscal support through the end of next year and a more delayed recovery in consumer spending than previously expected.
The firm previously expected 5.7% gross domestic product (GDP) growth in 2021 and 4.4% growth in 2022, according to research released on Sunday
---
18) The radically changing labor market: These days, the labor market is even more unusually dynamic than typical. It is not an exaggeration to suggest it is in the midst of a radical transformation.
---
19) The new jobs numbers are pretty good, actually: They fell far short of analyst expectations, but they reflect a steady expansion that is more rapid than other recent recoveries.
---
20) The September unemployment report:
pic
---
21) Surprise! Postal service is about to get slower — and more expensive:
Increasing the time you have to wait to receive a letter isn't an improvement in reliability or efficiency, but just the opposite. As for "consistency," the service's strategy is perfectly analogous to what airlines do when their on-time flight performance deteriorates: They increase the standard for "on time," and presto! Every flight is on time again.
---
22) Smaller packs, same price: curse of 'shrinkflation' hits shoppers' baskets.
---
23) America's unemployed are sending a message: They'll go back to work when they feel safe – and well-compensated September marked the weakest hiring this year, and an alarming number of women had to stop working again to deal with unstable school and child-care situations
---
24) Commuting is psychological torture:
Not doing that commute gave me 15 hours per week of my life back "I am never going back to that commute five days a week every single week again," a friend told me recently. Before Covid he was spending about three hours a day in his car driving back and forth. When things started to shut down last year his employer was staunchly against people working from home at first, but before long it became unavoidable.
---
25) Nations agree to 15% minimum corporate tax rate:
Most of the world's nations have signed up to a historic deal to ensure big companies pay a fairer share of tax. Some 136 countries agreed to enforce a corporate tax rate of at least 15%, as well a fairer system of taxing profits where they are earned. It follows concern that multinational companies are re-routing their profits through low tax jurisdictions.
---
26) What's wrong with America's consumer-price index? Experts underestimated inflation last year. Now they seem to be overstating it.
---
27) What if performance advertising is just an analytics scam?
"What the pandemic showed is we can take marketing down to zero and still have 95% of the same traffic as the year before. So we're not going to forget that lesson." – Brian Chesky (via Campaign) In 2020, AirBnB cut $542 million of performance advertising spend and saw no measurable falloff in attributable sales. They continued this ad-slashing practice…
---
28) The higher the income, the more likely to work from home in 2020: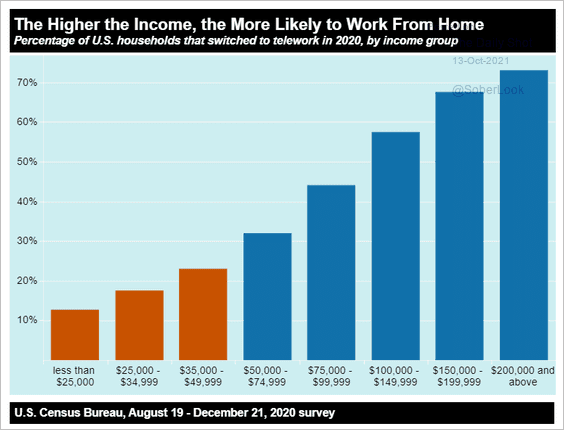 ---
29) For the first time since early July, two-thirds (66%) of U.S. adults feel comfortable eating out at restaurants and half (50%) are comfortable going to a movie theater: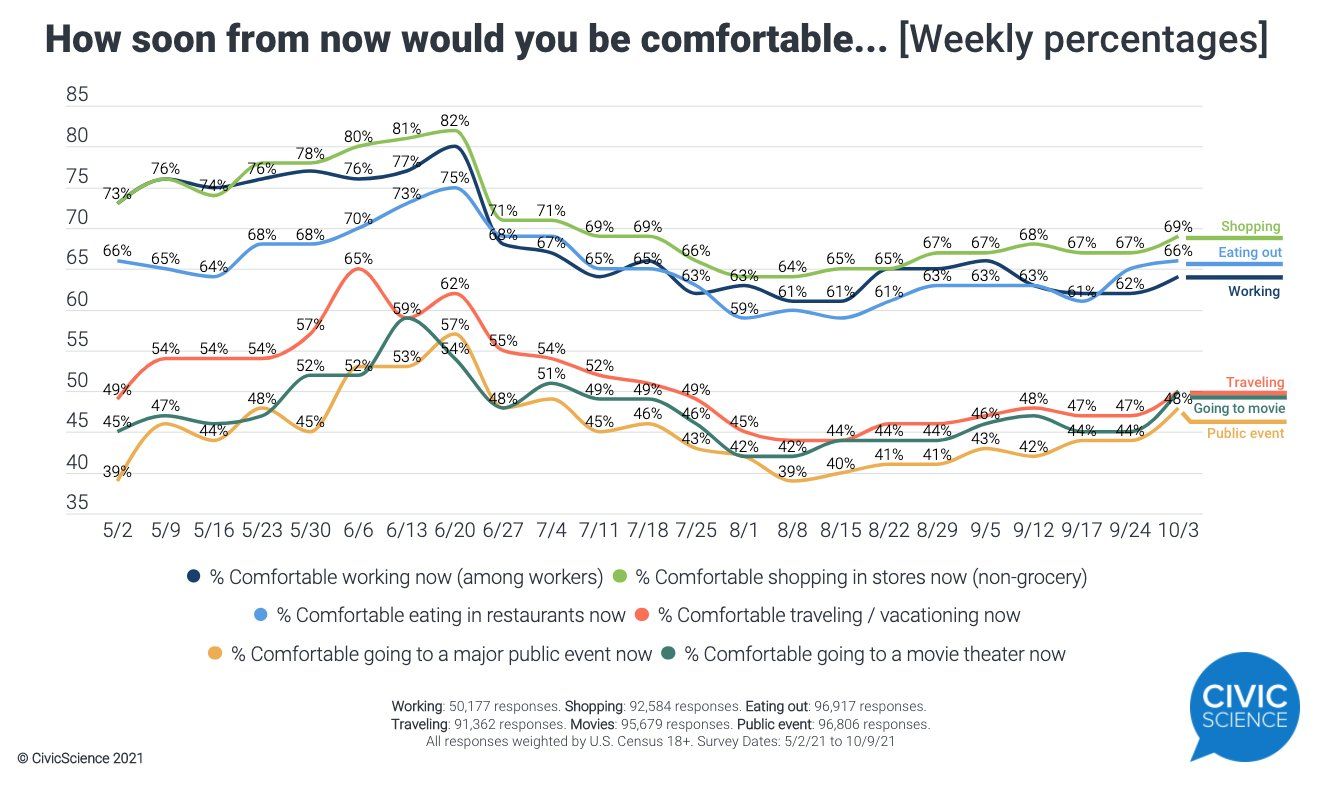 ---
30) Warehouse space shortage to last for two more years, panel says: Soaring e-commerce shopping rates have combined with building delays in many regions to cause a crunch in the supply of new warehouse space for retailers and third party logistics providers, a panel of real estate experts said today at the Council of Supply Chain Management Professionals's Edge conference.
---
31) Why so many people undercharge for their work: Setting a rate can be a minefield for folks navigating an industry alone.
---
32) Many house hunters are choosing diverse neighborhoods that reflect a changing population: Buyers say they want to avoid 'cookie-cutter' areas, but the focus exposes challenges to preserving communities and blending residents
---
33) The problem with America's semi-rich: America's upper-middle class works more, optimizes their kids, and is miserable.
---
34) The nasty logistics of returning your too-small pants: What happens to the stuff you order online after you send it back?
---
35) The death and birth of technological revolutions: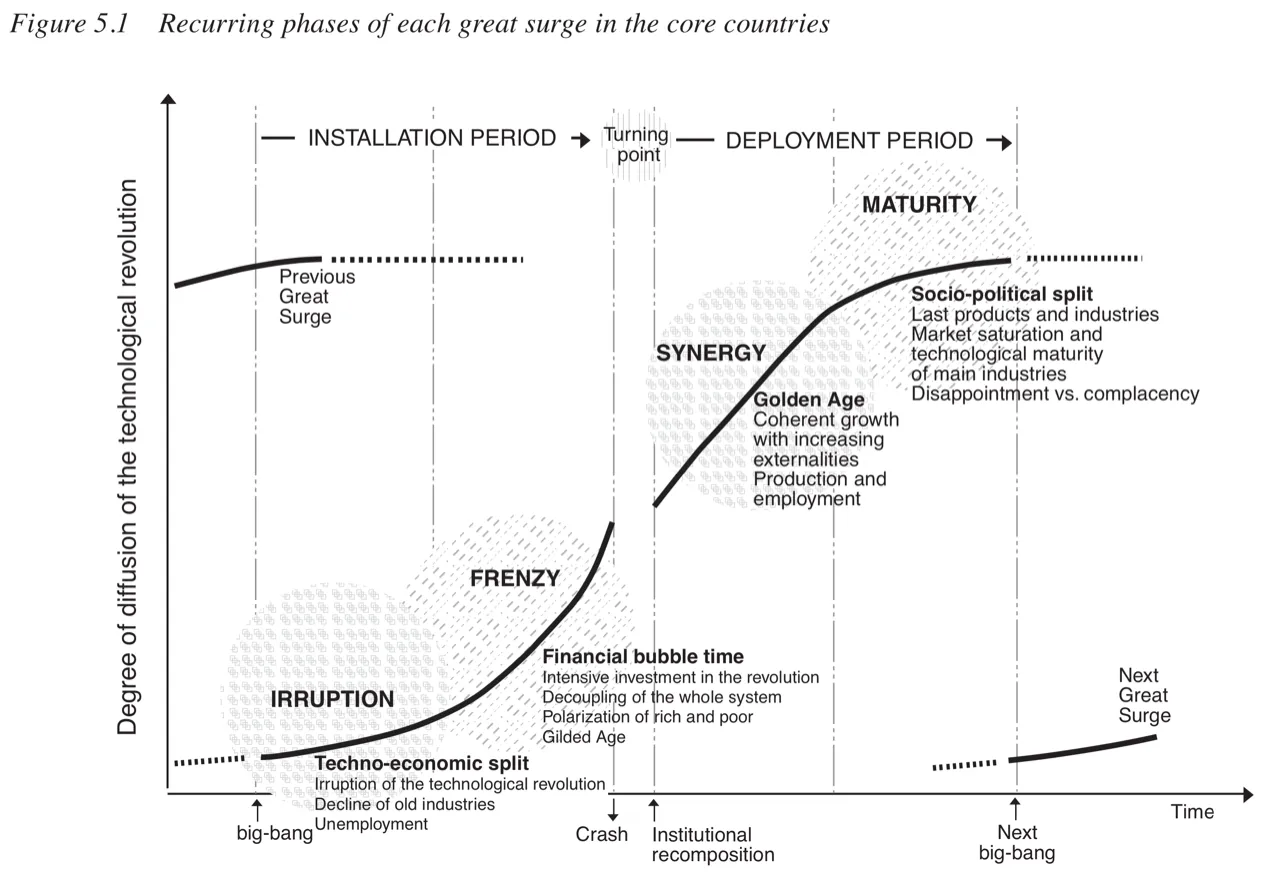 ---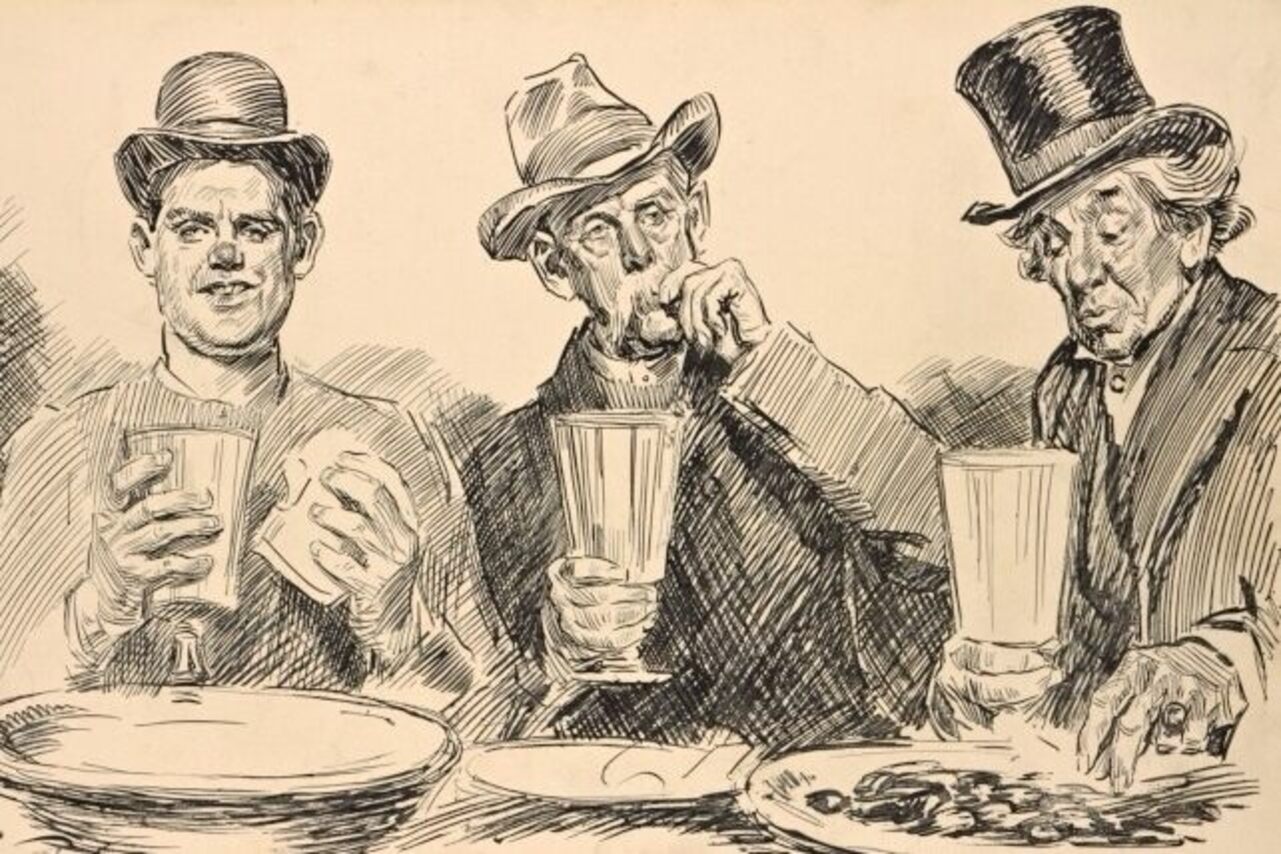 How New Yorkers dodged pre-Prohibition drinking laws by inventing the world's worst sandwich:
The complimentary-meal-with-drinks mandate, as it were, was designed so that wealthy patrons at luxury hotels could drink on Sundays, but low-rent saloon owners seized on the loophole, transforming dive bars into rooming houses overnight with tablecloths and "alleged bedrooms" made from attics and basements. "It was then that the loosest possible definition of a 'substantial meal' became the Raines Sandwich." The sandwich might be made of anything, even a brick between two slices of bread; it was rarely eaten. Sometimes, it would be served to a guest with their beer or whiskey, then whisked away and given to someone else. A single Raines Sandwich might last the day, or even the whole week.
---
36) Kellogg turns Wendy's Frosty into a breakfast cereal:
Created in collaboration with The Wendy's Co., the limited-edition, ready-to-eat cereal contains chocolate-flavored marshmallow pieces mixed with cocoa-coated multi-grain cereal pieces. The cereal evokes the irresistible taste of a Wendy's Frosty.
---
37) Another 4 million workers quit in the 5th month in a row of record exits: It shows how the pandemic is still making people rethink what they want out of work and life.
---
38) Biden administration plans wind farms along nearly the entire US coastline: Interior Secretary Deb Haaland announced that her agency will formally begin the process of identifying federal waters to lease to wind developers by 2025.
---
39) Measured productivity growth up a lot in the US in the wake of COVID, is flat or down in other major advanced economies: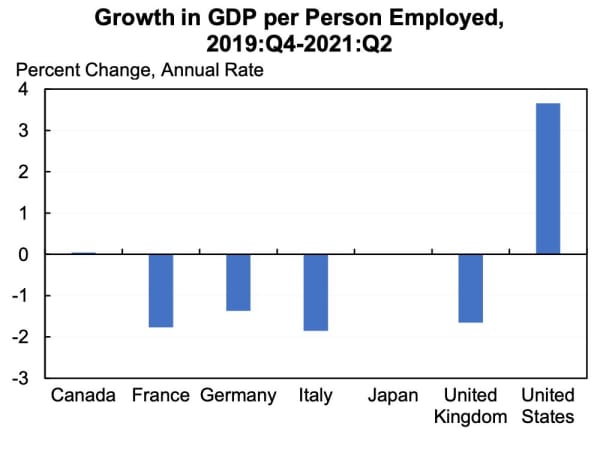 ---
40) Ordering in: The rapid evolution of food delivery:
How the world eats is changing dramatically. A little under two decades ago, restaurant-quality meal delivery was still largely limited to foods such as pizza and Chinese. Nowadays, food delivery has become a global market worth more than $150 billion, having more than tripled since 2017. In the United States, the market has more than doubled during the COVID-19 pandemic, following healthy historical growth of 8 percent.
---
41) Inflation in the economy today is different. Here are four charts that can explain why. The delta variant and supply chain backlogs have kept prices elevated. Rising prices are the result of constrained supply, not inflation.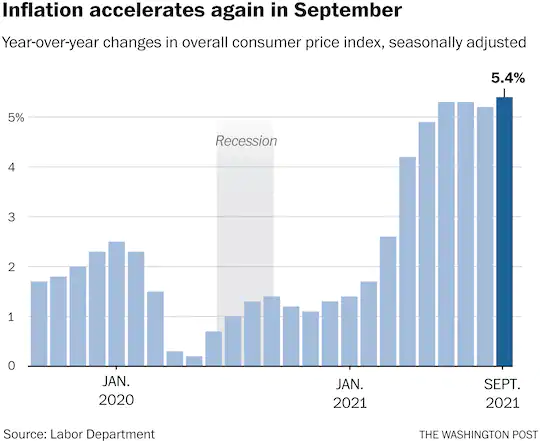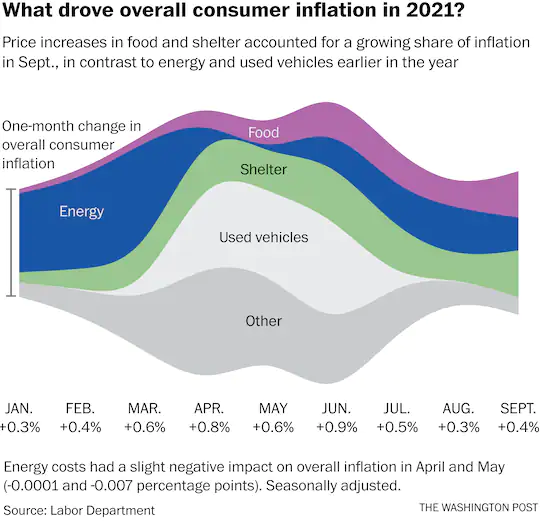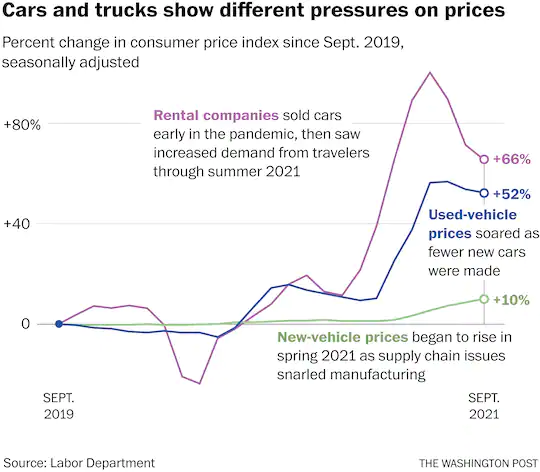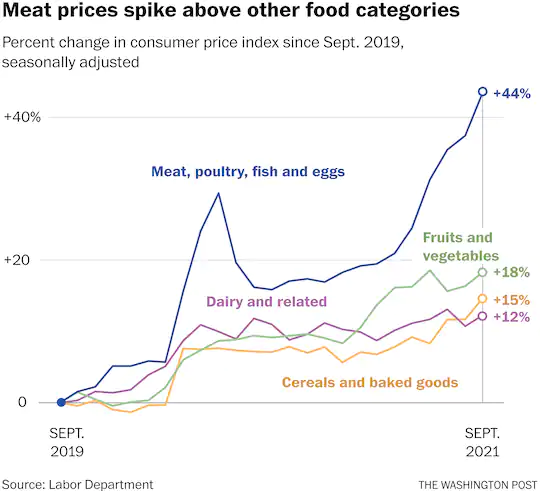 ---
42) The Great Resignation is accelerating: A lasting effect of this pandemic will be a revolution in worker expectations.
---
43) Life in the New American Suburbs: A vision of how we'll live in an age of moderately higher density.
The suburban model we created was fundamentally unsustainable. The upkeep on the vast sprawl of roads and other infrastructure was hellishly expensive, especially given the country's excessive construction costs. New knowledge industries created clustering economies that made density more important for productivity, even as social media and a decline in crime made urban life more enjoyable. These pressures have created both a rental crisis for renters and an affordability crisis for first-time homebuyers.
---
44) The absolute simplest explanation for America's supply chain woes: Snarled ports. Empty store shelves. Panicky Christmas shoppers. It all flows from one issue.
---
45) How a $2 million luxury condo in Brooklyn ends up with a $157 tax bill: Opaque methods, hypothetical numbers and 'bonkers' adjustments shift the property-tax burden toward middle- and working-class New Yorkers
---
46) High schoolers are training to drive 18-wheelers amid a shortage of truck drivers: Patterson High School in Patterson, Calif., is one of the first non-vocational high schools in the country to offer a truck-driving program for students.
---
47) Food prices will go up 'tremendously': Billionaire supermarket owner John Catsimatidis says food prices will rise 10% in the next two months.
---
48) Supply chain delays could soon leave wine bottles empty: it's not the wine that's delayed, it's the labels.
---
49) Procter & Gamble uses its size to lessen impact of supply-chain mess: P&G, Ikea and Albertsons are among the large companies tapping alternative sources of inventory to keep shelves stocked
---
50) 'People are hoarding': Food shortages are the next supply-chain crunch.
---
51) Energy crunch hits global recovery as winter approaches: Power shortages are turning out streetlights and shutting down factories in China. The poor in Brazil are choosing between paying for food or electricity. German corn and wheat farmers can't find fertilizer, made using natural gas. And fears are rising that Europe will have to ration electricity if it's a cold winter.
---
52) More!
---
53) 33 - Economic Development and Developers in the News - Econ dev news from 142 economic development executives and organizations in 35 states, Canada, Cayman Islands and US Virgin Islands
54) Podcast Episode 24 - "Talent Optimization" with Ben Nelson - Ben is the founder and CEO of Radix Leadership and the executive director of the Kewunee County Wisconsin EDC.
55) Economic Development Jobs This Week - 90 new econ dev jobs in 34 states and remote
56) Podcast Episode 23 - Talking Entrepreneurship in West Virginia with Bill Woodrum - Dane and Bill have a wide reaching conversation on entrepreneurship.
57) 37 Things Economic Developers Need To Know This Week - The stories that you need to see from this week. October 7, 2021 edition.
Econ Dev Show Newsletter
Join the newsletter to receive the latest updates in your inbox.