58 Things Economic Developers Need To Know This Week
The stories that you need to see from the last couple of weeks. December 9, 2021 edition.
1) 🧑‍💻 How to email like a boss: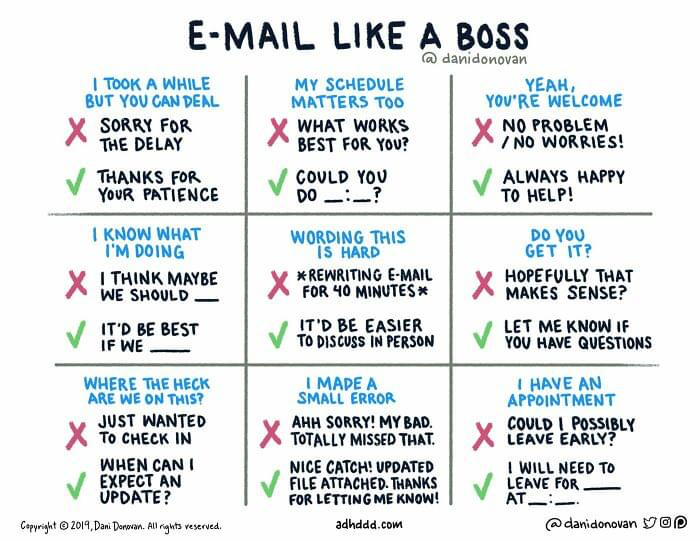 ---
2) 📈 The case for patience on inflation: So far, the data still suggest that prices should stop spiking once (if?) the pandemic is brought under control globally.
---
3) 🕰 Today has been a long time coming:
The current state of affairs has been a long time coming. Our instinct is to do something (anything!) to stop the short term pain.But the reality is that the worst of it will work itself out over time. This too shall pass.
But to address the underlying long term issues, it will take more than tapping the strategic petroleum reserve or changing Fed Chiefs. That means discussing fundamental changes to how we approach housing, employment, manufacturing, capital. I am not sure how much of an appetite there is for that sort of rethink.
---
4) 🚗 Supply chain creates garage door waiting game: The city of Sacramento will now allow garages to be boarded up in new homes, if the garage doors are not delivered in time.
---
5) 💰 What supply chain crisis? America's largest retailer is doing just fine.
---
6) 🏪 Uneasy about the economy, Americans are spending anyway: Retail sales jumped 1.7 percent in October, the third monthly increase, a rise that highlighted the resilience of the U.S. economy.
---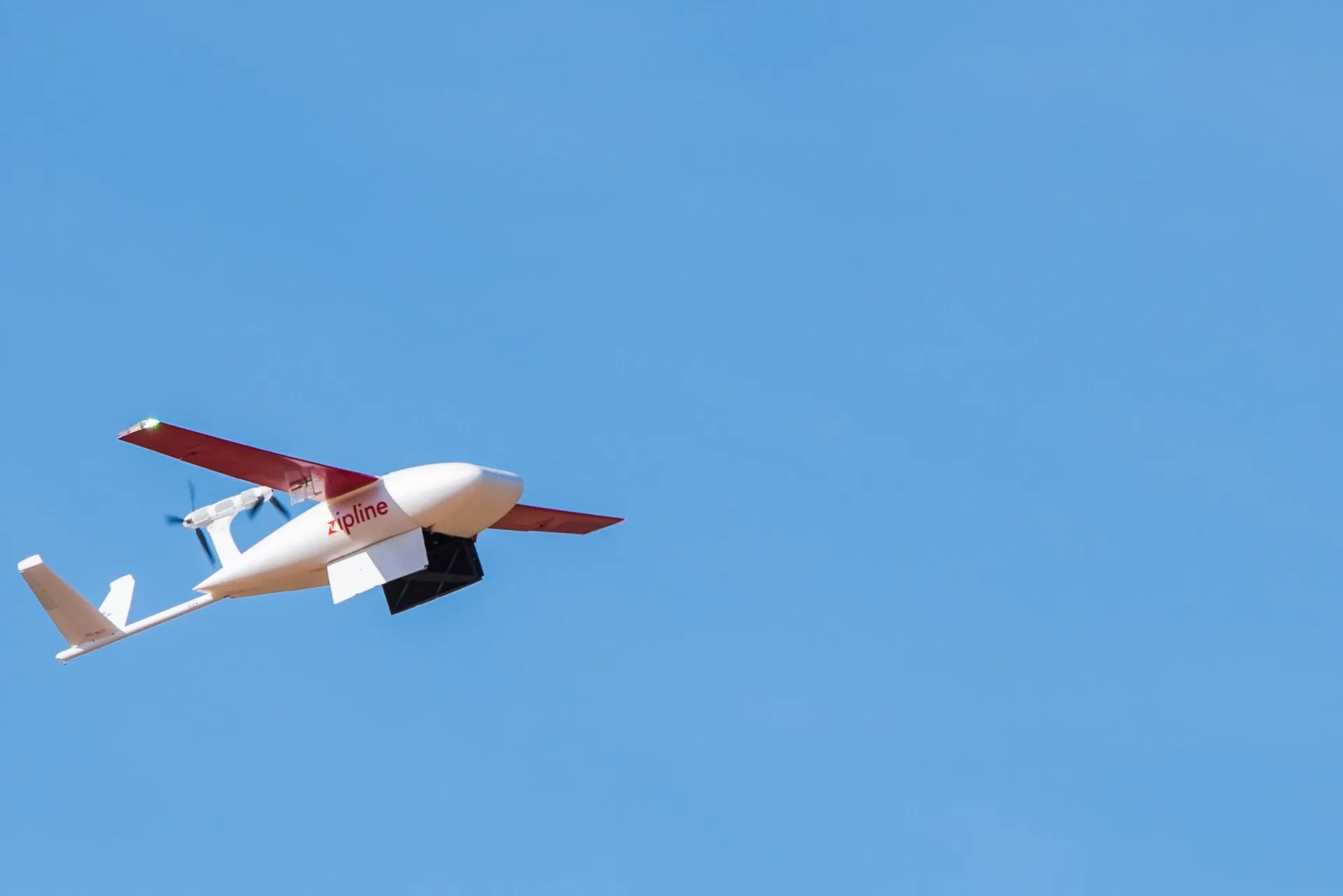 7) Walmart started using autonomous drones in new delivery service: The new on-demand delivery service, which uses autonomous drone technology, outside a Walmart headquarters in Pea Ridge, Arkansas.
---
8) 😉 A month of inflation does not a crisis make:
America has a real chance to experience a genuine economic boom over the next couple years, one that might heal some of the lasting economic scars of the lost decade that followed the 2008 crash. Some moderate — and likely temporary — inflation is an acceptable risk to give that boom its best possible chance of happening.
---
9) 😴 From Amazon to Zoom: What happens in an internet minute in 2021?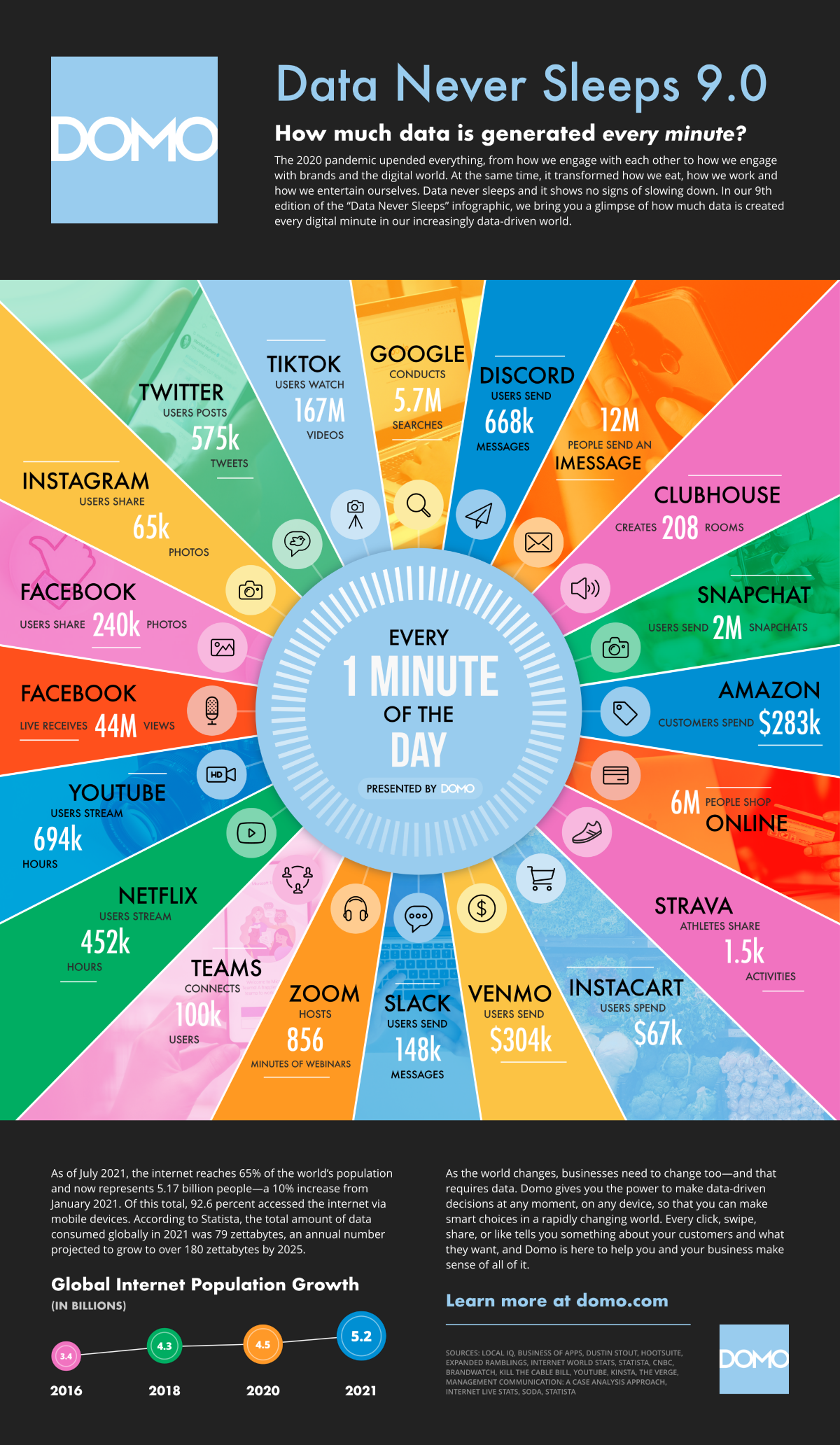 ---
10) Faced with soaring Ds and Fs, schools are ditching the old way of grading:
Educators are moving away from traditional point-driven grading systems, aiming to close large academic gaps among racial, ethnic and economic groups. The trend was accelerated by the pandemic and school closures that caused troubling increases in Ds and Fs across the country and by calls to examine the role of institutionalized racism.
---
11) Surging gasoline, food prices fan U.S. inflation: US consumer prices accelerated in October as Americans paid more for gasoline and food, leading to the biggest annual gain in 31 years, more signs that inflation could stay uncomfortably high well into 2022 amid snarled global supply chains.
---
12) Roads, transit, internet: What's in the infrastructure bill: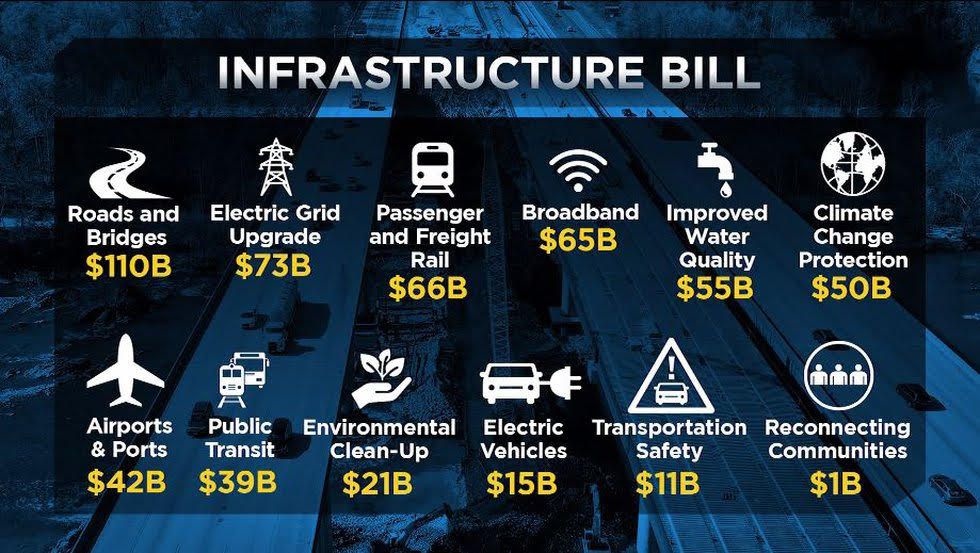 ---
13) 🦃 'It's been crazy,' turkey shortages, supply chain issues impacting thanksgiving meals: IRI reports that cranberry sauce is 20 percent out of stock and yams and sweet potatoes are a quarter out of stock.
---
14) 💰 IRS says it's boosting tax brackets due to faster inflation: The IRS said the income thresholds for federal tax brackets will be higher in 2022, reflecting the faster pace of inflation. That means a married couple will need to earn almost $20,000 more next year to enter the top tax bracket, with the tax rate set to remain at 37%.
---
15) 🔊 Podcast: Episode 27 - Dane on the EcDev Network with Dan Taylor and Lara Fritts.
---
16) 🗣 Would you like to be a guest on the Econ Dev Show Podcast?  Here's how.
---
17) 🚀🚀🚀 I know it doesn't feel like it, but: Productivity is offseting wage gains. Wage gains are a reset, and supply-chain price increases are temporary; productivity gains, on the other hand, will persist forever. That is a deflationary, not inflationary result.  Everything will get better.  Much, much better very soon.  We're on a rocketship of recovery anytime now.
---
18) 🎁 In the supply chain battle of 2021, small businesses are losing out to Walmart and Amazon: Independent retailers are getting squeezed out as suppliers, factories and freight companies prioritize national brands: 'We're at the whim of a broken supply chain.'
---
19) 🚘 Vintage cars are chic again: Enthusiasm for vintage cars has emerged at a time when microchip shortages have fueled bidding wars for new and used contemporary vehicles.
---
20) 💵 The truth about those dollar stores: Dollar General, Dollar Tree, Family Dollar, and others offer low prices but also raise concern in communities that feel choked by them
---
21) 👍 A record 74% of Americans say now is a good time to find a quality job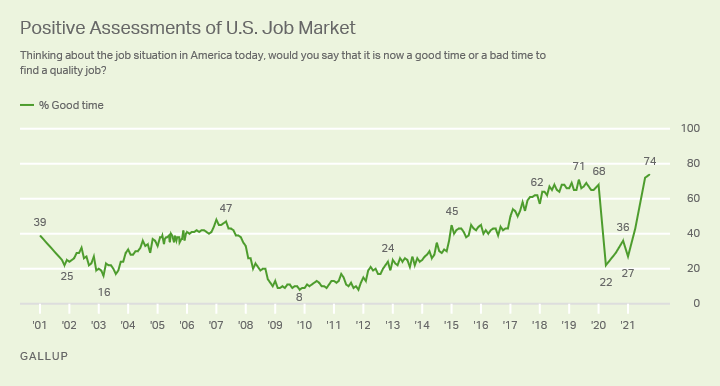 ---
22) Too big to sail: how a legal revolution clogged our ports. Thank you deregulation and the Ocean Shipping Reform Act of 1998.
---
23) The incredible tale of the greatest toy man you've never Known: He brought Pokémon, Yu-Gi-Oh!, and Cabbage Patch Kids to our living rooms. He made and lost fortunes.
---
24) Where did all the public bathrooms go? For decades, US cities have been closing or neglecting public restrooms, leaving millions with no place to go. Here's how a lack of toilets became an American affliction.
---
25) The fashion for near-shoring expands, with 'microfactories' a growing trend:
By the end of next year Benetton aims to have halved production in Asia, and instead, will manufacture more in Croatia, Serbia, Turkey, Egypt and Tunisia. This will bring more control of the production process and transport costs, which have gone through the roof over the past year.
---
26) Ships keep coming: Pushing US port logjam and waits to records.
---
27) Is The 'Great Resignation' actually a mass retirement?
Recent research from Goldman Sachs' economists offers a completely different take on the now hotly debated tale of spiritual awakening. Fully two-thirds of the folks leaving jobs this past August weren't actually 'quitting.' They were retiring. One million were 'normal' retirements, an additional 1.5 million opted for early retirement. That's a whole different story.
---
28) This flexible drone can be completely rolled up: A single motor and flexible wing are all this drone needs
---
---
29) Supply chains no more: Semiconductors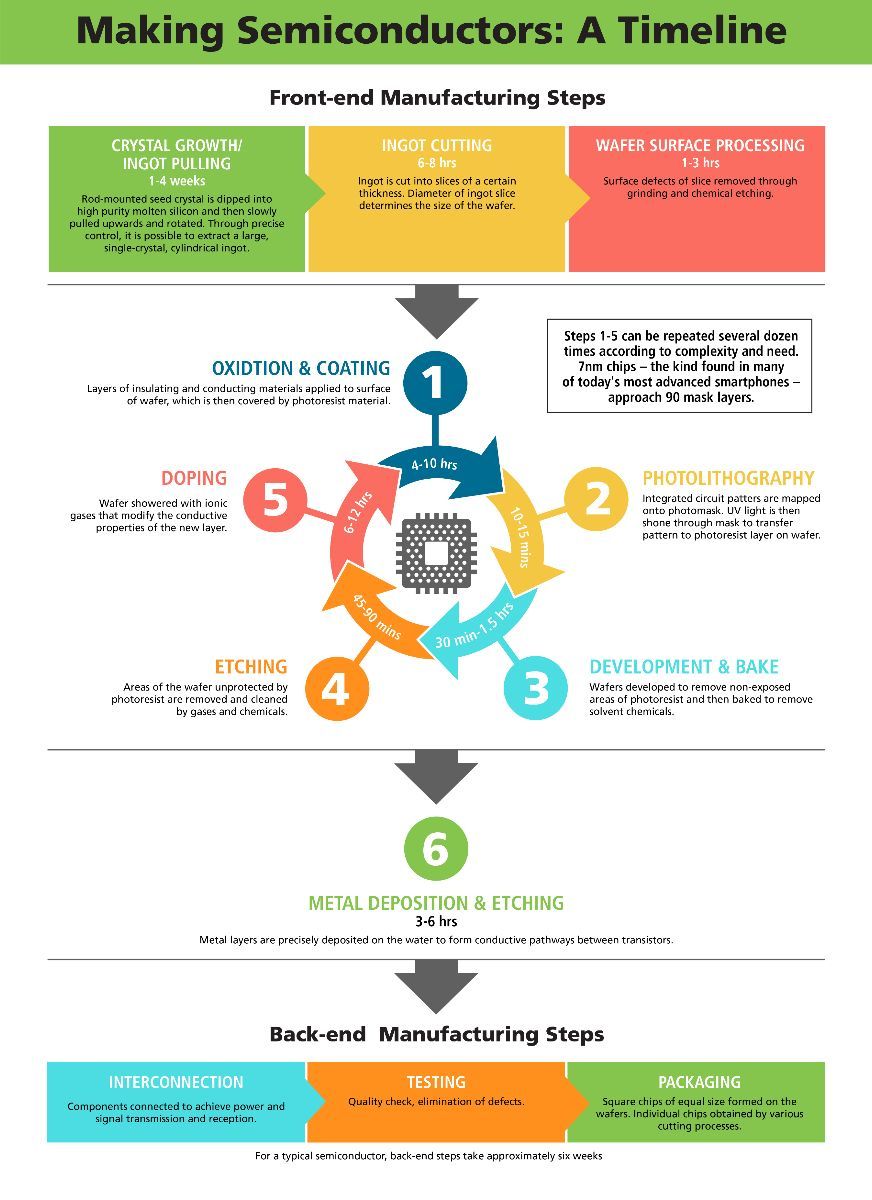 ---
30) To fight floods: New York City rebuilds a wall of oysters.
---
31) Goodbye: This could finally be Sears' and Kmart's last holiday shopping season.
---
32) Everyone's moving to Texas. Here's why.
---
33) Map: the most profitable industry in every US State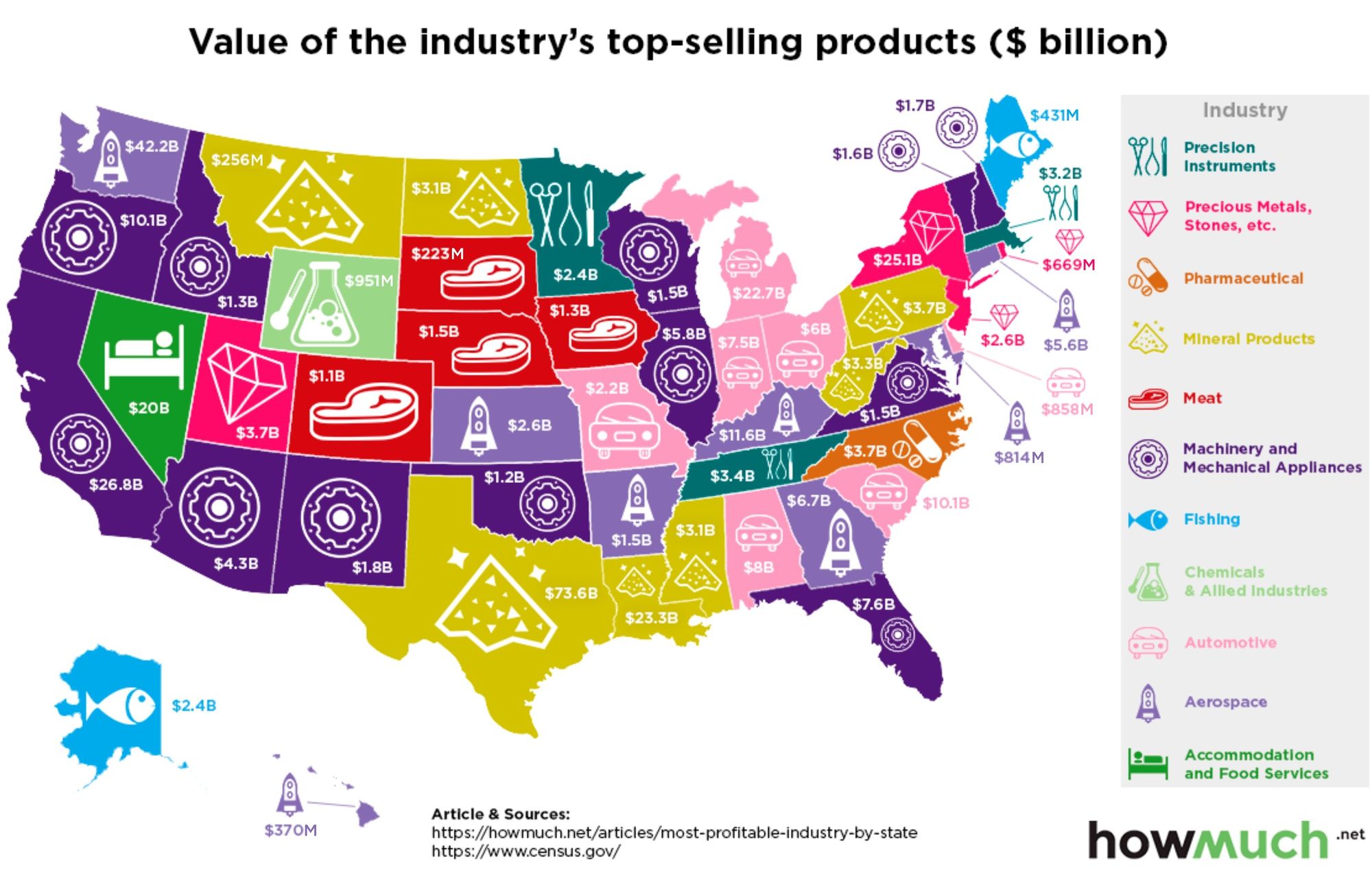 ---
34) Why do weeks have seven days?: The seven-day week has survived for millennia, despite attempts to make it less chaotic.
---
35) Modern monetary theory isn't the future: It's here now.
---
36) California port truckers 'drowning' in supply chain inefficiencies.
---
37) More supply chain problems: Christmas tree buyers face reduced supplies, higher prices
---
38) Ocean Timeliness Indicator:
Flexport's new Ocean Timeliness Indicator measures the amount of time taken to ship freight from the point at which cargo is ready to leave the exporter to when it is collected from its destination port. The ocean shipping world tends to run along "trade lanes." The two biggest ones carry goods from Asia to North America, and from Asia to Europe. The OTI captures timeliness on each of these. The Transpacific Eastbound (TPEB) measure hit its longest on record in the last week of November while the Far East Westbound (FEWB) measure is near its October high.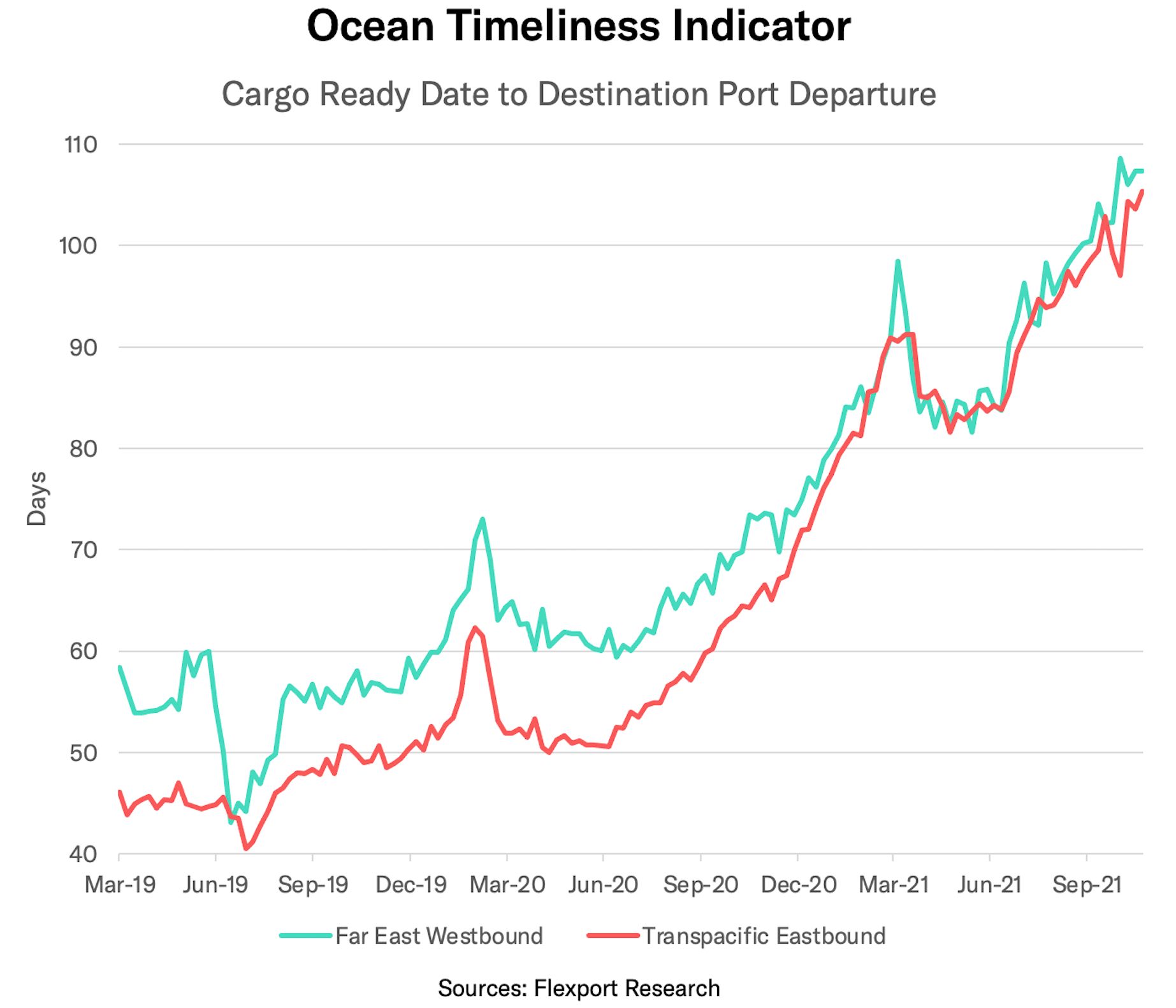 ---
39) Years of delays, billions in overruns: The dismal history of big infrastructure
---
40) The US shale patch's lackluster recovery is a problem for the post-COVID oil market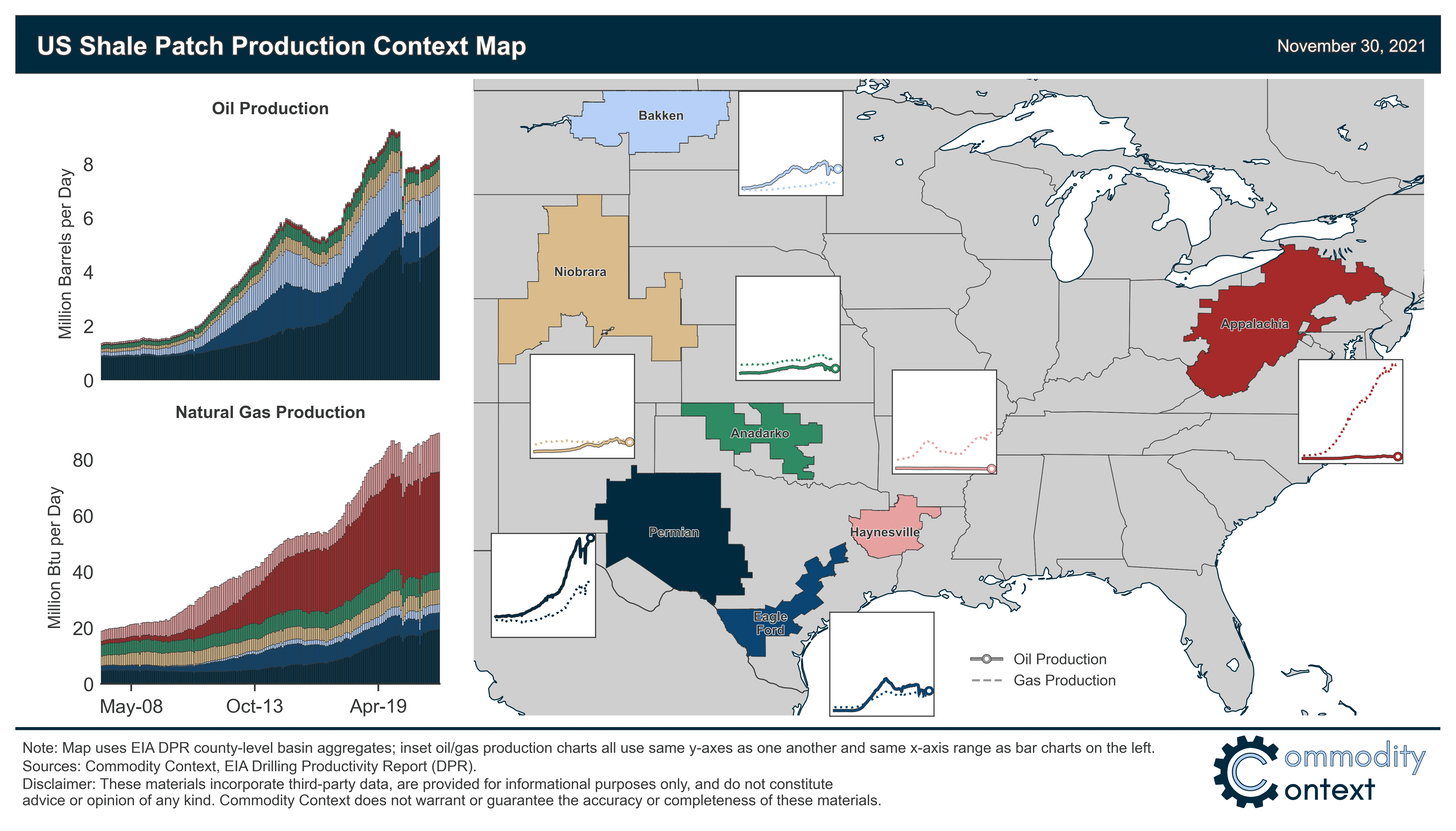 ---
41) Canada: Poised to become battery leader in North America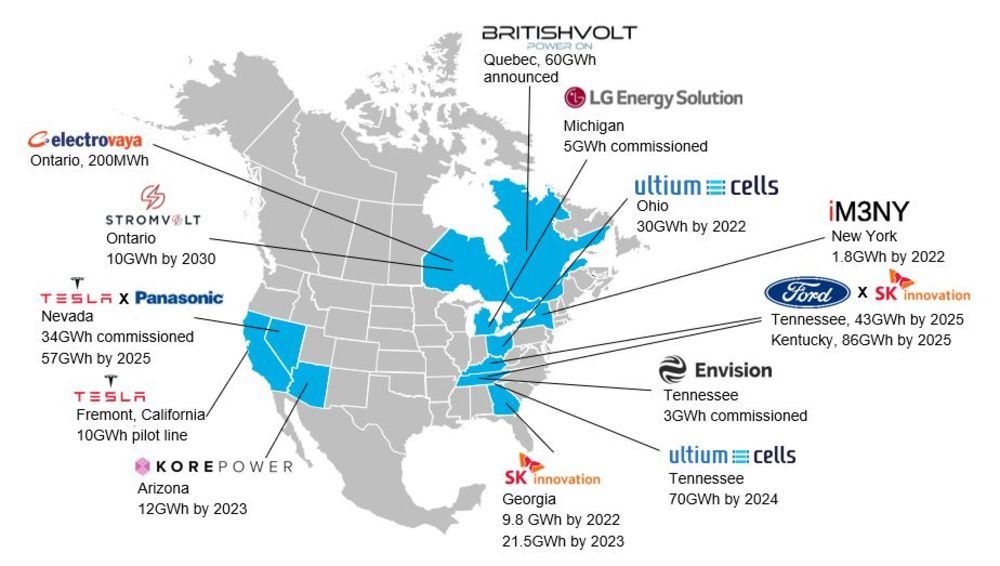 ---
42) Fake toughness on China - Supply chains:
do littleyearsTrumpBiden
---
43) Antitrust enforcers to take on big business and shortage profiteering: The Federal Trade Commission just launched the first major investigation into shortages and monopoly power, sending letters to Amazon, Walmart, Tyson Foods, and Proctor & Gamble. This matters.
---
44) Technological Obsolescence: When it comes to the half-life of innovation, at least measured by patents, obsolescence happens quickly with tech, less so with coal — as you might guess.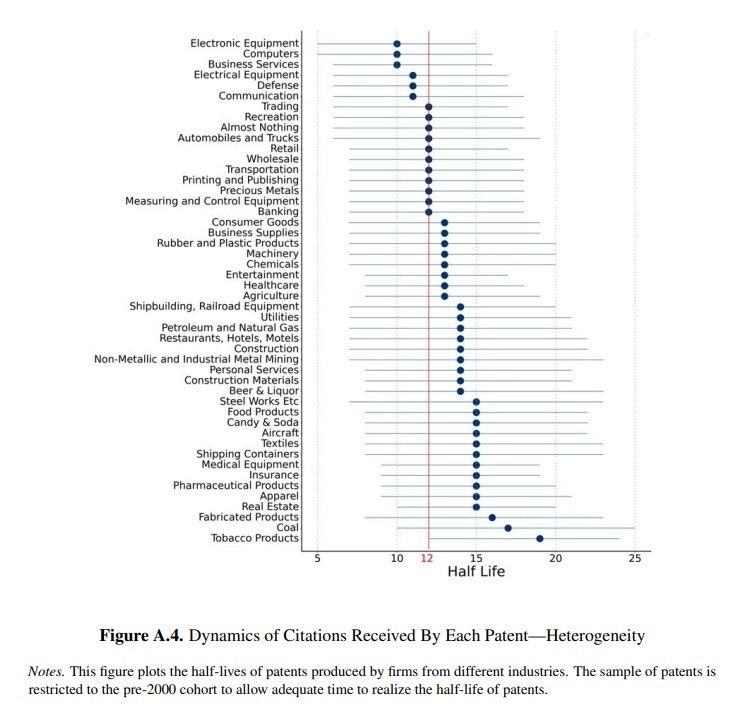 ---
45) Will there be no more Christmas shopping on Thanksgiving?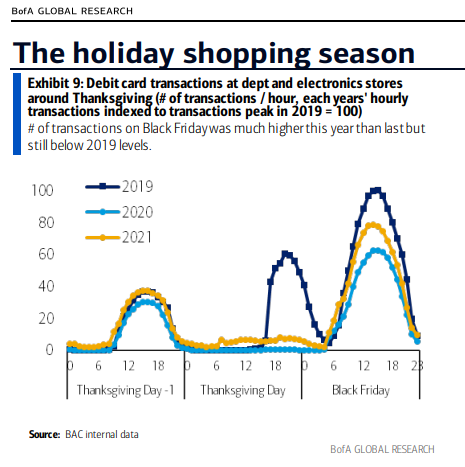 ---
46) Amazon is making its own containers and bypassing supply chain chaos with chartered ships and long-haul planes:
"Who else would think of putting something going into an obscure port in Washington, and then trucking it down to L.A.? Most people are thinking, well, just bring the ship into L.A. But then you're experiencing those two-week and three-weeks delay. So Amazon's really taken advantage of some of the niche strategies I believe that the market needs to employ," Ferreira said.
---
47) Could this be the next big thing in fashion? Mushroom leather:
In 2013 that Danish product designer Jonas Edvard developed organic mushroom textile using mushroom spores and plant fibres. The material was called MYX, from mycelium and it was created using the waste material from commercial oyster mushroom production. After harvesting the mushrooms, Edvard discovered that the remaining material could be shaped and dried out.
---
48) China-US decoupling? American companies say 'not so fast':
reform and opening upfearedAmericanpresidentsgrowing
---
49) How to be great? Just be good, repeatably:
the most sure and therefore the best way to "success" is through consistency.
---
50) The effects of major retailers raising their minimum wages: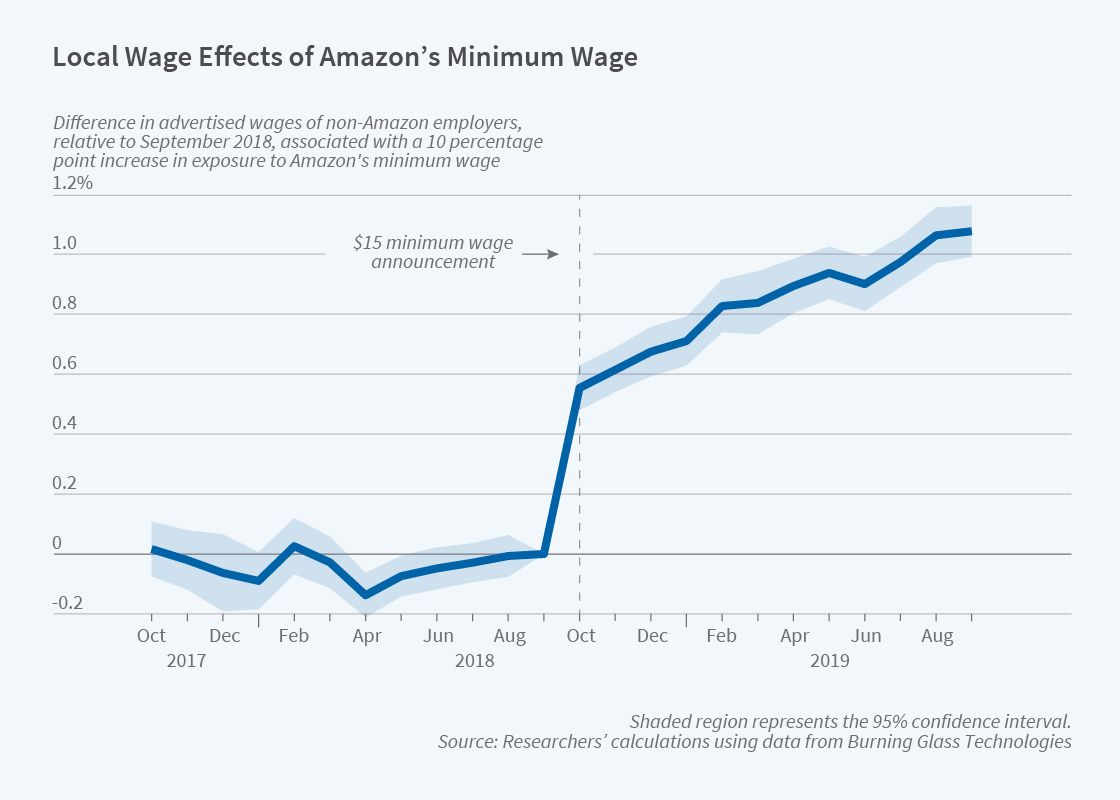 ---
51) Could Covid lead to progress: Mass tragedies sometimes have unexpected consequences.
---
52) US wages for the lowest earners are growing at the fastest rate since the global financial crisis:
---
53) This is a short story about what happened to the U.S. economy since the end of World War II:
That's a lot to unpack in 5,000 words, but the short story of what happened over the last 73 years is simple: Things were very uncertain, then they were very good, then pretty bad, then really good, then really bad, and now here we are. And there is, I think, a narrative that links all those events together. Not a detailed account. But a story of how the details fit together.
---
54) Goldman Sachs has updated their economic outlook to incorporate Omicron: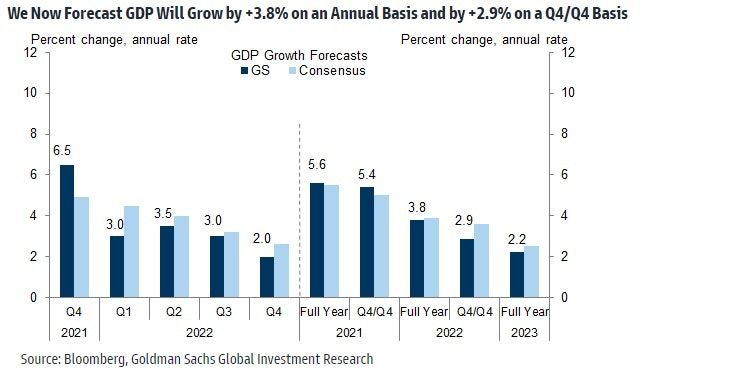 First, Omicron could slow economic reopening, but we expect only a modest drag on service spending because domestic virus-control policy and economic activity have become significantly less sensitive to virus spread. . . . Second, Omicron could exacerbate goods supply shortages if virus spread in other countries necessitates tight restrictions. This was a major problem during the Delta wave, but increases in vaccination rates in foreign trade partners since then should limit the scope for severe supply disruptions. . . . Third, Omicron could delay the timeline for some people feeling comfortable returning to work and cause worker shortages to linger somewhat longer. We have updated our GDP forecasts to incorporate our updated virus outlook as well as the latest GDP tracking data. . . . We now expect GDP growth of +6.5%/+3.0%/+3.5%/+3.0%/+2.0% in 2021Q4-2022Q4. This implies 2022 GDP growth of +3.8% (vs. 4.2% previously) on a full-year basis and +2.9% (vs. +3.3% previously) on a Q4/Q4 basis.
---
55) How Japan is dealing with their labor shortages:
Given the country's aging population, continued economic growth in Japan will have to rely on technology-driven productivity gains, but red tape could slow the spread of automation and artificial intelligence in its economy.
---
56) 🚀 Life in 2050: Prime Movers Lab, a venture capital firm that focuses on "breakthrough scientific startups ... reinventing energy, transportation, infrastructure, manufacturing, human augmentation, and agriculture." It's put together a roadmap of sorts about how the next three decades might play out if the line keeps going up.
---
57) Return-to-office chaos is the best thing to happen to consultants since Y2K: A new breed of "experts" is here to help desperate employers navigate these uncharted waters. Too bad no one knows anything.
---
58) Janet Ady: Business vs. individual location decision making:
business retentiontalent development
Econ Dev Show Newsletter
Join the newsletter to receive the latest updates in your inbox.