62 Things Economic Developers Need To Know This Week
The stories that you need to see from this week. September 2, 2021 edition.
Good morning econ dev fans and practioners:  Welcome to everyone's favorite make you a smarter economic developer newsletter!  Thanks for spending a few minutes with us this morning.
This week we have 62 stories, graphics, charts, and videos that I think you'll find informative, useful, inspiring, and perhaps even funny.
- Dane
---
1) Economic Development and Developers in the News # 26 - Econ dev news from 101 economic development executives and organizations in 40 states and Canada
2) Buffalo Hunting in Alabama: A Novel (A Review) - What if economic development was a cross between Jurassic Park, James Bond and Jack Reacher?
3) Podcast Episode # 17  Entrepreneurship-Led Economic Development with Zachary Barker - Zach's an expert in ecosystem design and delivery of entrepreneurship, technology, and innovation (ETI) led programming.
4) Economic Development Jobs This Week - 55 new econ dev jobs in 25 states. August 27, 2021 edition.
5) 60 Things Economic Developers Need To Know This Week - The stories that you need to see from this week. August 26, 2021 edition.
---
6) Most popular fast food chain in the world and their country of origin: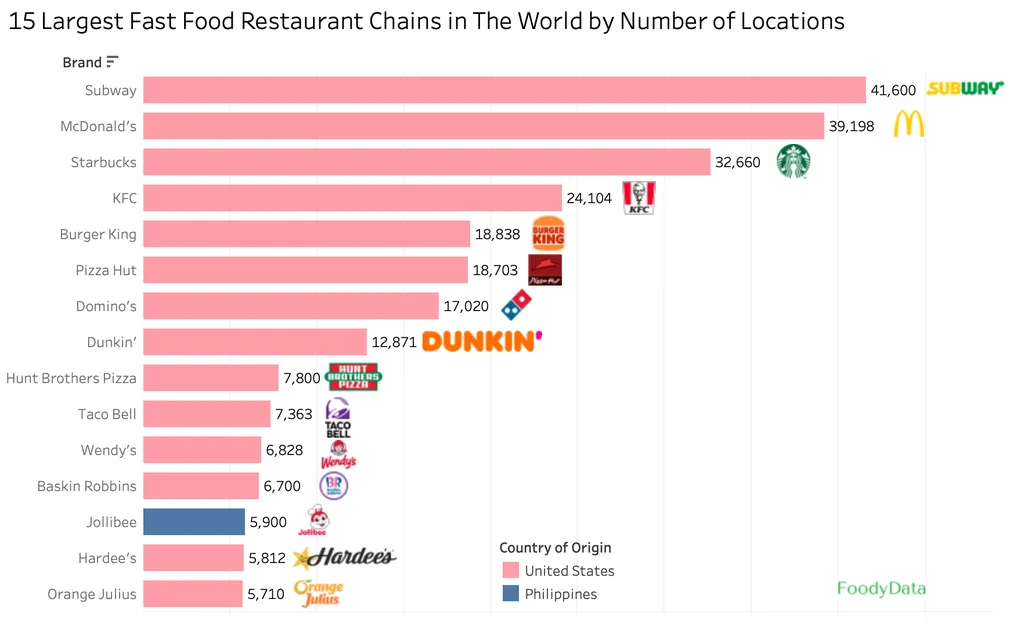 ---
7) In this housing boom, mortgages are for losers: To boost entry-level homeownership for lower-income buyers, the government needs to make the market less appealing to the cash-rich Wall Street investors who have taken over.
---
8) The world economy's supply chain problem keeps getting worse: Shipping shortages spark bidding wars by factory owners, and rising costs push exporters to raise prices, stoking inflation.
---
9) Climate change will disrupt supply chains much more than COVID: Wildfires in the American West, flooding in China and Europe and drought in South America are already disrupting supplies of everything from lumber to chocolate to sushi rice.
---
10) 1967 version of "e-commerce":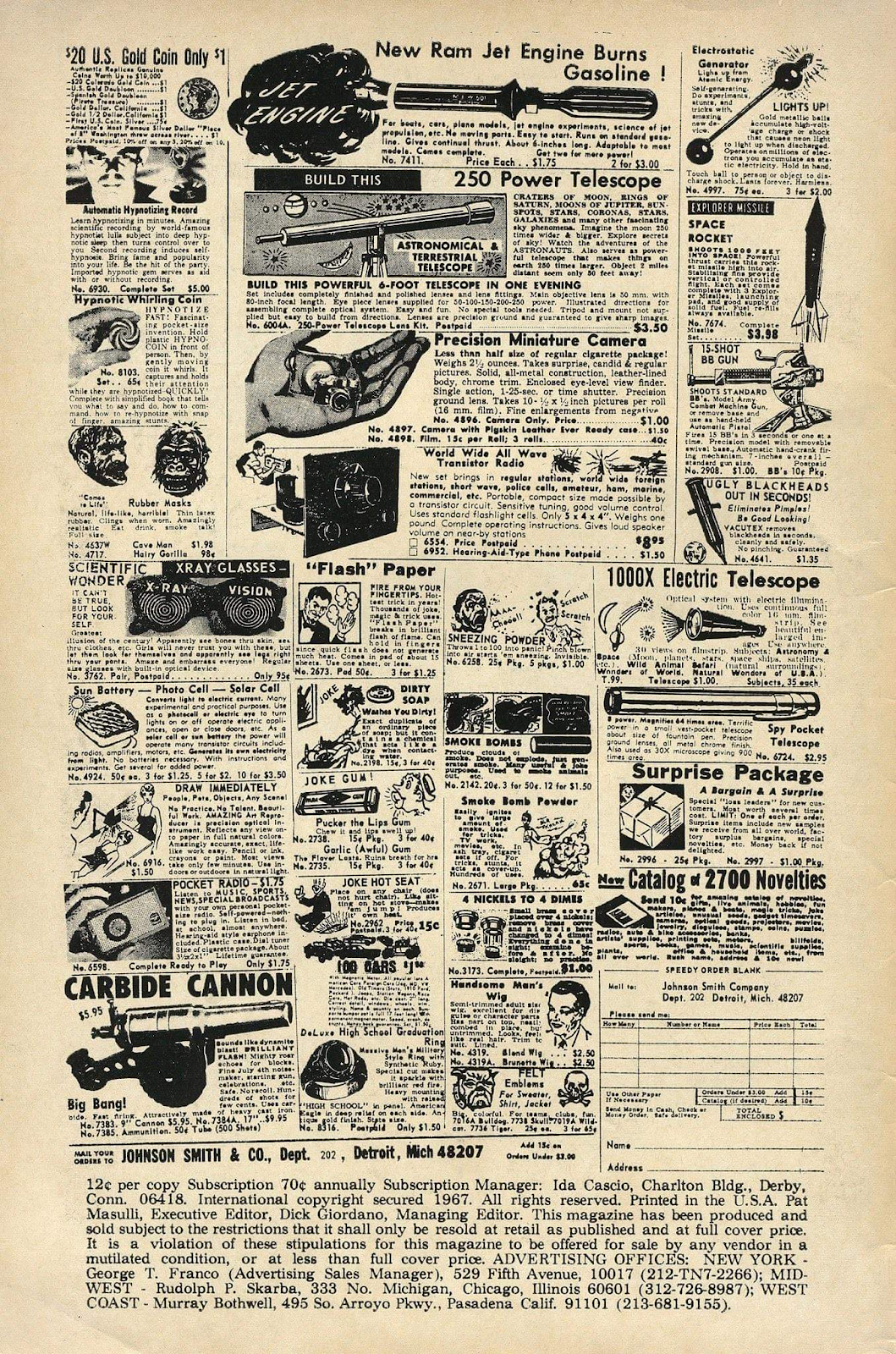 This Johnson Smith Novelty Items magazine ad was how the 1960's version of "eCommerce" companies worked. They would make compact ads like this with their catalog of popular (or curiosity-inducing) items and run them in magazines and newspapers.
The goal was to get people to buy one small item by sending them money or check in the mail, then sending that customer a larger catalog of items in hopes they buy more.
Selling direct was much tougher before the internet!
---
11) Why company headquarters are leaving California in unprecedented numbers by Joseph Vranich and Lee E. Ohanian.
---
12) 🎬 What's going on with shipping rates?  McKinsey's Steve Saxon and Jaana Remes discuss why container shipping costs are surging and give their take on what lies ahead for the industry.
---
13) MIT researchers have developed inflatable mind-controlled prosthetic hand:
---
14) Vaccine inequality could cost the global economy trillions, report finds.  "Emerging countries will shoulder around two-thirds of these losses, further delaying their economic convergence with more developed countries," wrote Agathe Demarais, the Economist Intelligence Unit global forecasting director.
---
15) Employers want you to get vaccinated. This one is offering a $1,000 bonus.
---
16) I just finished Buffalo Hunting in Alabama: A Novel by Don Erwin.  Look for a review next week.  Spoiler: It's a must read!
---
17) Here's how the G20's energy mix has changed over 56 years:
---
18) Pro-growth isn't anti-environment: Rising human prosperity can be be ecologically sustainable. De-growth is anti-human.
---
19) Vaccinated Democratic counties are leading the economic recovery: Data show America's output is concentrated in counties that Biden won—which are better protected against delta.
---
20) How to build a place-based economy where you live:
---
21) The death of the job: What if paid work were no longer the centerpiece of American life?
Since about the 1940s, Americans have been encouraged to look to their jobs for nearly all of life's necessities: a living wage, health insurance, and retirement benefits, as well as intangibles like friendship, identity, and a sense of purpose. But these benefits were never universal, and they became less and less common as the years went by.
---
22) Dallas/Fort Worth defacto capital?
Dallas–Fort Worth is becoming the de facto capital of America's Heartland: Today, Dallas is pulling away economically from the nation's long-established urban centers because of a distinctive policy orientation: growth-friendly, with lighter-touch business regulation and lower taxes than longtime urban centers in the Northeast, the Midwest, or California
---
23) US history shows spending on infrastructure doesn't always end well:
Over the past two centuries, federal, state, and municipal governments across the U.S. have launched wave after wave of infrastructure projects.
They built canals to move freight in the 1830s and 1840s. Governments subsidized railroads in the mid- and late 19th century. They created local sewage and water systems in the late 19th and early 20th centuries, and then dams and irrigation systems through much of the 20th century. During World War II, massive amounts of public money were spent building and expanding ports, factories, airfields, and shipyards. And after the war, highway construction -- long a state and local project -- became a federal endeavor.
Many of these projects did not end well. The problem wasn't that the country didn't need infrastructure---it did. And the troubles weren't the result of technical failures: By and large, Americans successfully built what they intended, and much of what they built still stands.
The real problems arose before anyone lifted a shovel of earth or raised a hammer. These problems stem from how hard it is to think ahead, and they are easy to ignore in the face of excitement about new spending, new construction, and increased employment.
---
24) Ohio an emerging tech leader?
Even if you're not in the "Buckeye State," you might find this interesting 👉 How Ohio can become a leader in emerging technologies:
The report also features a list of specific actionable policy recommendations that Ohio should adopt to improve emerging technology regulations that impact regulatory sandboxes, broadband access, telehealth, autonomous and electric vehicles, drone deployment, digital services, data privacy, and appropriate visas for skilled workers
---
25) Not the ☕️☕️! Global coffee supply dealt fresh blow by COVID in Vietnam.
---
26) Why Fed's Powell still thinks high inflation is 'temporary': Federal Reserve Chair Jerome Powell on Friday pushed back against concerns that swiftly rising prices could become an enduring feature of the economy, forcing the U.S. central bank to raise interest rates and cut short the recovery.
---
27) Is conventional econ dev dead wrong?
---
28) Zoom Tip: Having Zoom cameras off reduces exhaustion & increases engagement, especially for women. Let people have their cameras off — they will focus more on the conversation.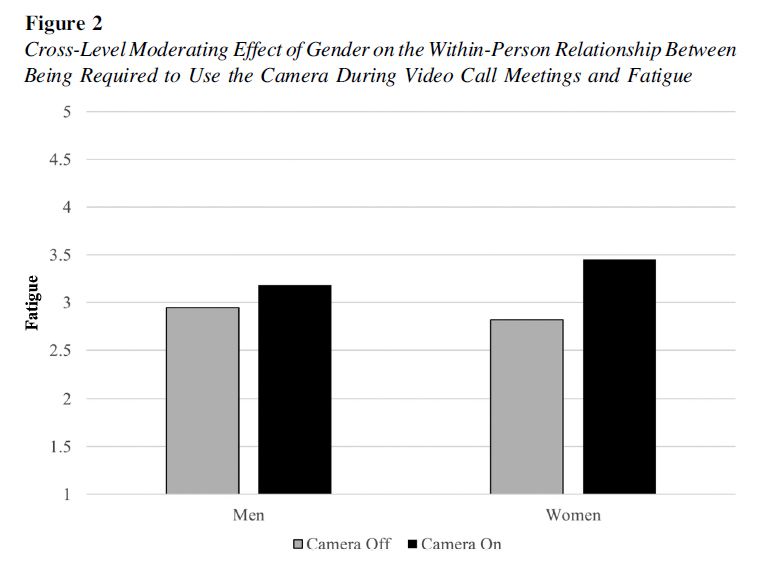 ---
29) Today's BBA Digest from Dean Barber is free to read.
---
30) Demography is not destiny: New numbers provide a reminder of the fluidity of American identity.
---
31) Higher education in a world of singles: Universities differ from music labels, but they, too, rely on an economic model that exerts control over talent and forces consumers into a narrow set of choices.
---
32) How the US made affordable homes illegal: The rules that keep American housing expensive.
---
33) People keep moving to the worst places for climate risk: Lots of people are flocking to Arizona, Florida, and Texas -- but no one is moving to Duluth, Minnesota.
---
34) Offices dangle beehives and garden plots to coax workers back: The latest perks include harvesting honey and digging in the dirt, part of a growing effort to give employees access to fresh air, sunlight and plants.
---
35) 🚀 Why optimistic science fiction is still possible and important:
Sci-fi has an important role in helping us remember that we are pioneers and our exploring is far from finished. How many Silicon Valley technologists and founders were inspired by the various incarnations of Star Trek, after all? And this isn't just my opinion. Plenty of sci-fi creators have publicly bemoaned their genre's overly dark turn and its impact on our societal ambition, including Neal Stephenson, author of Snow Crash and other sci-fi classics. His concern even prompted him to partner with Arizona State University's Center for Science and the Imagination to create Project Hieroglyph, which produced Hieroglyph: Stories and Visions for a Better Future, an anthology of tech-solutionist, hard sci-fi stories. (Stephenson's contribution, which is outstanding, is about a space elevator.)
---
36) The true size of the continents: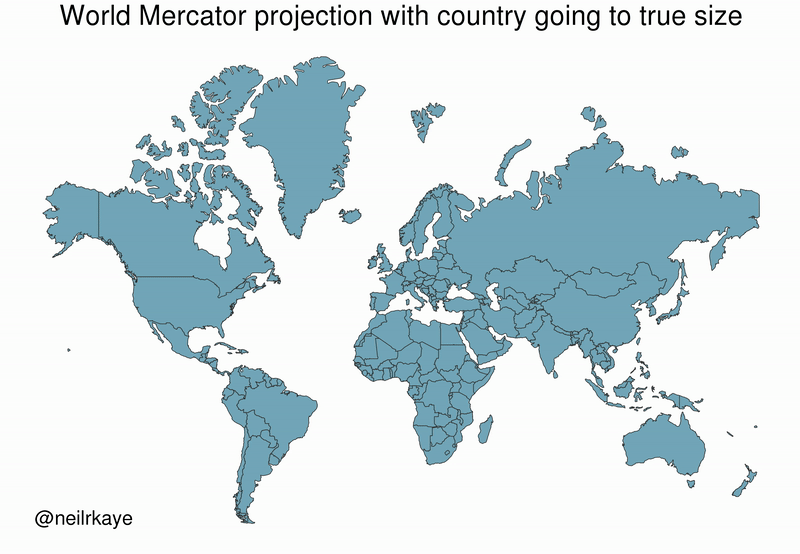 ---
37) The difference between raw data and the stories data can tell 😃👍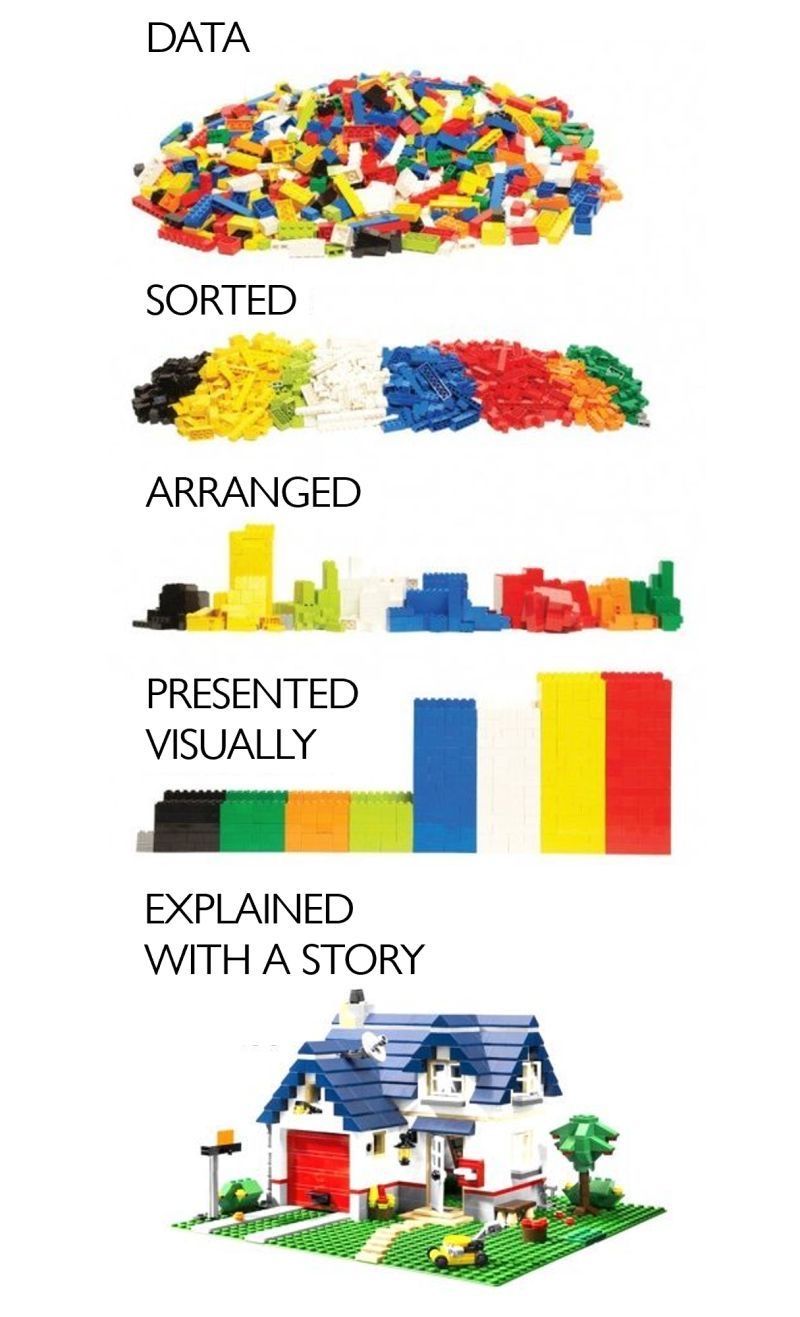 ---
38) Why is it so hard to be rational?: The real challenge isn't being right but knowing how wrong you might be.
---
39) After years of failure, California lawmakers pave the way for more housing: To ease an affordability crisis, the Legislature voted to open suburbs to development, allowing two-units on lots long reserved for single-family homes.
---
40) What I learned visiting two cutting-edge Amazon grocery stores: Grocery stores have reason to worry as Amazon invades their industry.
---
41) These millennials are dumping their jobs to plot new careers: With several years in the workforce and some savings, some young professionals take an early career break to reassess and chart a different path
---
42) The future of green energy is comically large wind turbines: Building a few gigantic wind turbines is more efficient than building many smaller ones, scientists say.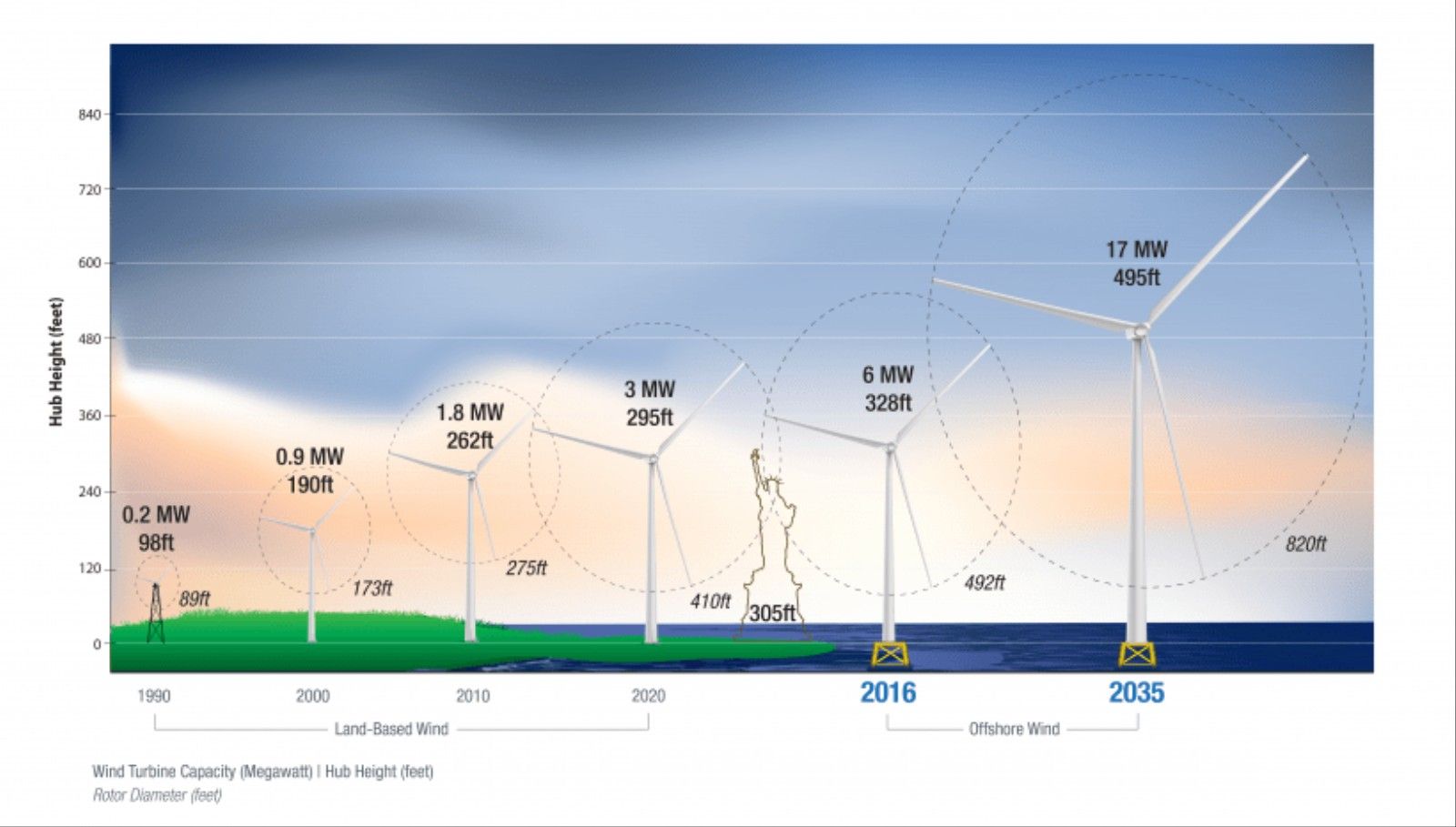 ---
43) Workplace development is the new workforce development: If you want to better retain your workers, stop paying for classified ads, social media posts and expensive staffing agencies. Instead, contact your local MEP Center and start focusing
on workplace development today.
---
44) Meet Caleb Anderson.  The 13 year old is studying aerospace engineering at Georgia Tech.
---
45) Winning over diners with QR code-driven advertising: Once simply a quirky tech add-on for signs, QR codes are now a leading marketing and commerce tool.
---
46) Unfinished tractors, pickup trucks pile up as components run short: Supply-chain problems cause order backlogs, cutting into sales volumes for companies like Cleveland-Cliffs, Honeywell and Illinois Tool Works.
---
47) The newest LinkedIn Economic Development Newsletter is out.
---
48) Desperate U.S. cities pitch Wall Street-style sign-on bonuses: The labor constraints jeopardize essential services such as trash pick-up, and exacerbate shortages in demanding jobs like 911 dispatchers that predated the Covid-19 crisis.
---
49) 🆓 Demystifying Public Speaking: Whether you're bracing for a conference talk or a team meeting, Lara Hogan helps you identify your fears and face them, so you can make your way to the stage (big or small).
---
50) Road to decarbonization: The United States electricity mix: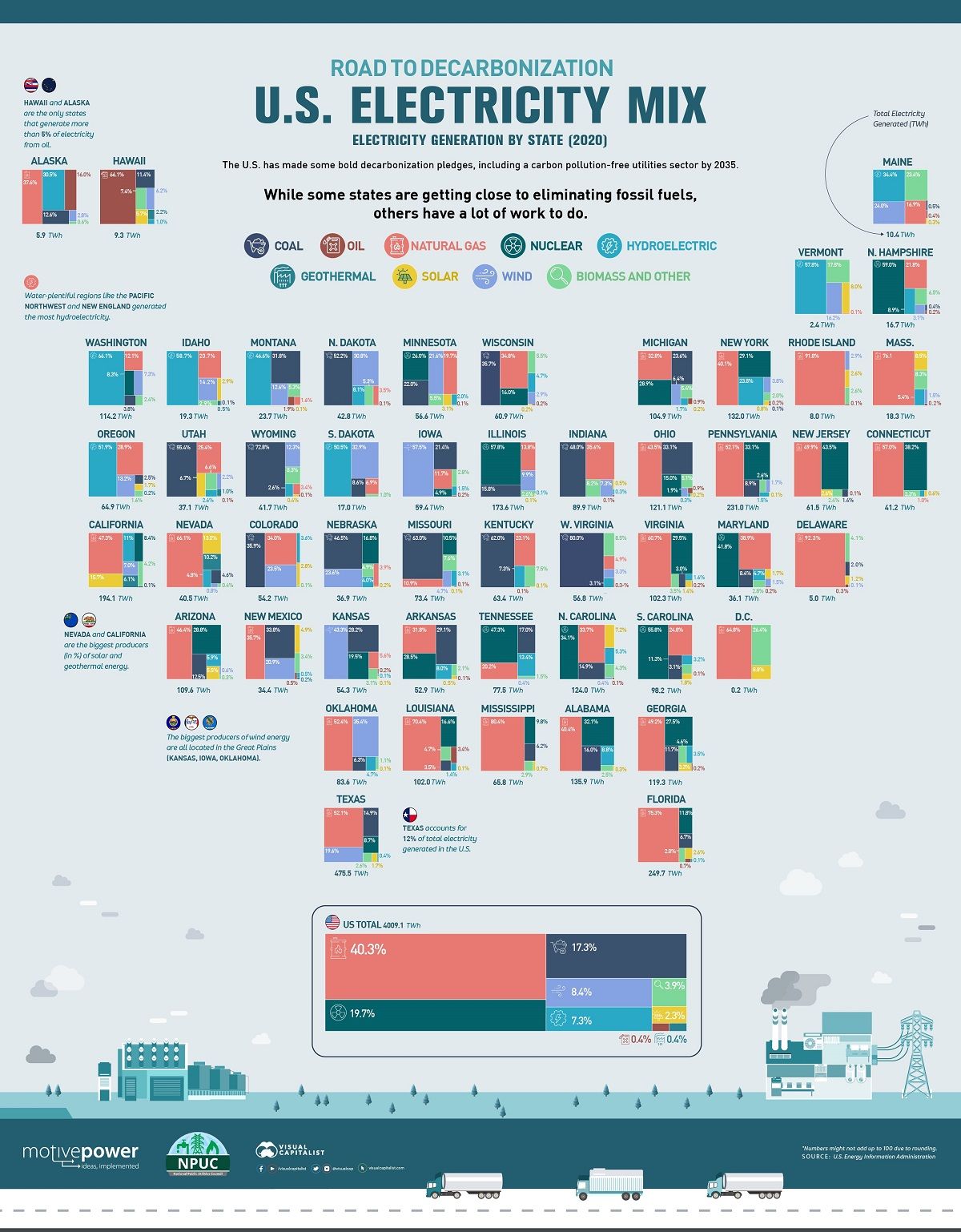 ---
51) How to respond to complaints on social media: Limit your responses to social media complaints to a single empathetic reply, then take it private
---
52) The next frontier of the inbox: My text messages inbox is becoming my email inbox — which had previously absorbed the marketing overflow of my mailbox and landline. The reason? Over-saturation. Put differently: my inbox no longer offers the returns brands seek.
---
53) Nobody knows anything: Wall Street during the pandemic:
"If someone would have told me in March of last year, when Covid was first rearing its ugly head, that 18 months later we would have case counts that are as high—if not higher—than they were on that day, but that the market would have doubled over that 18-month period, I would have laughed at them." The impossible is now commonplace
---
---
54) Well this is good news: Cost of college tuition has remained stable since September 2019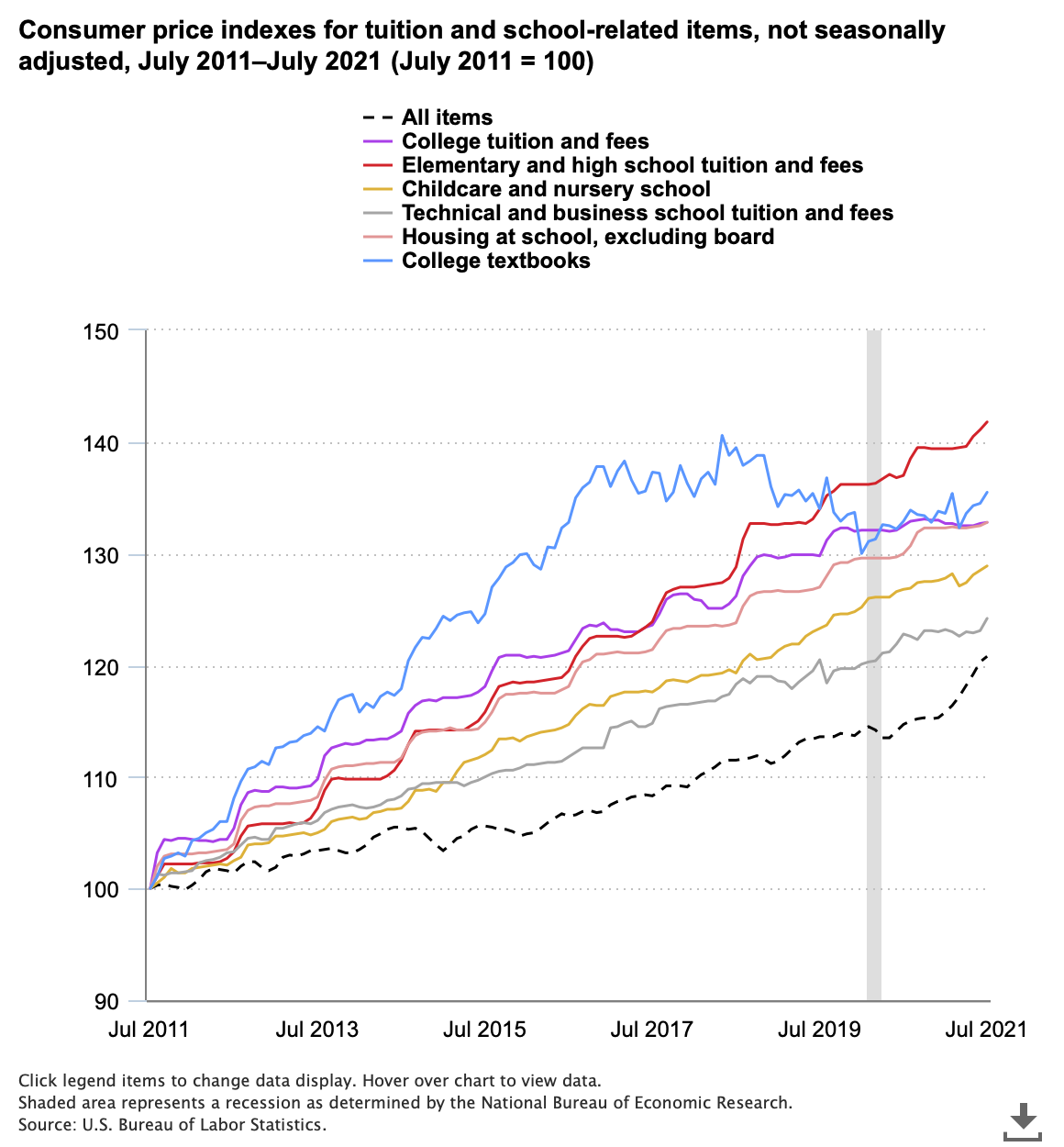 ---
55) The economy is booming but far from normal: High inflation, ghostly downtowns and a resurgent virus have rattled consumers and created new obstacles as the president tries to push his broader economic agenda.
---
56) What if they gave a job fair and nobody came: A pizzeria in Alabama has offered to 'literally hire anyone' in a sign the labor shortage continues to hit restaurants hard
---
57) 🌧 They promised we could control hurricanes, but instead we got Twitter:
Maybe we've made enough progress with air taxis that "They promised flying cars, but instead we got Twitter" doesn't work anymore as a snarky metaphor for technological stagnation. But there are other postwar expectations about tech progress that could serve as a substitute...
Or this option: "They promised weather control, but instead we got Twitter." If you were a naval strategist in the 1960s who found yourself musing about the tactical implications of weather control — such as the ability to whip up a hurricane and hurl it at an enemy fleet — scientists offered encouraging news. The 1968 book Toward the Year 2018 was a compilation of expert forecasts, published by the Foreign Policy Association. It included an entire chapter on weather, written by Thomas F. Malone, director of research at Travelers Insurance and chair of the Committee on Atmospheric Sciences of the National Academy of Science. Malone believed "the next fifty years will be crucial for controlling, to a significant extent, this particularly sensitive part of our physical environment."
---
58) What broken McDonald's ice cream machines tell us about shortages: Monopolists make money by forcing us to rely on over-engineered crappy machines. And those over-engineered crappy machines cause shortages.
---
59) Q2 2021 industrial market outlook: U.S. industrial market sets record halfway through the year.
---
60) Local fiscal relief: Emerging models and next steps for an inclusive local recovery
---
61) What is a void analysis?  Void Analysis is a tool that analyzes a trade area and identifies the gaps in certain types of retail or service businesses.
---
62) Old infrastructure, new infrastructure:
Our endless debates over infrastructure result in part from our place toward the end of the maturity curve for development. Lots of Americans have China envy. We see their gleaming cities, their expansive new subway systems, their ultra-smooth high-speed rail, and wonder why we can't have that.
What people forget is that during our rising era of industrialization and urbanization, we did have that. We were the China of that age. We built massive electricity infrastructure, water and sewage works, trains and subways. Then we added a world-class freeway system and airport network.
Econ Dev Show Newsletter
Join the newsletter to receive the latest updates in your inbox.