Assorted Links Friday
US-China trade, a huge starter home shortage, drayage and its challenges, Sludge, and more.
Table of Contents
🇺🇸 ↔️ 🇨🇳 U.S.-China trade booms as if virus, tariffs never happened: China and the U.S. are shipping goods to each other at the briskest pace in years, making the world's largest bilateral trade relationship look as if the protracted tariff war and pandemic never happened.
---
The shortage of starter homes extends beyond major cities: Supply of entry-level housing in U.S. is near a five-decade low, according to research by Freddie Mac.
---
The 4 challenges of drayage — and the FreightTech companies solving them:
Drayage, in its simplest form, is the transportation of freight from an ocean port to its initial inland destination. These moves tend to average no more than 50 miles, taking containers to rail yards to be put on a train or sending them to nearby warehouses to be sorted, segmented and routed to their next destination.
While the distances are comparatively short, the logistics of routing 11 million maritime containers in and out of ports every year has its full share of challenges.
‌             ‌
Where LinkedIn members moved during the pandemic: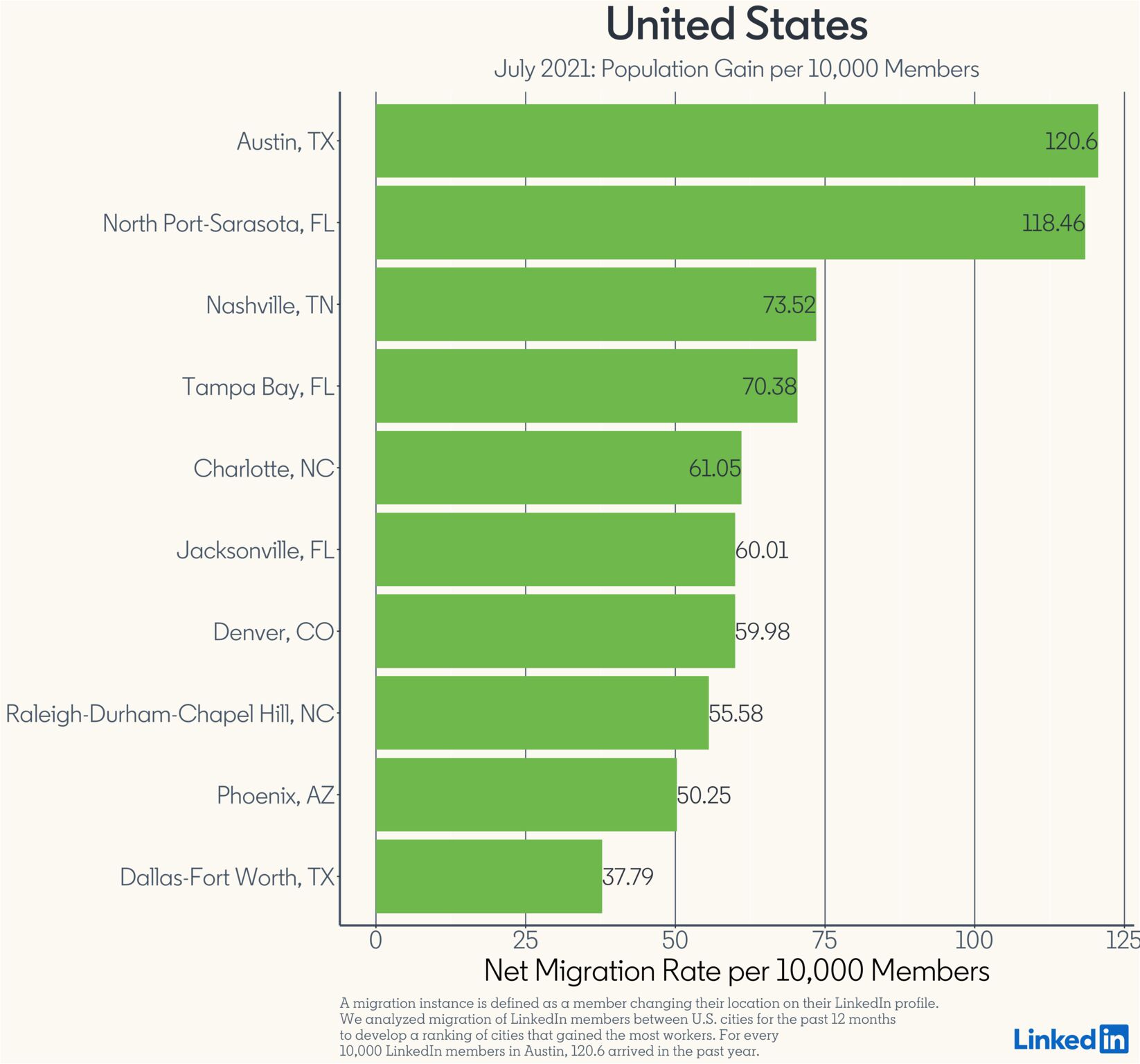 ---
What I'm reading: Sludge - What Stops Us from Getting Things Done and What to Do about It. Have you and your institution done a "sludge audit" lately?
"In Sludge, Cass Sunstein exposes the red tape that permeates our daily lives. He shows that some of it is unavoidable but much of it can be reduced or eliminated. Doing so would not simply make the lives of businesses, farmers, doctors, students, and the poor more productive; it would save lives, strengthen our democracy, and make life more enjoyable. Sludge is gracefully written and very compelling." —John D. Graham, Professor of Public Affairs, Indiana University, and former U.S. Office of Management and Budget "regulatory czar"


Econ Dev Show Newsletter
Join the newsletter to receive the latest updates in your inbox.