Assorted Links Sunday
Tooting my own horn, supply chains and worker shortages, Mexico, advertising, IEDC's Jeff Finkle to retire, and more.
Table of Contents
Happy Father's Day!
I don't like to toot my own horn, but Texas won its ninth Golden Shovel Award, and amongst the  top investment projects in state in 2020 was my Gulf Coast Ammonia project in Texas City.  While light on jobs, it was a $1 billion dollar project, and the third largest project in Texas in 2020.
---
An interesting Sunday read. The paradoxes of the Bangladesh economic development miracle:
After emerging poor and devastated from its independence struggle 50 years ago, Bangladesh has managed to become a global paragon of economic development. While the country's success is the result of many factors, two distinctive features of its political economy stand out.
---
Another supply chain bottleneck.  This time in Guangdong, China, a major shipping hub, which accounts for about 24% of China's total exports. It is also home to the Shenzhen port and the Guangzhou port — which are the third largest and the fifth largest in the world by container volume:
The Chinese province of Guangdong has faced a sudden uptick in Covid-19 cases. Authorities have moved to shut down districts and businesses to prevent the virus from spreading rapidly.
That's causing massive shipping delays in major Chinese ports, and jacking up already-high shipping costs as waiting times at berth "skyrocketed," according to analysts and those in the shipping industry.
"The disruptions in Shenzhen and Guangzhou are absolutely massive. Alone, they would have an unprecedented supply chain impact," said Brian Glick, founder and CEO at supply chain integration platform Chain.io, told CNBC.
Guangdong, a major shipping hub, accounts for about 24% of China's total exports. It is also home to the Shenzhen port and the Guangzhou port — which are the third largest and the fifth largest in the world by container volume, according to the World Shipping Council.
More: Congested ports, economic problems and challenged supply chains.
How 'chaos' in the shipping industry is choking the economy:
Lars Jensen, CEO of Vespucci Maritime, has spent 20 years studying the industry and he says what's going on is unprecedented. "The container shipping industry is in a state of chaos that I don't think it has ever been since it was invented," he says.
---
Only 15 months ago — March 13, 2020 — COVID-19 became a national emergency in the United States. My assumption at the time was that COVID lockdowns could extend as long as five years, the previous speed record for modern vaccine development, with many millions of deaths — a generational cataclysm.
---
Advertising in dreams?
If you've ever crammed for an exam just before bedtime, you may have tried something dream researchers have been attempting for decades: coaxing knowledge into dreams. Such efforts have had glimmers of success in the lab. Now, brands from Xbox to Coors to Burger King are teaming up with some scientists to attempt something similar: "Engineer" advertisements into willing consumers' dreams, via video and audio clips. This week, a group of 40 dream researchers has pushed back in an online letter, calling for the regulation of commercial dream manipulation.
---
All this talk (and action) on the border wall is just for show.  As I've been predicting since the pandemic began, Mexico is going to absolutely boom, and will be the manufacturing hub of choice for the US in under five years:
"The combination of continued reopening with strong remittances and a US-led global recovery has allowed Mexico to close the gap with other Latin American economies, outperforming all of them in the first half of 2021," said Marcos Casarín, chief economist for the region at Oxford Economics. The consultancy's recovery tracker shows Mexico is returning to pre-pandemic levels of activity more quickly than any other Latin American country. "Mexico will grow 6.0 per cent this year and it could be higher," said former finance minister and academic Carlos Urzúa, citing the spillover effects of US fiscal stimulus and increased remittances from Mexicans working across the border. These could reach $55bn this year and are "much more important than oil", he added.
---
Latest trends in corporate location decisions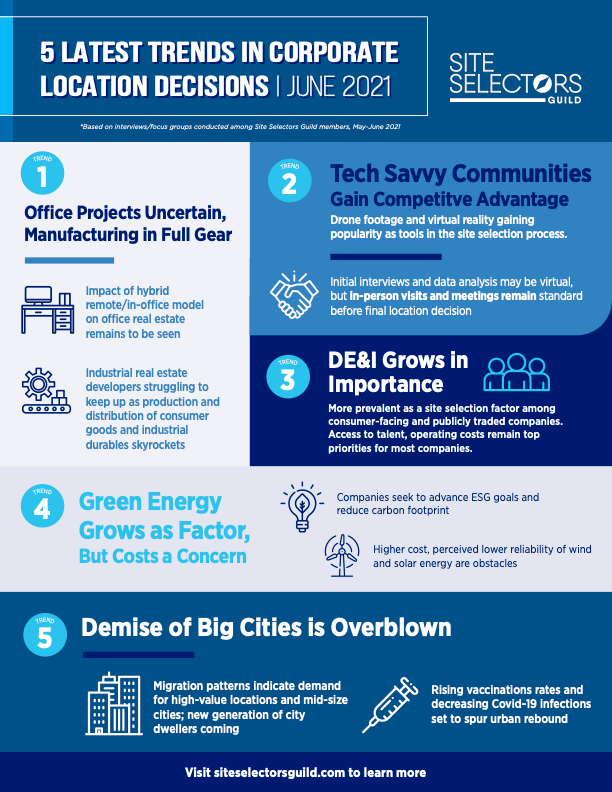 ---
---
The economic recovery is here. It's unlike anything you've seen.: Households saved cash and banks amassed capital, but supply shortages are popping up and employers can't find workers.
The seven industries most desperate for workers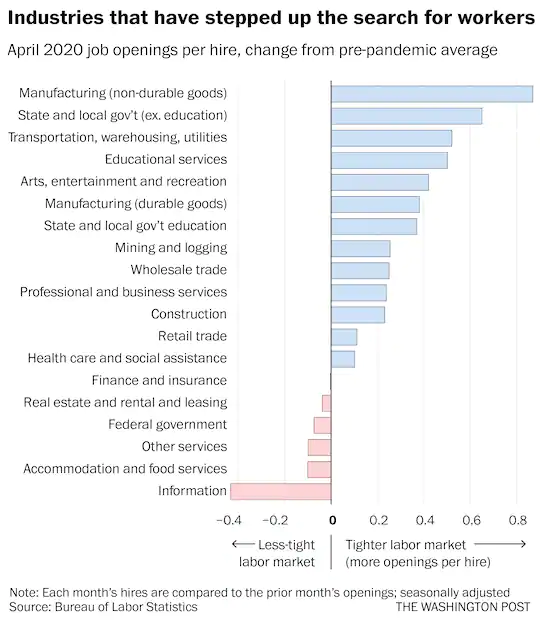 ---
Economic Development on LinkedIn: Marketing Strategies for 2021 and Beyond
---
Jeffrey A. Finkle, president and CEO of the International Economic Development Council (IEDC), has announced his plans to retire in early-2022.
---
Coming Monday: An interview with Ilana Preuss about her new book Recast Your City: How to Save Your Downtown with Small-Scale Manufacturing.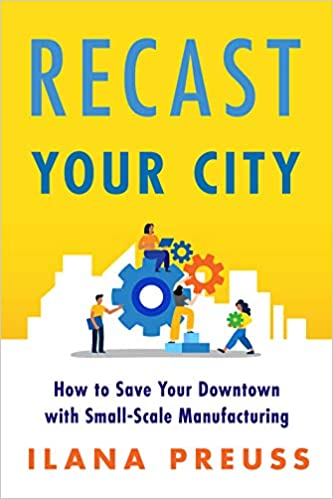 Econ Dev Show Newsletter
Join the newsletter to receive the latest updates in your inbox.