Assorted Links Sunday
The end of the CDC's eviction moratorium, Chick-Fil-A and your favorite movies, the intracoastal waterway, and so much more.
Table of Contents
Millions of Americans are about to lose their homes: When the CDC's eviction moratorium ends on June 30, what will still-struggling renters do?
---
He warned Apple about the risks in China. Then they became reality: Doug Guthrie, once one of America's leading China bulls, rang the alarm on doing business there. He spoke about his time at Apple.
---
How The Chick-Fil-A billionaire CEO plays a part in your favorite Marvel movies (or why your favorite movies are made in Georgia):
On a 730-acre sprawl 25 miles south of Atlanta, at the end of a lonely stretch of rural Georgian highway, nestled between a Baptist church and a strawberry farm, is where Captain America and Iron Man fought Thor's evil brother in Avengers: End Game. Wanda Maximoff was there putting the fictional New Jersey town of Westview under her retro sitcom spell in WandaVision. Behind it all: Chick-fil-A CEO and controversial fast-food billionaire Dan Cathy, who has spent millions transforming the farmland into the biggest movie studio in North America outside of Burbank.
---
Creating the future of work:  What comes next for work?
Thanks to technology, we are returning to a new normal faster than most anyone would have predicted. Will things ever return to what was normal just 18 months ago? We have learned a whole new and improved way many things can work, and it isn't likely we will go back to our prior ways as they were.
---
Look at a map of the contiguous US and realize how unbelievably lucky it is.
That luck can be summarized with two maps: The US is fortunate to have mountains and oceans everywhere for defense. And where it doesn't have those features, it's way too cold for a powerful neighbor to emerge. The US' Mississippi basin: Has mountain ranges on both sides, which concentrate water inwards. Has over one million square miles (2.5M km) of extremely well-irrigated land. Is nearly flat, which is also great for agriculture, but also for building anything for cheap, really.
Then on top of these advantages, there's a thing called "intracoastal waterway": boats can travel from Boston to Mexico barely sailing through the sea. They can instead do so protected by chains of islands that cover nearly all of the US' Atlantic coast.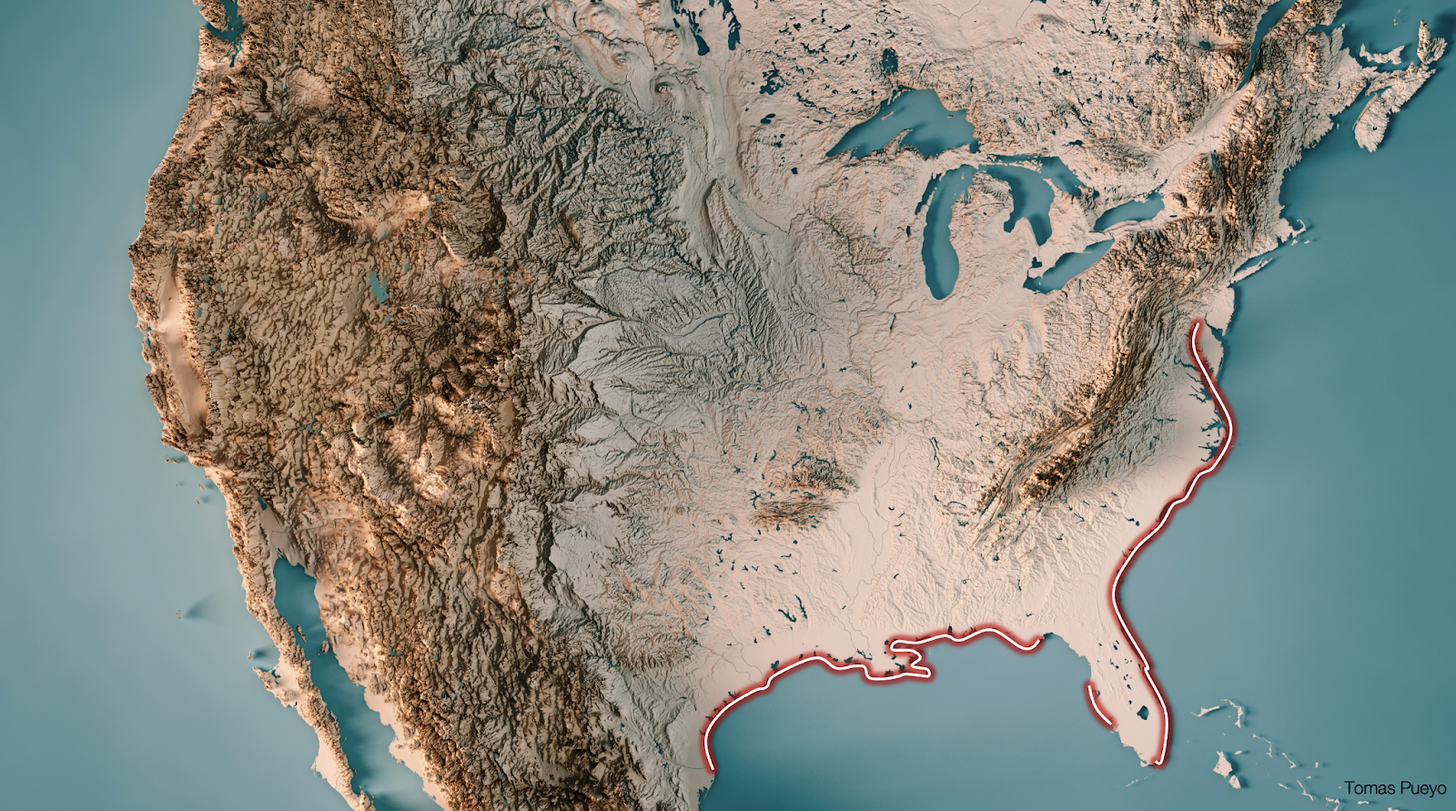 Between the Mississippi rivers and the intracoastal waterways, they amount to more internal navigable waterways than the rest of the world combined!
For more on this, read the Accidental Superpower by Peter Zeihan.
---
The Rise of the $10 Million Disc Golf Celebrity: How much can athletes really make in niche sports? A whole lot more than you might think.
---
U.S. plans to spend big on critical minerals; Choosing where isn't easy: Western governments face challenges as they ramp up efforts to counter China's dominance in rare earths.
---
Even before Covid-19, the world was investing more in science.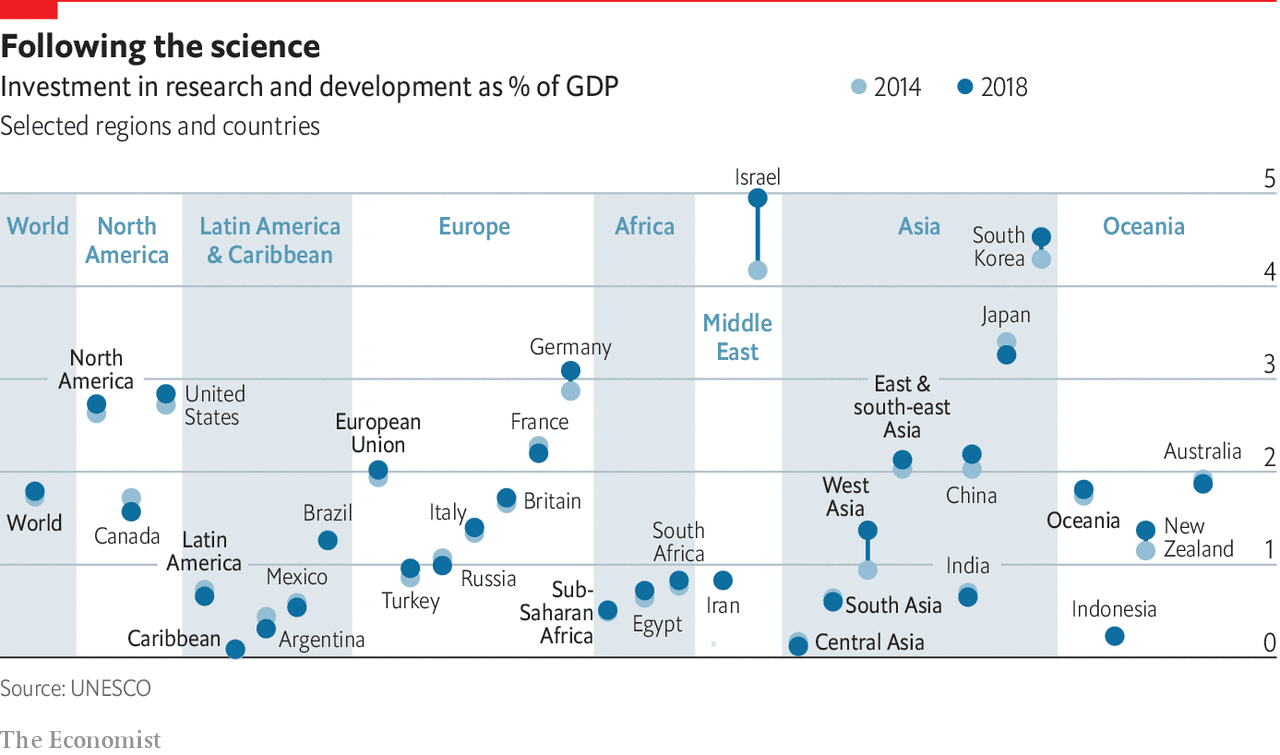 ---
Commodities are down notably from their peaks just a few weeks ago.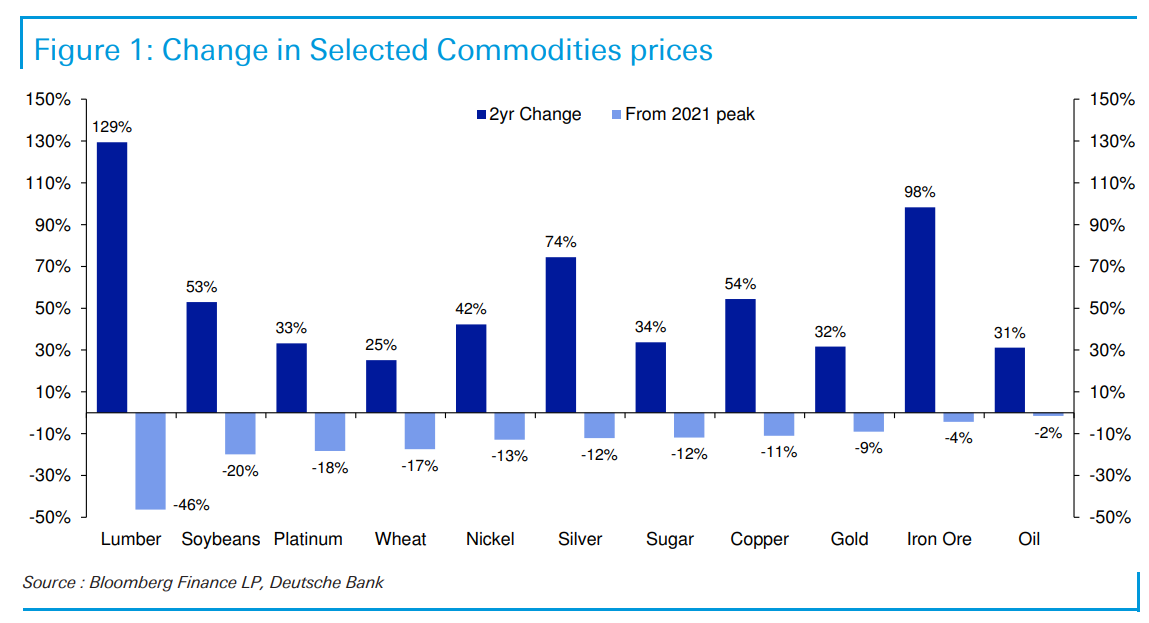 ---
If you missed episode #7 of the Econ Dev Show, give it a listen: Episode #7: How to Save Your Downtown with Small-Scale Manufacturing with Ilana Preuss.  It is the first episode of my podcast that I've been able to listen to myself.  If that's not an endorsement, I don't know what is!
Econ Dev Show Newsletter
Join the newsletter to receive the latest updates in your inbox.