Assorted Links Thursday
The unemployed, commuting, the consumer-price index, performance advertising, and work from home.
Table of Contents
America's unemployed are sending a message: They'll go back to work when they feel safe – and well-compensated September marked the weakest hiring this year, and an alarming number of women had to stop working again to deal with unstable school and child-care situations
---
Commuting is psychological torture:
Not doing that commute gave me 15 hours per week of my life back "I am never going back to that commute five days a week every single week again," a friend told me recently. Before Covid he was spending about three hours a day in his car driving back and forth. When things started to shut down last year his employer was staunchly against people working from home at first, but before long it became unavoidable.
---
Nations agree to 15% minimum corporate tax rate:
Most of the world's nations have signed up to a historic deal to ensure big companies pay a fairer share of tax. Some 136 countries agreed to enforce a corporate tax rate of at least 15%, as well a fairer system of taxing profits where they are earned. It follows concern that multinational companies are re-routing their profits through low tax jurisdictions.
---
What's wrong with America's consumer-price index? Experts underestimated inflation last year. Now they seem to be overstating it.
---
What if performance advertising is just an analytics scam?
"What the pandemic showed is we can take marketing down to zero and still have 95% of the same traffic as the year before. So we're not going to forget that lesson." – Brian Chesky (via Campaign) In 2020, AirBnB cut $542 million of performance advertising spend and saw no measurable falloff in attributable sales. They continued this ad-slashing practice…
---
The higher the income, the more likely to work from home in 2020: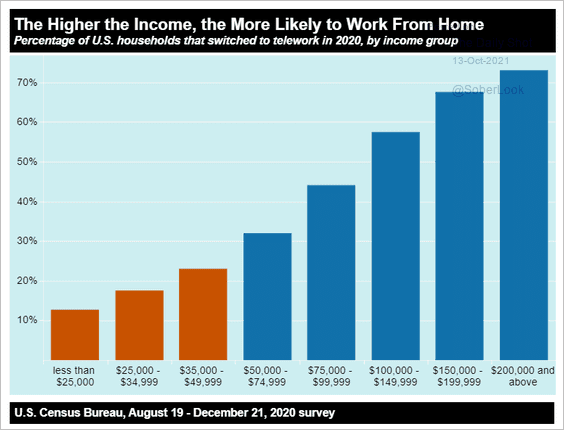 Econ Dev Show Newsletter
Join the newsletter to receive the latest updates in your inbox.