Assorted Links Thursday
Where are the COVID babies, a semi-autonomous hub for econ dev in Honduras, and more.
Table of Contents
For more than 20 years, the American Society of Civil Engineers (ASCE) has been releasing its quadrennial Report Card for America's Infrastructure.  The 2021 report is out.
Another cost of the COVID pandemic: we expect 300,000 less births in 2021 -- bad news for the labor force in 2040s.
If you build it, will they come? The Charter Cities Institute is working with the government of Honduras to create the charter city of Prospera, a "semi-autonomous" "hub for sustainable economic development" on the island of Roatan. See their goals here - it takes 17 steps, 32 days, and $12,000 to get a business permit elsewhere in Honduras, but should take only one step, one day, and $200 to get it in Prospera.
Chart of the Day: The Entreprenur Surge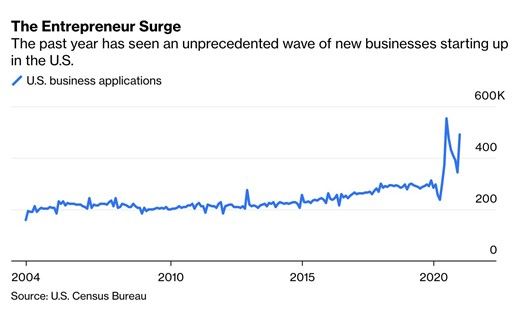 On the one hand, the COVID pandemic has been devastating for so many business owners, especially those with bricks and mortar locations. On the other hand, the pandemic is actually spurring a new generation of entrepreneurs.
Econ Dev Show Newsletter
Join the newsletter to receive the latest updates in your inbox.