Assorted Links Wednesday
Made in America, Foxconn and incentives, tourism, rising wages, and more.
Table of Contents
A resurgence for "Made in America":
Due to a variety of changing dynamics worldwide, manufacturing in the U.S. appears ready for a renaissance. In fact, "The rate of reshoring and incremental foreign direct investment (FDI) has grown from 6,000 jobs/year in 2010 to 160,000 in 2020", according to Harry Moser, Founder and President of the Reshoring Initiative®.
---
After Wisconsin's Foxconn debacle, states and companies rethink giant subsidies: Industry experts say companies and states have gotten less aggressive about subsidies as a means to attract businesses, choosing instead to look more closely at factors like workforce and infrastructure.
---
Tourism isn't back yet: A new report from the American Hotel & Lodging Association says that 21 of the top 25 hotel markets in America remain in "Depression" or "Recession" status. In May, San Francisco continued 70% off its May 2019 rev/par pace, while  Boston, New York City and DC weren't far behind. Only Tampa and Miami were up over 2019 levels.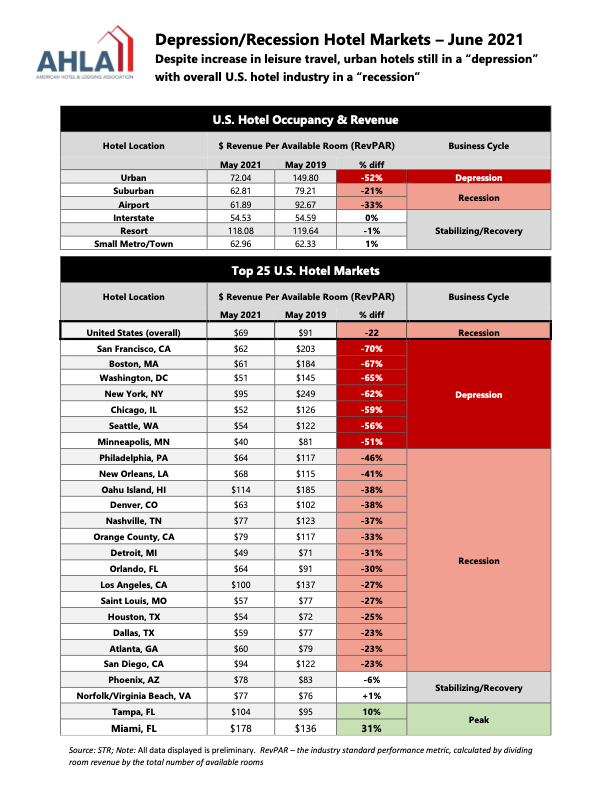 ---
Welcome to the year of wage hikes: Workers are returning — to higher-paying firms. Average pay just topped $15 an hour at U.S. restaurants, one of many sectors forced to raise wages to lure back millions of workers.
---
No Soil. No Growing Seasons. Just Add Water and Technology: A new breed of hydroponic farm, huge and high-tech, is popping up in indoor spaces all over America, drawing celebrity investors and critics.
Econ Dev Show Newsletter
Join the newsletter to receive the latest updates in your inbox.