Economic Development and Developers in the News #127
Econ dev news from 57 economic development executives and organizations in 20 states and Australia.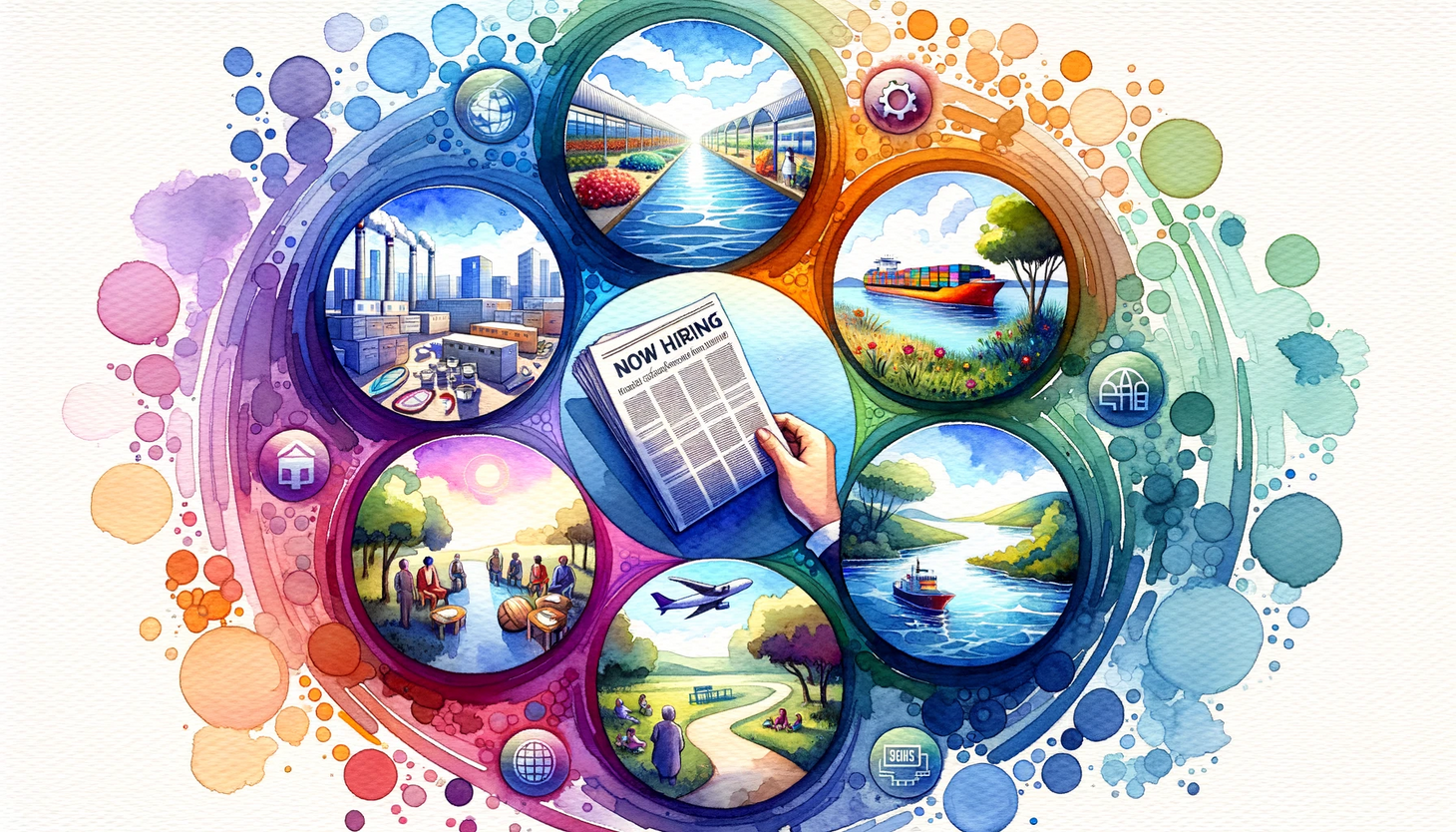 Table of Contents
Welcome to the 127th weekly edition of Economic Development and Developers in the News.
Today's issue contains news from 57 economic development executives and organizations in 20 states and Australia.
If this is your first time reading: Hello!
The Econ Dev Show is a podcast, weekday email newsletter, and blog of actionable strategies, fresh news, insights, and ideas from the economic development community and your host, Dane Carlson.
Listen now in your favorite podcast player, or subscribe.
---
Arizona
Mesa's Economic Development Director, Bill Jabjiniak, announced his retirement. He had held the position for 16 years.
Arkansas
During a strategic planning session in Pea Ridge, Shelby Fiegel, director of the Center for Community and Economic Development at the University of Central Arkansas, emphasized the importance of implementation in community development.
California
The Coachella Valley Economic Partnership is hosting the 19th annual Coachella Valley Economic Report this week. This year's event will be held in partnership with California Forward's 3-day event, and is the kick-off event to the 2023 California Economic Summit: Coachella & Imperial Valleys.
Colorado
Jessica Garner was appointed as the new director of community and economic development for the City of Arvada. She replaced Ryan Stachelski, who left earlier in the year after 12 years of service.
The Colorado Springs Chamber & EDC recognized Steve Schuck, David Sunderland and the late Bruce Shepard with its first Trailblazers of Economic Development award for their work in job creation and economic development initiatives in the 1970s. The three co-founded the Quality Economic Development Council which attracted tech firms and new businesses to the Pikes Peak region and created thousands of jobs. (Chamber & EDC's president and CEO Johnna Reeder Kleymeyer)
Hawaii
The Maui Economic Development Board, led by President and CEO Leslie Wilkins, partnered with the Principal Foundation to offer $1,000 grants from the Maui Business Recovery Fund to 95 businesses affected by August wildfires.
Kansas
Junction City Commissioners approved an economic development agreement with Eagle Railcar Services to support the company's expansion.
Kentucky
The Adair County Fiscal Court, the Columbia- Adair County Economic Development Authority and the City of Columbia were awarded $459,441 by Gov. Andy Beshear to fund their joint venture to create a 150,000-square-foot Build-Ready-certified pad to stimulate local economic development.
Louisville Metro Council's $3 million Downtown Revitalization Fund, overseen by the Cabinet of Economic Development's deputy mayor, Pat Mulloy, and executive director, Jeff O'Brien, is offering incentives to businesses for downtown improvements.
Michigan
Sturgis, received a Redevelopment Ready Community certification from the Michigan Economic Development Corporation, ensuring it is thoroughly prepared in planning and zoning for potential investors. (Michele Wildman, MEDC's Executive VP of Economic Development Incentives and Services; Jeff Coney, Sturgis' Community Development Specialist)
The Economic Development Alliance of St. Clair County received a $3.2 million grant from the Michigan Economic Development Corporation for property development and building rehabilitation.
Missouri
The St. Louis Economic Development Partnership, led by CEO Rodney Crim and VP of Business Development Jason Archer, was awarded the Silver Award for Business Retention and Expansion excellence at the International Economic Development Council Conference.
Nebraska
Bob Wilhelm is stepping down as the University of Nebraska-Lincoln's vice chancellor for research and economic development and taking up a faculty role.
Sherri Jones has been appointed as the interim vice chancellor for research and economic development at the University of Nebraska–Lincoln, replacing Bob Wilhelm, the former vice chancellor.
Nevada
Kyeema Peart has been appointed as the Director of the Office of Entrepreneurship in the Governor's Office of Economic Development.
New Mexico
Taiwan-based Hota Industrial Manufacturing, major auto parts supplier for clients like Tesla, plans to expand into the US, following a definitive agreement for a 30-acre plot within New Mexico's Westpark Industrial Park led by New Mexico Governor Michelle Lujan Grisham. The New Mexico government will support the move with $3 million, tax credits, and job-training assistance with further support from the City of Anthony, New Mexico through Industrial Revenue Bonds.
New York
The Westminster Economic Development Initiative received a $250,000 grant from Bank of America for expanding West Side Bazaar in Buffalo. The capital campaign led by WEDI's Executive Director, Carolynn Welch, and its Capital Campaign Manager, Laura Munson, aims to create a space supporting underserved entrepreneurs.
North Carolina
Robert M. Van Geons, CEcD, the President & CEO of the Fayetteville Cumberland County Economic Development Corporation, was chosen to serve a two-year term as a Board Member of the International Economic Development Council's 2024 Board of Directors. Elected at the annual board meeting in September 2023, he will join 25 other economic developers. Jonas Peterson, 2023 IEDC Board Chair, and Nathan Ohle, President and CEO of IEDC, expressed their confidence in Van Geons.
Governor Roy Cooper will lead a North Carolina delegation to the annual Southeastern United States/Japan Economic Development Conference in Tokyo from October 11-15 to strengthen relations and recruit industry. The group included Secretary of Commerce Machelle Baker Sanders, Economic Development Partnership of North Carolina Executive Director Chris Chung.
Craig Goodson announced that he has started a new position as the Director of Economic Development at Iredell Economic Development Corporation.
Ohio
The State of Ohio is allocating over $10.5 million between 51 communities to assist with economic development. The funds, from the federal community development block grant program, are to be used for infrastructure work, including street repairs, park and recreational facility development and water and sewer improvement projects.
Jeremiah Gracia is the new Director of Economic Development at the City of Dublin.
Oklahoma
The Ponca City Development Authority, led by Executive Director David Myers, earned four gold and two silver awards from the International Economic Development Council in 2023.
Pennsylvania
Governor Josh Shapiro is advancing Pennsylvania's first comprehensive economic development strategy, a plan aiming to assess the Commonwealth's strengths, analyze growth barriers, and set concrete goals.
Texas
The Texas Economic Development Corporation appointed former Texas Workforce Commissioner, Aaron Demerson, as its new President and CEO. It was announced by the TxEDC Board of Directors, chaired by Vicki Hollub.
The San Angelo Chamber of Commerce Economic Development Department was honored with the GOLD Award at the 2023 Excellence in Economic Development Awards for its Regional Workforce Development Innovation Program.
The Dallas Economic Development Corporation is hiring its first-ever CEO to help attract new development. The city's economic development, led by director Robin Bentley, has been managed by a department with a council-endorsed policy until the formation of the EDC last year.
Virginia
Chris Morello, the economic development director of Isle of Wight County, has resigned from his role. Morello, who began his tenure with Isle of Wight in 2017 and became the director in 2018, will take up a new position as the assistant director of economic development for the city of Newport News.
King William County's attempts to hire an economic development director failed, leading to the creation of a more junior role, as suggested by Human Resources. The unsuccessful search saw 20 applications and four interviews within six months. As such, the Board of Supervisors chose to hire a business development specialist instead.
Wyoming
Kayla McDonald, the Economic Development Specialist for the Sweetwater Economic Development Association was recently honored as a Woman of Influence by the Wyoming Business Report.
---
Australia
Mildura Rural City Council has approved a new Economic and Tourism Development Framework which includes two independent advisory boards devoted to economic and tourism growth. The council's Strategy and Growth department will adopt operational functions from the Mildura Regional Development.
United States
Katie Britt started a new position as Director of Communications & Storytelling at the Association of Chamber of Commerce Executives.
Econ Dev Show Newsletter
Join the newsletter to receive the latest updates in your inbox.