The 46 Things Economic Developers Need To Know This Week
The stories that Dane thinks you need to see from this week. March 3, 2022 edition.
Good morning econ dev fans and practitioners, and welcome to the "make you a smarter economic developer" newsletter!  Thanks for spending a few minutes with us this morning.
The really big news this week is, of course, the ongoing war in Ukraine.  While I've mostly avoided linking to any stories about the conflict, I continue to hope for peace, and pray for all those in harm's way.
Today we have 46 stories, graphics, charts, and videos that I think you'll find informative, useful, inspiring, and perhaps even funny.
As always, if you find something great, please send it to me.
- Dane
---

---
1) Have you ever noticed the numbering of east-west and south-north US interstate highways: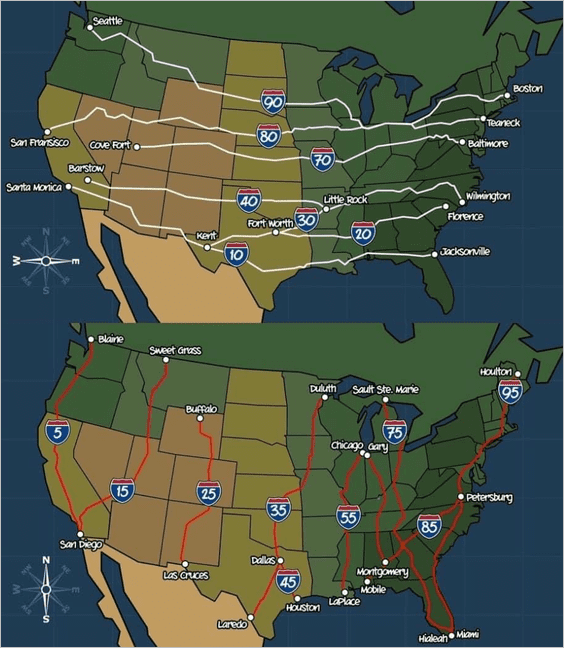 ---
2) Online retail sales are starting to revert to the pre-pandemic trend: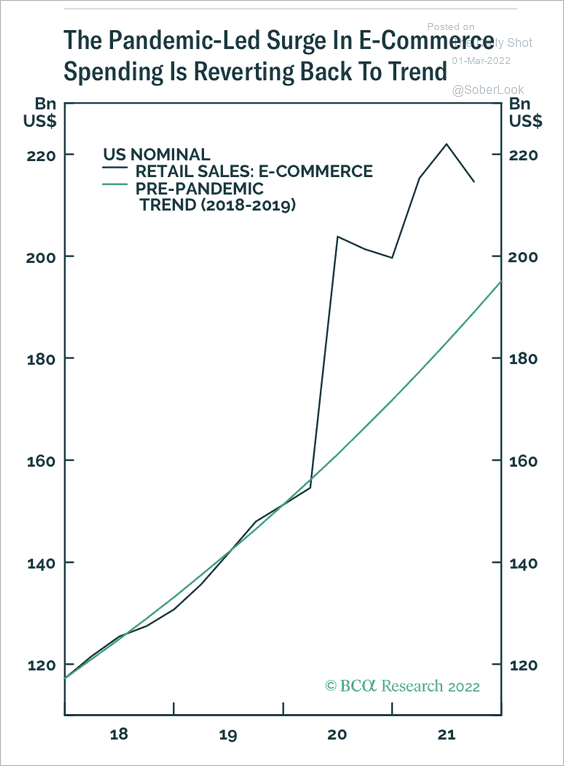 ---
3) America's favorite snacks
4) I'm partial to pretzels and popcorn, myself.
---
5) Seth Godin on difficult problems:
The easy problems are often an illusion. If they were real and they were easy, they'd be solved already.
Difficult problems, on the other hand, stick around until someone with insight, dedication and commitment shows up and gets to work.
Seeking out difficult problems is far more effective than avoiding them.
---
6) The real reason the pandemic killed small restaurants: The Applebee's in your town is fine. The local bistro is not. Here's why.
---
7) To fix the supply chain mess, take on Wall Street: Financiers bent on short-term profits are largely responsible for America's shortage of semiconductors and other key materials. Before we offer them more subsidies, how about demanding some accountability?
---
8) The nocturnals: While most people are fast asleep, some ultra-introverts are going about their lives, reveling in the quiet and solitude. They challenge a core assumption of psychology: that all humans need social connection.
---
9) The lasting legacy of redlining: We looked at 138 formerly redlined cities and found most were still segregated — just like they were designed to be.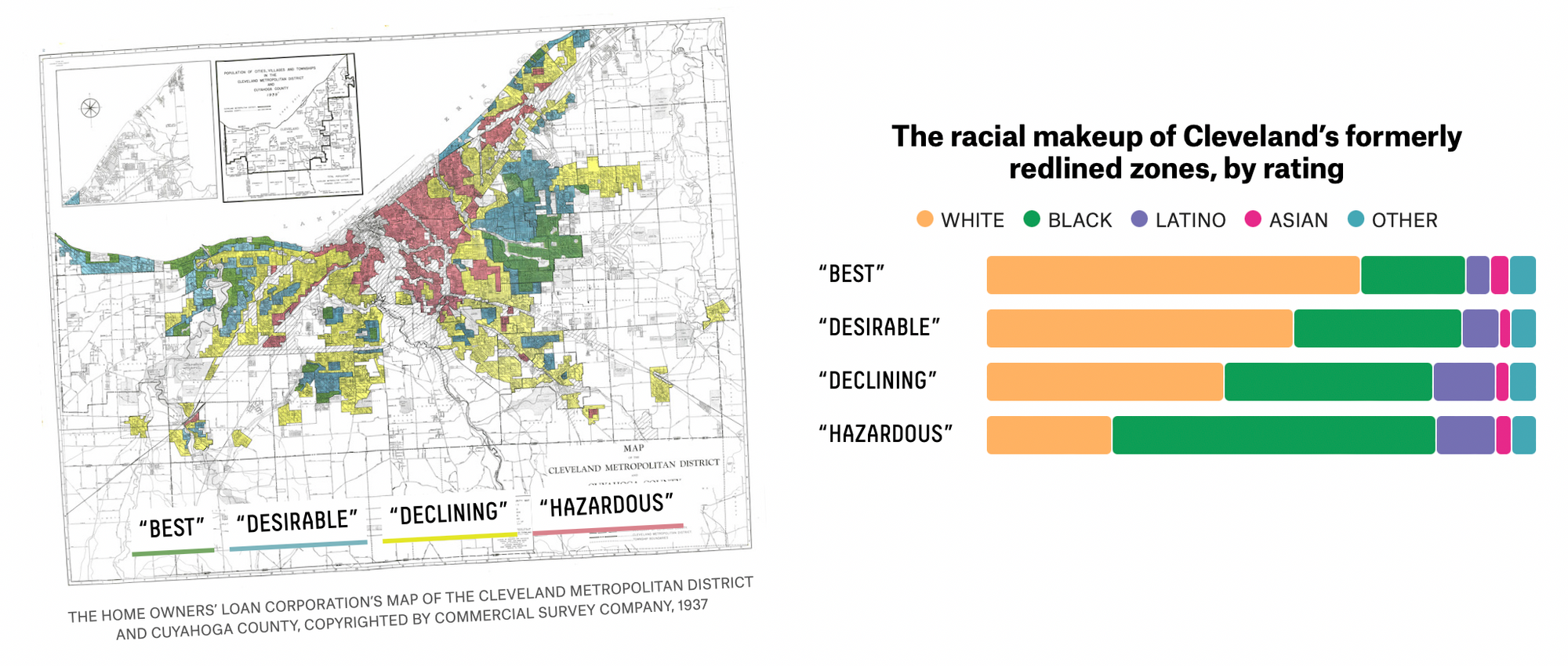 ---
10) Visualizing 200 years of changing governments: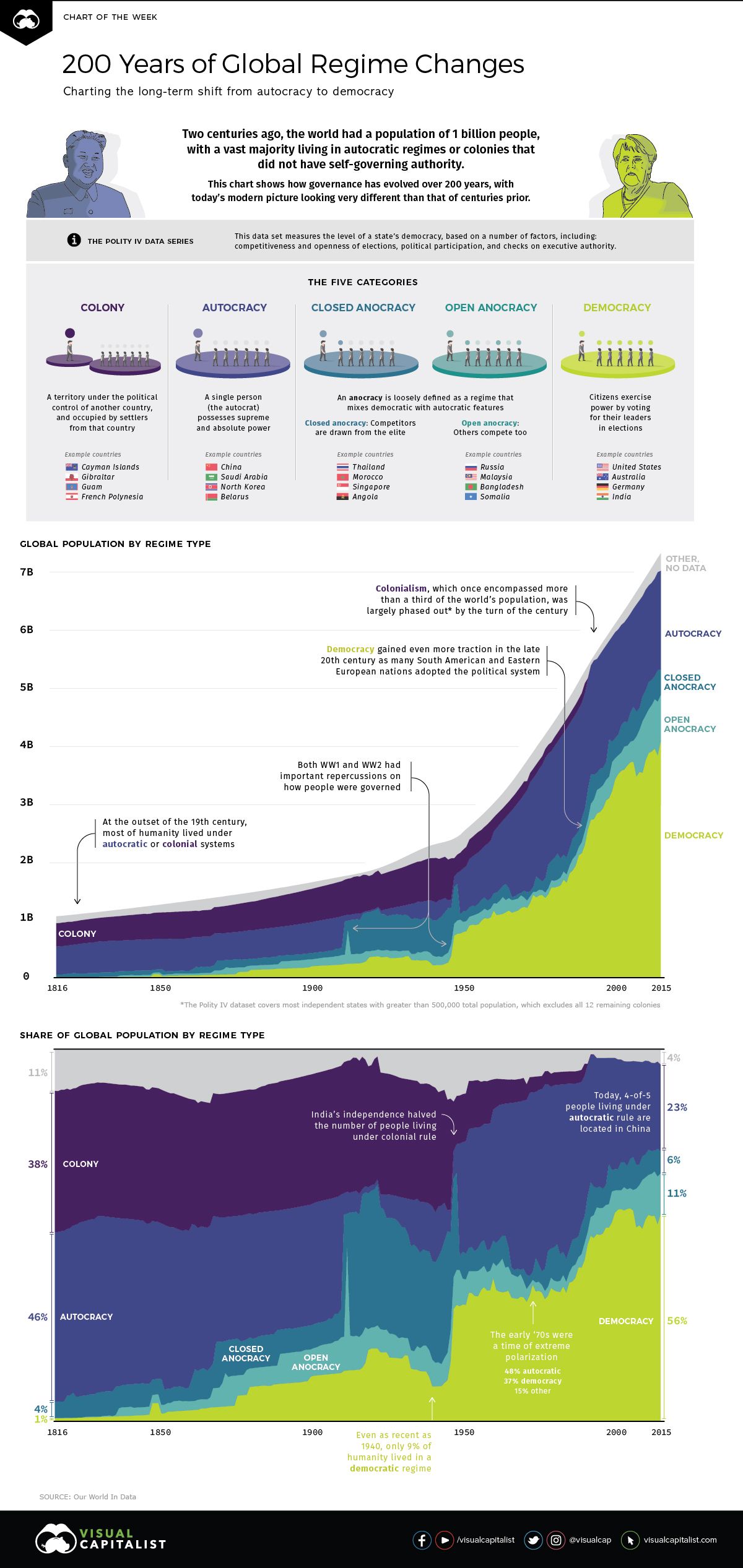 ---
11) Sorry, bosses -- Workers are just not that into you: American workers are going back to bars, movies, sports arenas and weddings—pretty much everywhere but their offices.
---
12) How Ikea tricks you into buying more stuff: The home furnishings giant enlists a maze-like layout, cheap food, and crafty psychology to get you to fill up your cart.
---
13) 75% of people who bought a home during the pandemic have regrets: Here's why.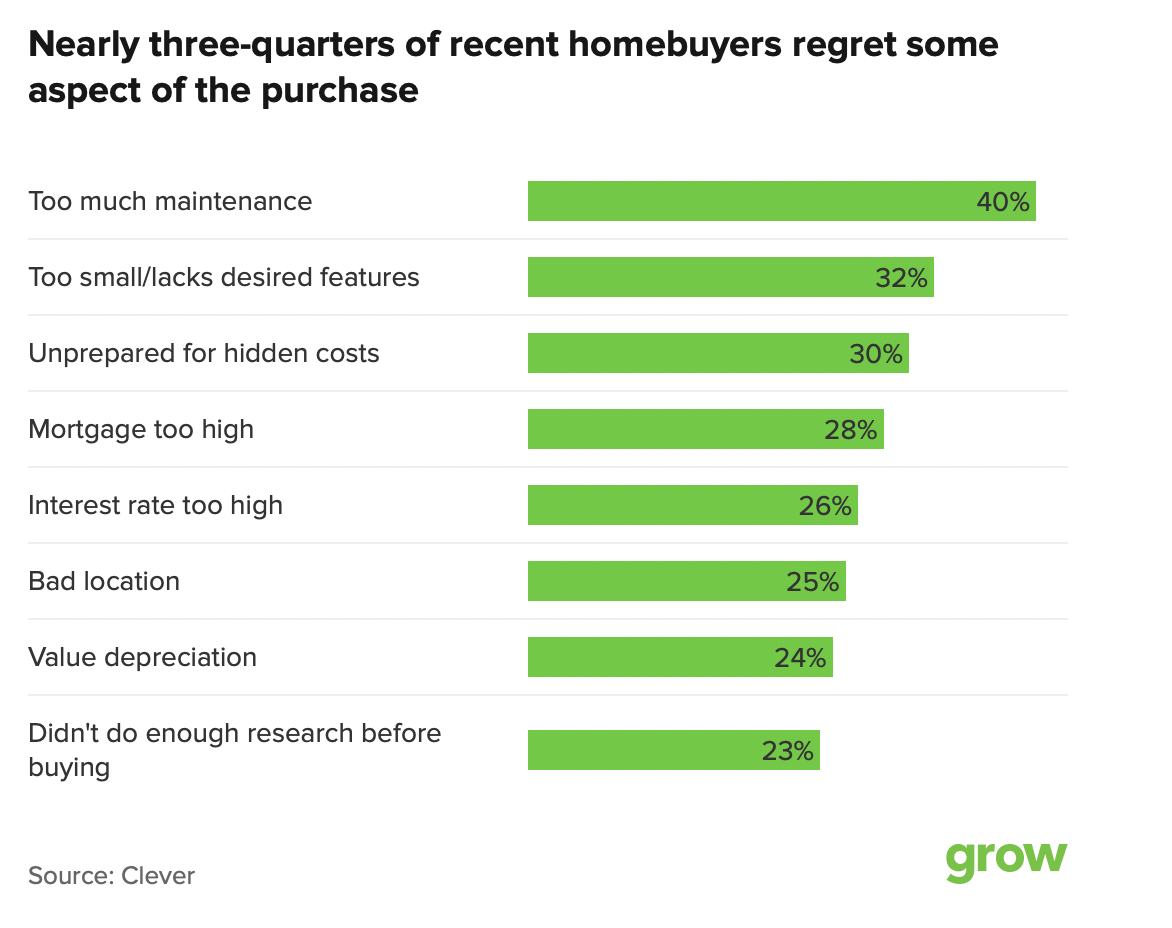 ---
14) Walmart pushes new delivery services for a post-pandemic world: As e-commerce growth slows, Walmart hopes new delivery services and supply-chain investments will help it boost online orders.
---
15) During COVID, Anchorage Airport become the world's busiest airport. It was able to achieve the status of number one due to its volume of cargo operations, not passenger flights.
---
16) 8 counterintuitive marketing strategies that actually work:
Add friction to boost sales.
Grow your community through unscalable interactions.
Give away valuable info to get paying customers.
Narrow your focus to sustain healthier growth.
Get greater ROI from smaller channels.
Remind customers of recurring charges to foster loyalty.
Delete subscribers to improve your email program.
Give free PR to others to enhance your credibility.
---
17) New trends and enduring patterns in American family life: An interesting read.
---
18) Energy use in US residential buildings: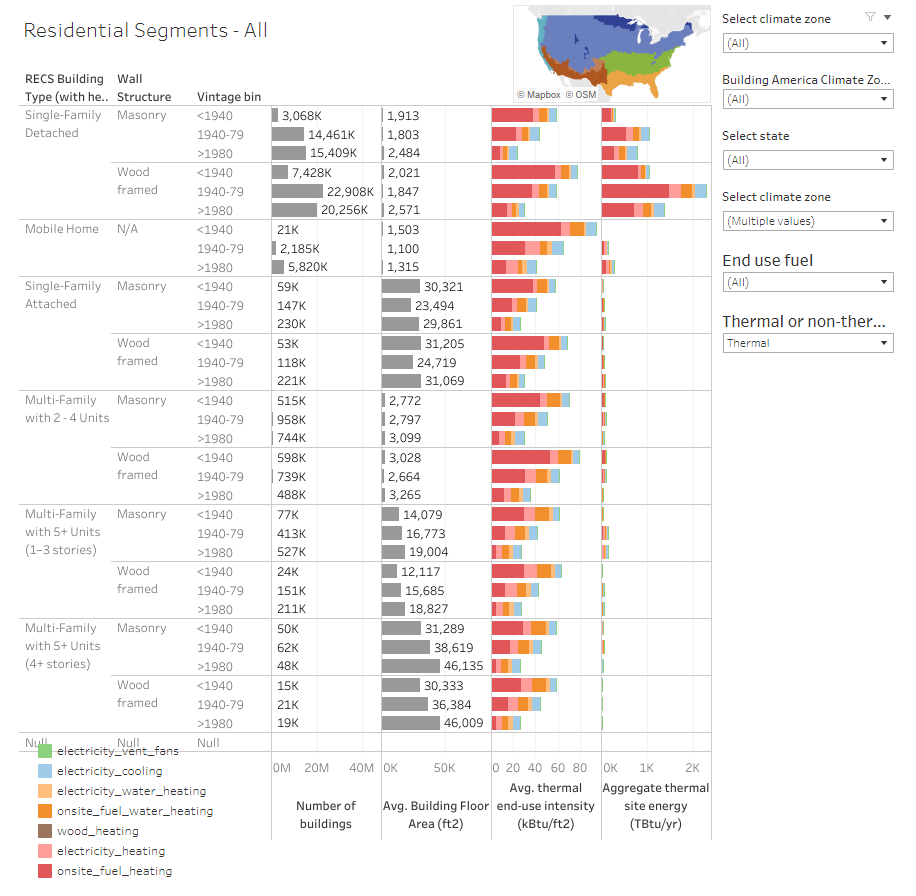 ---
19) The age of anti-ambition: When 25 million people leave their jobs, it's about more than just burnout.
20) And an excellent counterpoint: Is this really America's age of "anti-ambition" and decadence?
---
21) Forget 'reduce, reuse, recycle': A new book suggests that the best way to save the planet is through abundance.
---
22) Should the US government subsidize domestic chip production? Two advocates square off: Some see an urgent need for help, others no need at all.
---
23) Not a job I want: Grizzly Bear Conflict Manager.
---
24) I'm looking forward to this: an upcoming new non-fiction graphic novel, Build, Baby, Build: The Science and Ethics of Housing
---
25) Remote workers report more job unhappiness, especially Gen Z:
---
26) The big sanctions: A quick explainer on the goals and risks of SWIFT cutoff, central bank sanctions, etc.
---
27) Fighting the demographic drought: Bridging the gap in our labor force.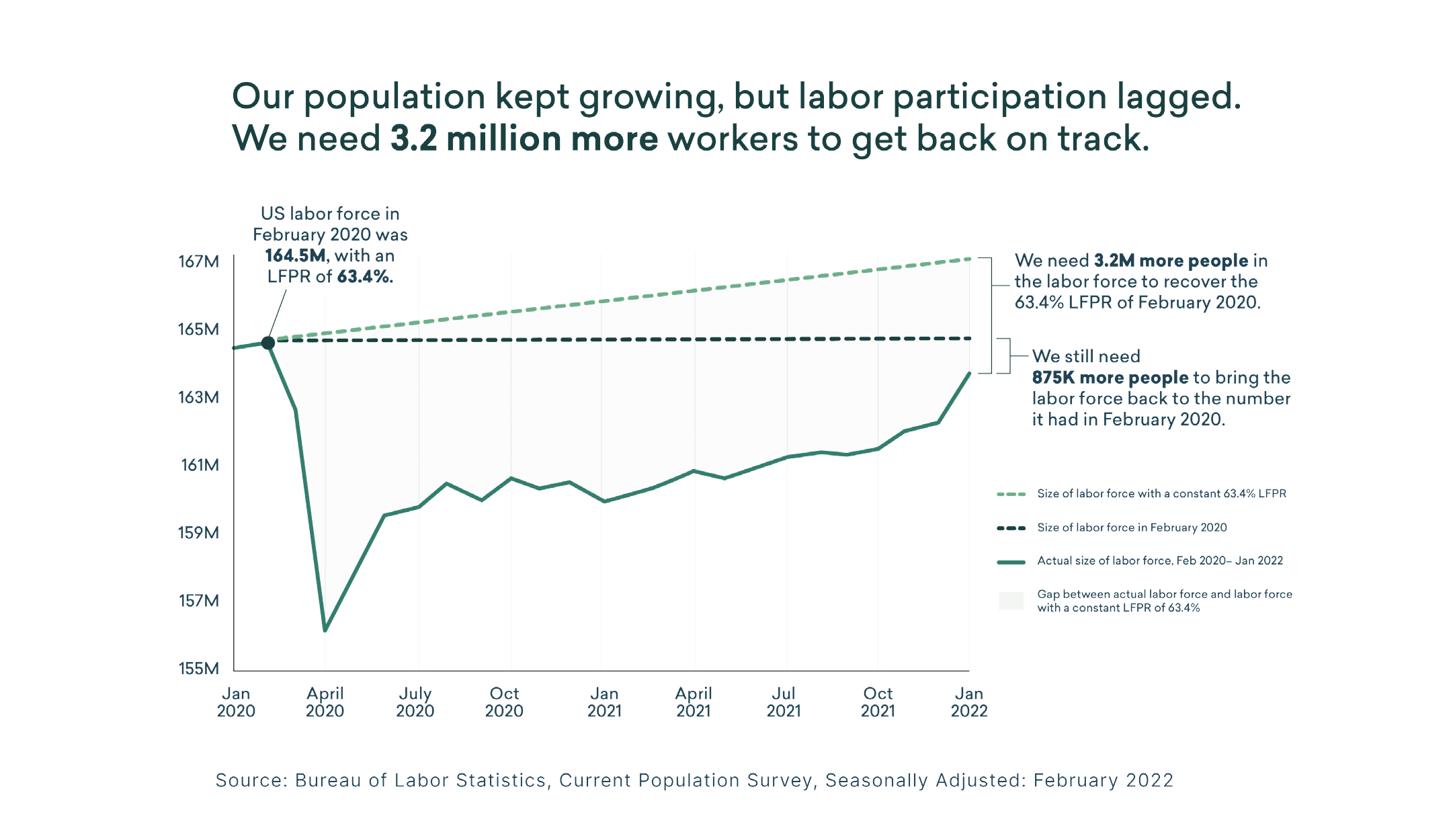 ---
28) Exurbia rising:
The urban fringe is where the American dream is now being re­discovered. But these fringes remain widely disdained in academia, media, and the planning community. This was most evident during the financial crisis when there were widespread media accounts suggesting, among other things, that the exurbs would become "the next slums," the equivalent of "roadkill" doomed by changing economics and demo­graphics.5 The New York Times even suggested how to carve up the suburban carcass, with some envisioning that suburban three-car garages would be "subdivided into rental units with street front cafés, shops and other local businesses," while abandoned pools would become skateboard parks.6 Yet this is exactly what did not happen.
---
29) A little history: The hydrocarbon processing that meets society's demands.
---
30) You can't fix the housing crisis with houses. We need new cities.
---
31) Flyover country needs to keep their biggest edge: housing affordability.
---
32) Speaking of bizarre incidents that are at least tangentially related to the worldwide disruption in the automotive supply chain, some Mazda drivers in Seattle are now stuck listening to only one radio station.
---
33) Q4 2021 industrial market outlook: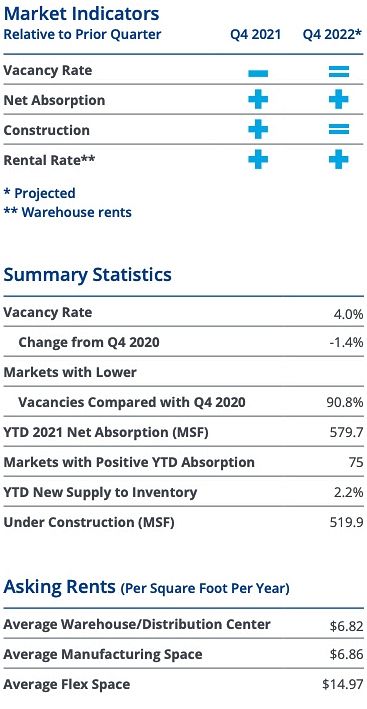 The U.S. industrial sector recorded its most successful year in 2021 as strong industrial fundamentals maintained robust absorption and development, record low vacancy rates and record high asking rents. Led by core markets in Dallas-Fort Worth, Atlanta, the Inland Empire and Chicago, the U.S. industrial market continues to perform exceptionally well despite the labor and supply chain-related challenges affecting other commercial real estate sectors as well.
At the end of 2021, the industrial vacancy rate had dropped 43 basis points from the previous quarter to 4% — one of the lowest rates on record despite an impressive 370.7 million square feet of new construction completed during the year – a new high for delivered product. Record-low vacancies drove projects under construction to a staggering all-time high of 519.9 million square feet. Vacancy is expected to remain at record lows leading into 2022 despite a further uptick in new construction.
---
34) Sprawl is good: The environmental case for suburbia.
---
35) Tree cover % — How does your city measure up?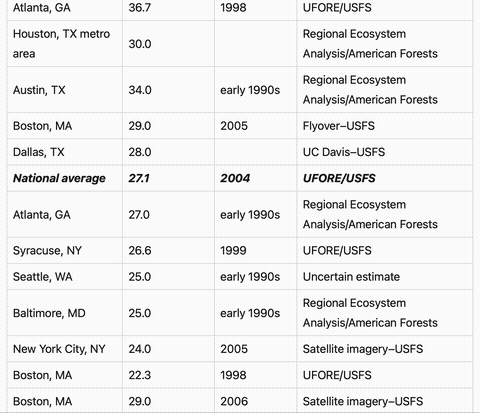 ---
36) Crude oil is now up about 45% year-to-date: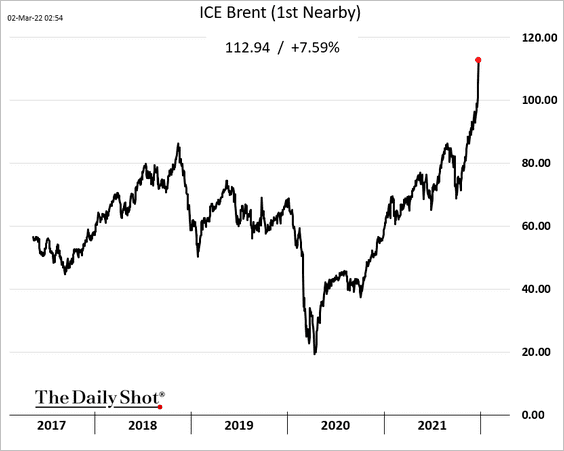 ---
37) There are growing concerns that the massive price surge will become a substantial drag on the US and global economy this year: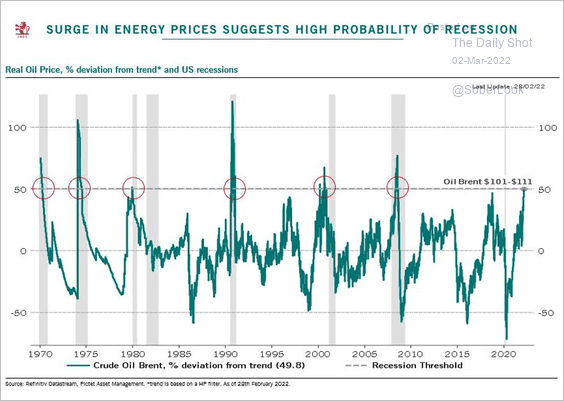 ---
38) Disney's parks business has bounced back: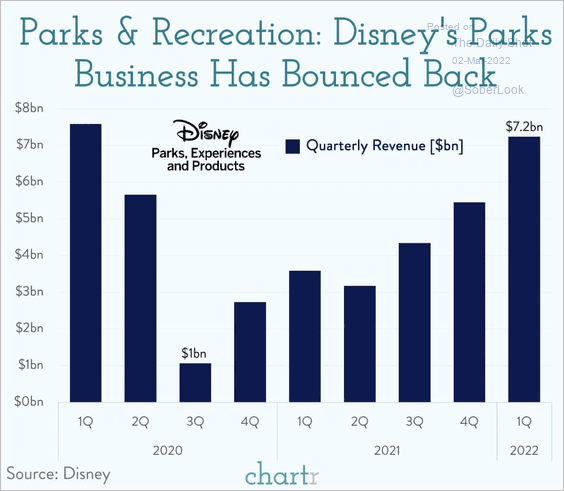 ---
39) Port congestion contagion spreads: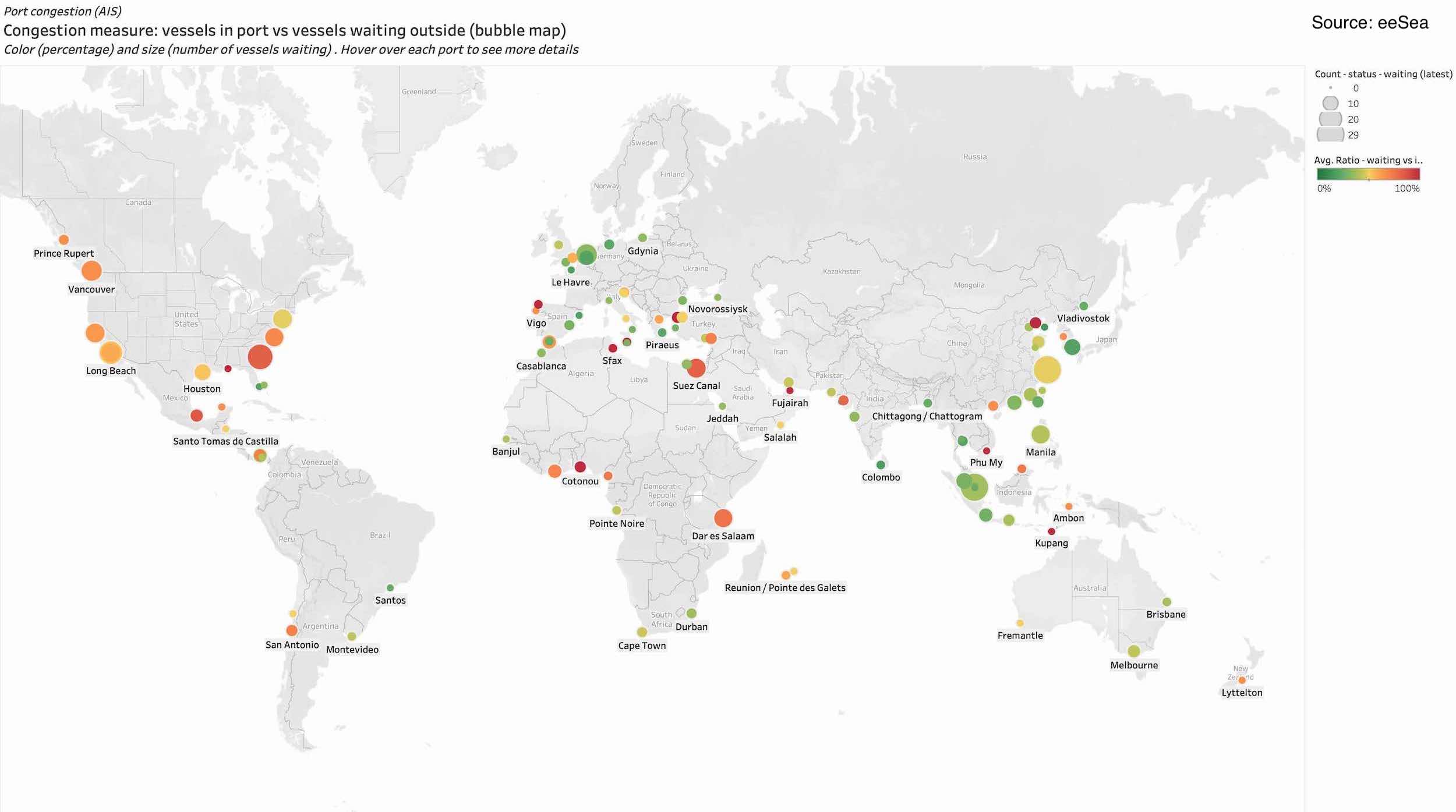 ---
40) In parched California, a project aims to save water and produce renewable energy: Plan calls for building solar canopies over canals, and may be the first project of its kind in the United States.
---
41) COVID-19 vaccine development and rollout in historical perspective: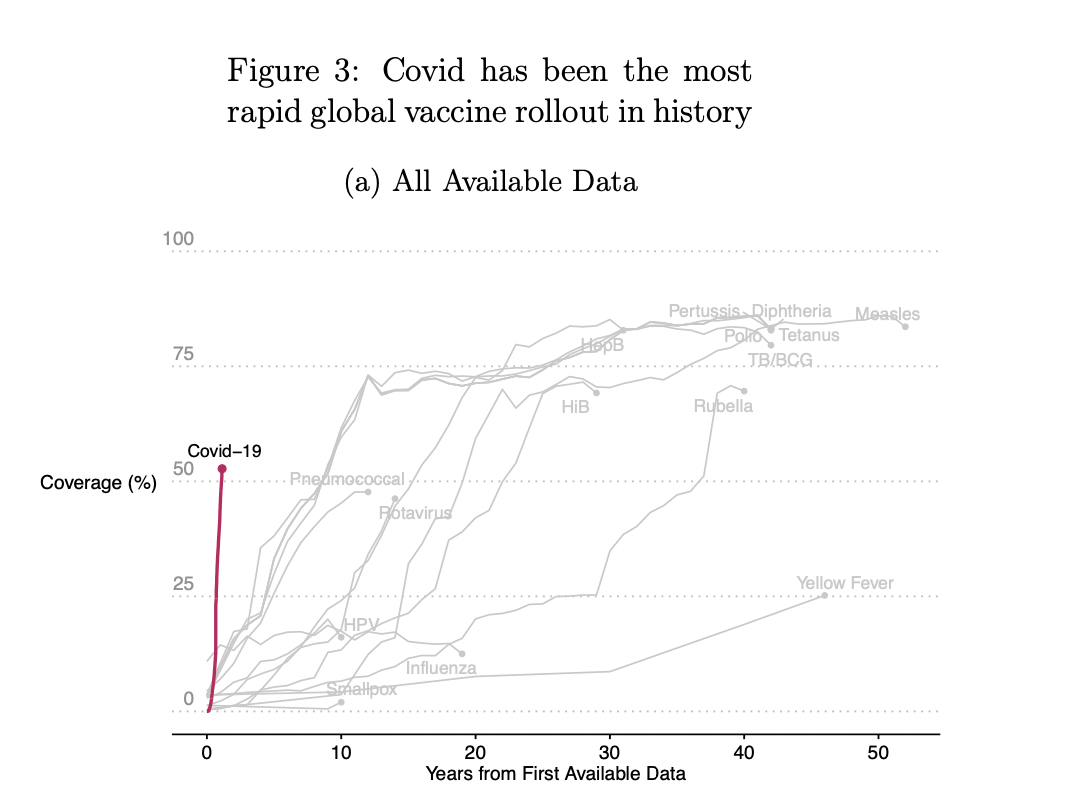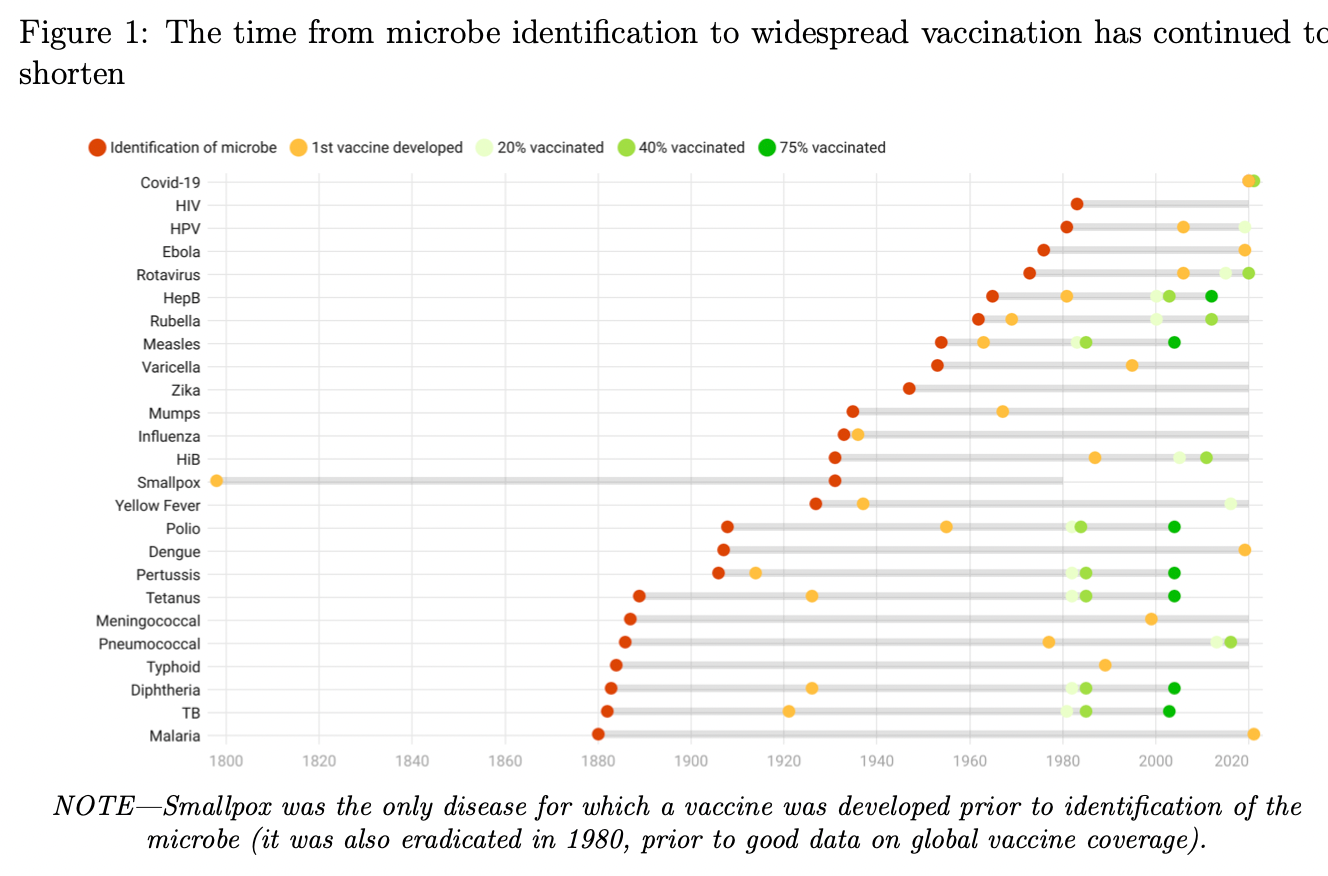 ---
42) What's Your State? Hey economic developers: Please put your state name somewhere very obvious on the front page of your website!
43) Issue # 49 - Economic Development and Developers in the News: Econ dev news from 64 economic development executives and organizations in 30 states, and Canada.
44) Podcast Episode 39 - Economic Development is Still Not for Amateurs with Jay Garner: Dane talks to Jay Garner about his new book Economic Development is Still Not for Amateurs.
45) 48 New Economic Development Jobs Last Week: 48 econ dev jobs from 28 states, Canadian provinces, and remote.
46) The 61 Things Economic Developers Need To Know Last Week: The stories that Dane thinks you need to see from this week. February 24, 2022 edition.
Econ Dev Show Newsletter
Join the newsletter to receive the latest updates in your inbox.