The 54 Things Economic Developers Need To Know This Week
The stories that you need to see from this week. February 3, 2022 edition.
Good morning econ dev fans and practitioners!  If you're in one of the places that look like the photo above, please grab yourself a warm drink and enjoy everyone's favorite "make you a smarter economic developer" newsletter!  Thanks for spending a few minutes with us this morning.
This week we have 54 stories, graphics, charts, and videos that I think you'll find informative, useful, inspiring, and perhaps even funny.
As always, if you find something great, please send it to me.
- Dane

---
1) Why more Americans than ever are starting their own businesses: Workers are quitting their jobs to become their own bosses.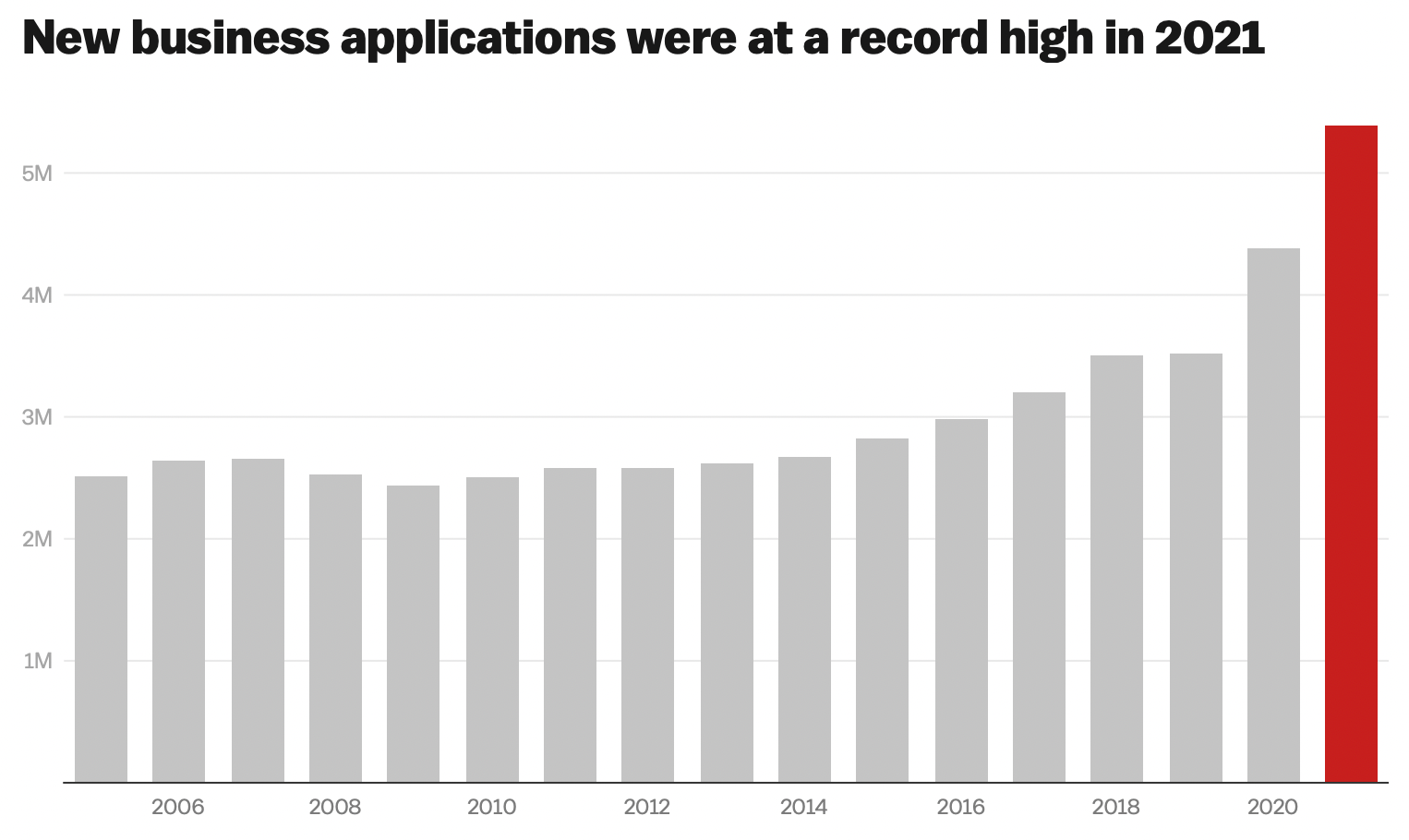 ---
2) Barry Ritholtz:
According to data from the Bureau of Labor Statistics, quits totaled 4.5 million in November, a record high, and have been trending upward since April 2020.
Below is a table of quits by state. What this gives you is a snapshot of regions that are seeing a rising tide of entrepreneurship and new business development.
California leads the nation with 3.7 million quits — we can imagine how many of these are new tech startups. Same with Texas, where many tech firms have been people relocating for more space and lower taxes, especially software, PC and semiconductor businesses. Georgia, North Carolina, and Florida have all sorts of new business development.
Places like New York and Chicago, with their heavy corporate concentration, are now seeing lots of furloughed/laid-off workers launching their own businesses.
| State | Quit Rate | Total Quits |
| --- | --- | --- |
| California | 2.3% | 3,738,000 |
| Texas | 2.9% | 3,694,000 |
| Florida | 2.9% | 2,473,000 |
| Georgia | 3.5% | 1,598,000 |
| Illinois | 2.7% | 1,581,000 |
| New York | 1.8% | 1,581,000 |
| North Carolina | 3.2% | 1,418,000 |
| Ohio | 2.6% | 1,407,000 |
| Michigan | 3.0% | 1,250,000 |
| Pennsylvania | 2.1% | 1,187,000 |
| Virginia | 2.6% | 1,032,000 |
| New Jersey | 2.4% | 931,000 |
| Indiana | 3.0% | 928,000 |
| Tennessee | 3.0% | 915,000 |
| Arizona | 3.0% | 883,000 |
| Missouri | 2.9% | 823,000 |
| Colorado | 3.0% | 817,000 |
| Washington | 2.3% | 775,000 |
| Wisconsin | 2.7% | 759,000 |
| Massachusetts | 2.2% | 754,000 |
| South Carolina | 3.1% | 667,000 |
| Kentucky | 3.4% | 636,000 |
| Alabama | 2.9% | 585,000 |
| Louisiana | 3.1% | 569,000 |
| Oregon | 2.9% | 544,000 |
| Nevada | 3.8% | 500,000 |
| Oklahoma | 3.0% | 489,000 |
| Utah | 2.7% | 436,000 |
| Iowa | 2.6% | 396,000 |
| Arkansas | 3.0% | 380,000 |
| Mississippi | 3.2% | 366,000 |
| Kansas | 2.5% | 346,000 |
| Connecticut | 2.0% | 325,000 |
| Nebraska | 2.7% | 274,000 |
| Idaho | 3.1% | 244,000 |
| New Mexico | 2.7% | 219,000 |
| West Virginia | 3.1% | 215,000 |
| Hawaii | 3.4% | 191,000 |
| New Hampshire | 2.5% | 166,000 |
| Maine | 2.5% | 153,000 |
| Montana | 3.1% | 151,000 |
| District Of Columbia | 1.9% | 140,000 |
| Delaware | 3.0% | 134,000 |
| North Dakota | 3.0% | 123,000 |
| Rhode Island | 2.5% | 116,000 |
| Alaska | 3.8% | 115,000 |
| South Dakota | 2.6% | 113,000 |
| Wyoming | 3.2% | 86,000 |
| Vermont | 2.4% | 71,000 |
---
3) Biden's offshore wind plan is also a jobs plan: Europe has already invested in offshore wind power. Now the US is getting onboard. If you know of any offshore wind projects seeking a location, don't forget about Galveston.
---
4) It's all relative: Research from the BIS suggests that much of the recent increase in inflation is really a result of changing relative prices rather than a generalised rise. That has important implications for policy.
---
5) The US economy grew 5.7 percent in 2021: Fastest full-year clip since 1984, despite ongoing pandemic.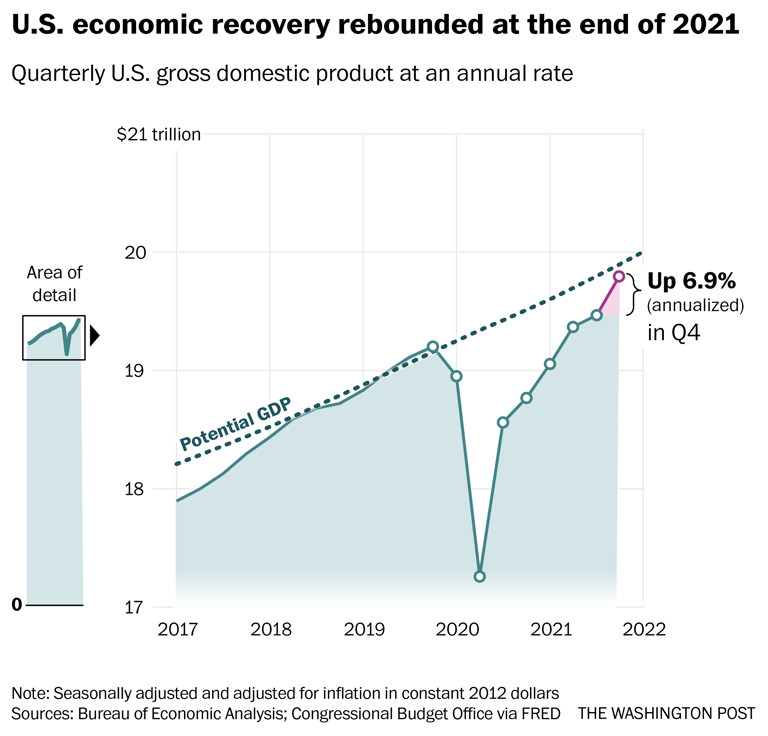 ---
6) The hot new thing in dating? Actually going on dates.
---
7) Malls adding apartments to offset dwindling numbers of shoppers:
Retail centers across the nation are being revamped with a mix of residential, office and hotels as older suburban malls struggle against a rising tide of online shopping and try to compete with popular Class A centers and discount outlets, market experts said. The conversion of mall space into apartments simultaneously solves two problems, reviving dying malls while addressing a housing shortage.
---
8) 19 easy (but effective) digital marketing tips.
---
9) The Fed Can't Print Semiconductors (by Matt Stoler):
---
The dynamic in inflation is figuring out how much of the increase in prices is coming from consumers having more cash and borrowing power they are using to spend, and how much is coming from producers having a hard time making what people want to buy. Most economists think the problem is related to too much cash in the hands of consumers. But Powell actually argued, at one point to Senator Chris Van Hollen that "a big part of getting inflation back down" is getting "significant relief on the supply side so that global supply chains loosen up," meaning "more semiconductors so that we can start manufacturing cars again." The semiconductor shortage, which Paul Krugman called a 'random event' in a debate with Larry Summers, is one of the more difficult policy problems we have, intertwined as it is with antitrust, industrial policy, trade, and finance going back 40 years.
There isn't much research on the relationship of semiconductors and inflation, but one paper that came out recently from the St. Louis Fed suggests that semiconductors matter, a lot. The paper measured pricing changes in the "170 manufacturing industries that do not use semiconductors as a direct input and the remaining 56 manufacturing industries that do," finding that dependent industries hiked prices by 40% more than non-dependent ones.
The paper understates the pricing pressure, because even industries that don't use semiconductors as direct inputs rely on semiconductors. For instance, everyone relies on trucking, and truckers can't repair their trucks because of a lack of semiconductors that go into certain parts. Powell knows this, and admitted it. He also knows how bad things are at the ports. In response to a question from Richard Shelby, he explained that the Fed's failure to predict inflationary increases was in large part a result of them not understanding that the supply side problems wouldn't get fixed.
---
10) 6 investing lessons from the tv show Billions: The shenanigans of its scheming characters may seem absurd, but they have real-world applications.
---
11) Do we stand at the precipice of radical change? Maybe.  Maybe not.
---
12) The latest bias to worry about: The recency bias. Too many predictions give disproportionate weight to the events of the recent past.
---
13) Why it could be years until we see a normal housing market: We're in a housing market where we have record high demand and record low supply. If you want to know why prices are 20% higher than they were a year ago this is the simplest explanation. But there's more going on here…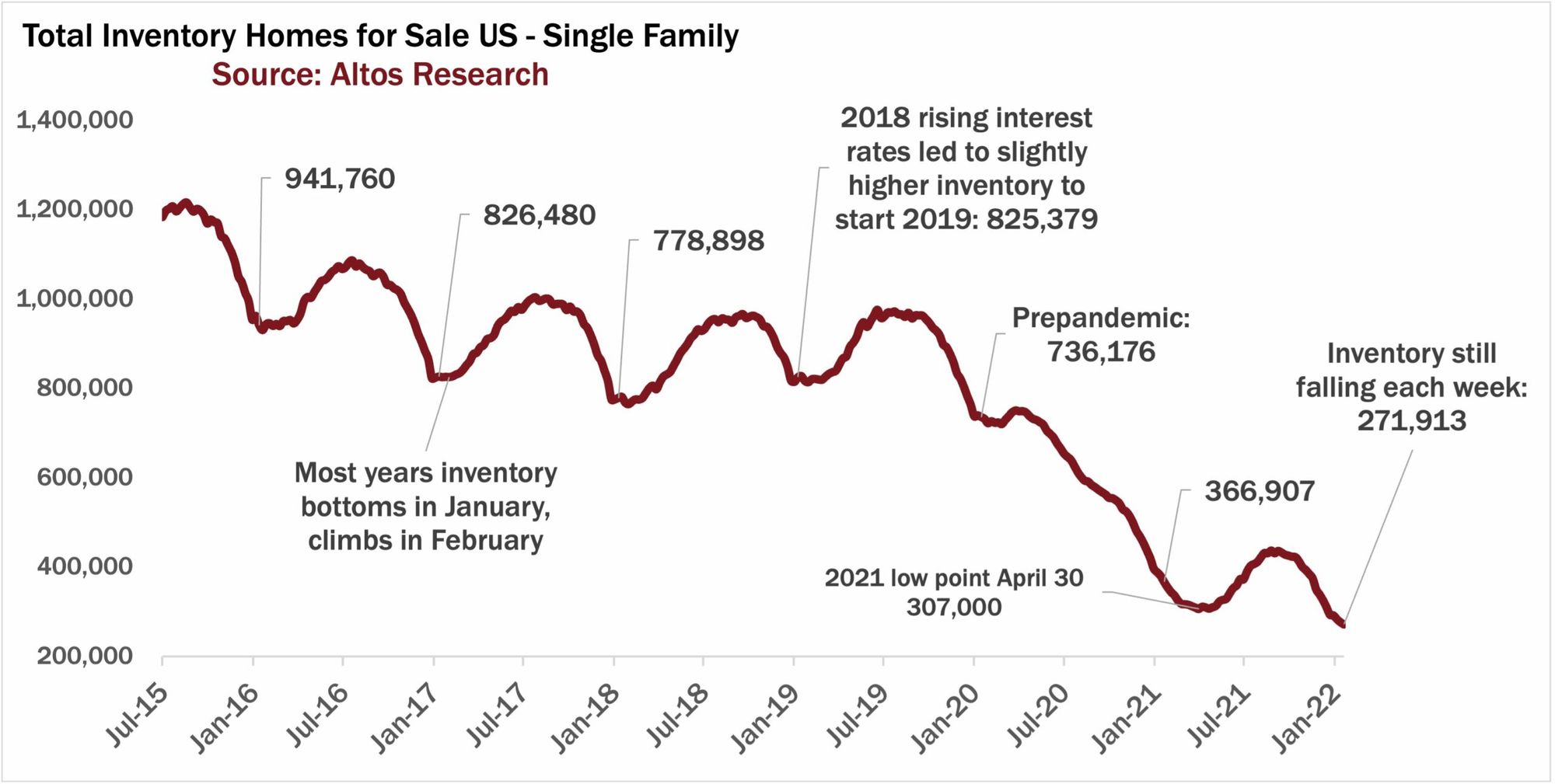 ---
14) Elon Musk: Robots to be bigger business than Tesla cars: Musk told investors on a Tesla earnings call his nascent robot plans had "the potential to be more significant than the vehicle business, over time." And they would be the most important things Tesla worked on this year.
---
14) The science behind the omicron wave's sharp peak and rapid decline: Why do Covid-19 surges seem to end as suddenly as they begin?
---
15) That blinking office voice mail? Don't worry. Everyone else ignores it, too. Even after some office workers have returned to their desks, the phones still flash with unchecked messages.
---
16) Back from the Brink: A Zambian park has reversed the national extinction of a precious and vulnerable species. Soon, it won't be alone.
---
17) Would you take free land in rural America? In the midst of a national housing shortage, towns on the Kansas plains are giving away free land and ultra-cheap houses. Is the offer worth it?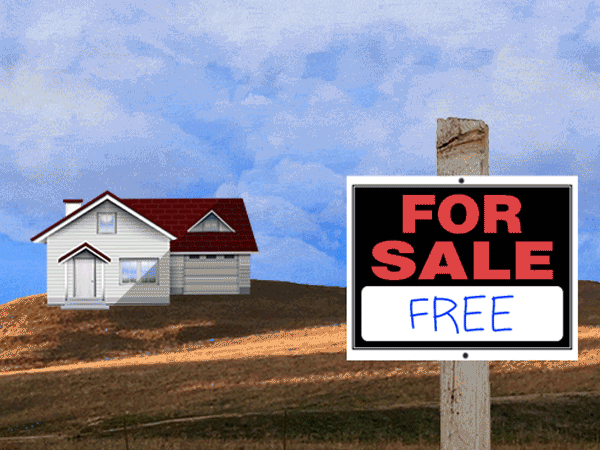 ---
18) FedEx has temporarily suspended its Economy Domestic FedEx Freight service due to what it describes as an "explosive surge of the Covid-19 Omicron variant."
---
19) Inflation may last through 2023 even if pandemic, supply chain bottlenecks end: Long-term trends ranging from high housing demand to tight labor markets will probably fuel inflation well into 2023 even if the pandemic, and short-term price pressures caused by it, begin to fade, according to the Conference Board.
---
---
21) 3 B2B lead generation strategies for your website from Rick Whittington.
---
22) Improving quality of life—not just business—is the best path to Midwestern rejuvenation: But now there is compelling new data that these traditional economic development tools may be ineffective compared to investments in quality of life and place.
---
23) The 15 fastest-growing micropolitan areas:
15: Enterprise, Alabama | 2.71%
14: Prineville, Oregon | 2.76%
13: Vermillion, South Dakota | 2.78%
12: Williston, North Dakota | 2.82%
11: Pahrump, Nevada | 2.86%
10: Cedar City, Utah | 2.87%
9: Rexburg, Idaho | 2.88%
8: Kill Devil Hills, North Carolina | 2.97%
7: Sandpoint, Idaho | 3.12%
6: Brookings, Oregon | 3.59%
5: Show Low, Arizona | 3.61%
4: Vineyard Haven, Massachusetts | 3.98%
3: Cullowhee, North Carolina | 3.99%
2: Jackson, Wyoming/Idaho | 4.33%
1: Jefferson, Georgia | 5.30%
---
24) How Biden can defeat China: This necessitates accentuating our differences; it means creating better conditions for smaller tech firms, and constraining the oligopolies who benefit from China's squashing opposition and seek to create their own dominion at home.
---
25) 2022 remote work trends: How remote work is changing the geography of hiring for good.
---
26) The slowdown in agricultural productivity growth: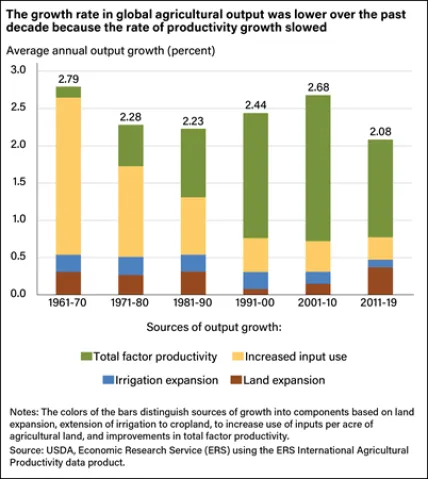 ---
27) The US plans to reduce roadway deaths with smarter road design: A shift in focus from drivers to the role of street layouts and local policies.
---
28) Frogs regrow missing limbs in lab study: Advancing key effort of regenerative medicine.
---
29) What oil was to the 20th Century, semiconductors are to the 21st century.
---
30) How America's direct-from-China e-commerce model will kill retail, & manufacturing labor: An introduction to the tariff rule known as de minimis.
---
31) This real estate bubble won't pop: House pricing has radically changed.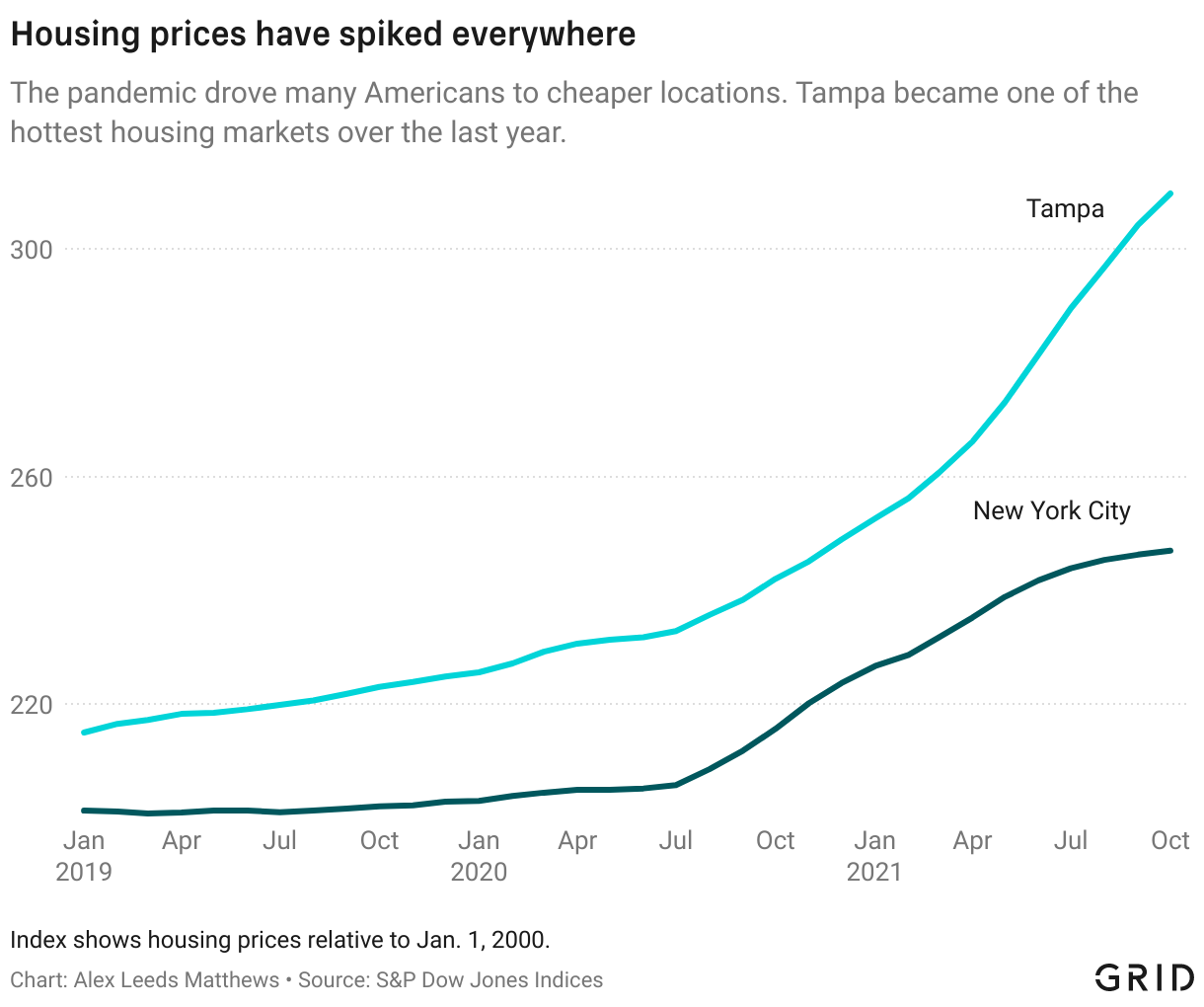 ---
32) Digital business needs new KPIs: Here's why.
---
33) 'No regrets' is no way to live: It's tempting never to look back, but we're hard-wired to focus on our mistakes. Rather than deny them, we can lift ourselves up by seeing them in a new light.
---
34) Why are so many San Franciscans moving to Montana? In 2020 and 2021, moves from San Francisco to Montana increased by 140% compared to the previous two years — making Montana the state that saw the biggest increase in new San Franciscans during the pandemic.
---
35) ☹️ New data shows Americans more miserable than we've been in half a century: The latest release from the General Social Survey shows the toll the pandemic has taken on our mental health.
---
36) Supply-chain hell ignites economic boom along US-Mexico border: Multinationals rush to build factories just across from El Paso, Texas
---
37) Teachers are quitting, and companies are hot to hire them: Businesses eager to fill jobs are offering former educators better pay and more autonomy
---
38) The McNamara Fallacy: Measurement is not understanding.
---
39) Few Americans wear N95 or KN95 masks: Purchasing issues may be to blame.
---
40) Top 20 headline phrases on Twitter: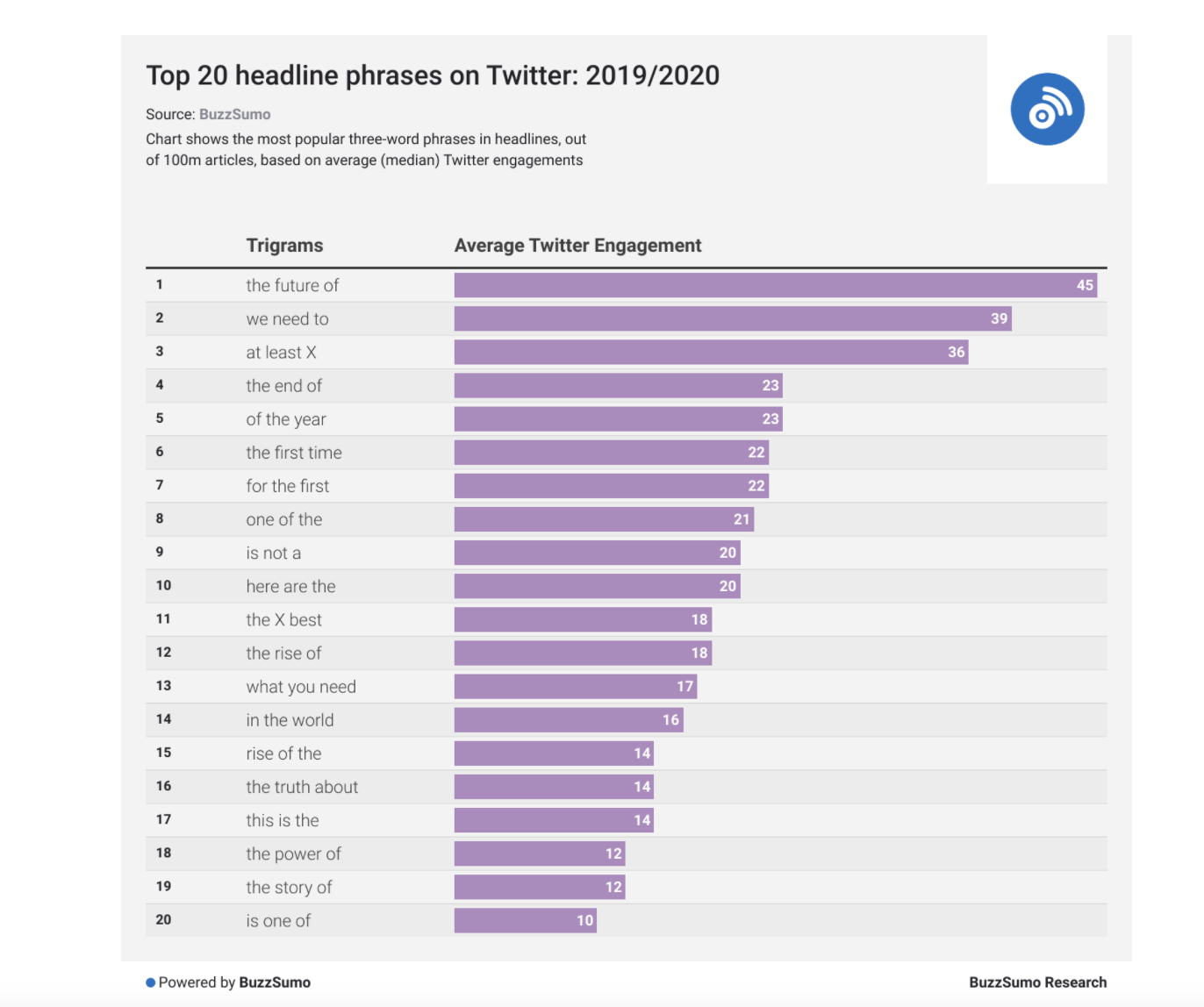 ---
41) Consumers are pivoting spending to services like dining and travel: With many consumers tapped out on buying physical goods, economists hope warmer weather and waning infections will kick-start service purchases.
---
42) Economists are revising their views on robots and jobs: There is little evidence of a pandemic-induced surge in automation.
---
43) Too young to retire but at risk for Covid, older Americans struggle to find work: Despite reports of US worker shortages, people who are less than five years from retirement are facing a lack of employment options
---
44) Reasserting US leadership in microelectronics: MIT researchers lay out a strategy for how universities can help the U.S. regain its place as a semiconductor superpower.
---
45) US population growth stalled to its lowest rate on record thanks to the pandemic — even slower than during the Great Depression: Economists blamed the slowdown on increased mortality rates, decreased birth rates, and less migration.
---
46) Good practices in economic incentive programs: However, as with any tool it is necessary to read the manual, ensure that the right tool is used for the right purpose, and – every so often – ensure proper testing and maintenance.
---
47) Rod Crider on keeping the plates spinning as an EDO:
---
48) For economic developers, the idea of a community's reputation can be hard to quantify and harder to control.  What if your mayor or police chief does something, well, crazy that puts your community in a bad light?
---
49) New from the IEDC: Economic Development in a Changing Climate.
As the impacts of climate change continue to grow, economic development organizations need to plan and act accordingly. This paper is an introduction to the topic, presenting baseline information that economic developers should have about climate trends and exploring the impacts of those trends on businesses, communities and economic development practice. EDOs can play key roles both in helping their communities mitigate disruptions and in preparing businesses to take advantage of the market as it adapts in response to climate change. The paper includes questions to help identify those risks and opportunities, as well as resources and case studies.
---
50) An economic opportunity for small businesses in the digital age:
All of this is to say there is an argument to be made for rethinking the economic development approach to in-person, community land-locked strategies for retail. There is a space for place-based digital solutions. Local, small-to-medium sized businesses, entrepreneurs and start-ups must learn to compete online, and through the right tools, coaching, and education; economic developers can strengthen their local economy in the long term by investing in these strategies.
---
51) Econ Dev Show Podcast Episode 36 - Mind the T's with Chris Johnson in Johnston County: Dane and Chris talk about Chris's background in retail and what new perspectives he's brought to economic development.
---
52) Issue # 45 - Economic Development and Developers in the News - Econ dev news from 95 economic development executives and organizations in 31 states and Canada.
---
53) 77 New Economic Development Jobs Last Week - 77 econ dev jobs from 36 US states and Canada.
---
54) The 56 Things Economic Developers Need To Know Last Week - The stories that you need to see from this week. January 27, 2022 edition.
Econ Dev Show Newsletter
Join the newsletter to receive the latest updates in your inbox.