The Many Faces of Year-End in Economic Development
Thankful for auto-replies: The unsung hero of the holiday inbox.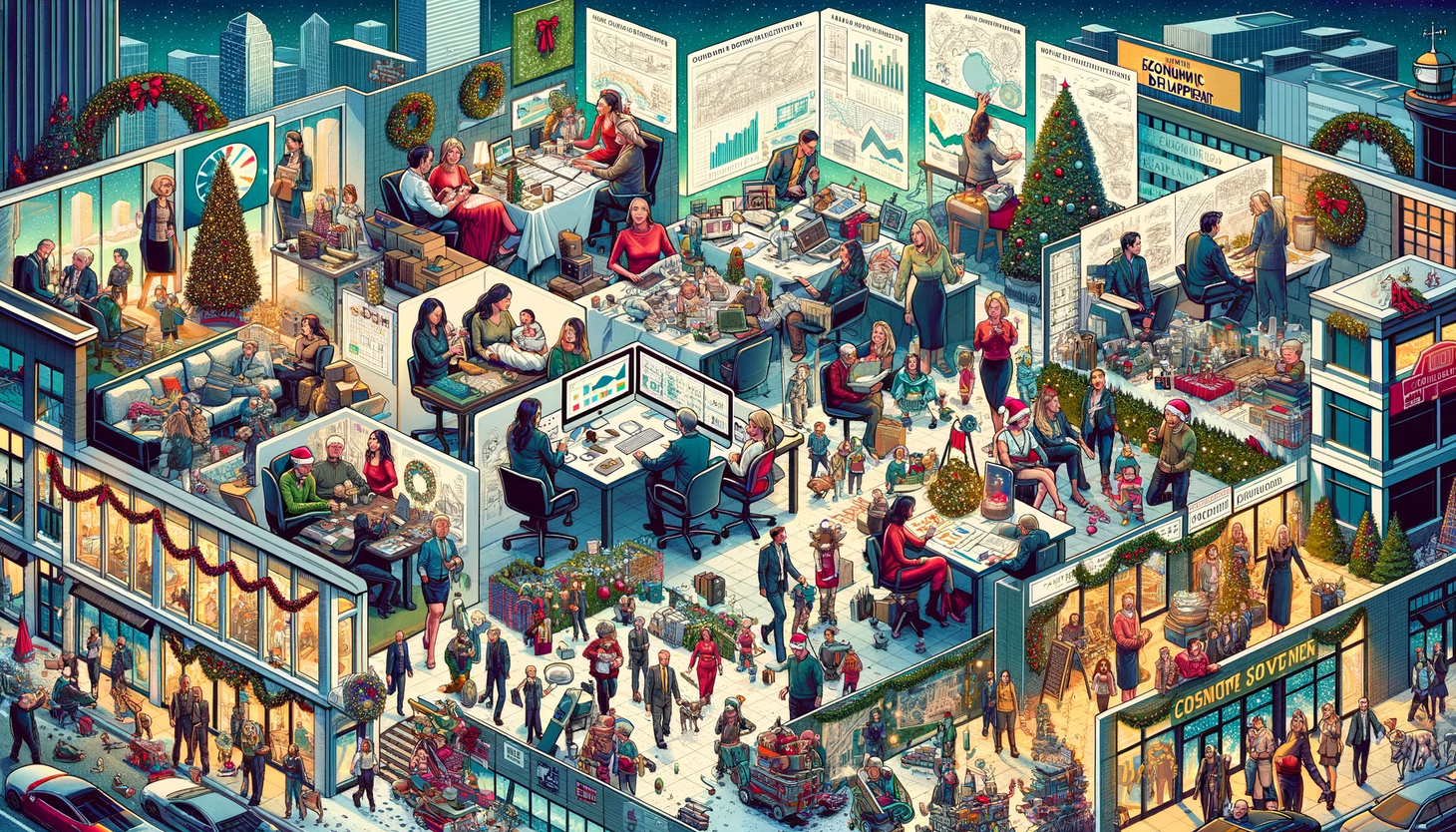 Last week, we asked a simple question: "As we approach the holidays, does your work in economic development slow down or ramp up?" The responses we received are as diverse and intriguing as the field itself.
From the quiet hum of offices winding down to the bustling energy of festive programs and strategic planning, it's clear that there's no 'one size fits all' approach in our field. Let's explore what our colleagues across the nation are experiencing:
The Quiet Office: Some of you shared how this time becomes a chance to declutter—both your physical workspace and your digital one. It's a period marked by 'out of office' auto-replies and a welcomed slowdown.
Work-Life Balance: For others, it's a time of recognizing the importance of family and rest. Teams operate on a need-to basis, understanding that this season is for recharging and reconnecting with loved ones.
The Hustle of Year-End Events: Then there's the flip side—annual reports, events, and dinners. Our friend Thomas Cox mentions a schedule filled with non-traditional hours, balancing work demands with festive commitments.
Quiet Before the Storm: December and January aren't just about festivities; they're a time of preparation and transition, setting the stage for the upcoming year's strategies and goals.
Big Changes and New Beginnings: Some, like Leonel Jaramillo, are taking significant personal steps (congratulations on the new addition, Leonel!), while others are in the midst of launching pioneering regional projects.
Branding and Strategic Planning: It's not all about slowing down. Many are using this time to gear up for the new year with fresh branding and strategic planning.
Bursts of Activity: For Lisa Denton and others, the end of the year is anything but quiet. It's a season of record-setting projects, new staff, and exciting new strategic plans.
Expansion and Growth: And let's not forget those who are in the thick of major expansions, like establishing Foreign Trade Zones and recruiting for legacy projects.
Holiday Focus: Lastly, the holiday season brings unique opportunities like promoting local shopping and updating the community on construction projects.
So, what does this mosaic of experiences tell us? It highlights the dynamic nature of economic development. Whether you're taking a well-deserved break or gearing up for a busy season, one thing is clear: our field is as varied and vibrant as the communities we serve.
Here's to a year-end filled with purpose, whether it's in a flurry of activity or a moment of peaceful reflection.
Now, here are a few of the raw responses: