33 Things Economic Developers Need To Know This Week
The stories that you need to see from this week. October 28, 2021 edition.
1) Small business: Get ready for the holiday shopping season.
---
2) Consumer prices for meats, poultry, fish, and eggs up 10.5 percent for year ended September 2021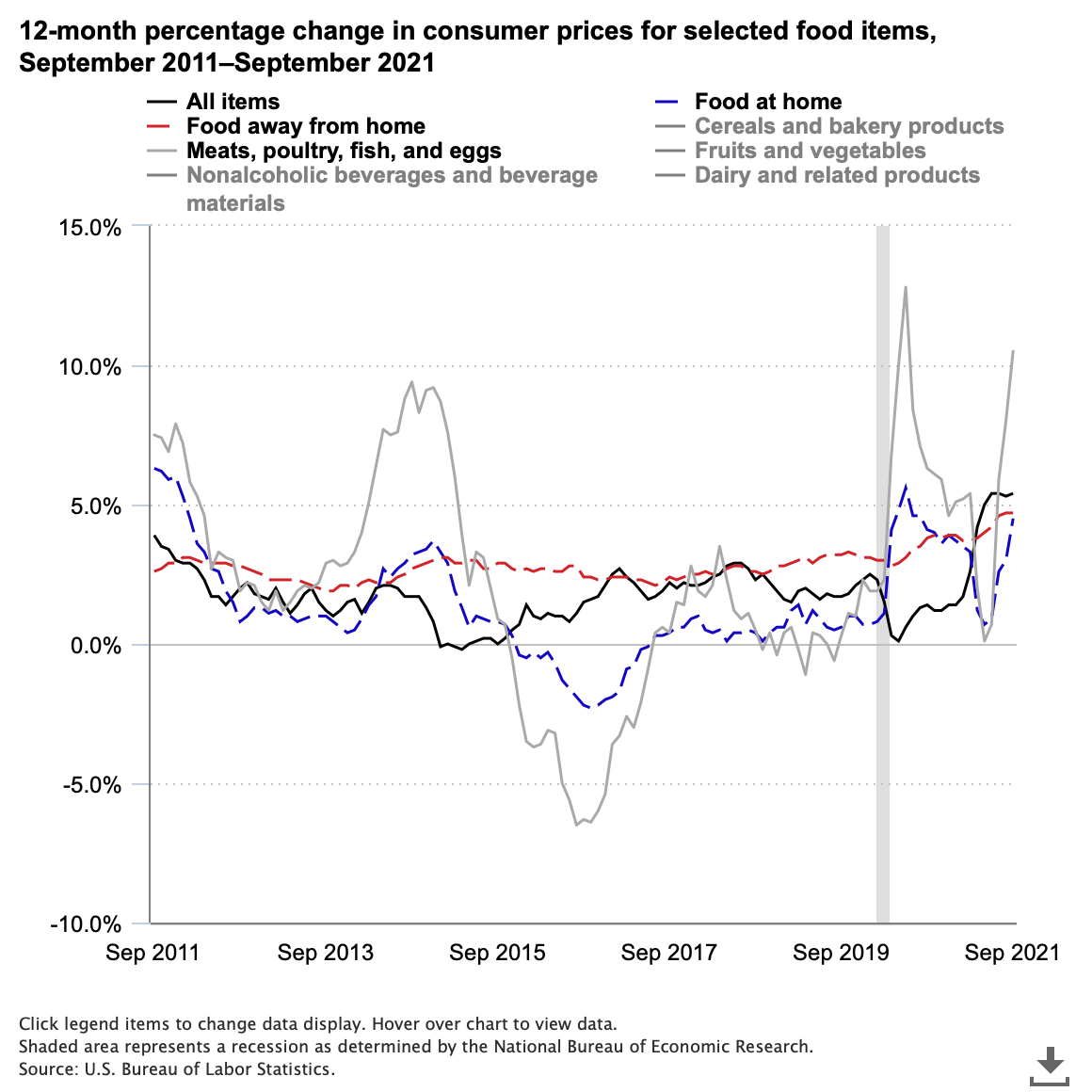 ---
3) Inflation would be 10 percent per year if house prices were included:
Including house prices in the official consumer inflation statistics would lift the reported figure to roughly 10% and rival the early 1980s. Still, excluding the non-market shelter index from the official price statistics shows consumer price inflation running as hot as it did during the oil price spike of 2008. Both represent the fastest increase since the early 1980s, illustrating the breadth and speed of the current inflation cycle.
Other measures of inflation have already exceeded the reported figures of the early 1980s. Core intermediate prices for materials and supplies, which are part of the monthly producer price report, have jumped over 20%, well above the high readings of the 1980s.
---
4) You could be competing with bots to buy gifts this Christmas: As shortages of sneakers and other goods persist, the digital cat-and-mouse game between retailers and resellers is intensifying.
---
5) Is $1 million enough for retirement in America?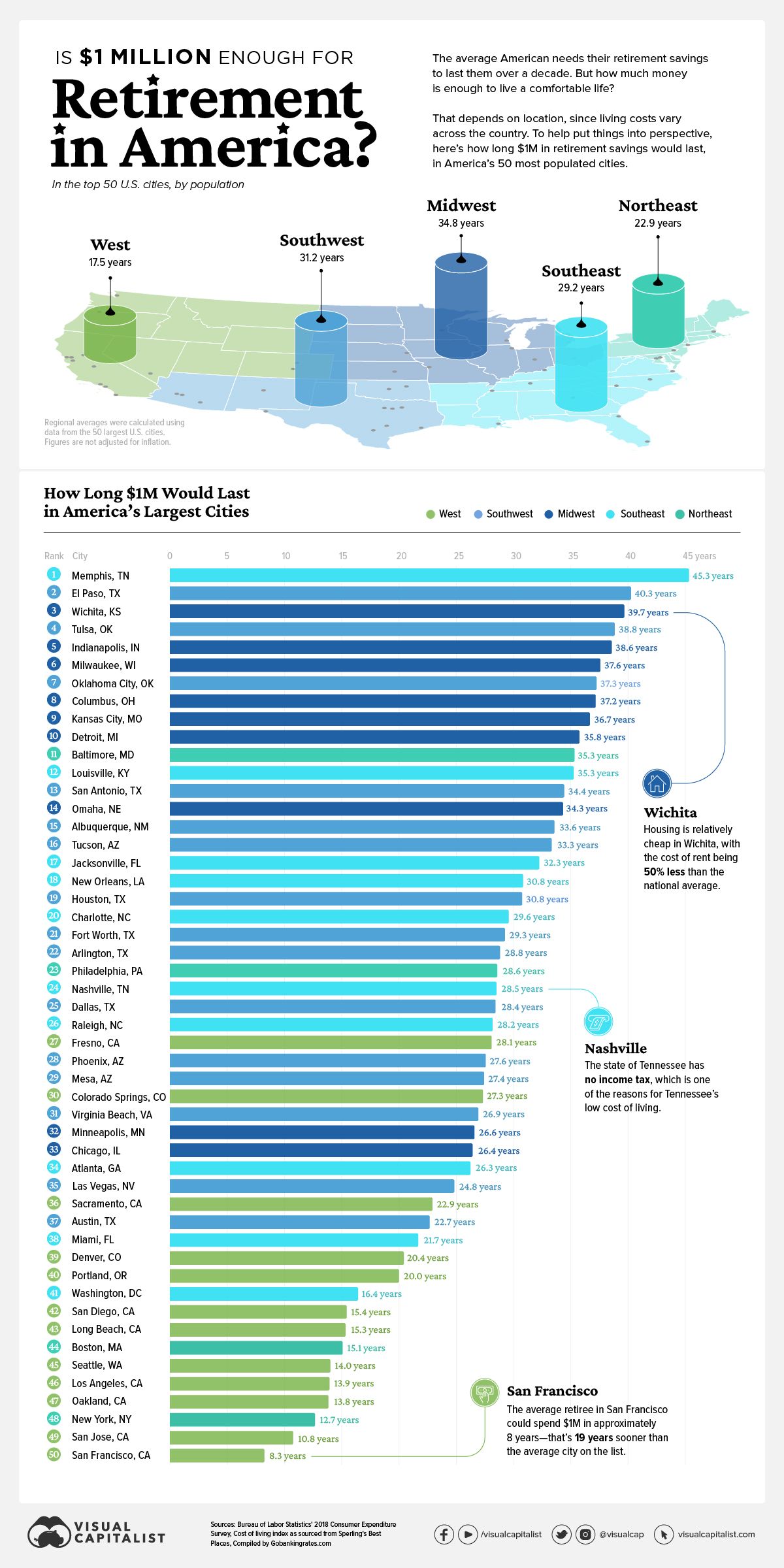 ---
6) Managing Up in Economic Development: How to be a much better communicator and manage your boss.
---
7) This week on the Econ Dev Show Podcast: From Top to the Bottom: Economic Development in Manatee County Florida with Ruth Buchanan and Che Barnett.
---
8) The shift from oversupply to undersupply: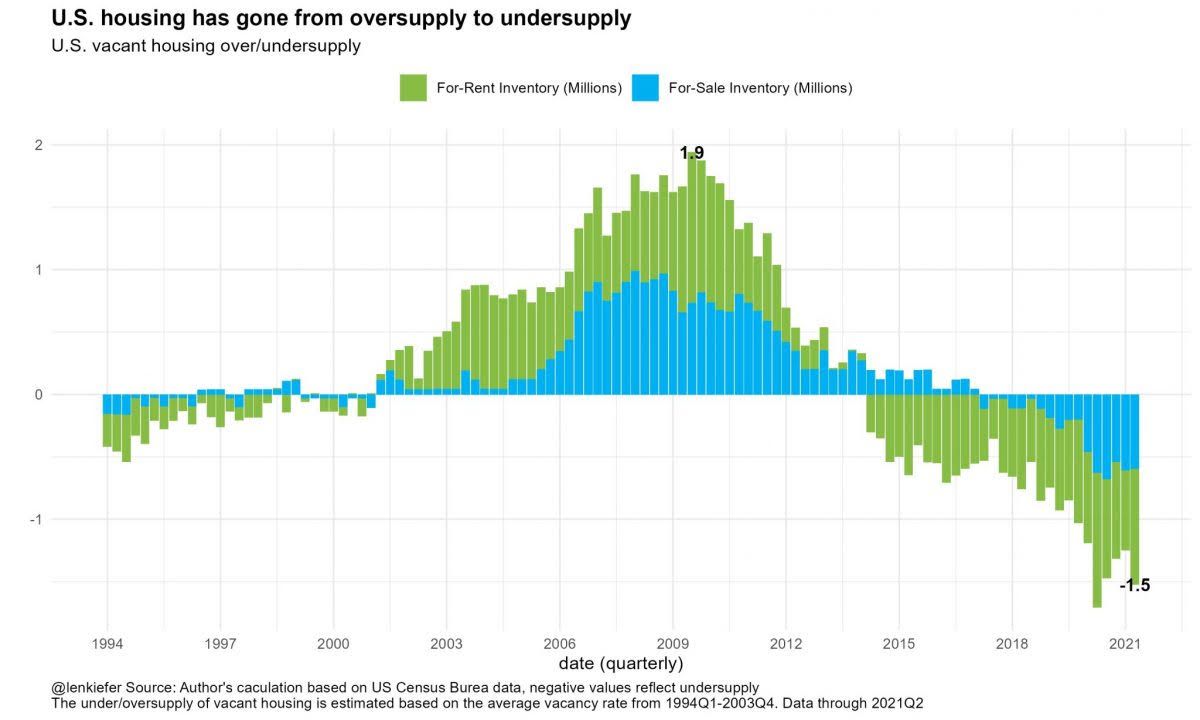 ---
9) Turning Points: Doing rural development differently
This book chapter highlights six action principles to "do economic development differently"—principles that shifts from the risky "winner takes all" approach that is heavily reliant on a business-recruitment strategy to a "let's all win" approach of building on a region's existing, underutilized assets. It is an approach that believes we can work together to get ahead together.
This chapter is part of a new rural development-centered publication from the St. Louis Fed and Federal Reserve Board of Governors, "Investing in Rural Prosperity," which will be published in November 2021. The book details that rural development will lead to greater economic opportunity for everyone if it is tailored to the community, designed to be resilient to changing circumstances and inclusive about who is at the decision-making table, and is developed through a collaborative process.
---
10) The silicon in Silicon Valley, again:
From responding to a pandemic — with novel mRNA vaccines — to building the future — with SpaceX's rockets and Apple's new chips — we are seeing that the material world still has the power to thrill.
But even though many appreciate physical products more than ever, this esteem has not yet prompted a broad attitude shift to recognize manufacturing as a valuable competency in the world of technology. The U.S. president and Congress are demanding that America rebuild its manufacturing capacity. Federal incentives are helpful, but government effort alone will only go so far. Success should be defined not by creating spare capacity, but by revitalizing American manufacturing capabilities. That effort will demand active participation from the tech community, which should stop dismissing manufacturing work as a "commoditized" activity not worth smart minds.
---
11) Remystifying supply chains: Supply chains are TV for matter:
If you're like me, you've been avidly consuming supply-chain news and analysis lately. Semiconductor shortages and stuck container ships are the charismatic megafauna everybody is watching, but I'm primarily watching for more mundane little things that surprise me in some way. I'm hoping they will serve as clues that point to new ways of thinking about supply chains, because I think our existing mental models are failing us.
A big reason is that we think supply chains are old and well-understood parts of the world (after all, ships still ply trade routes that have been in use for millennia), but as I will argue, they're not. Supply chains as they exist today are as young and mysterious as the internet. The ongoing supply chain crisis is at least as novel an event in human history as the recent big Facebook outage. Arguably more novel.
And we won't take supply chains seriously enough until we remystify them in a way that forces us to make up new frames that center their recently evolved novel aspects rather than their ancient and familiar aspects. Frames that encompass the entire vast scope of things that move along global supply lines today. Not just shipping containers full of durable manufactured goods, but bulk-carried materials, air-shipped perishables, seafood, livestock, piped materials, electricity, and so on. Viewed this way, the internet is just one supply chain among many, a bits-and-bytes-specific member of a cohort of technologies that date approximately to the 1960s.
---
12) Civic boosters in central Montana hoped for some federal money to promote tourism: A disinformation campaign got in the way.
---
13) Workers are quitting these 4 kinds of jobs in droves: Is America a nation of quitters? It could look that way based on the latest report from the Bureau of Labor Statistics , which shows that a whopping 4.3 million workers quit their jobs in August.
---
14) Today's reading: The Goal: A Process of Ongoing Improvement .  This is one of the best business books I've ever read. Definitely in my top 5 along with Good to Great, The Leadership Challenge, Visioneering, and Crossing the Chasm. If you do anything in manufacturing, distribution, production, supply chain management or are trying to improve operations, READ THIS BOOK! You won't regret it. It's applicable the minute you finish it. And because of the way it's written, you won't forget the primary points of he book.
---
15) How a little-known 1980 law slashed pay for millions of truck drivers and created big-box retail as we know it: Today's network of big-box retailers and online shopping likely wouldn't exist without the deregulation of the trucking industry 40 years ago this month.
---
16) Could Mexico be the next Denmark?: Mexico is poised for a long period of unspectacular but steady economic growth.
---
17) Which car brands prices have increased the most & least in 2021?
| Brand | Year-over-Year Percent Change |
| --- | --- |
| Chevrolet | 39.10% |
| Jeep | 35.30% |
| Dodge | 33.30% |
| Nissan | 29.90% |
| Buick | 26.20% |
| Cadilac | 24.70% |
| GMC | 24.30% |
| Chrysler | 24.00% |
| Kia | 23.70% |
| Mitsubishi | 23.50% |
| ... | |
| Subaru | 6.00% |
| Acura | 5.50% |
| FIAT | 5.00% |
| BMW | 4.70% |
| RAM | 4.10% |
| Audi | 3.10% |
| Lincoln | 2.40% |
| Lexus | 0.50% |
| Mercedes-Benz | 0.20% |
| MINI | 0.00% |
---
18) Ryan Peterson, founder of Flexport:
Here's a thread
First off, the boat captain said we were the first company to ever rent his boat to tour the port to see how everything was working up close. His usual business is doing memorial services at sea. He said we were a lot more fun than his regular customers.
The ports of LA/Long Beach are at a standstill. In a full 3 hour loop through the port complex, passing every single terminal, we saw less than a dozen containers get unloaded.
It seems that everyone now agrees that the bottleneck is yard space at the container terminals. The terminals are simply overflowing with containers, which means they no longer have space to take in new containers either from ships or land. It's a true traffic jam.
Right now if you have a chassis with no empty container on it, you can go pick up containers at any port terminal. However, if you have an empty container on that chassis, they're not allowing you to return it except on highly restricted basis.
Right now if you have a chassis with no empty container on it, you can go pick up containers at any port terminal. However, if you have an empty container on that chassis, they're not allowing you to return it except on highly restricted basis.
With the yards so full, carriers / terminals are being highly restrictive in where and when they will accept empties.
Also containers are not fungible between carriers, so the truckers have to drop their empty off at the right terminal. This is causing empty containers to pile up. This one trucking partner alone has 450 containers sitting on chassis right now (as of 10/21) at his yards.
This is a trucking company with 6 yards that represents 153 owner operator drivers, so he has almost 3 containers sitting on chassis at his yard for every driver on the team.
He can't take the containers off the chassis because he's not allowed by the city of Long Beach zoning code to store empty containers more than 2 high in his truck yard. If he violates this code they'll shut down his yard altogether.
With the chassis all tied up storing empties that can't be returned to the port, there are no chassis available to pick up containers at the port.
And with all the containers piling up in the terminal yard, the longshoremen can't unload the ships. And so the queue grows longer, with now over 70 ships containing 500,000 containers are waiting off shore. This line is going to get longer not shorter.
This is a negative feedback loop that is rapidly cycling out of control that if it continues unabated will destroy the global economy.
---
19) What America's supply-chain backlog looks like up close: The WSJ rented a helicopter and sees exactly the same thing as the thread above.
---
20) Arnold Schwarzenegger is a marketing genius:
---
21) Why is everyone quitting, and how do I know whether it's time to leave my job? Waves of Americans are leaving their jobs as part of the 'Great Resignation.' Here's why: A record number of workers are quitting their jobs, empowered by new leverage
---
22) Selling cars in the era of the chip shortage: online chats and no more haggling. Dealerships lean on fewer staff to sell used cars, handle new-car buyers online; 'Haggling has gone out the window'
---
23) Most housing units under construction since 1974: Currently there are 712,000 single family units under construction, the highest level since 2007. There are 714,000 multi-family units under construction, the highest level since 1974
---
24) The economic rebound is still waiting for workers: Despite school reopenings and the end of some federal aid, many people are in no rush to land a job. Savings and health concerns are playing a role.
---
25) Economic side effects from the pandemic: Following the Great Financial Crisis, economic growth was below trend, inflation was low and wage growth was slow. Since the pandemic, economic growth is higher, inflation is finally taking off and wage growth is accelerating. Each scenario has its own unique challenges and trade-offs.
---
26) The workers won't be coming back, Covid or not. Here are theories on where they went: What is wrong with America's labor market? Americans are quitting their jobs at a record pace while millions who left the workforce during the pandemic have yet to return. Many economists say Covid is the culprit, but there may be more going on than meets the eye.
---
27) Where the suburbs end: A single-family home from the 1950s is now a rental complex and a vision of California's future
---
28) Climate change: Fossil fuel production set to soar over next decade. Despite the flurry of net zero emission goals and the increased pledges of many countries, some of the biggest oil, gas and coal producers have not set out plans for the rapid reductions in fossil fuels that scientists say are necessary to limit temperatures in coming years.
---
29) How close are flying cars? Pretty close, actually. Better to think of this as the flying taxi industry rather than The Jetsons finally becoming reality.
---
30) Inside Amazon's biggest warehouse — where you'll find more robots than people: Some 10,000 robots are helping 1,000 newly hired human workers on the site of a former GM plant. The $250 million "showcase" warehouse has fewer workers than the typical fulfillment center a quarter of its size, although Amazon says it may eventually employ 4000 to 5000 employees.
---
31) These are the top 10 tech trends that will shape the coming decade, according to McKinsey: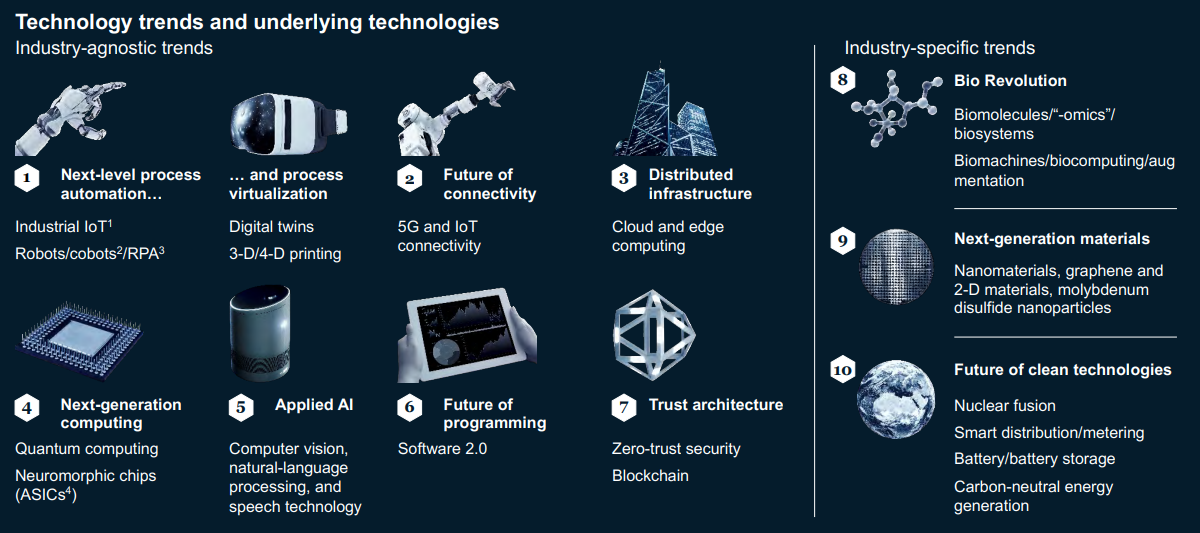 ---
32) Boomers are retiring, en masse.
According to the BLS's Current Population Survey, the percent of the population over 55 years old that isn't in the labor force and doesn't want a job, which was stable at 58% prior to the pandemic, has steadily risen during the pandemic to its current 60%. . . . The record stock prices and housing values, and bank accounts swollen by the saving they did while self-quarantining during the height of the pandemic, has further empowered the boomers' exit. With boomers leaving the workforce more quickly, the overall labor force participation rate will not return to its pre-pandemic rate of more than 63%, even when the economy is back to full employment. We expect it to top out closer to 62.5%, about a percentage point higher than it is today.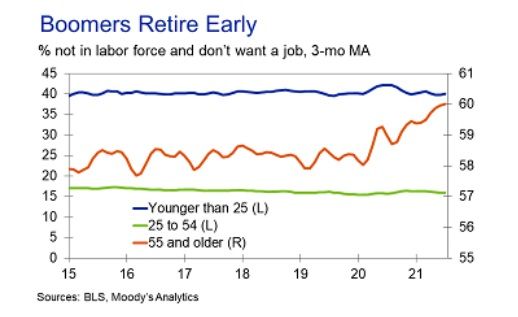 ---
33) All the metals ever mined in one chart: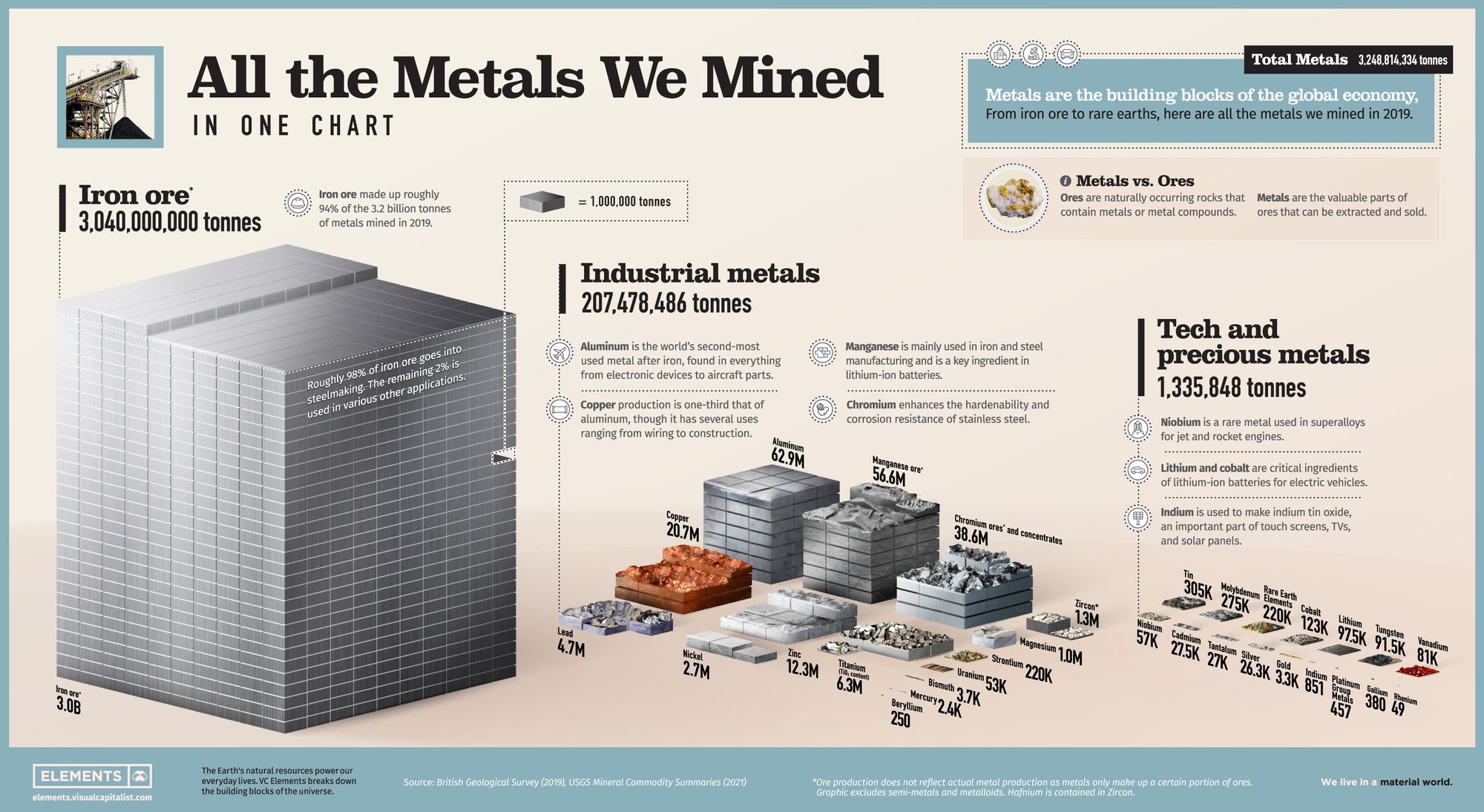 Econ Dev Show Newsletter
Join the newsletter to receive the latest updates in your inbox.