37 Things Economic Developers Need To Know This Week
The stories that you need to see from this week. October 7, 2021 edition.
Good morning econ dev fans and practitioners:  Welcome to everyone's favorite make you a smarter economic developer newsletter! Thanks for spending a few minutes with us this morning.
This week we have 37 stories, graphics, charts, and videos that I think you'll find informative, useful, inspiring, and perhaps even funny.
- Dane
---
1) Podcast Episode 22 - Meet the "Chief Remover of Obstacles" Lea Ann Seiler - Her job is to figure out what obstacles she can remove so that her community members can move forward.
2) Economic Development and Developers in the News #31 - Econ dev news from 150 economic development executives and organizations in 34 states and Canada.
3) Economic Development Jobs Last Week - 37 new econ dev jobs in 15 states and remote.
4) 53 Things Economic Developers Need To Know This Week - The stories that you need to see from this week. September 30, 2021 edition.
5) How to Write in Economic Development - A masterclass in effective writing in just 10 bullet points.
---
6) We have no theory of inflation. The models don't work.
Forecasting is hard. Forecasting inflation is especially tricky. And economists are, in the main, bad at it. This is, as one might expect, an especially unhappy problem for the economists working in central banks who are guiding policy which is itself targeting a given rate of inflation
---
7) 54% of Americans read reviews for everything they buy:

---
8) 5 things to know about the IEDC Annual Conference in Nashville from GIS Planning: #6, I'll be in attendance virtually.
---
9) River Runner is a virtual tour of the US that follows watersheds. On the website, pick a place in the contiguous US and then it will carry you along the creeks and rivers that flow from that place until you reach the ocean.
---
10) Noodles to chips: Global capex booms as companies prep for post-Covid era: Corporate capital expenditure will jump globally by 13% this year, according to S&P Global Ratings, with growth in all regions and broad sectors.
---
11) A flood of unknown products is making online shopping impossible:
These days, navigating Amazon, Walmart and Google's maze of third-party sellers or judging hip-looking social media ads requires the same kinds of skills as identifying misinformation and conspiracy theories. Even with the best research, there's often no clear answer to the question, what kind of product will I get? Mysterious brands are flooding shopping sites and social media ads, making it difficult to tell the real from the low-quality.
---
12) According to the World Bank, the US now has by far the highest tariff rates in the entire developed world (excluding a couple of tiny places like Bermuda.)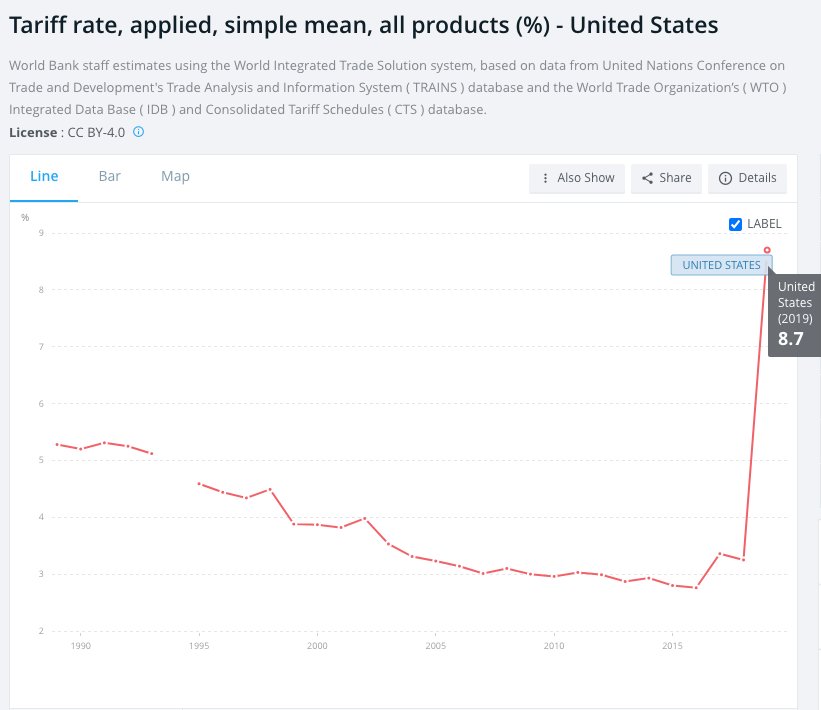 ---
13) America's "Friendscape" crisis: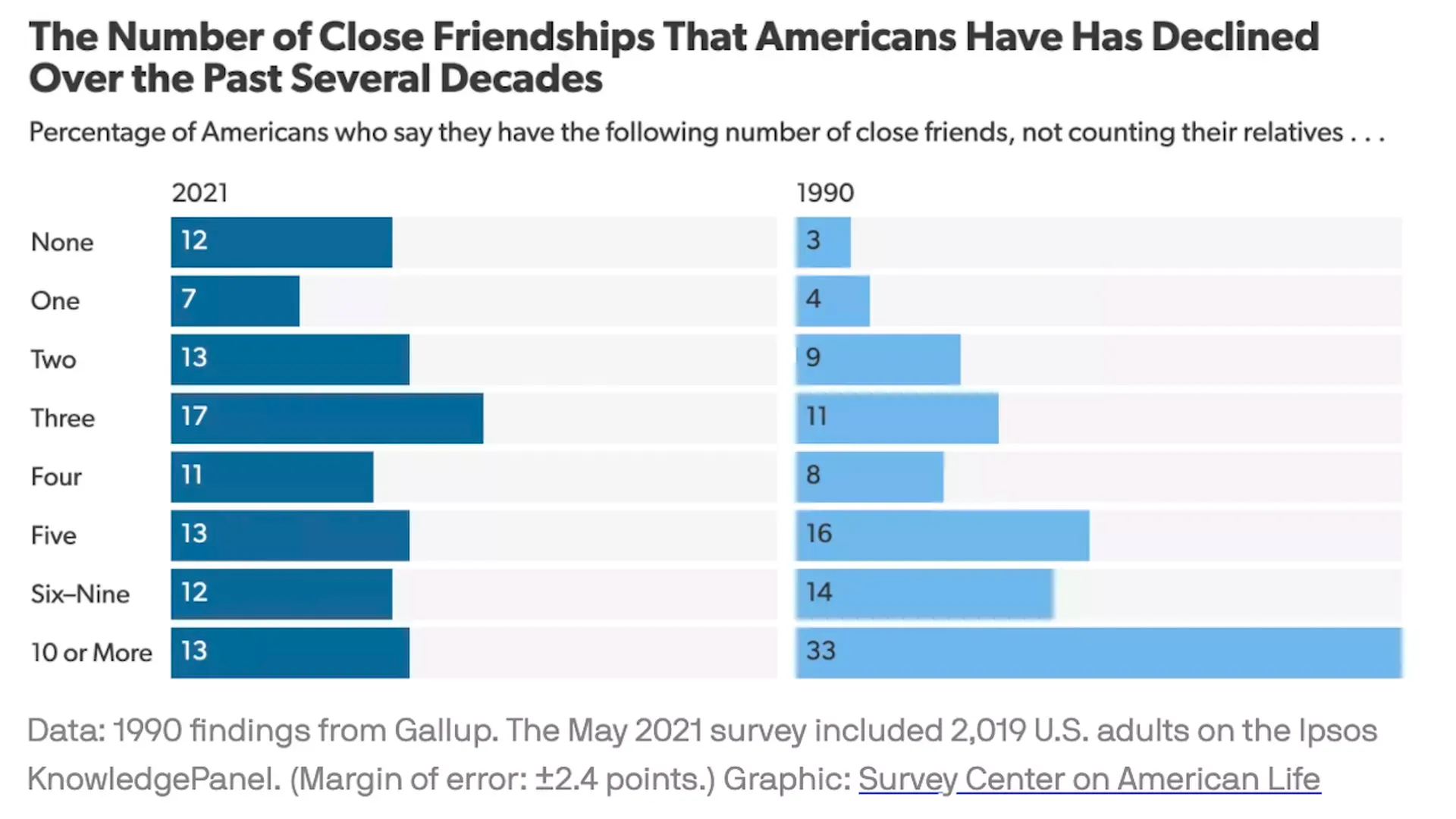 ---
14) Changes to US population by county type, 2010-2020: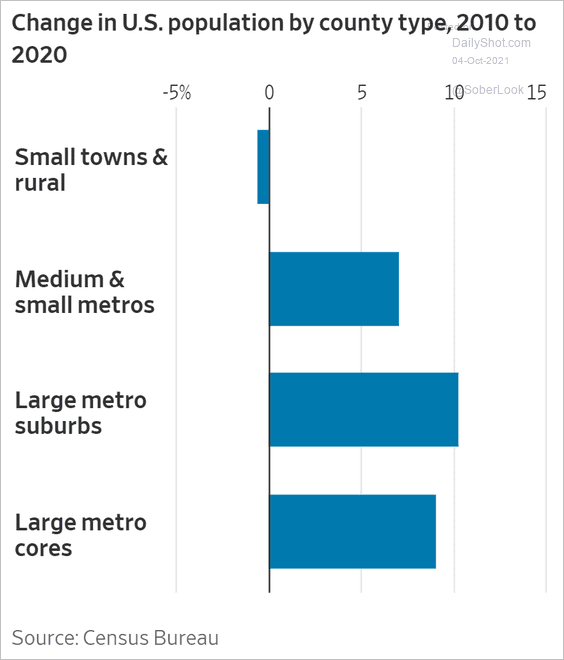 ---
15) Concrete and cement industries brace for demand boom from $1 trillion infrastructure plan.
---
16) Economic Development, It's a Wonderful Life: How I let George Bailey, Mr. Potter, and Bedford Falls tell the story of economic and community development:
---
17) Efficiency eludes the construction industry:
The killer stat here: The productivity of American builders has plunged by half since the late 1960s. From the piece: "Examples of how the industry might move forward are not hard to find. More builders could use computer-aided design, as is standard among architects. Other methods are in earlier stages, but show promise, such as remote-controlled cranes and self-driving bulldozers (Komatsu, a Japanese equipment-maker, is developing the latter)."
---
18) From The Social Network:
"Okay, let me tell you the difference between Facebook and everyone else, we don't crash EVER! If those servers are down for even a day, our entire reputation is irreversibly destroyed."
19) Is the seller's market for houses over?
Slowing sales, a decline in over-asking contract prices, and fewer bidding wars in many areas are among recent shifts. 59% of Home Offers Written by Redfin Agents Faced Bidding Wars in August—the Lowest Level Since 2020
---
20) Majority of restaurant operators say business conditions are worse now than three months ago: The delta variant, understaffed restaurants and higher food costs are among the issues plaguing the industry.
---
21) No body really knows how the economy works. A Fed paper is the latest sign:
Many experts are rethinking longstanding core ideas, including the importance of inflation expectations. It is vivid evidence that macroeconomics, despite the thousands of highly intelligent people over centuries who have tried to figure it out, remains, to an uncomfortable degree, a black box. The ways that millions of people bounce off one another — buying and selling, lending and borrowing, intersecting with governments and central banks and businesses and everything else around us — amount to a system so complex that no human fully comprehends it.
---
22) People remember print ads better than digital ads after one week: They can be more effective - even if they are more expensive.
---
23) Ranked: The fastest growing cities in the US:
24) Reading today: How to Take Smart Notes: One Simple Technique to Boost Writing, Learning and Thinking
---
25) Regional economic development and tourism: A literature review to highlight future directions for regional tourism research.
---
26) Revitalizing the Main Street, revitalizing the community: A belief in the community-building aspect of a thriving downtown is what motivates mayors and city officials of several Utah towns involved in the Utah Main Street Program, part of a larger, national, initiative.
27) September savings index: 42% of Americans increased savings after summer lull: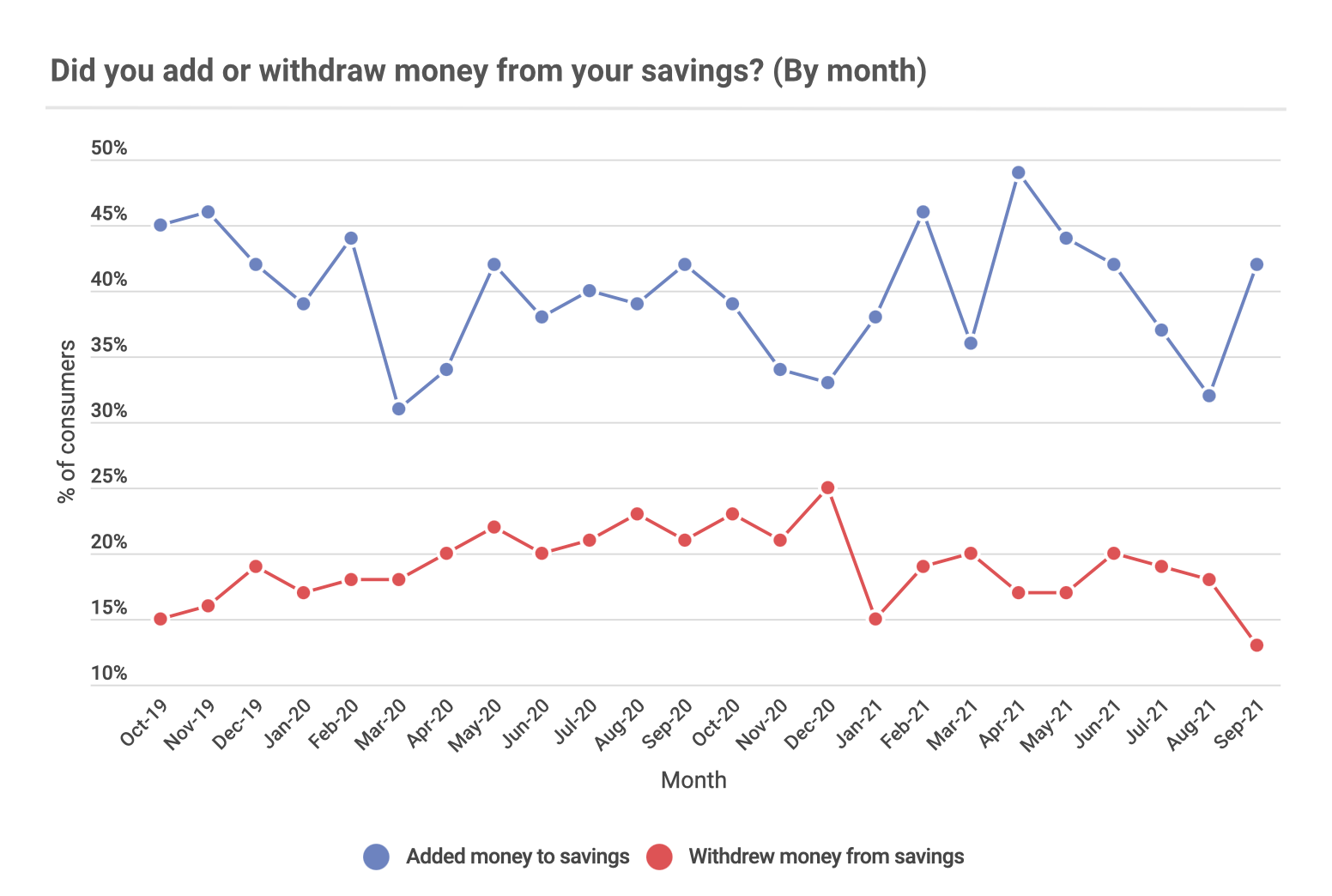 ---
28) Small towns brace for change, prosperity with Ford's arrival: The tiny town of Glendale, Kentucky is the site of a joint venture with Ford Motor Company and SK Innovation to create the $5.8 billion BlueOvalSK Battery Park . The dedicated battery manufacturing complex will be creating 5000 jobs.
---
29) Supply chain disruptions limit consumer spending: Amid widespread shortages and delivery delays, more than half of consumers reported difficulty procuring at least one product last month:
Housing, grocery and car shortages felt most acutely by consumers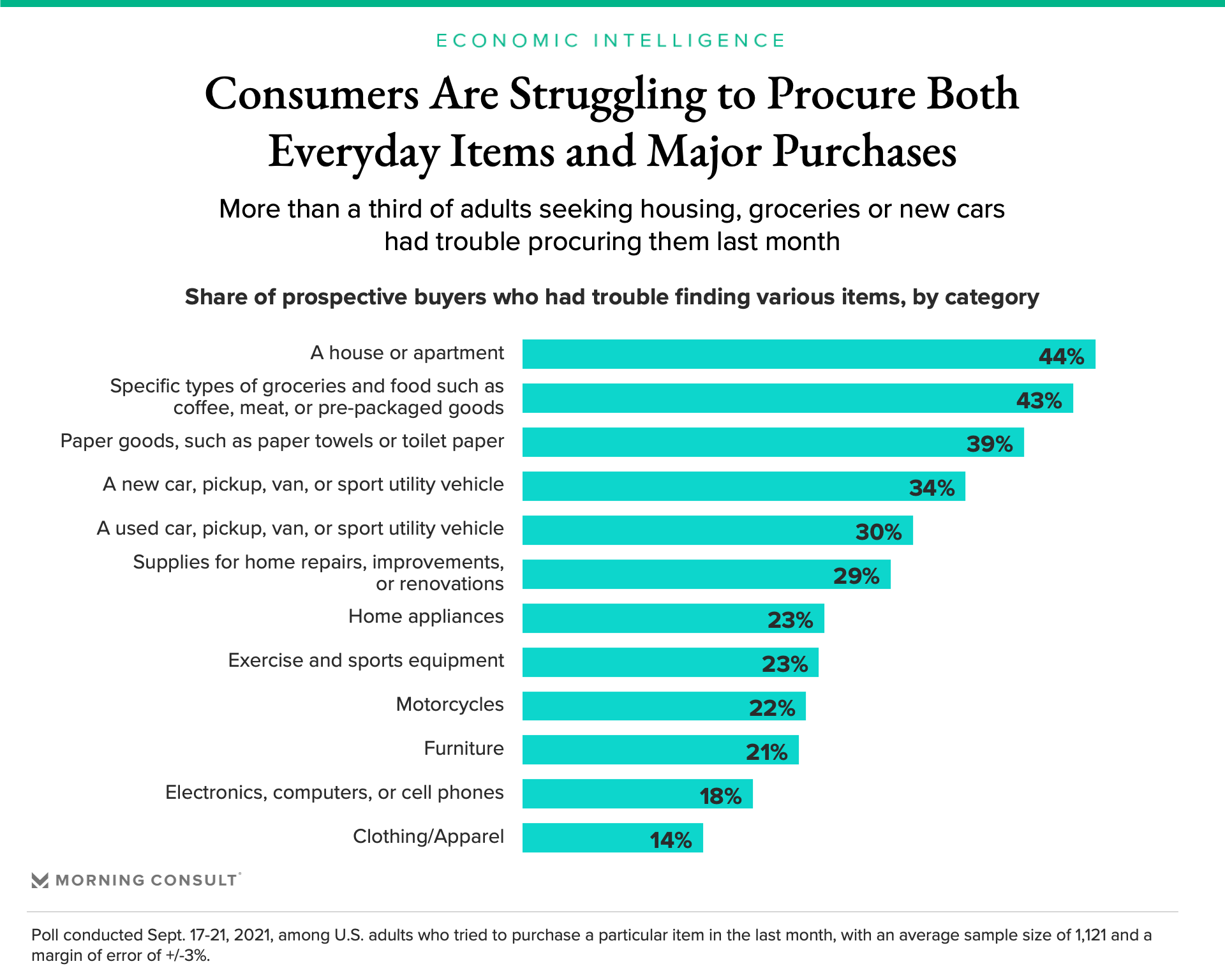 Price hikes and slow deliveries alienate would-be buyers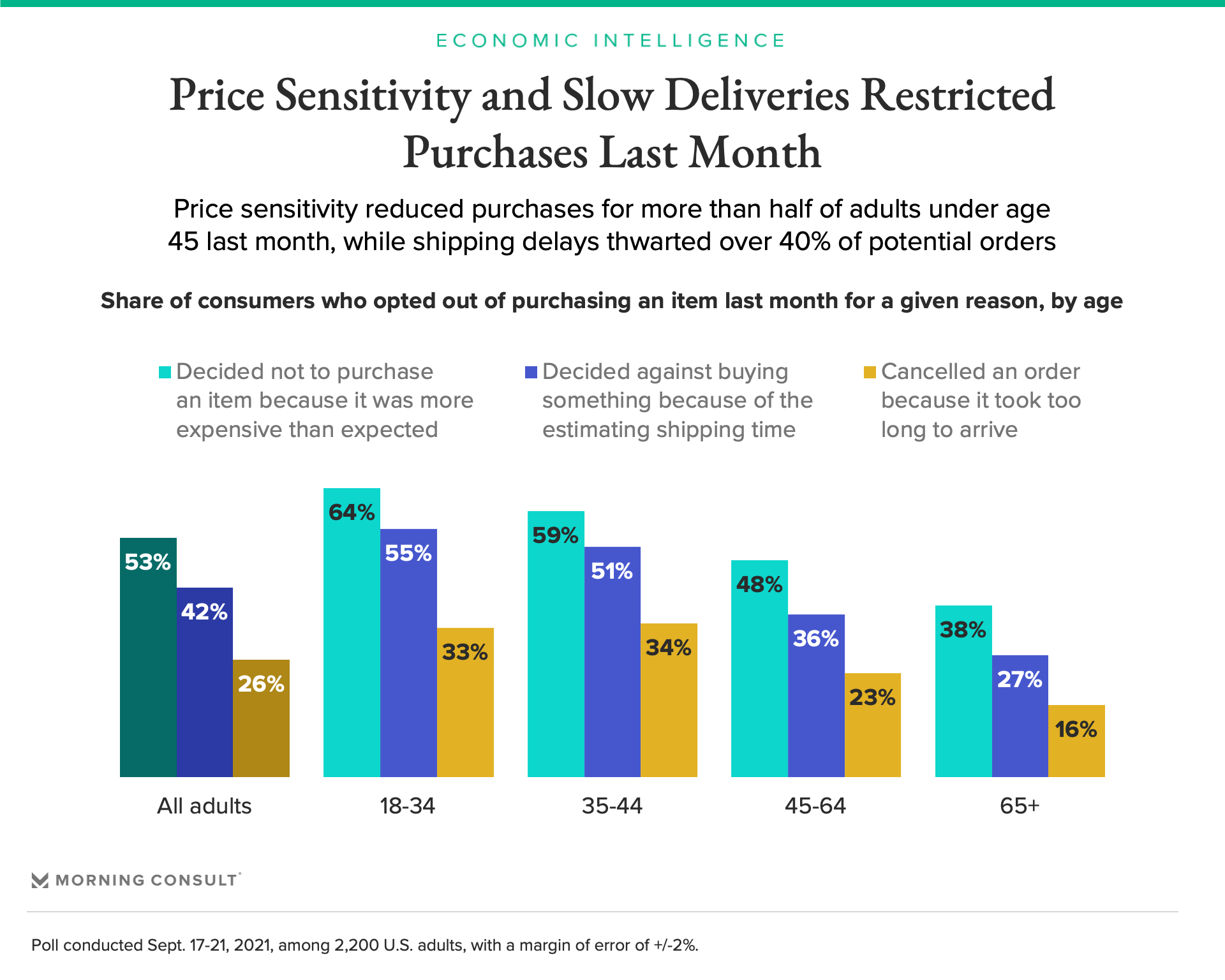 Some categories are more vulnerable than others to losing demand amid shortages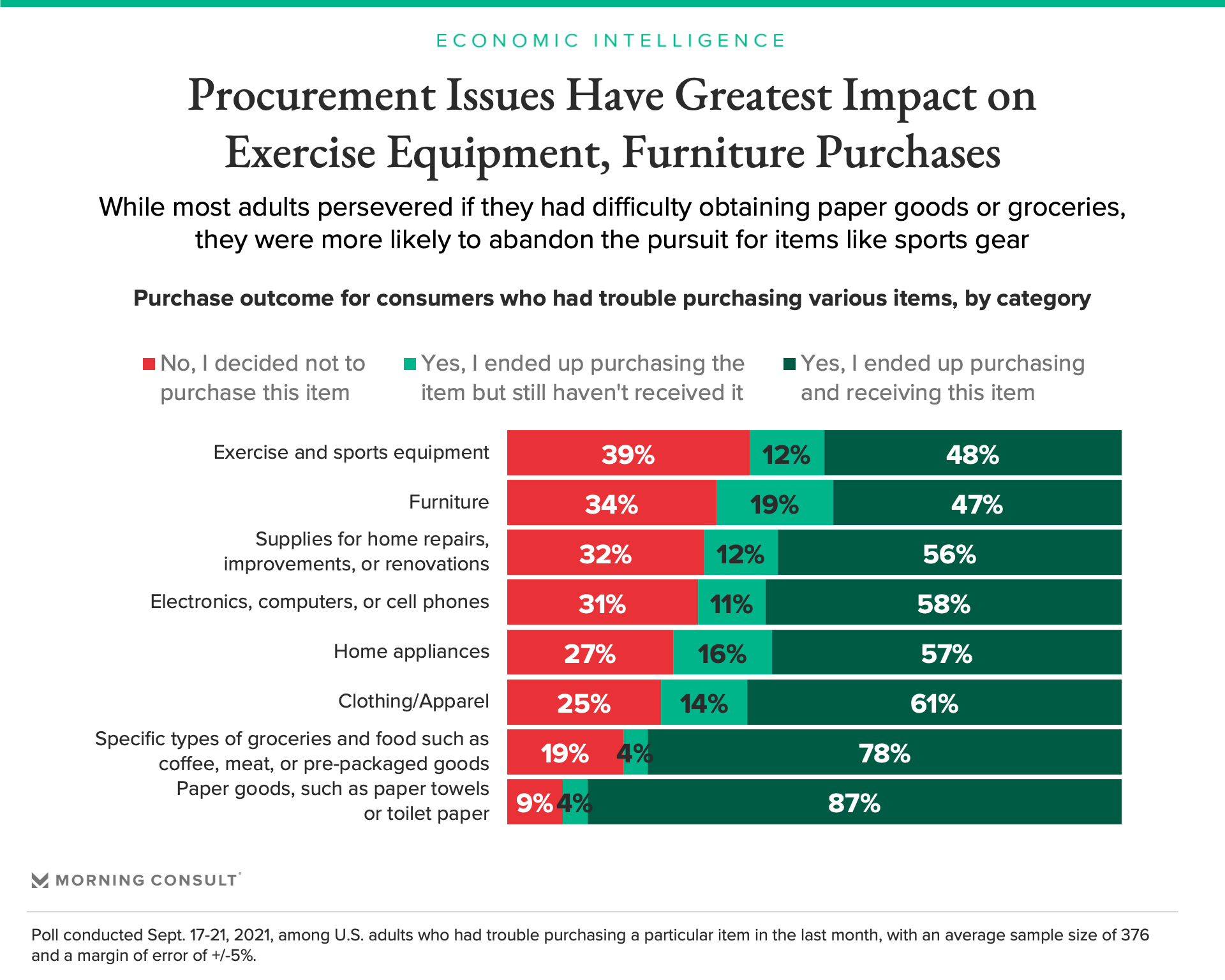 ---
30) The creation of inclusive entrepreneurial ecosystems: How technology and data can help communities thrive. (21 page PDF)
---
31) The evolution of the desk:
---
32) The corrupt system behind Covid medical shortages: Why are we still facing shortages of masks and medicine a year and a half after the start of the pandemic? Because a buying cartel controls medical supplies, and has for 25 years.
33) Time spent in leisure and sports activities increased by 32 minutes per day in 2020:
During the COVID-19 pandemic in 2020, people age 15 and older spent 32 minutes more per day in leisure and sports activities than they did in 2019—5.5 hours compared with 5.0 hours. This increase partly reflects a decline in average work time as the share of the population that was employed fell during the pandemic. The increase in leisure and sports activities also reflects a decrease in the average time people spent traveling.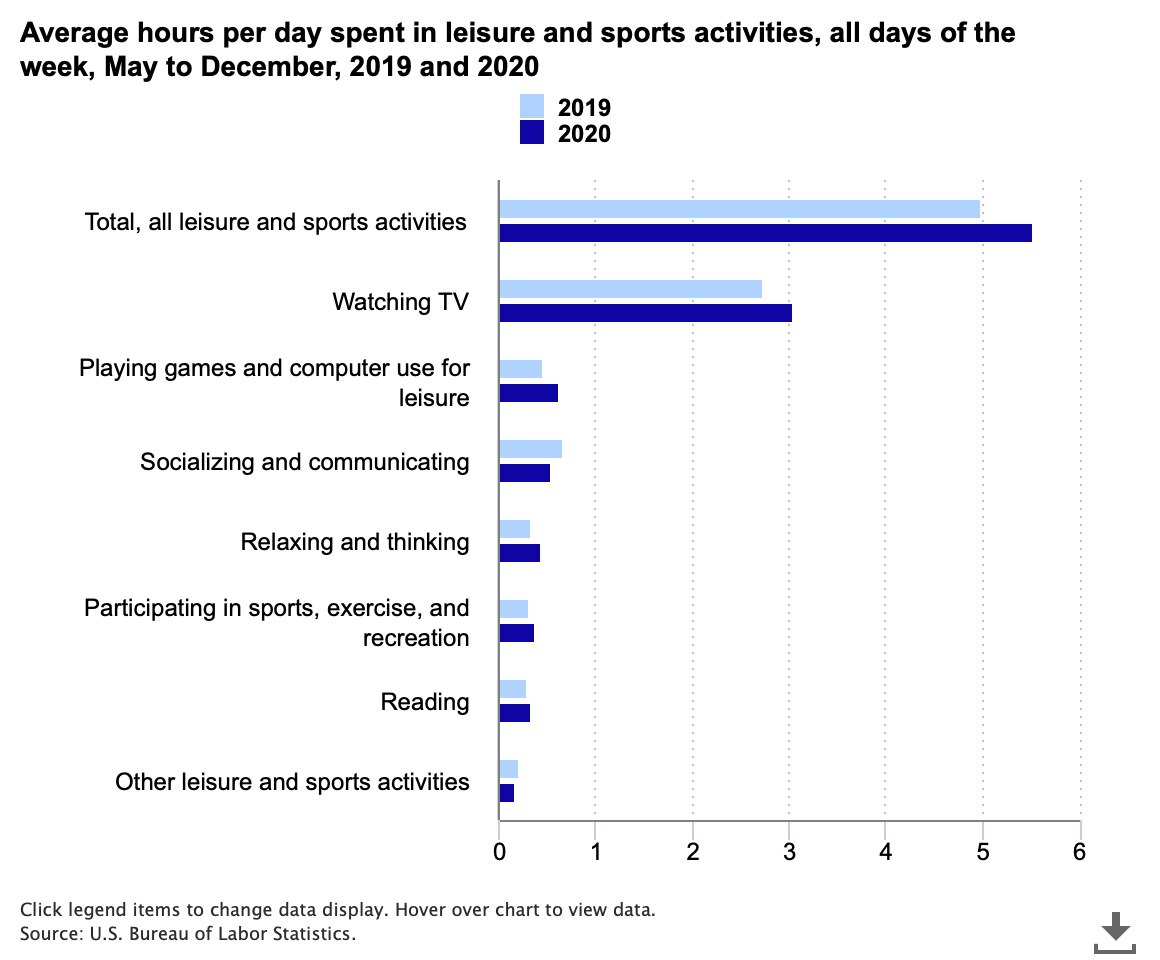 ---
34) We have way too many counties in America. Or do we?
---
35) When will your supply chain return to normal:
In June, two thirds of firms estimated their supply chains would return to normal within six months. This month, 72.3% of firms think it'll take more than six months, with fully one third of them saying it'll be more than a year.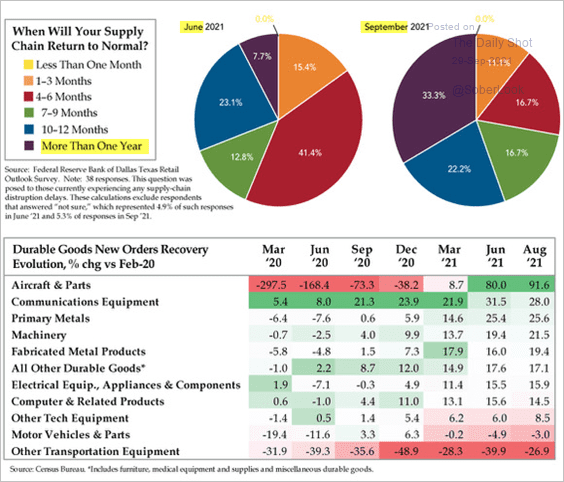 36) Why you should always switch: The Monty Hall Problem (finally) explained:
A clue comes from the overconfident justifications that the know‑it‑alls offered for their blunders, sometimes thoughtlessly carried over from other probability puzzles. Many people insist that each of the unknown alternatives (in this case, the unopened doors) must have an equal probability. That is true of symmetrical gambling toys like the faces of a coin or sides of a die, and it is a reasonable starting point when you know absolutely nothing about the alternatives. But it is not a law of nature.
---
37) Will our children be financially worse off than we are?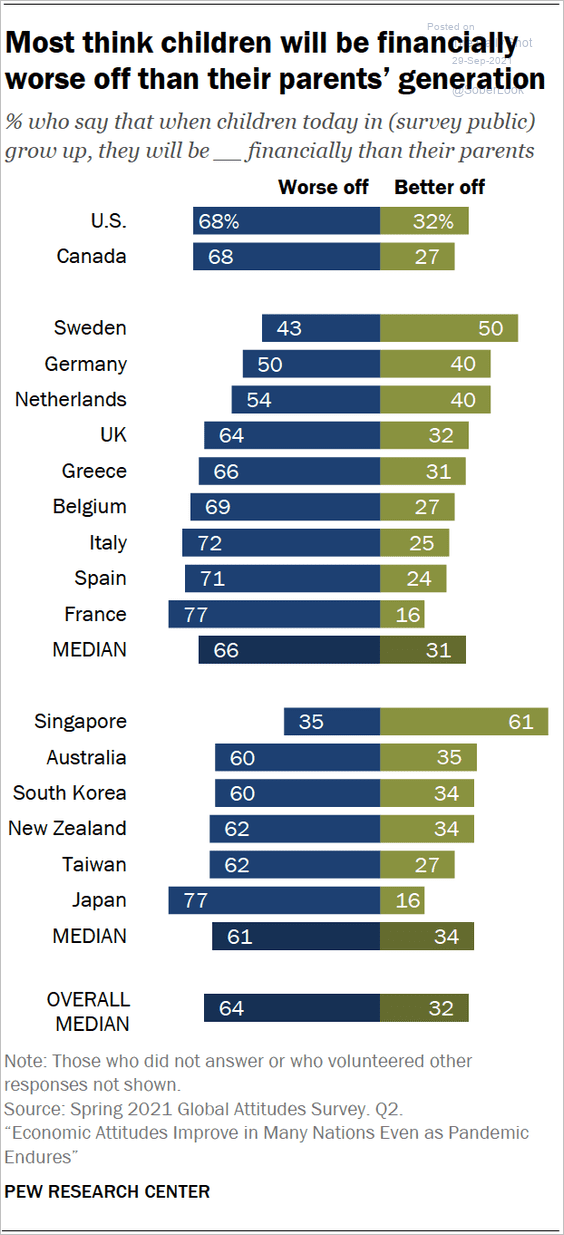 ---
Econ Dev Show Newsletter
Join the newsletter to receive the latest updates in your inbox.