54 Things Economic Developers Need To Know This Week
The stories that you need to see from this week. September 16, 2021 edition.
Good morning econ dev fans and practioners:  Welcome to everyone's favorite make you a smarter economic developer newsletter!  Thanks for spending a few minutes with us this morning.
This week we have 54 stories, graphics, charts, and videos that I think you'll find informative, useful, inspiring, and perhaps even funny.
- Dane
PS, If you are enjoying the Econ Dev Show newsletter and podcast, here are five ways you can help us today:
---
1) Economic Development and Developers in the News # 28 - Econ dev news from 72 economic development executives and organizations in 40 states, and Canada.
2) Podcast Episode 19 - Planning and Anthropology with Econ Dev Jim Eldridge - Meet Jim Eldridge: anthropologist, city planner, and economic developer.
3) Economic Development Jobs This Week - 60 new econ dev jobs in 23 states, Washington DC, Canada and Puerto Rico.
4) 35 Things Economic Developers Need To Know This Week - The stories that you need to see from this week. September 9, 2021 edition.
---
5) Peter Zeihan on Hurricane Ida and natural gas prices:
Hurricane Ida made landfall in southern Louisiana as a Category 4 storm on August 29. In its wake it left a trail of damage that Americans living on the Gulf and Atlantic coasts have found depressingly familiar. Total recovery costs will not be known for weeks, but $80 billion is being floated by some insurance firms as a likely figure.
For those not living along Ida's path, there are still impacts. Ida was the first major tropical storm system to hit the Gulf of Mexico energy space dead-on in quite some time. Oil and natural gas production throughout the entire Gulf have gone offline. Natural gas prices have already bumped up by some 15% to roughly $4.60 per 1000 cubic feet, the highest in years.
I'm not worried. Not even a little. If anything, this is great!
---
6) 'No point in anything else': Gen Z members flock to climate careers: Colleges offer support as young people aim to devote their lives to battling the crisis
---
7) Skilled workers are scarce, posing a challenge for Biden's infrastructure plan: One estimate says the bill would add $1.4 trillion to the U.S. economy over eight years, but without enough workers, efforts to strengthen roads and public transit could be set back.
---
8) Amazon to pay full college tuition for front-line employees: Amazon's more than 750,000 operations employees in the U.S. are eligible for fully funded college tuition, including cost of classes, books, and fees.
---
9) These are the states where used cars cost the most: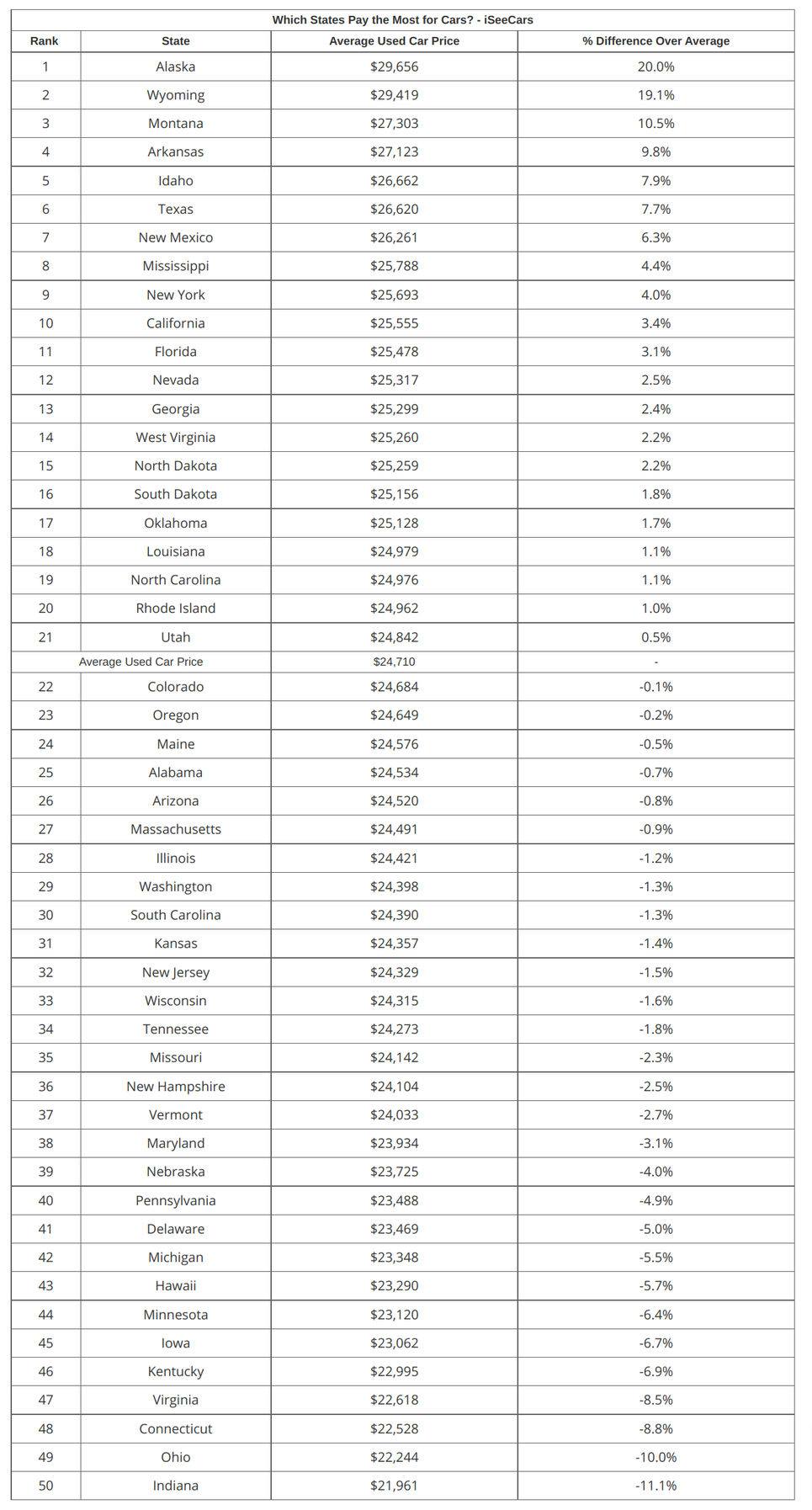 ---
10) Vast expansion in aid kept food insecurity from growing last year: Despite the economic downturn, government figures for 2020 show no overall rise in hunger of the sort typical in past recessions. But some groups still suffered.
---
11) 21 experts on the future of expertise: How is expertise being redefined in the modern era?
---
12) Why US housing prices aren't as crazy as you think:
I remain firmly entrenched in the camp that this isn't another housing bubble. There are structural and market forces that are causing these price gains, even if it all feels out of hand. But there's another reason the housing market isn't as crazy as you think — housing prices in the rest of the developed world have outpaced prices in the U.S. for some time now.
---
13) We want things to be normal so badly that we're resorting to magical thinking: Rationality has taken a backseat to the promise of comfort and normalcy.
---
14) How the pandemic turned humble shipping containers into the hottest items on the planet: Renting a shipping container for this route usually costs between $1,500 and $2,000. This time, they had to shell out more than $10,000.
---
15) Visualizing global shipping container traffic (pre-COVID):

---
16) What makes us love the pain of hot peppers? Eating spicy chilies has the effect of a self-induced chemical attack. The evolutionary puzzle is figuring out why we do it.
---
17) There's one thing we can learn from the Villages' success:
For anyone who keeps an eye on Census data, last week's news that the fastest-growing metropolitan statistical area in the country is the Villages, the master-planned retirement community in Florida, was not surprising. In ten years, it grew from 93,000 people to nearly 130,000 residents, about 40 percent. Although all 20 of the largest cities in the U.S. grew over the past decade — some more than others — none of them are booming like the Villages, which covers 32 square miles, an area larger than Manhattan, and is still briskly expanding.
---
18) The 26 most beautiful towns in America: From coastal cities to southern gems.
---
19) What we talk about when we talk about gentrification: The worst problems are in the neighborhoods that aren't gentrifying.
---
20) The biggest truth most leaders misunderstand about 'The Great Resignation': Want your employees to stick around? Flexibility is just the minimum.
---
21) Meet the travel agent who made more than $250k during the travel industry's pandemic lull: When the pandemic docked cruise ships and all but emptied airports, one Miami-based travel agent found a way to boost his bookings and earn four times the national average of travel-agent commissions this past year.
---
22) Business is booming: "There has never been a better time to start a company."
---
23) Plans for $400-billion new city in the American desert unveiled: Billionaire Marc Lore has outlined his vision for a 5-million-person "new city in America" and appointed a world-famous architect to design it. Now, he just needs somewhere to build it -- and $400 billion in funding.
---
24) US Supreme Court may legalize Texas tribal gaming, potentially influencing other states: The Biden administration is pushing the US Supreme Court to recognize the gaming rights of two Texas tribes — the Tigua and Alabama Coushatta. But according to Native American gaming experts, the case could have the knock-on effect of legitimizing Class II casinos for tribes not only in Texas, but other states like Maine, Rhode Island, and Massachusetts.
---
25) The geopolitical importance of American vaccines:
First, demographics. The healthier the population, the more economically productive a population, the less dependent upon foreign factors a country is. COVID has already resulted in the single-greatest reversal in the average American's lifespan since the country's last major health crisis: the Spanish flu epidemic of 1918-1919.
Second, the world is in the midst of the greatest geopolitical transition of our lives, and arguably the largest one since the onset of the deepwater navigation era in the late 15th century. Globalization is in a state of collapse. Ten years from now, the countries that have proven able to secure their means of production, their manufacturing supply chains, their internal consumption, and their labor force from the vicissitudes of global disorder will be the ones who rule the future. America's unvaccinated population is now the single biggest threat to each and every step of that process.
Mass vaccinations are how the United States retains its population and its position and its potential and its freedom for action - for decades to come.
---
26) Producer inflation accelerated in August: Wholesale prices rose record 8.3% from a year ago
---
27) Predicting politics & policy in the post-pandemic era: Failures' Fallout.
---
28) The trend of Biden putting into policy what Trump introduced as rhetoric continues: White House officials consider probe into China's industrial subsidies.
---
29) Weekend reading: Shutdown: How Covid Shook the World's Economy. Here's an excerpt: 2020 Was Almost Worse Than 2008.
---
30) How eating out has changed, from the menu to the tip: Early-bird dinners, sturdier pizzas, noisier streets: The pandemic has brought a host of new developments that could last awhile.
---
31)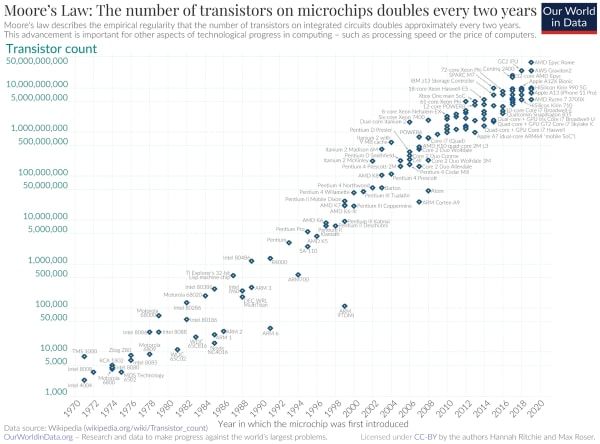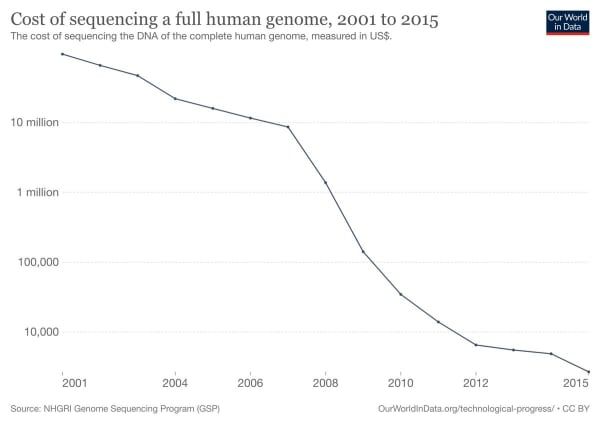 ---
32) Infinite progress, techno-optimism and the near future: Making progress does not guarantee the survival of civilization. But not making progress fast enough is the surest way that civilization comes to an end.
---
33) America's new retirement age is 62 — or younger. The 'Great Resignation' is giving boomers their golden years back.
---
34) A global semiconductor shortage: How, why and what the US can do about it
---
35) Mark Barbash on brick-and-mortar retail in the age of Covid, and Amazon:
How to Keep Economic Development Relevant: Inside an article about keeping Kohl's relevant, Michelle Gass, CEO, talked about what she learned from her time at Starbucks that could easily apply to economic developers: "... the importance of culture; such a strong culture was built over time. Secondly, it's not just what you sell, but it's the importance of that human connection, the emotional connection around the life or consumer, the affinity for the brand. And then the third, and a big passion of mine, is the power of innovation."
---
36) People who make economic forecasts for a living have repeatedly made the same mistake: They have been too optimistic: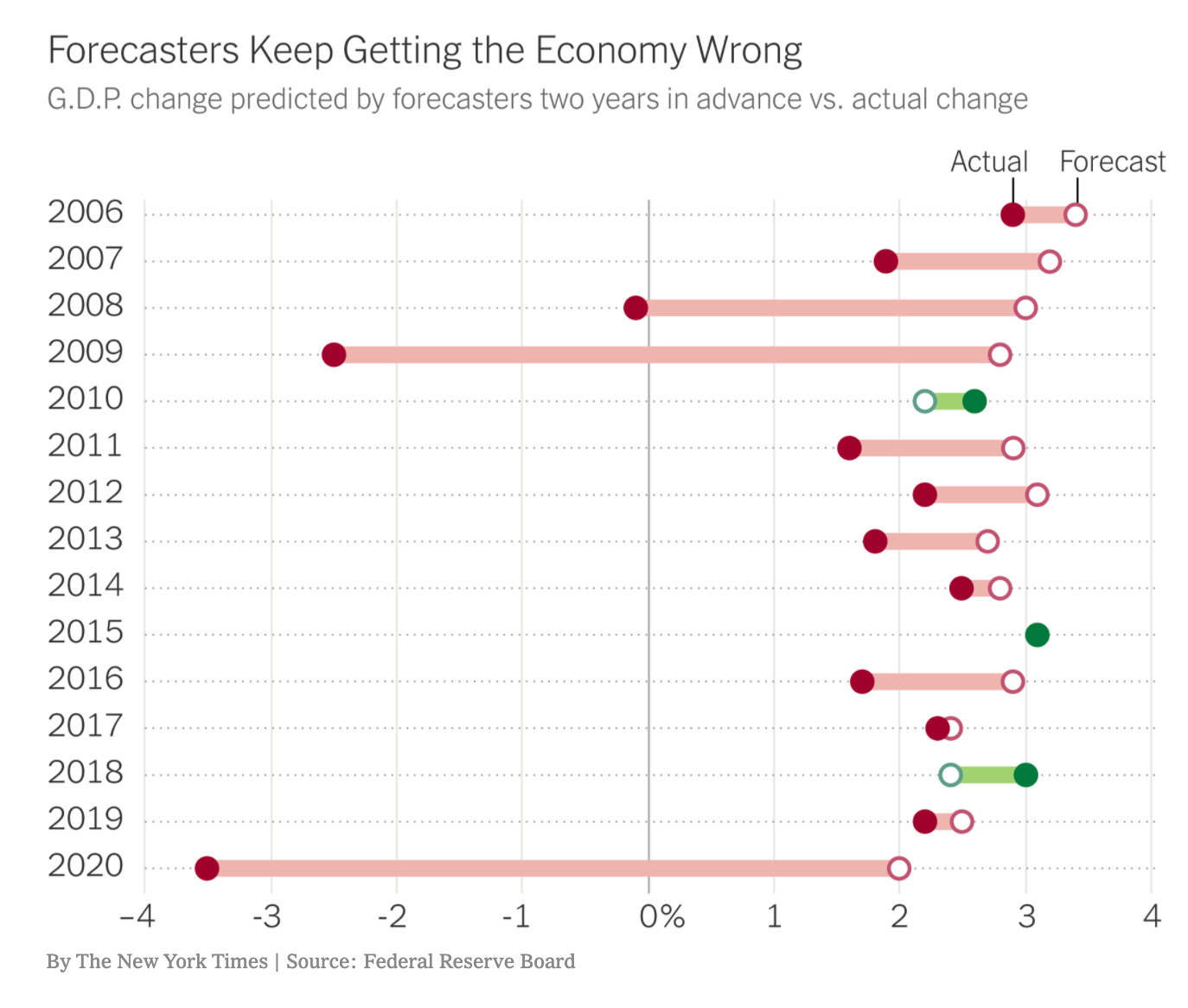 ---
37) The world's shippers are earning the most money since 2008: Container ships, bulkers, car carriers all earning fortunes
---
38) What I'm reading: Economics Rules: The Rights and Wrongs of the Dismal Science.
---
39) Workers want to do their jobs from anywhere and keep their big-city salaries: Employers see remote work as an opportunity to save money by cutting pay; employees argue that their work has the same value no matter where they do it.
---
40) Operation Warp Speed: A story yet to be told.
---
41) COVID caused a baby bust, not a boom: Birth rates in many high-income countries declined in the months following the first wave, possibly because of economic uncertainty.  I wonder if that will last.
---
42) Baby boomers born from 1957 to 1964 held an average of 12.4 jobs from ages 18 to 54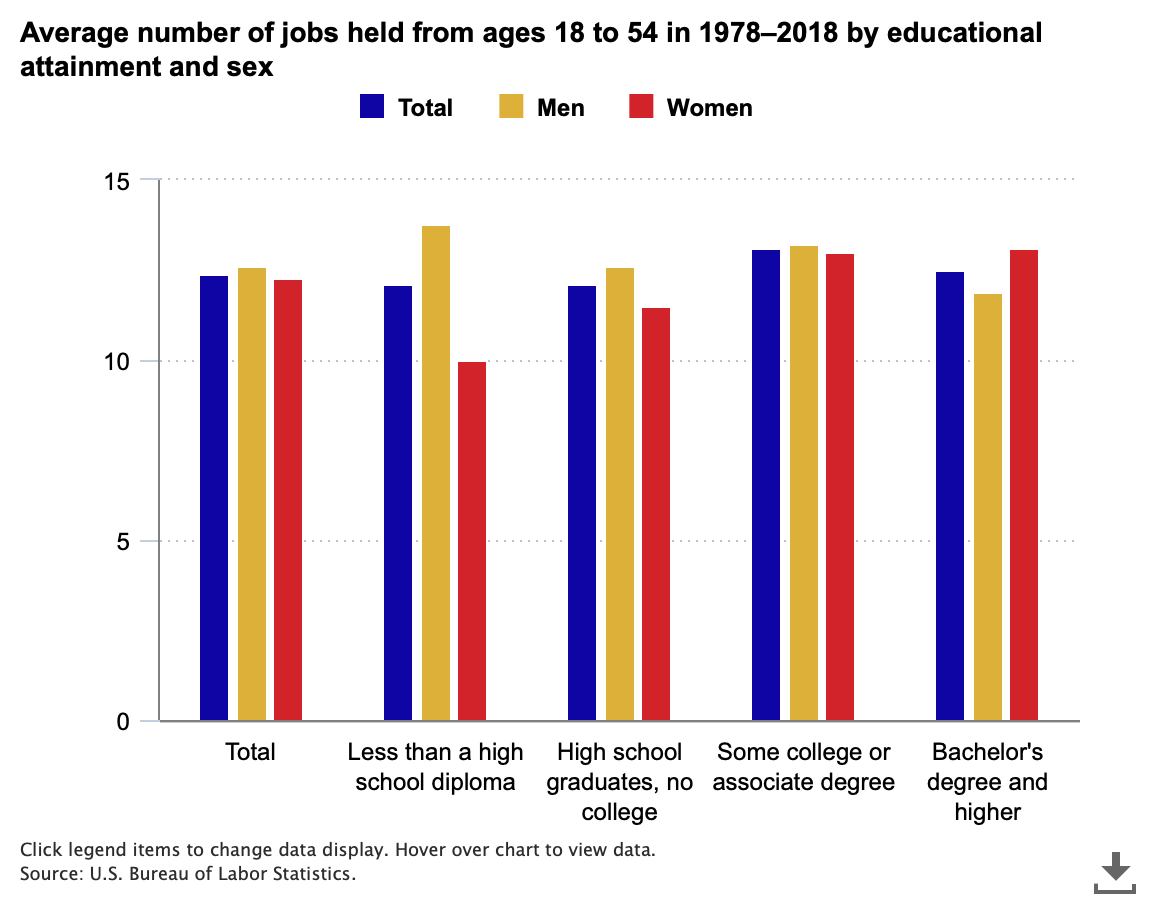 ---
43) The chicken and the egg world of location decisions:
We live in a world where Economic Development Organizations (EDO) must operate on two parallel paths:  business development (business retention, expansion, recruitment, and start-up) and talent development (talent retention, development, and recruitment).  In short, it's a "chicken and egg" world: we need people to staff our businesses, and we need businesses to provide jobs to our current and prospective residents.
---
44) In defense of the "gentrification building": The new multifamily buildings in your neighborhood actually slow displacement.
---
45) Here's who loves Biden's vaccine mandate: President Joe Biden gave a gift to every major company in America by forcing them to mandate vaccines or stringently test their employees for Covid. Their reaction to the new rule: glee.
---
46) Apartments built on an assembly line: The pandemic put a general crimp in housing construction, but made a California factory that churns out prefabricated housing extra busy.
---
47) Automation and the future of young workers - Evidence from telephone operation in the early 20th century:
Telephone operation, one of the most common jobs for young American women in the early 1900s, provided hundreds of thousands of female workers a pathway into the labor force. Between 1920 and 1940, AT&T adopted mechanical switching technology in more than half of the U.S. telephone network, replacing manual operation. Although automation eliminated most of these jobs, it did not affect future cohorts' overall employment: the decline in demand for operators was counteracted by growth in both middle-skill jobs like secretarial work and lower-wage service jobs, which absorbed future generations. Using a new genealogy-based census linking method, we show that incumbent telephone operators were most impacted by automation, and a decade later were more likely to be in lower-paying occupations or have left the labor force entirely.
---
48) The world's biggest plant to capture CO2 from the air just opened in Iceland: The Orca, an installation built by Climeworks, will capture 4,000 metric tons of carbon dioxide per year — and serve as a blueprint for similar technology.
---
49) The housing theory of everything:
Try listing every problem the Western world has at the moment. Along with Covid, you might include slow growth, climate change, poor health, financial instability, economic inequality, and falling fertility. These longer-term trends contribute to a sense of malaise that many of us feel about our societies. They may seem loosely related, but there is one big thing that makes them all worse. That thing is a shortage of housing: too few homes being built where people want to live. And if we fix those shortages, we will help to solve many of the other, seemingly unrelated problems that we face as well.
---
50) Job changes accelerated, industries embrace flex, and a workforce on the move: Welcome to the Great Reshuffle.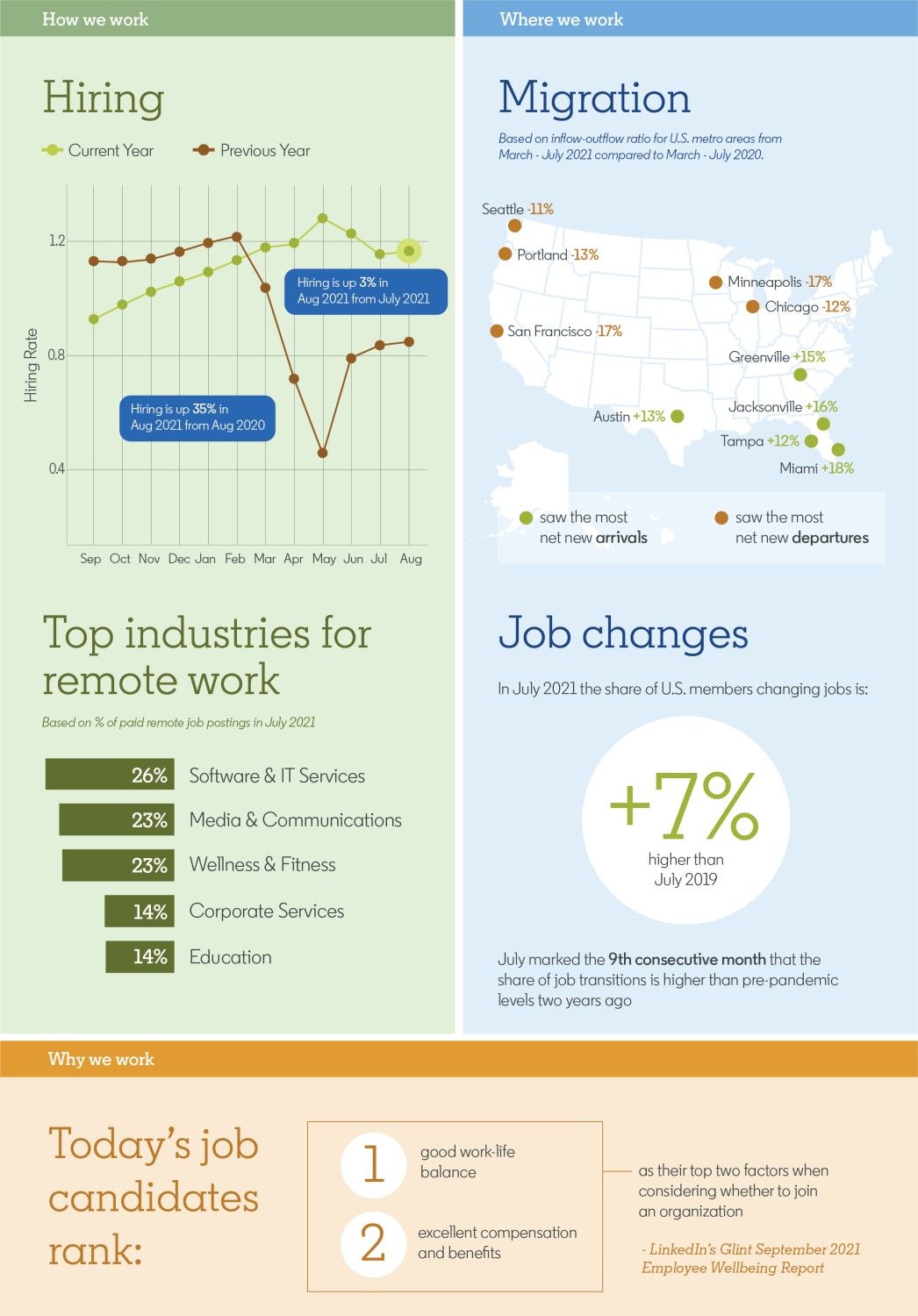 ---
51) How the pandemic helped us recover from the Great Recession: For certain industries, 2021 will be their biggest revenue numbers ever, whether it's in motorcycles or boats or certain other industries. They never recovered from 2006, their prior peak revenue. And in 2021, some of these companies think they're going to have even higher revenue than that. And so in some weird way, the pandemic has actually led to the recovery from the last recession.
---
52) Lessons from the rise and fall of the pedestrian mall Car-free shopping streets swept many U.S. cities in the 1960s and '70s, but few examples survived. Those that did could be models for today's "open streets."
---
53) Why most gas stations don't make money from selling gas: With gas prices climbing up, you may think station owners are getting greedy. But the economics behind the pump tell a different story.
---
54) Inflation is popping From Sydney to San Francisco. It May Be a Good Sign: Inflation has surged across advanced economies. The shared experience underlines that price gains come from temporary drivers — for now.
Econ Dev Show Newsletter
Join the newsletter to receive the latest updates in your inbox.