55 Things Economic Developers Need To Know This Week
The stories that you need to see from this week. September 23, 2021 edition.
Good morning econ dev fans and practitioners:  Welcome to everyone's favorite make you a smarter economic developer newsletter!  Thanks for spending a few minutes with us this morning.
This week we have 55 stories, graphics, charts, and videos that I think you'll find informative, useful, inspiring, and perhaps even funny.
- Dane
PS, If you are enjoying the Econ Dev Show newsletter and podcast, here are five ways you can help us today:
---
1) Podcast Episode # 20 With Dane Carlson (on the We Are Jobs Podcast) - The 20th episode of Econ Dev Show features an interview with host Dane Carlson
2) Economic Development and Developers in the News #29  - Econ dev news from 128 economic development executives and organizations in 44 states, plus Bermuda and Canada.
3) Economic Development Jobs This Week - 78 new econ dev jobs in 25 states, Washington DC, and remote.
4) 54 Things Economic Developers Need To Know This Week - The stories that you need to see from this week. September 16, 2021 edition.
---
5) Lumber crash leads to 'blowout' sales as prices crater: If high prices held you back from building, you are in luck, as the tables have now turned.
---
6) Exploring 120 years of timezones: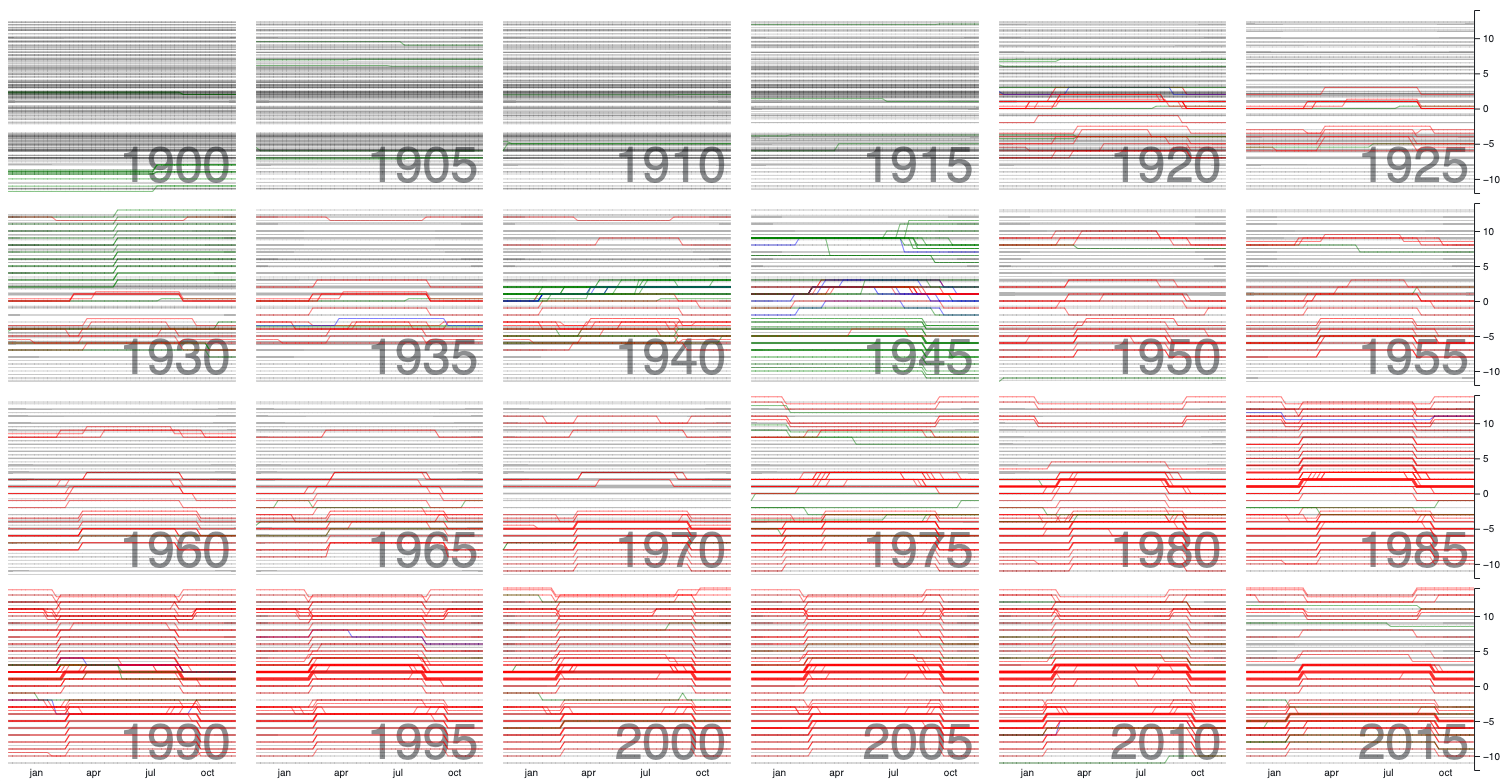 ---
7) One stuck box of fertilizer shows the global supply chain crisis:
Somewhere in the world's busiest port of Shanghai, a container of fertilizer sits among tens of thousands of boxes, waiting for a ride to the U.S. It's been on the dock for months, trapped by typhoons and Covid outbreaks that have worsened major congestion in the global supply-chain network.
---
8) How the US nailed the economic response to Covid-19: America's fiscal policy succeeded in pushing poverty in the opposite direction that usually occurs in recessions
---
9) I don't think people appreciate the extent to which Amazon puts a wage floor in a community. It's the first thing employers think about when a new Amazon facility arrives in town.
---
10) 'Just get me a box!': inside the brutal realities of supply chain hell: Logistics managers are battling the pandemic, a labor shortage, and huge demand to get goods to your front door.
---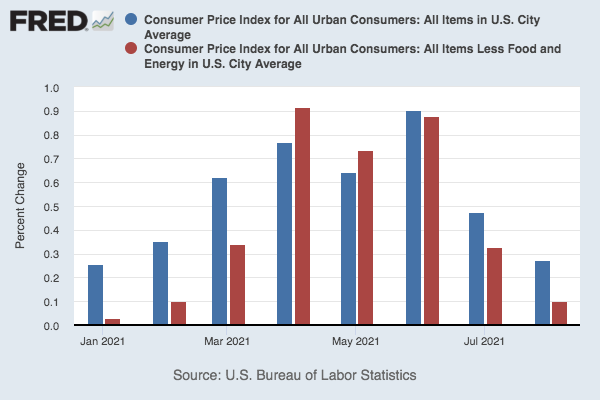 ---
12) Retail sales post surprise gain as consumers show strength despite delta fears: Retail sales rose 0.7% in August versus expectations for a 0.8% decline.
---
13) As COVID upends global supply chains, manufacturers look toward home.
---
14) Is America Inc getting less dynamic, less global and more monopolistic? The Economist tests three prevailing hypotheses about American business.
---
15) Weekend reading: Uncontrolled Spread: Why COVID-19 Crushed Us and How We Can Defeat the Next Pandemic.  Here's a review.
---
16) The future of weight loss: We have eradicated smallpox, cured many bacterial diseases, and invented a vaccine for Covid-19 within the year. But for a very long time we haven't had a single good treatment for obesity. Has that now changed?
---
17) New York City has once again defied the doomsayers. Here's why: By far the most densely populated metropolis in the country, Gotham offers a kind of urban living no other U.S. city has been able to replicate.
---
18) America's inflation story is entering a new phase: Idiosyncratic price spikes due to reopening and troubles in the motor vehicle supply chain are fading or reversing. But keep an eye on housing, health care, and restaurants.
---
19) What's behind the wave of immersive Van Gogh exhibits: There are nearly 40 Impressionist-ish installations across the U.S., thanks to "Emily in Paris." Do the exhibitions live up to the hype?
---
20) Supply chain chaos spreads to inland waterways:
Most of the recent concern for logistics managers has focused on getting high-demand imports of materials and finished goods from Asia into the hands of domestic manufacturers and retailers. However, attention is turning to U.S. exporters struggling to get their products onto the global market. One reason for the struggle is the backup that is building in the inland waterways system that feeds into the Gulf.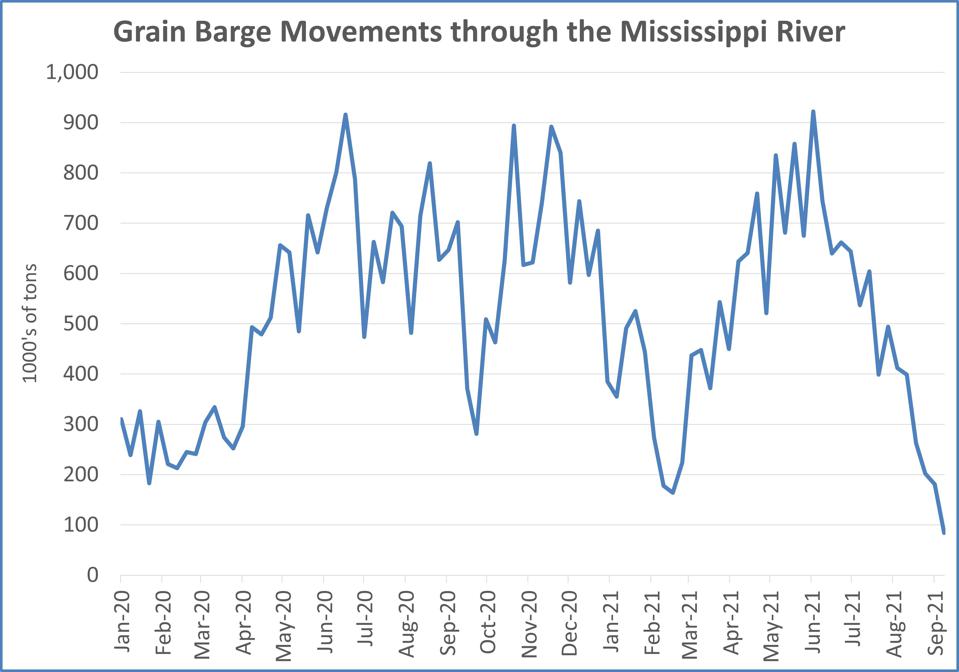 ---
21) Americans haven't been this down on the housing market since 1982:
The share of people who think now is a good time to buy a home fell in September to 29%, extending the plunge from March when the proportion was more than twice as high, data from the University of Michigan consumer sentiment survey showed Friday. It's also the smallest chunk of respondents since 1982.
Back then, the average for a 30-year fixed rate mortgage topped 15%. That compares with today's 2.86% rate, according to Freddie Mac.
The figures highlight how property price appreciation has rattled prospective buyers and more than offset the bright side of cheap borrowing.
---
22) Meet the Port of Los Angeles' dock workers who make over $100,000 working with some of the world's largest robots: The 7,000 dockers represented through the ILWU at Port LA are some of the highest paid blue-collar workers. They receive nearly three times as much money as the average dockworker due to the nature of their job.
---
23) Reading today: Arriving Today: From Factory to Front Door -- Why Everything Has Changed About How and What We Buy
---
24) Mapping the countries largest employers: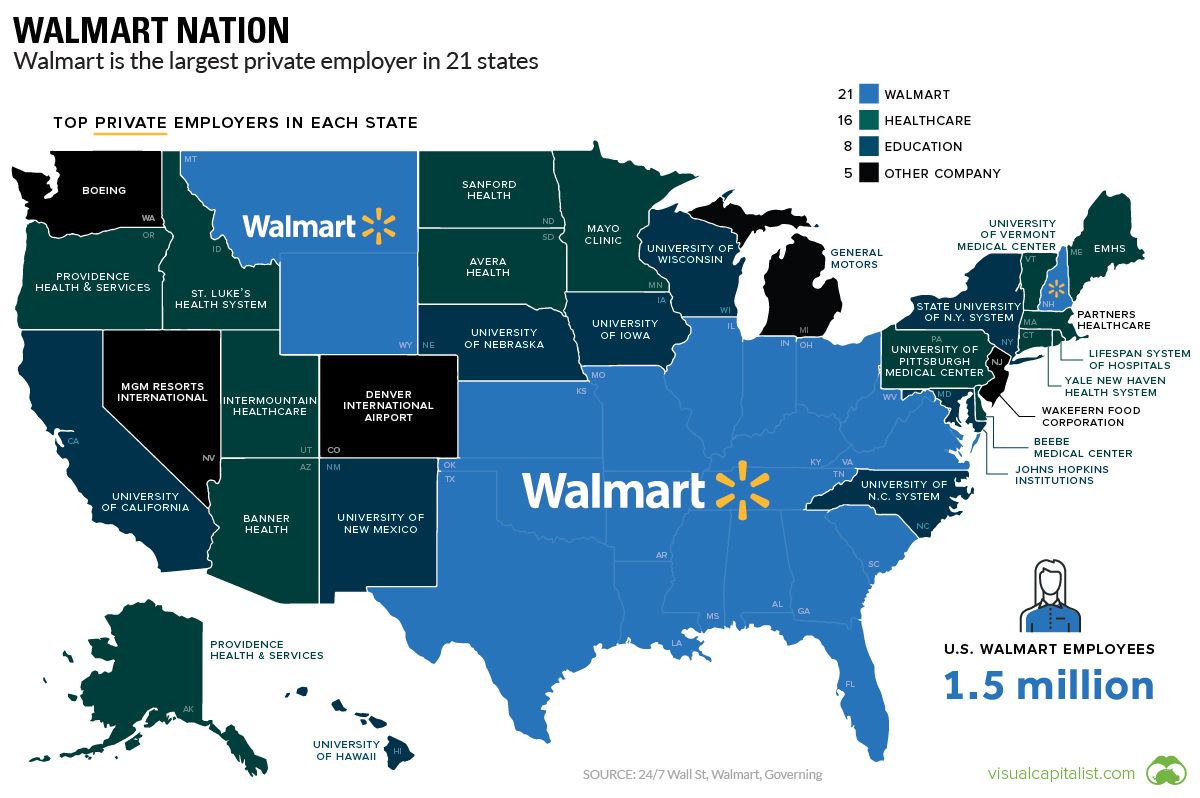 ---
25) Global Trade's 2021: Top states and cities for manufacturing.
---
26) Kellogg investing $45M to revamp North American supply chain: Other manufacturers have made supply chain shifts during the pandemic. Conagra invested $15 million to keep its inventory up as demand for its packaged foods soared. Kraft Heinz combined disparate elements of its supply chain in order to save $2 billion until 2025, while Coca-Cola and Mondelēz reduced the complexity of their supply chains as market turbulence took hold.
---
27) Dinosaur cowboys are hunting for the next $32 million T. Rex: Fossils have become a hot new asset class. Paleontologists aren't thrilled, but for Clayton Phipps and his peers, it's a living.
---
28) Why the Empire State Building, and New York, may never be the same: It once symbolized an urban way of working, and the city's resilience. In the pandemic's second year, the future of the world's most famous skyscraper is in doubt.
---
29) How the U.S. vaccination drive came to rely on an army of consultants: Private contractors cost taxpayers millions while demonstrating few clear results and papering over weaknesses in the country's public health system.
---
30) Simple pricing is better: Customers will perceive your price as fairer and will be more likely to choose you, even if your overall price is higher.
---
31) A new episode of the Econ Dev Show.
---
32) Don't get me wrong, Trebuchet MS is great font on the web, but do not use it in resumes.
---
33) 🐟 Irish smoked salmon producer says it's now cheaper to send fish to America than the UK: due to Brexit costs.  (Be glad the US doesn't have tariffs at state lines.)
---
34) Are you ready for this? Nearly half of companies want to downsize their office spaces post-pandemic.
---
35) How car rentals explain the 2021 economy: Prices have fallen recently but not to previous levels. The industry reflects the American economy's long, strange trip.
---
36) Though they're mainly talking about cruise ships in Alaska, they're really talking about a complete restructuring of the US maritime system.  To that I say let's get to work.
---
37) Why everybody's hiring but nobody's getting hired: America's broken hiring system, explained
---
38) How a single missing part can hold up $5 million machines and unleash industrial Hell.
---
39) Many, many more shortages.
---
40) FedEx, UPS rate rises are making online shopping more expensive: Shipping rates are rising at the fastest pace in nearly a decade, adding to pressure on retailers to pass costs to customers
---
41) UK soft drink makers have just days of carbon dioxide left: The British Soft Drinks Association said manufacturers have "only a few days" of carbon dioxide left in reserve to produce beverages and can't import supplies from the European Union due to Brexit.
---
42) Patterns of US migration: How do social networks influence where migrants choose to settle?
---
43) The lasting impact of the Covid crisis on economic potential:
As the global economy recovers from the immediate economic impact of the Covid crisis, attention is increasingly turning to the long-run impact of the shock on productivity. This column identifies several channels – including labour market hysteresis, impaired skill acquisition, belief scarring, an increase in zombie companies, and policy errors – through which the lasting harm will outweigh any positive supply shocks caused by the pandemic. The authors estimate long-term output losses in the order of 3% of global GDP. Scarring will be greater in some economies than others, pointing to the importance of policy in mediating and offsetting these channels.
---
44) The consequences of physical climate risk for banks: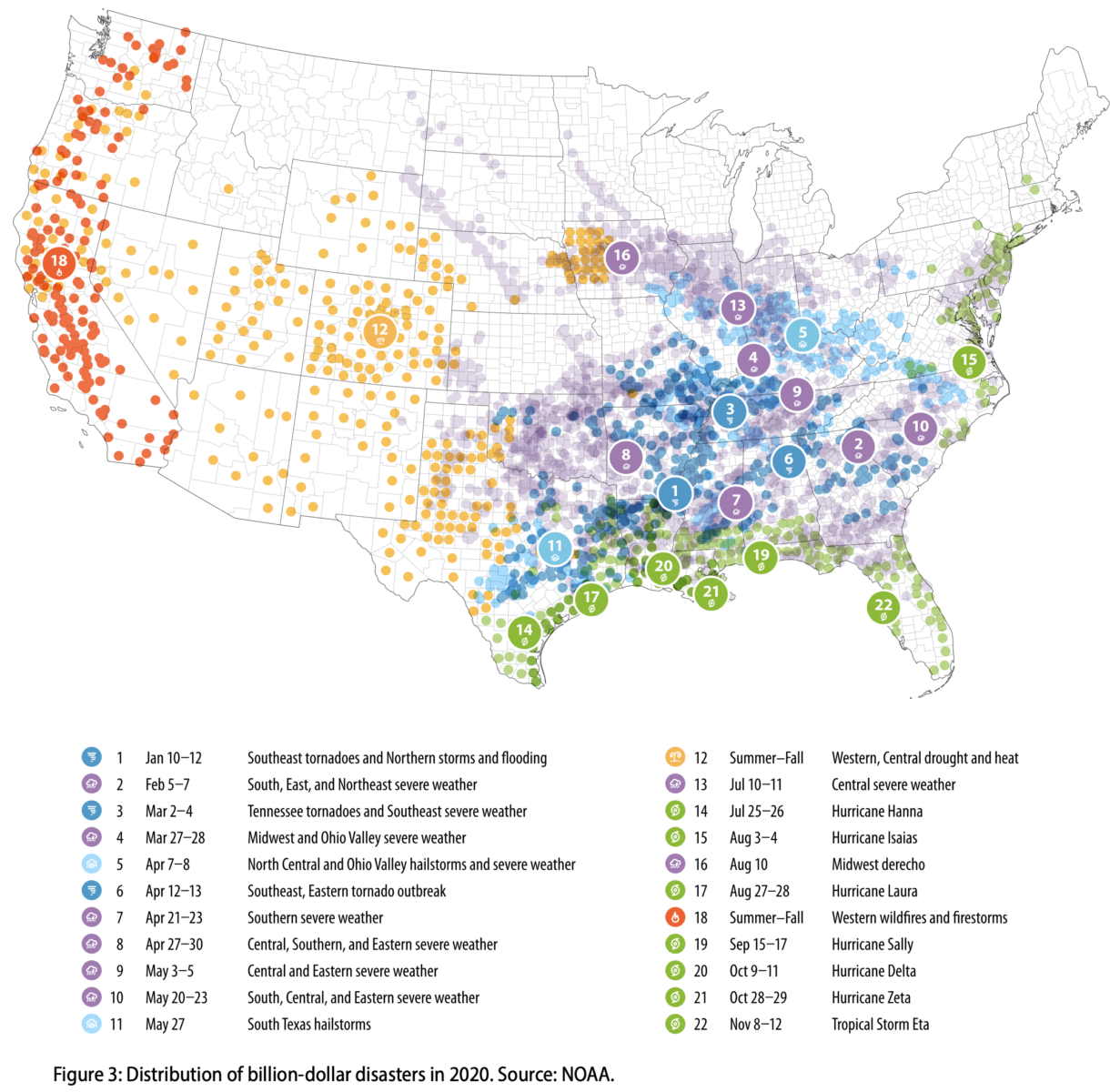 ---
45) What the infrastructure bill would help fix first: Improvements to roads and bridges would aid industries from energy to food manufacturing; 'It's more than just an intersection'
---
46) Is there a booze shortage in your community?  There might be soon.
---
47) The promise of carbon-neutral steel:
Instead of using carbon to remove the oxygen from iron ore, creating CO2, we can use hydrogen, creating H2O — that is, water. Many companies are working on this approach; this summer, a Swedish venture used it to make steel at a pilot plant. If the technique were widely employed, it could cut the steel industry's emissions by ninety per cent, and our global emissions by nearly six per cent.
---
48) Spending on 9 of the 14 major components of household spending decreased from 2019 to 2020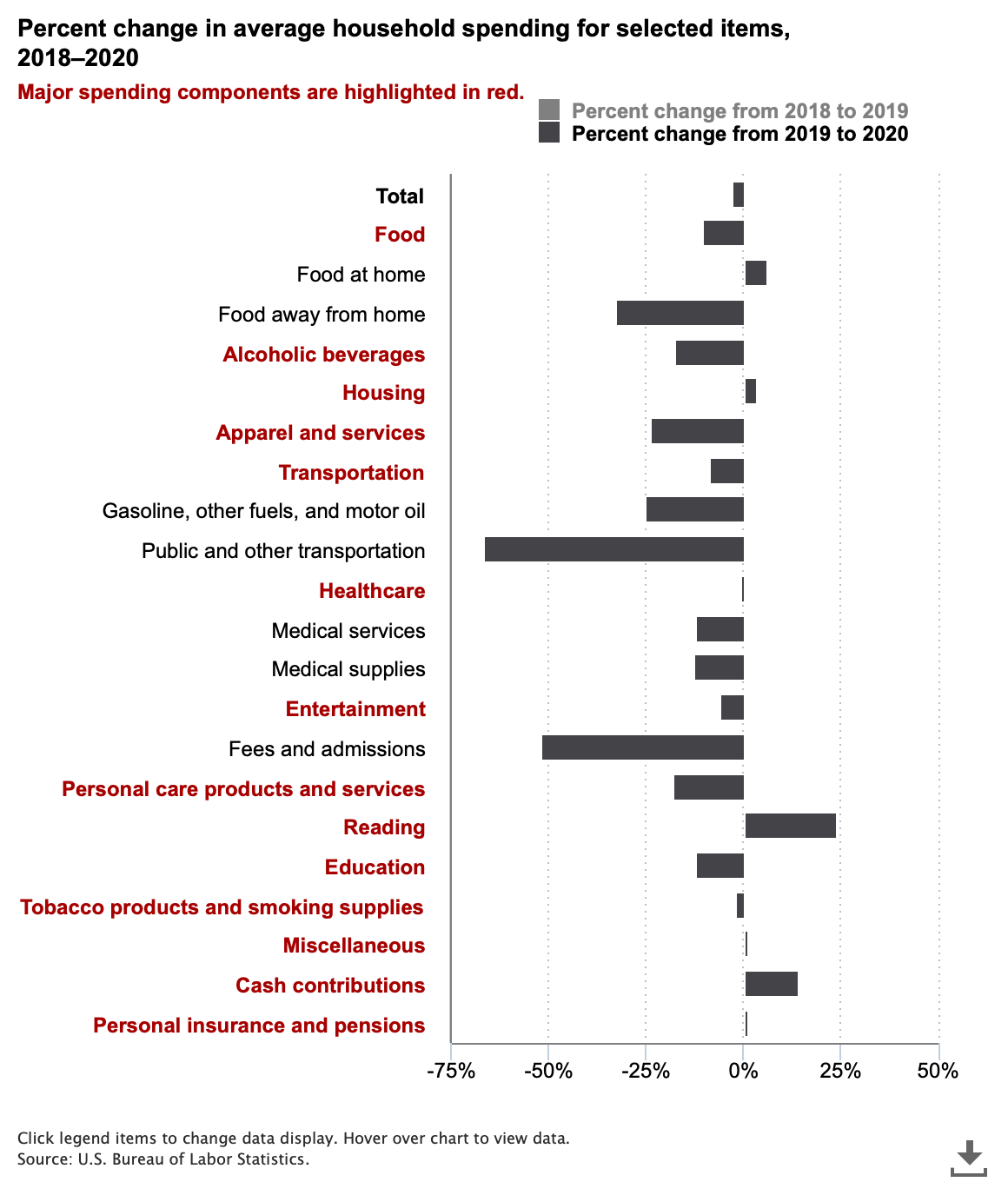 ---
49) How local housing regulations smother the US economy: But what appears to be several local housing crises is actually a much more alarming national crisis: Land-use restrictions are a significant drag on economic growth in the United States.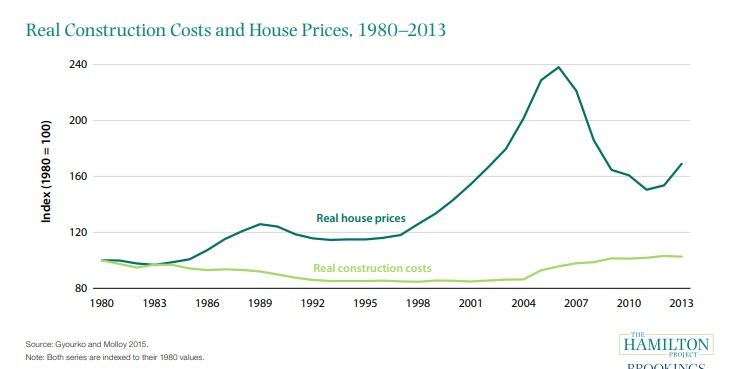 ---
50) Let's redefine "productivity" for the hybrid era:
While it may be tempting to equate high levels of employee activity with success, doing so misses the factors that drive long-term, sustainable innovation.
Managers must expand the way they think about productivity to focus on well-being, social connections, and collaboration and the innovation they bring to drive business success. Based on extensive research from Microsoft, the author offers three ways managers can embrace a more expansive view of productivity in a hybrid world — one that promotes well-being, collaboration, and innovation for you and your team.
---
51) US office market outlook (Q2 2021):
Overall U.S. office absorption remained firmly in the red in Q2 2021, at negative 18.6 million square feet, but markedly lower than the negative 46.1 million square feet seen in Q1 2021, which was the worst quarterly total on record.
---
52) Rural Utah is training to work at home: Utah's Rural Online Initiative seeks to keep the existing talent and attract newcomers to rural communities by providing resources and training for stay-at-home work.
---
Econ Dev Show Newsletter
Join the newsletter to receive the latest updates in your inbox.