Assorted Links Thursday
A record 74% of Americans say now is a good time to find a quality job. That and more.
Table of Contents
🦃 'It's been crazy,' turkey shortages, supply chain issues impacting thanksgiving meals: IRI reports that cranberry sauce is 20 percent out of stock and yams and sweet potatoes are a quarter out of stock.
---
💰 IRS says it's boosting tax brackets due to faster inflation: The IRS said the income thresholds for federal tax brackets will be higher in 2022, reflecting the faster pace of inflation. That means a married couple will need to earn almost $20,000 more next year to enter the top tax bracket, with the tax rate set to remain at 37%.
---
🔊 Podcast: Episode 27 - Dane on the EcDev Network with Dan Taylor and Lara Fritts.
---
🗣 Would you like to be a guest on the Econ Dev Show Podcast?  Here's how.
---
🚀🚀🚀 I know it doesn't feel like it, but: Productivity is offseting wage gains. Wage gains are a reset, and supply-chain price increases are temporary; productivity gains, on the other hand, will persist forever. That is a deflationary, not inflationary result.  Everything will get better.  Much, much better very soon.  We're on a rocketship of recovery anytime now.
---
🎁 In the supply chain battle of 2021, small businesses are losing out to Walmart and Amazon: Independent retailers are getting squeezed out as suppliers, factories and freight companies prioritize national brands: 'We're at the whim of a broken supply chain.'
---
🚘 Vintage cars are chic again: Enthusiasm for vintage cars has emerged at a time when microchip shortages have fueled bidding wars for new and used contemporary vehicles.
---
💵 The truth about those dollar stores: Dollar General, Dollar Tree, Family Dollar, and others offer low prices but also raise concern in communities that feel choked by them
---
👍 A record 74% of Americans say now is a good time to find a quality job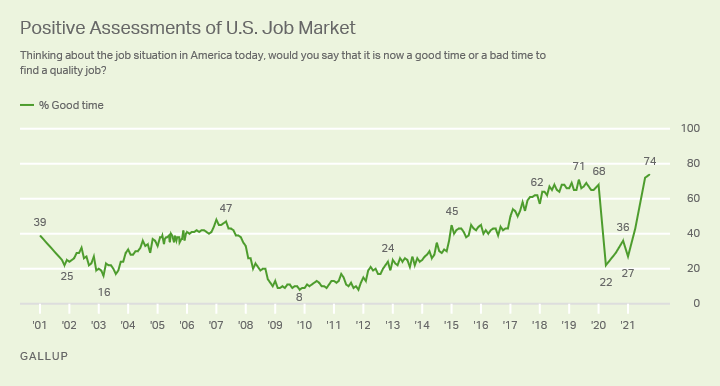 Econ Dev Show Newsletter
Join the newsletter to receive the latest updates in your inbox.