The 61 Things Economic Developers Need To Know This Week
The stories that Dane thinks you need to see from this week. February 24, 2022 edition.
Good morning econ dev fans and practitioners, and welcome to the "make you a smarter economic developer" newsletter!  Thanks for spending a few minutes with us this morning.
---
I was about to press send on my newsletter this morning but woke up to the devastating news of war in Ukraine. Posting a light-hearted email on economic development felt insensitive without addressing the pain, suffering, destruction, and tragedy that millions will soon face.
This morning I'm hoping for peace, thinking about all of those in harm's way, praying that our leaders have the wisdom to guide us through, and hugging my family extra tight.
---
I hope that you're staying warm this week, as much of the US is in the midst of a cold snap. Here in Galveston, it's a little cool this morning, after the balmy 78 it was earlier this week. Mardi Gras is off to a great start here - returning after last year's hiatus. So if you've never been, come on down next year. Galveston's Mardi Gras is like a smaller and slightly – but only very slightly – more subdued version of the famous one in New Orleans.
Next week, on the podcast, we'll be publishing our conversation with Jay Garner about his updated book Economic Development Is [STILL] Not for Amateurs!, and publishing our review of the same on Tuesday.  I'm also very excited that on Monday I'll be recording a podcast interview with Alejandra Castillo, the U.S. Assistant Secretary of Commerce for Economic Development. As the highest ranking economic developer in the US, I'm excited to help you get to know her, and hope to publish it the following week. (If you have any suggested questions from Ms. Castillo, please let me know.)
Today we have 61 stories, graphics, charts, and videos that I think you'll find informative, useful, inspiring, and perhaps even funny.
As always, if you find something great, please send it to me.
- Dane
---

---
1) Which of the following Super Bowl ads made you want to buy the brand's product or service the most?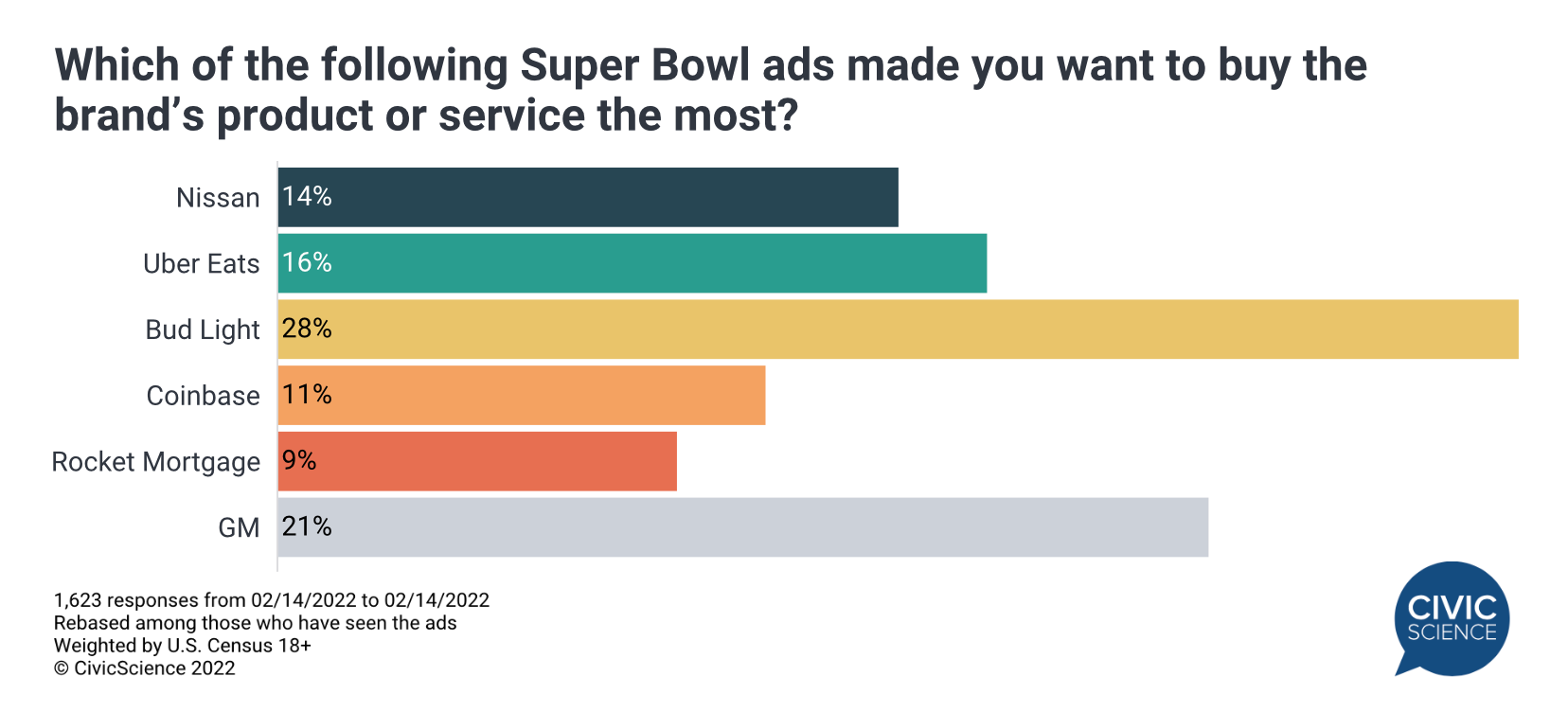 ---
2) 6 hiring strategies for 2022: How to attract the talent you need in the new year.
---
3) Wall Street is buying starter homes to quietly become America's landlord: Private equity money is pouring into the Phoenix real estate market, turning first-time homebuyers into renters.
"The median home was worth about $285,000 at the beginning of the pandemic; it was valued at $435,000 two years later."
---
4) Top national workforce trends for distribution centers in 2022: Whether a company is hiring 200 or 2,000 workers. Assessing a community's pool of available distribution workers is more critical than ever given how tight the labor market is around the country.
---
5) Regenerating commercial corridors: A proposal for states.
---
6) Free land programs in rural towns have iffy success rates:
Bottom line, the people who tend to stick around (or move there in the first place) are those who value small-town life, and those who move based on dollar signs could just as easily reverse that decision later when it's advantageous, Dent reports. That's reflected in a recent Pew Research Center survey that found that, though the pandemic has influenced where many Americans want to live, it hasn't really changed what they're looking for in a community.
---
7) International expansion in the age of remote work:
The impetus for the article is that there's an idea floating around that in a remote-first world there isn't a reason to expand a tech company footprint into new communities and ecosystems.
It seems intuitive, but it's wrong.
---
8) Owner of Crown Royal whisky faces shortages resulting from high demand during the pandemic: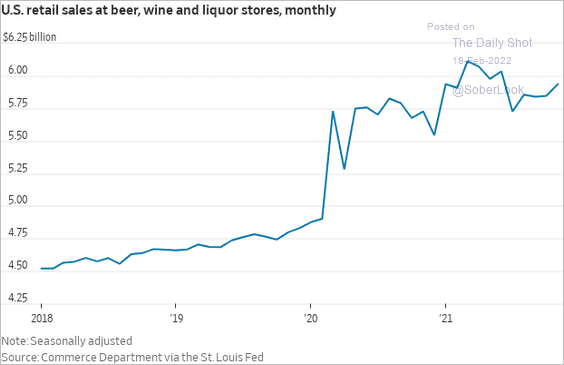 ---
9) America's bridges are falling apart faster than expected: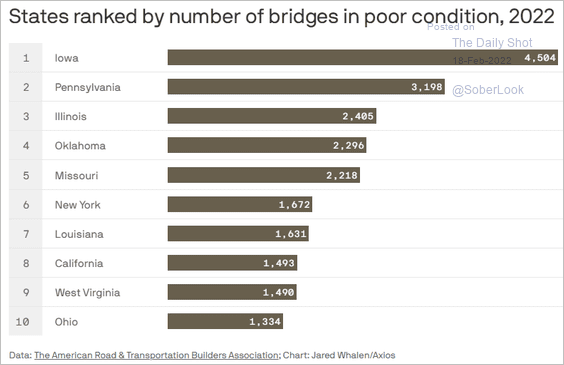 ---
10) Active business owners in the US: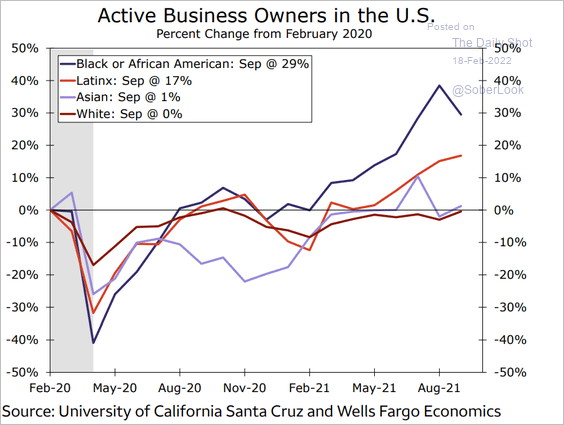 ---
11) The companies that defined 2021: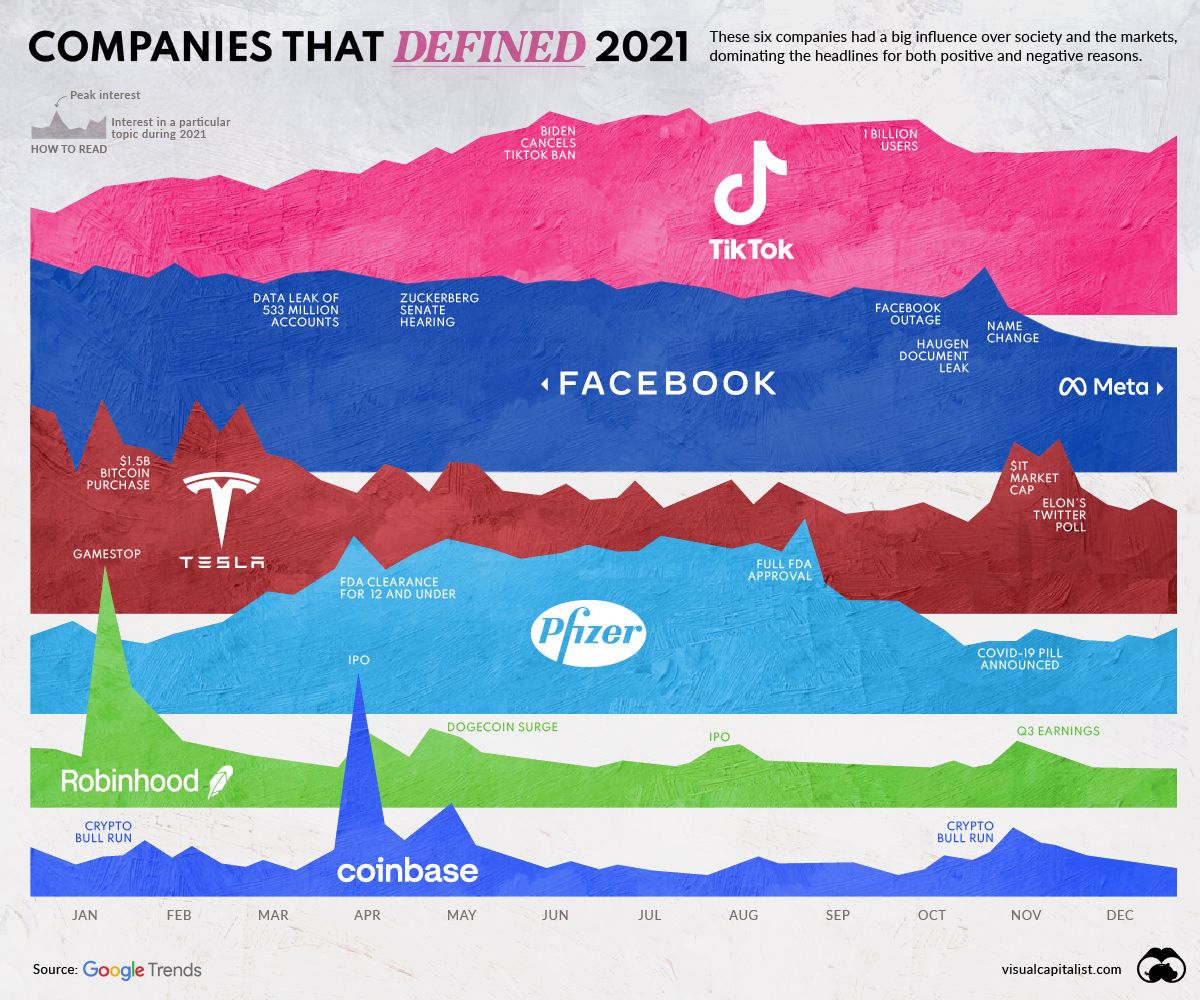 ---
12) This is how to overcome regret: 5 secrets from research:
When asked, "How often do you look back on your life and wish you had done things differently?" — you know what people said?
---
13) The art of saying no:
Admittedly it's thin, but there is definitely a silver lining to the pandemic: for the best part of a year we have all been granted a bulletproof excuse to turn down pretty much any invitation, and I, for one, am grateful.
---
14) The lesson to unlearn: The most damaging thing you learned in school wasn't something you learned in any specific class. It was learning to get good grades.
---
15) The everything town in the middle of nowhere: How the tiny town of Roundup, Montana, became a hub in Amazon's supply chain.
---
16) Weekend reading: That Will Never Work: The Birth of Netflix and the Amazing Life of an Idea
If you want to understand Netflix-the-streaming-giant today, it's great to start with Netflix-the-shaky-DVD-company circa the early 2000s. This book is a pretty early look, starting just before the founding and ending with the IPO. Among other things, it's a great peek into how hard it is to work with big hardware companies, especially on new technologies. It also shows Netflix's scrappier side; before they had a massive marketing budget and lots of Oscars, their tactics included having ringer accounts on movie forums that hyped up an amazing new site where you could get DVDs delivered by mail.
---
17) Happy Presidents Day this week.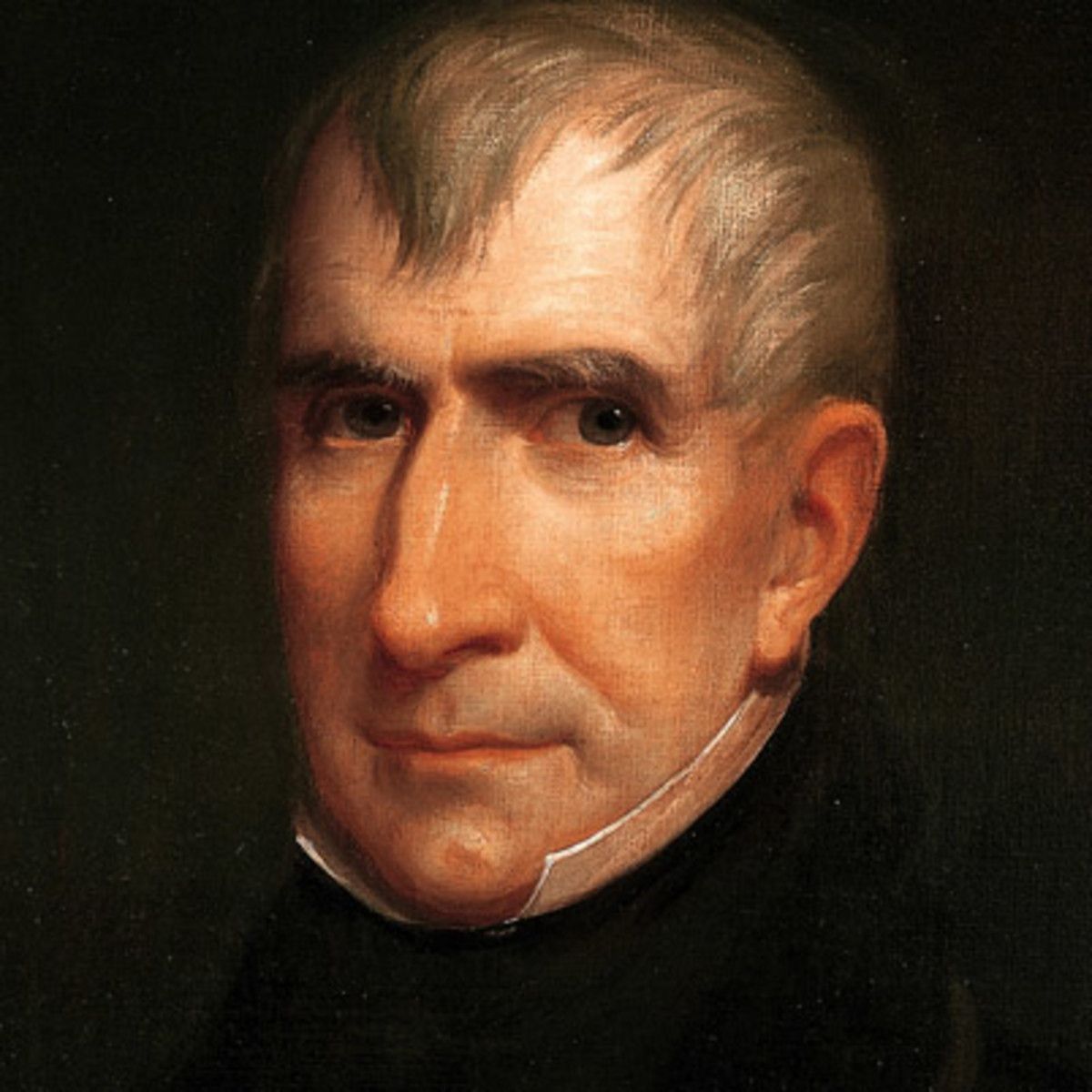 On Presidents' Day, I always celebrate my favorite President, William Henry Harrison.
William Henry Harrison served the shortest presidency in American history. After giving a two hour inaugural address (the longest in American history) in the freezing rain without a hat or coat, he contracted a cold and died after serving only 30 days, twelve hours, and 30 minutes as President.
If only all of our elected officials could be so inconsequential!
---
18) The impact of state borders on mobility and regional labor market adjustments:
People are three times as likely to move to a county 15 miles away, but in the same state, than to move to an equally distant county in a different state. These gaps remain even among neighboring counties or counties in the same commuting zone. This pattern is not explained by differences in county characteristics, is not driven by any particular demographic group, and is not explained by pecuniary costs such as differences in state occupational licensing, taxes, or transfer program generosity.
---
19) Used car prices are through the roof: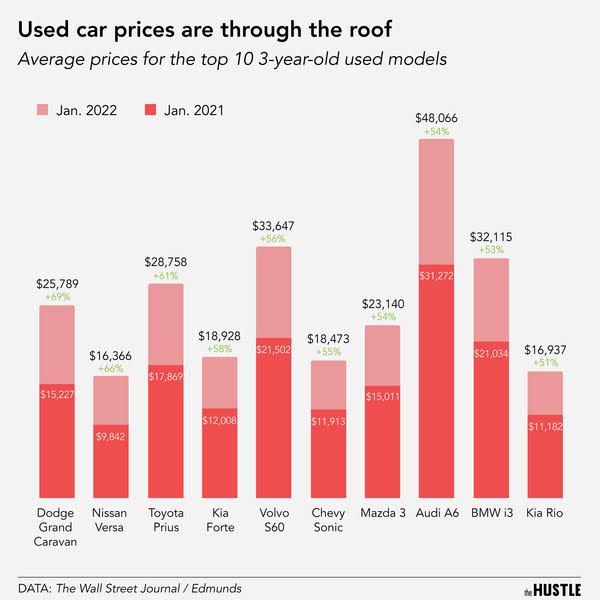 ---
20) This week on the Econ Dev Show Podcast: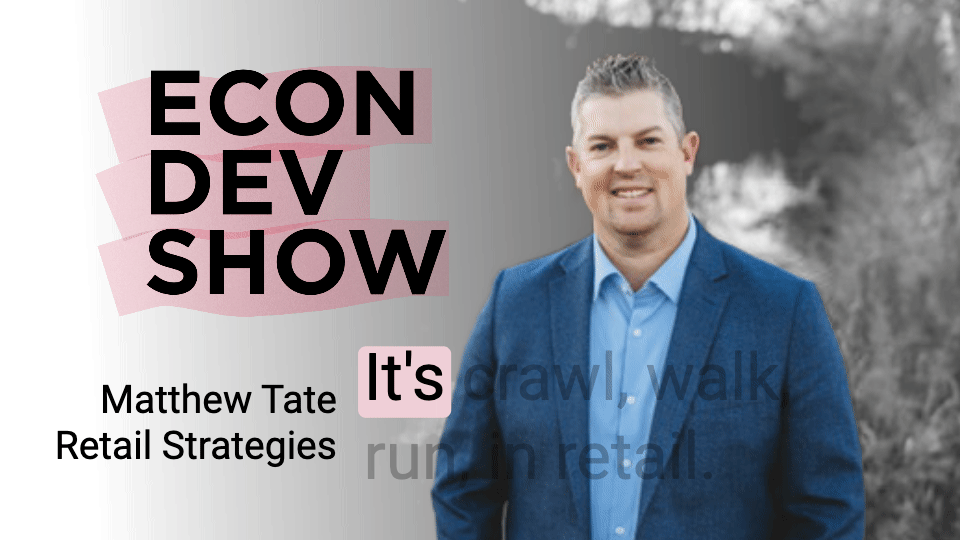 ---
21) Lumber prices have never been this high ahead of spring building season: Lumber extends rally on supply, 'unprecedented' transport snags.
---
22) California leases out container storage sites as part of plan to ease congestion: The state government of California has moved to lease six off-dock properties, with a standing capacity of some 20,000 containers. The move, announced on 15 February, is the latest in a series of steps designed to alleviate supply chain bottlenecks.
---
23) Google searches for supply chain fix: Will shippers soon be able to Google their way out of a supply chain crisis? New York-listed Dun & Bradstreet, a provider of business decisioning data and analytics, and Google Cloud have announced a 10-year strategic agreement to to co-develop software and services around supply chain visibility and other business issues.
---
24) Seth Godin on sales and the story of money:
A competent salesperson could have said, "Some of our competitors charge $300 and some charge $5,000. We're right in the middle and I can tell you why."
Or perhaps they could have said, "Some people charge as little as $300 for this. Let me tell you why we charge a lot more than that, and why it might be a smart choice for you."
In both cases, the truth becomes a firm foundation for a story about value and position.
Money is a story we tell ourselves about value, status and position.
---
25) Four intersting economic development videos I found this weekend:
---
26) The professional's guide to SEO: Link building sneak preview.
---
27) The CDC isn't publishing large portions of the Covid data it collects: The agency has withheld critical data on boosters, hospitalizations and, until recently, wastewater analyses.
---
28) Here's how Ohio won a bid by Intel to build the world's largest chip factory.
---
29) Millennials will reshape our landscape. Here's how and why: An unlucky generation is coming into its own — getting married, having kids and buying homes. The nation's fastest-growing Sun Belt metros, with their strong job markets and affordability, stand to reap the rewards.
---
30) USDA unveils resource guide to help rural entrepreneurs start and grow businesses, create good-paying jobs and strengthen America's economy.
---
31) Expensive shipping containers mean rough sailing for global trade: The rising cost of containers is damping optimism that supply-chain woes will ease in the first half of the year.
---
32) Which US states are still dependent on coal for electricity?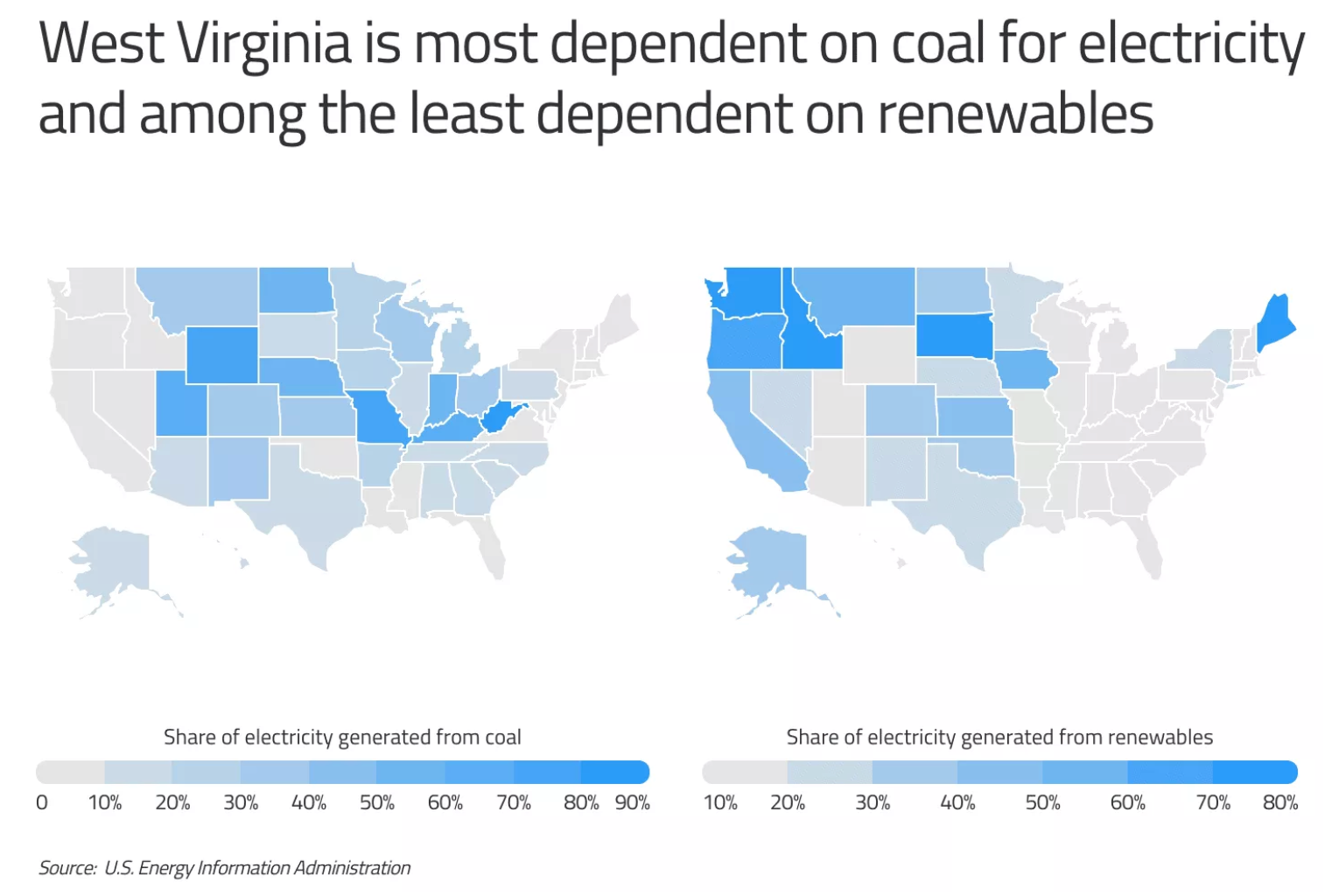 ---
33) The money printing press that is chip maker TSMC:
Not every manufacturing node comes out perfectly and not every one comes out on time, but in the past decade and a half, Taiwan Semiconductor Manufacturing Co, the world's largest and most technologically advanced etcher of chips in the world, has done far better than any of its few remaining peers to push the chip manufacturing envelope while also maintaining consistent and profitable production of older nodes.
---
34) Live under the sea: Architects propose a real-life Atlantis, within eight years.
---
35) Mike Rowe Scholarship highlights the lost virtues of hard work and sweat:
Rowe said in an interview that he was inspired to create the scholarship fund in the summer of 2008. "'Dirty Jobs' was a runaway hit, the country was entering a recession, unemployment was headline news," he said. "But everywhere I went on 'Dirty Jobs,' I saw 'Help Wanted' signs. It slowly dawned on me that high unemployment did not necessarily stem from a lack of opportunity. I remember being surprised to learn that 2.3 million jobs were open when the unemployment rate surpassed 10 percent."
---
36) What we lose when work gets too casual: For so-called knowledge workers, the slide into casual work culture has been happening for decades, but Covid accelerated the trend by demonstrating that some office requirements are arbitrary and counterproductive, and make workers palpably miserable.
---
37) Big tech makes a big bet - offices are still the future: Even as they allow some employees to change how often they come into the office, tech companies are rapidly buying and leasing properties around the country.
---
38) Midwestern states want to become "hard-tech" hubs: Putting their money where their machines are.
---
39) The elusive hunt for a robot that can pick a ripe strawberry: It's a tricky, delicate task that combines machine vision and robotics. Progress has been slow, but entrepreneurs and farmers continue to invest.
---
40) Top performers have a superpower: Happiness.
A large-scale study found that well-being predicts outstanding job performance.
---
41) Dysfunctional policies have broken America's housing supply chain:
The U.S. has failed to build enough homes to meet the demand created by population and job growth since the Great Recession—and even earlier in some parts of the country. The shortfall is particularly apparent in metro areas with an abundance of well-paying jobs and amenities; the places where many people want to live consistently build too little housing.
---
42) The best small high-tech cities: Topping the list is Tuscaloosa, Alabama, home of such companies as BFGoodrich Tire Manufacturing, Hunt Refining Company, and Nucor Steel (and 20 miles from the Mercedes-Benz International assembly plant). Second on the list is Lawton, Oklahoma, one of the state's key manufacturing centers.
---
43) Employees are sick of being asked to make moral compromises:
Moral injury is experienced as a trauma response to witnessing or participating in workplace behaviors that contradict one's moral beliefs in high-stakes situations and that have the potential of harming others physically, psychologically, socially, or economically, and it could prompt people to leave a company.
---
44) The Great Reshuffle in 2022: Top trends to watch.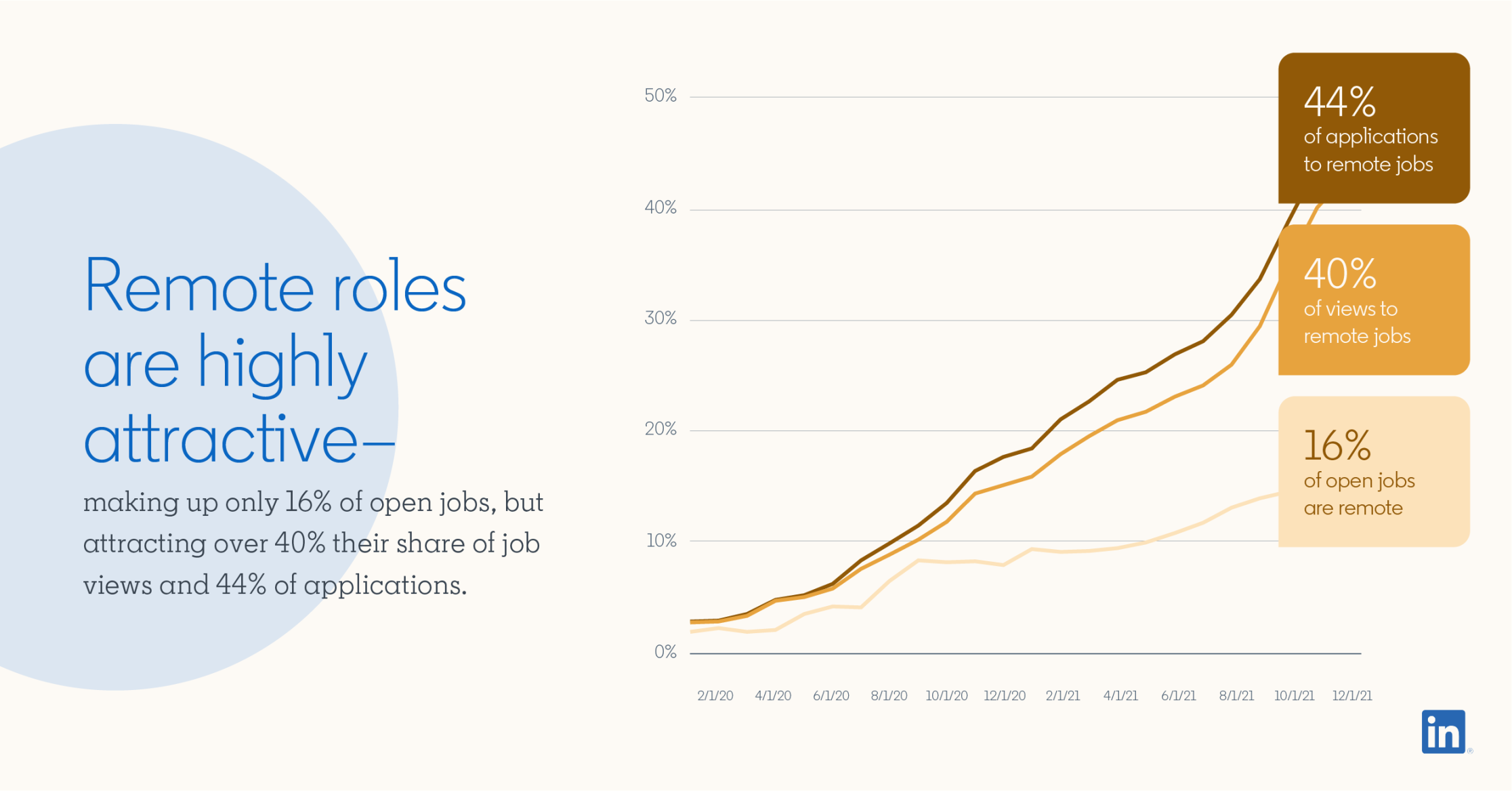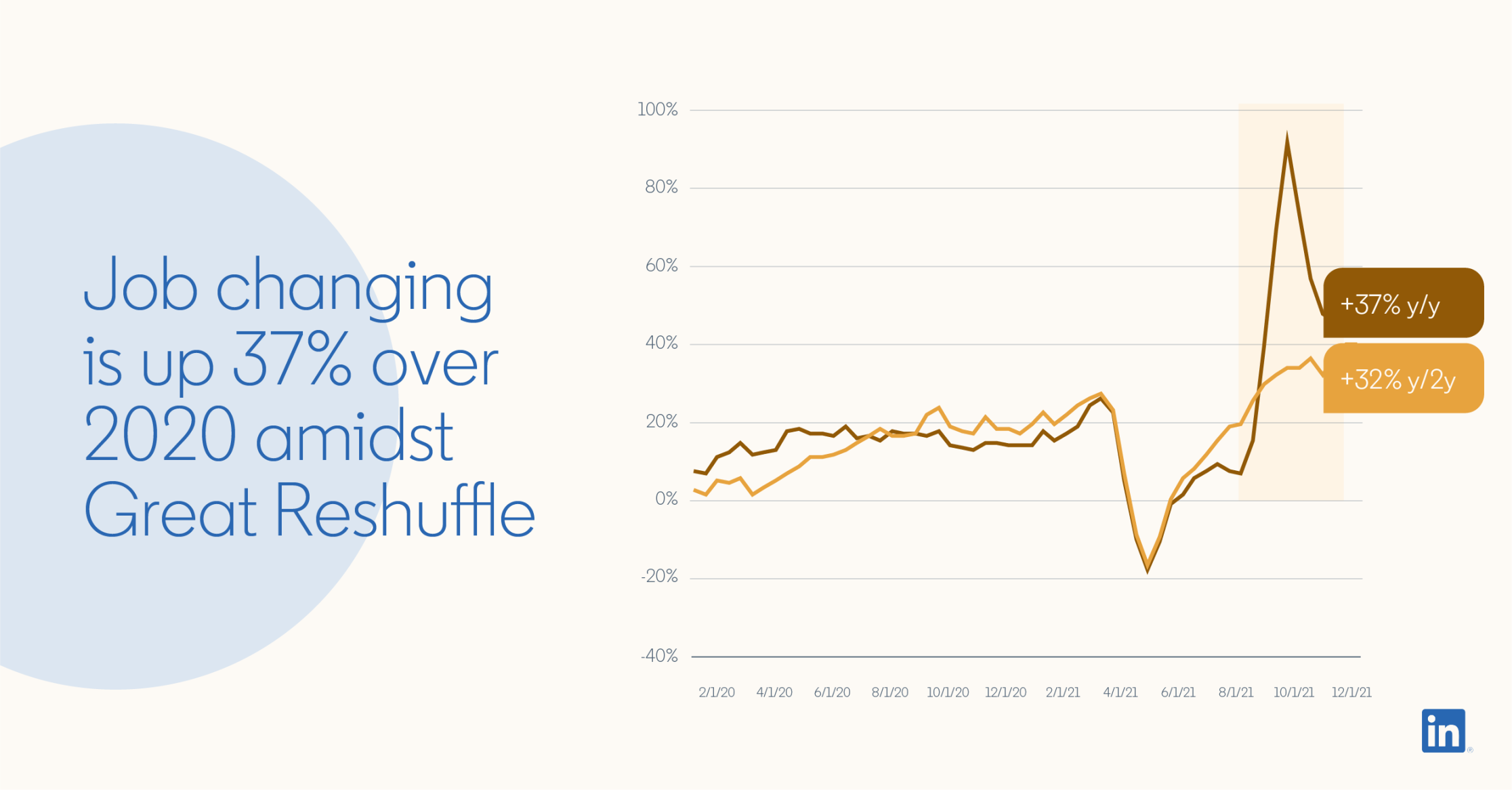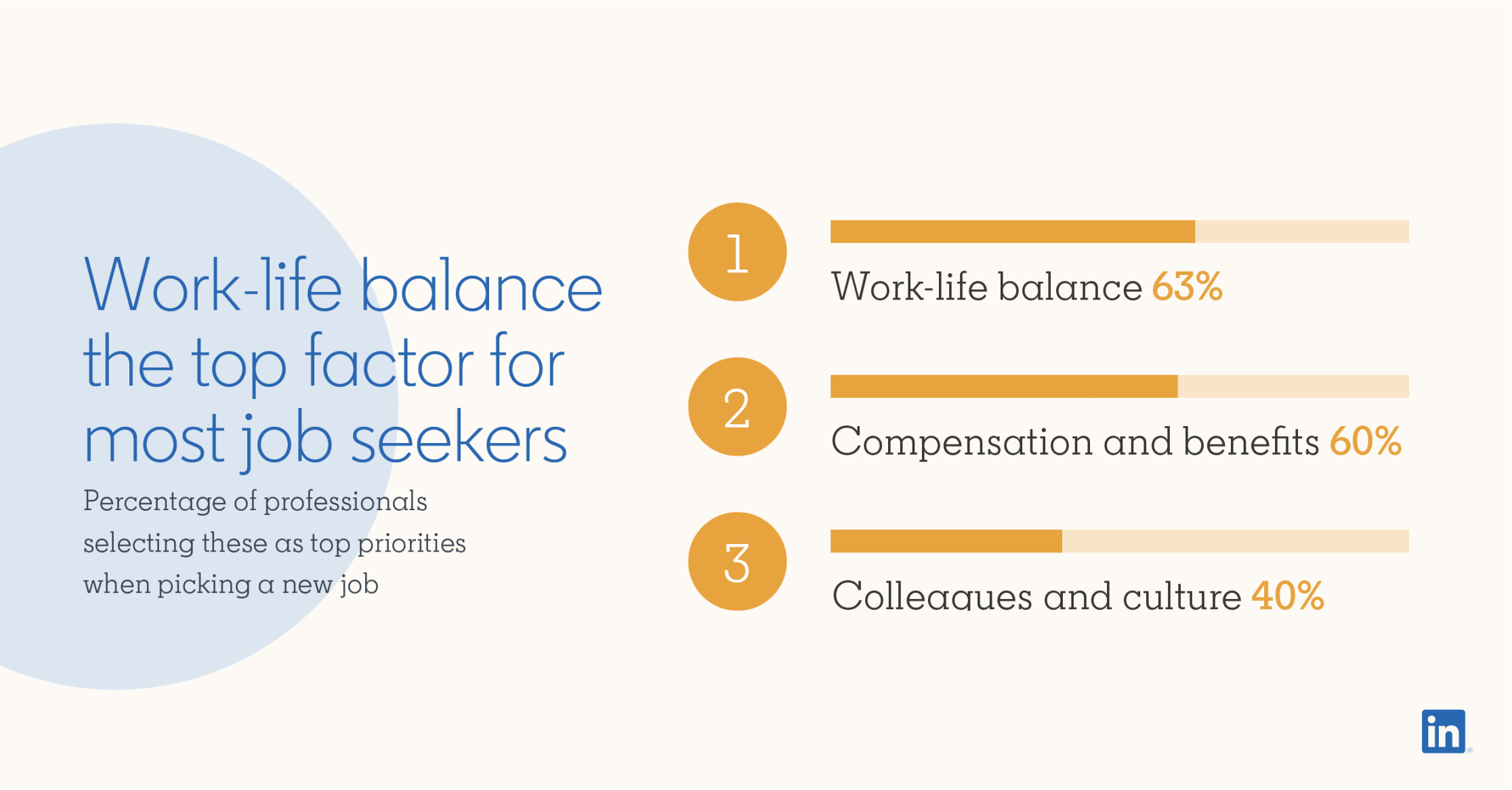 ---
45) 4 bed, 3 bath, no garage door: The unlikely woes holding up home building.
---
46) The next affordable city is already too expensive: In Spokane, Washington, home prices jumped 60 percent in the past two years. The increase is fueled by buyers fleeing the boom in cities like Austin. Who will have to flee next?
---
47) Is there a way out of America's impossible housing mess? The first step, according to economist Jenny Schuetz, is recognizing there is more than one housing crisis.
---
48) The Great Resignation is also the Great Retirement of the baby boomers. That's a problem.
---
49) Inside the obscure corner of Wall Street that is making billions trading inflation: Small teams have been making the most of global price shocks with trades.
---
50) Existing home inventories are remarkably low: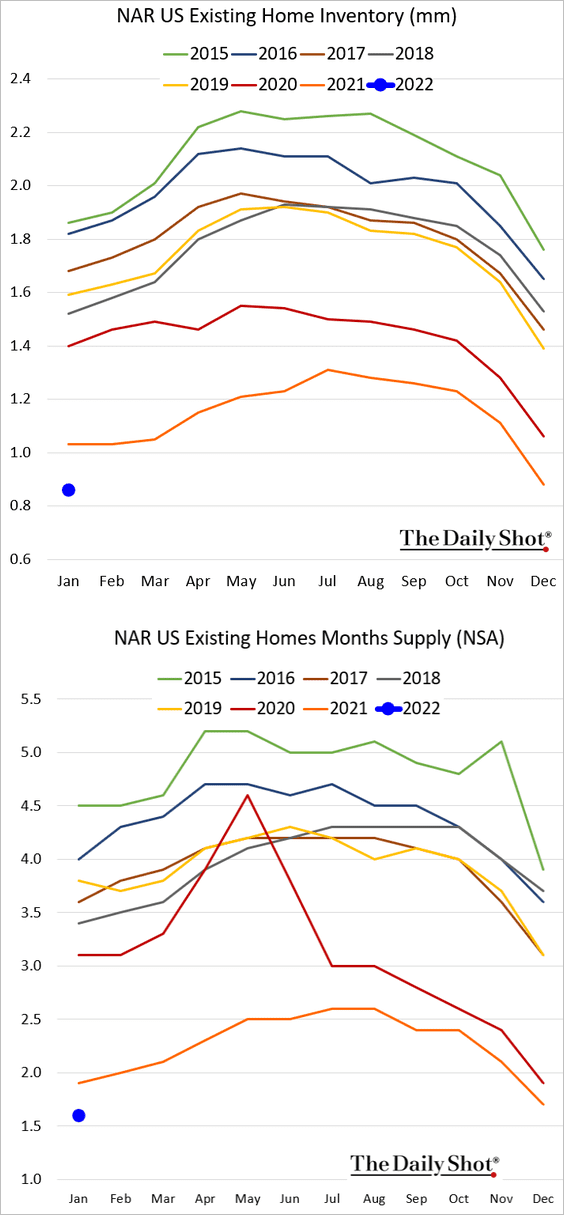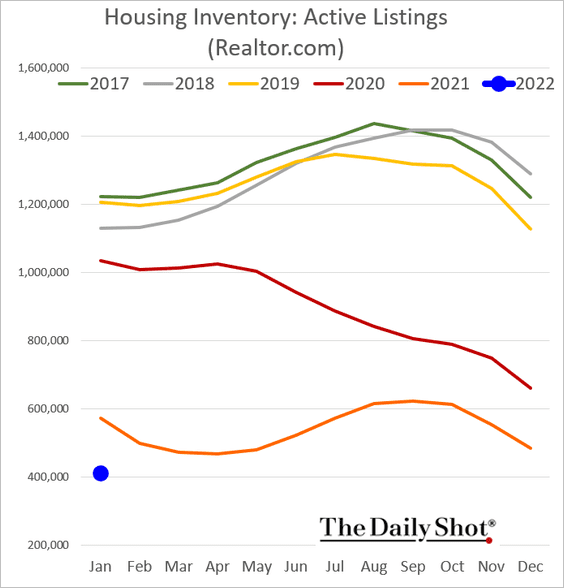 51) Investors bought a lot of houses last year: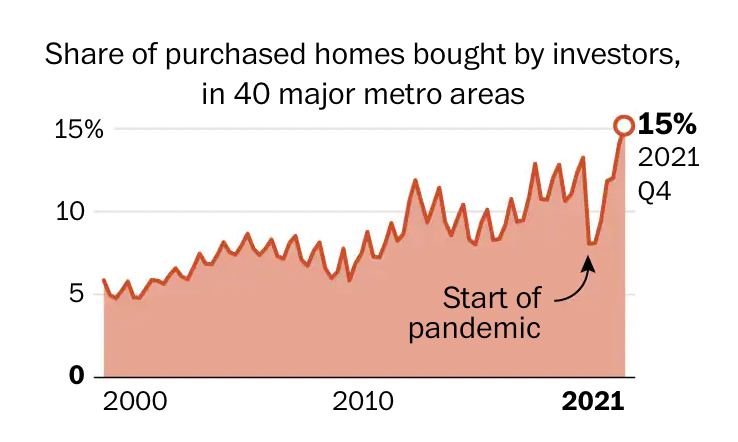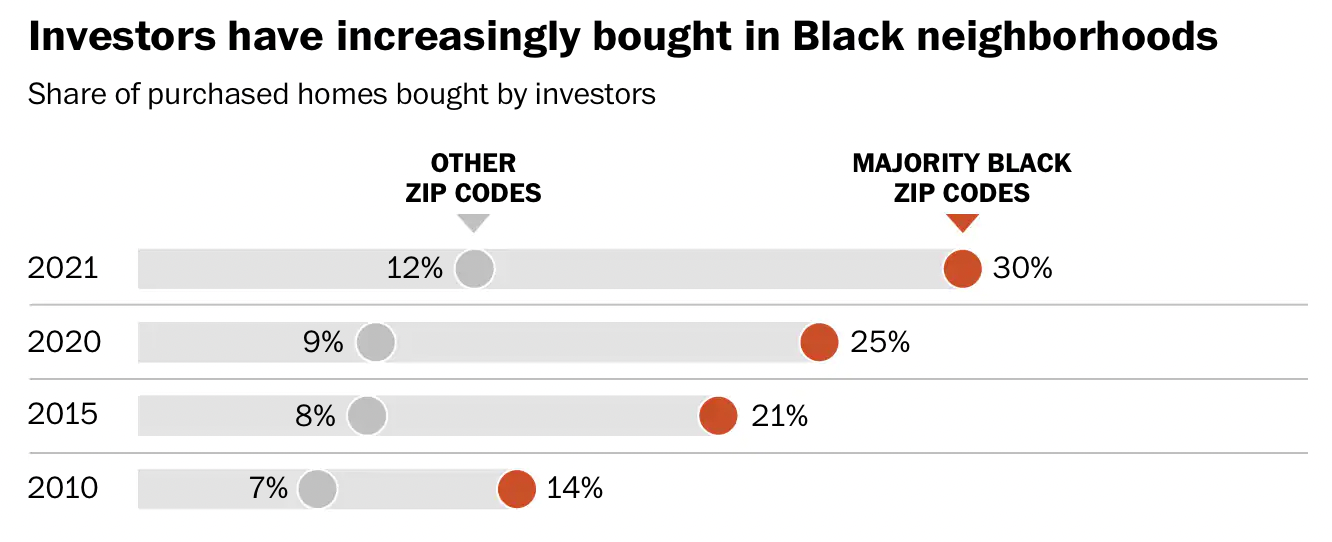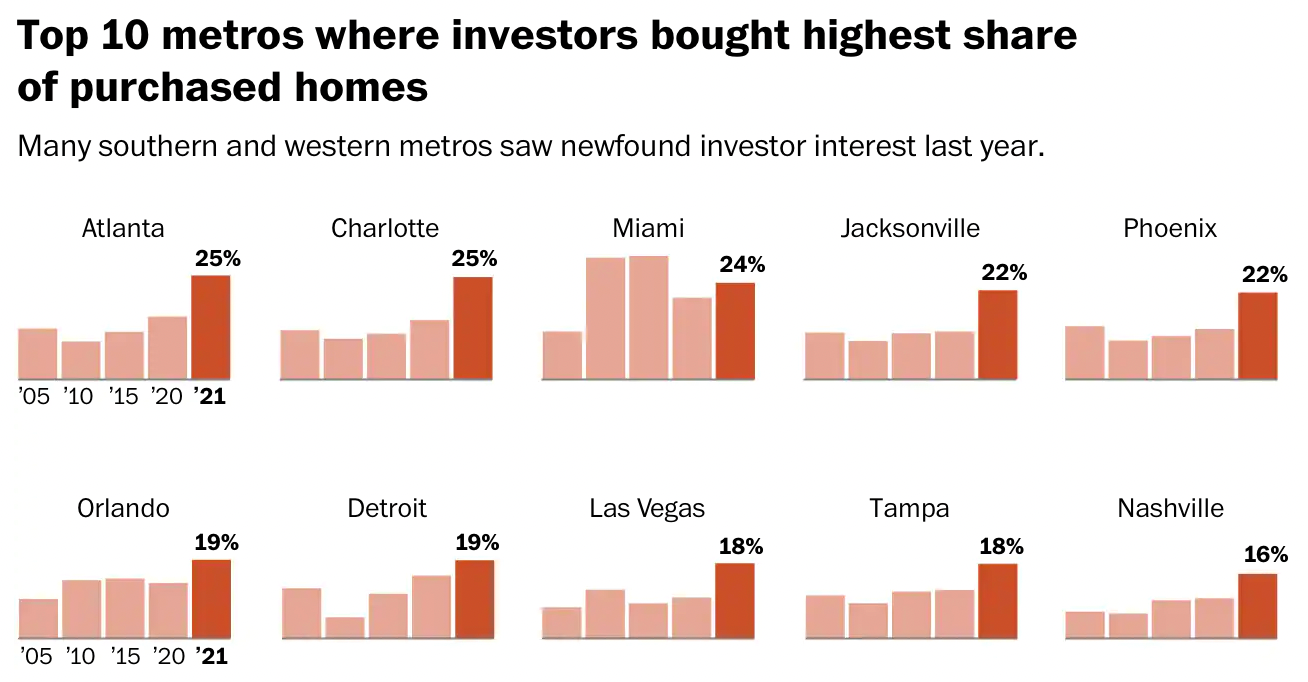 ---
52) This chart shows existing home sales by region:
---
53) New privately-owned housing units authorized but not started, monthly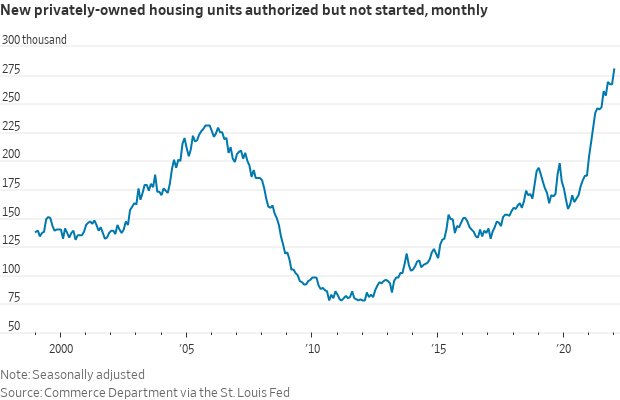 ---
54) Russia-Ukraine tension is driving up gas prices: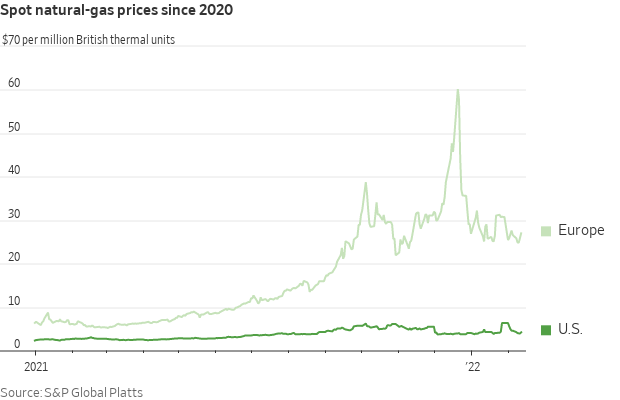 ---
55) $450 million in port grants: The U.S. Maritime Administration announced on Wednesday nearly $450 million in FY22 competitive grant funding for projects to help ports speed cargo flows and ultimately lower costs for consumers. This is nearly double the amount released in FY21.
---
56) Economic Development and Developers in the News - Issue # 48: Econ dev news from 87 economic development executives and organizations in 36 states, Canada and Mexico.
57) 3 Economic Development Lessons From Netflix's Inventing Anna: Professional development lessons from socialite and scammer Anna Delvey.
58) Econ Dev Show Podcast Episode 38 - Crafting Your City's Elevator Pitch With Matthew Tate: In this episode, Matthew Tate explains to host Dane Carlson how to craft your community's elevator pitch.
59) 63 New Economic Development Jobs Last Week: 63 econ dev jobs from 25 states, Canada and remote.
60) The 48 Things Economic Developers Need To Know Last Week: The stories that Dane thinks you need to see from this week. February 17, 2022 edition.
61) The Econ Dev Show is now on Instagram and Tiktok. (We've always been on Twitter, Facebook, and LinkedIn.)


Econ Dev Show Newsletter
Join the newsletter to receive the latest updates in your inbox.