Buffalo Hunting in Alabama: A Novel
What if economic development was a cross between Jurassic Park, James Bond and Jack Reacher?
Table of Contents
Last week I came across the novel Buffalo Hunting in Alabama. The author Don Erwin subscribed to the Econ Dev Show newsletter and reached out. He also provided me with a review copy of both the book and the audiobook.
Don Erwin is a retired economic developer from Alabama.  When someone asks him what he accomplished in 2020, he can answer that not only did he publish his first novel, but he published the first novel about an economic developer.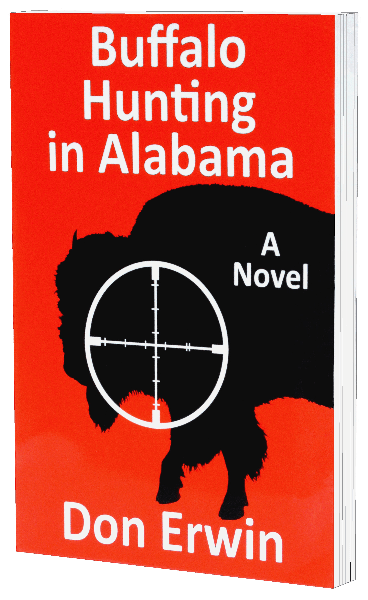 While traveling on a recruiting trip, after reading another legal, medical, or techno-thriller, Don realized that economic development was at least as interesting as any other profession and just as ripe for potential thrills as any other occupation.  So, why were there no economic development novels, he wondered?
And so one day, he wrote one.  Buffalo Hunting in Alabama is the tale of Ezra Drake and his hunt for a mega-project and its thousands of jobs and tens of millions in tax revenue.  Like any good thriller or day in the life of an economic developer, the story is not a straight line.  At every turn, his path forward is blocked by intrigue, deception, conspiracy, and corruption. To win the project, he must match wits with his enemies and employ various economic development skills (some orthodox, so not so much).
I enjoyed the book very much.  I especially enjoyed switching between the ebook on my iPad and the Audible recording (read by Don) in the car.  I've never done that before.  While I've listened to and read books, I've never actually experienced doing both with the same book.  It was worth it, and I plan to do it again with other books.
The book wasn't just a fun read, though.  As the main character learns about economic development and business attraction, the reader, even the experienced one, can pick up some tips.  Don's insight in chapters 14-16 would make a great educational course. (I told him as much immediately after finishing the chapters.)
I don't often read thrillers, so I don't have much to compare it to -- but as an economic developer who does almost exclusively business attraction, it was fun to imagine myself along with Don and his characters.  Would I make the same choices?  Could I?
Don says he's working on a sequel, and I'll be the first in line for a copy.
Update: Don was a a guest on the Econ Dev Show Podcast.  Listen to his episode: The Secrets of Economic Development with Novelist and Econ Dev Don Erwin.
Econ Dev Show Newsletter
Join the newsletter to receive the latest updates in your inbox.