The 81 Things Economic Developers Need To Know This Week
The stories that Dane thinks you need to see from this week. April 28, 2022 edition.
Table of Contents
Welcome to the "make you a smarter economic developer" newsletter!  Thanks for spending a few minutes with us this morning.
Today we have 81 stories, graphics, charts, and videos that I think you'll find informative, useful, inspiring, and perhaps even humorous.
As always, if you find something great, please send it to me.
- Dane

1) The new trend in suburban economic development is commuters: A new crop of customers who previously commuted to the city but now work from home is growing existing suburban companies and producing new business openings. This is a long-term trend that economic developer can engage to maximize job creation and local economy benefits.
See also this podcast episode from the podcast Pathways to Rural Prosperity with Don Macke: Commuter-Led Entrepreneurial Development.
---
2) May 9-13 is economic development week: The IEDC has released the #EconDevWeek22 Toolkit.
---
3) Feeling good: These 10 U.S. metros top all rivals in workforce confidence.
---
4) A look at the state of small business in 2022: Each year, Guidant reaches out to the resilient, hardworking small business owners of America. We learn who they are, what their lives as small business owners are like, what their plans for the future are, and how their business has weathered current affairs. Together, this information makes up the Small Business Trends report.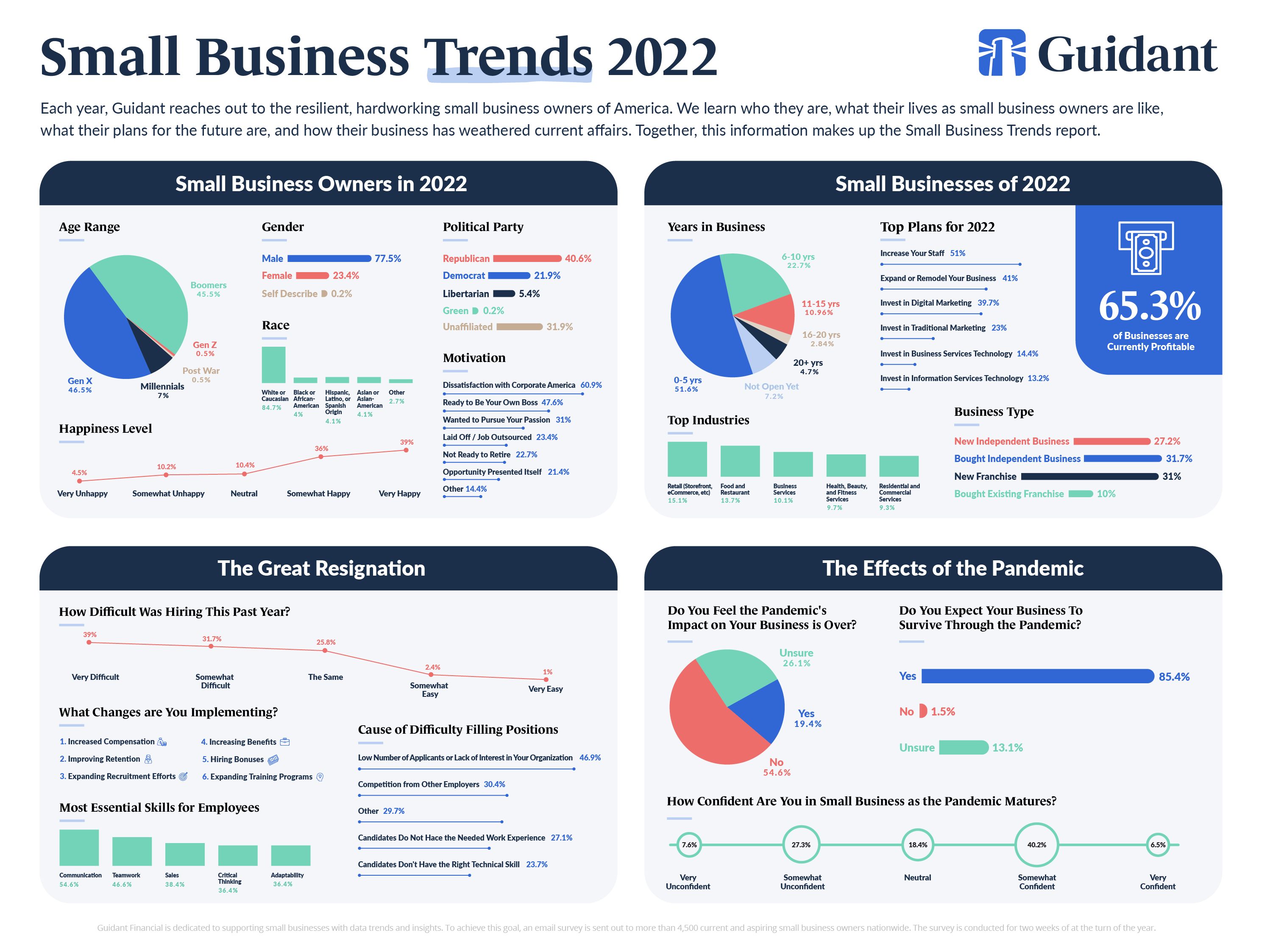 ---
5) Blue-collar workers make the leap to tech jobs, no college degree necessary: The pandemic has helped catapult Americans in low-paying roles into more upwardly mobile careers.
---
6) Best practice tips: Moving from output to outcome focus with OKRs (objectives and key results).
---
7) Warm economic welcomes in the Caribbean: From strong connections in its U.S. territories to a wealth of industrial opportunities throughout the region, the Caribbean offers more than just fun in the sun.
---
8) Mortgage demand falls to nearly half of what it was a year ago, as interest rates continue to rise:
The average contract interest rate for 30-year fixed-rate mortgages with conforming loan balances ($647,200 or less) increased to 5.20% last week from 5.13%.
Refinance demand fell another 8% for the week and was 68% lower than the same week one year ago.
Mortgage applications to purchase a home fell 3% for the week and were 14% lower than the same week one year ago.
---
9) Economic development strategies for America's heartland: How can local leaders - including governments, businesses, and individuals - put rural regions on track to thrive?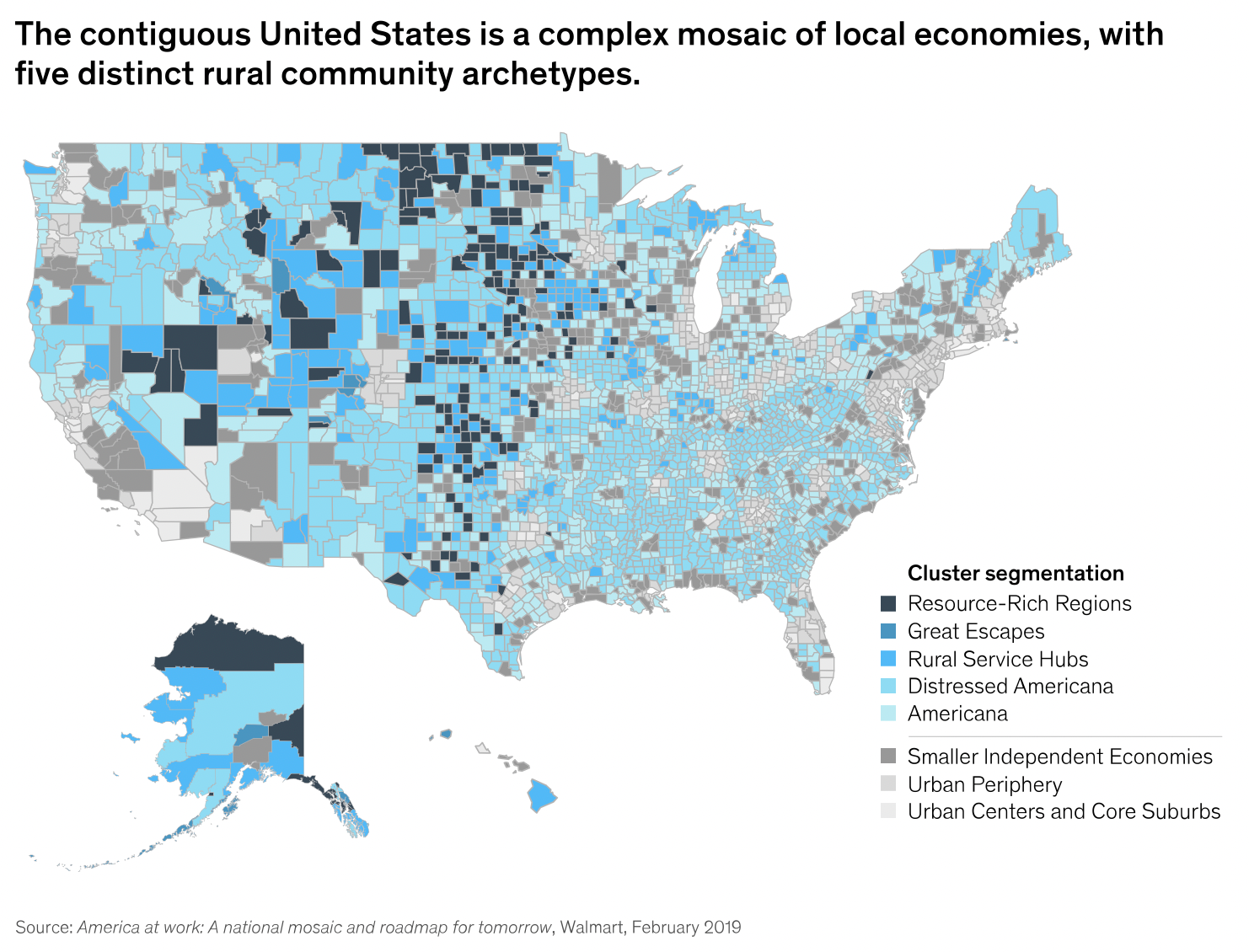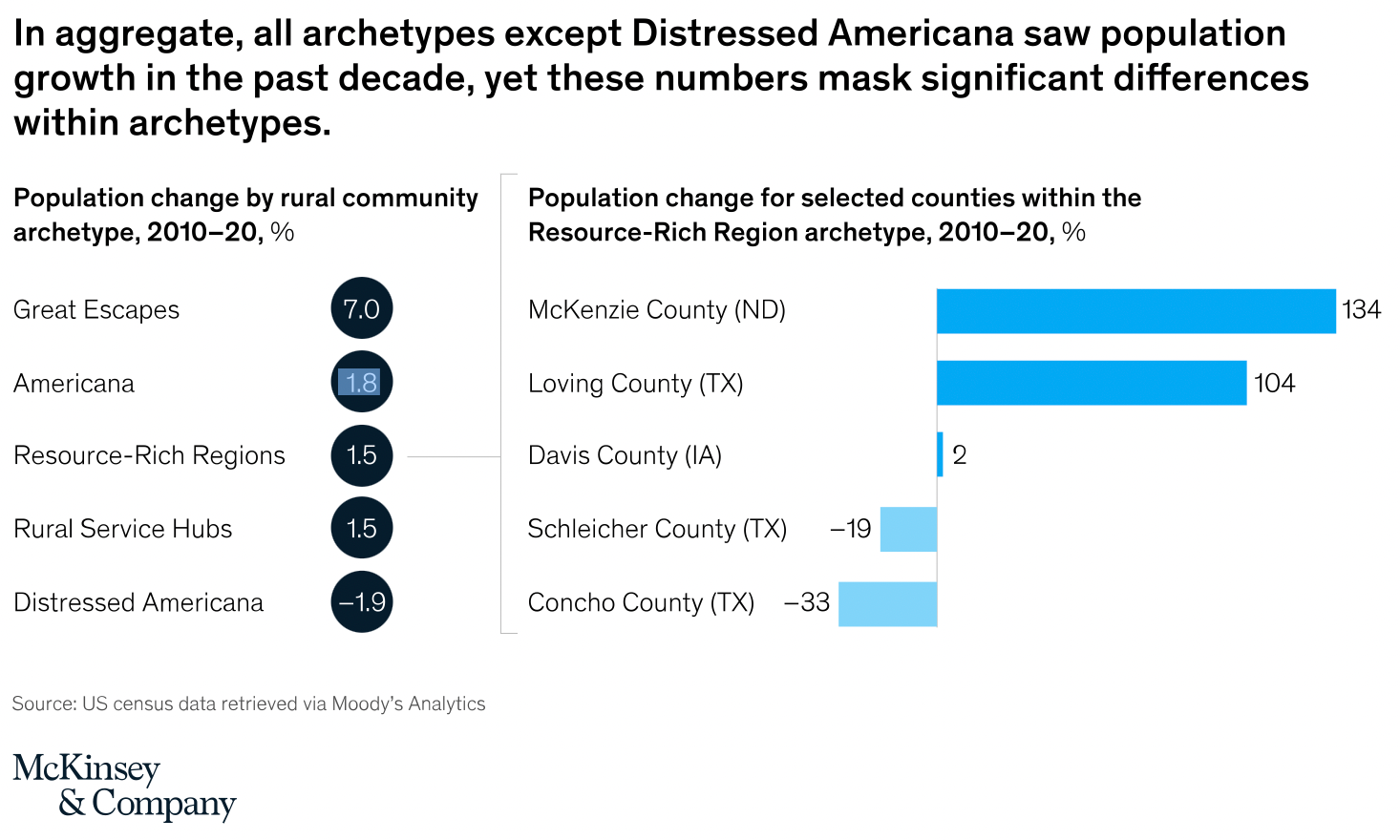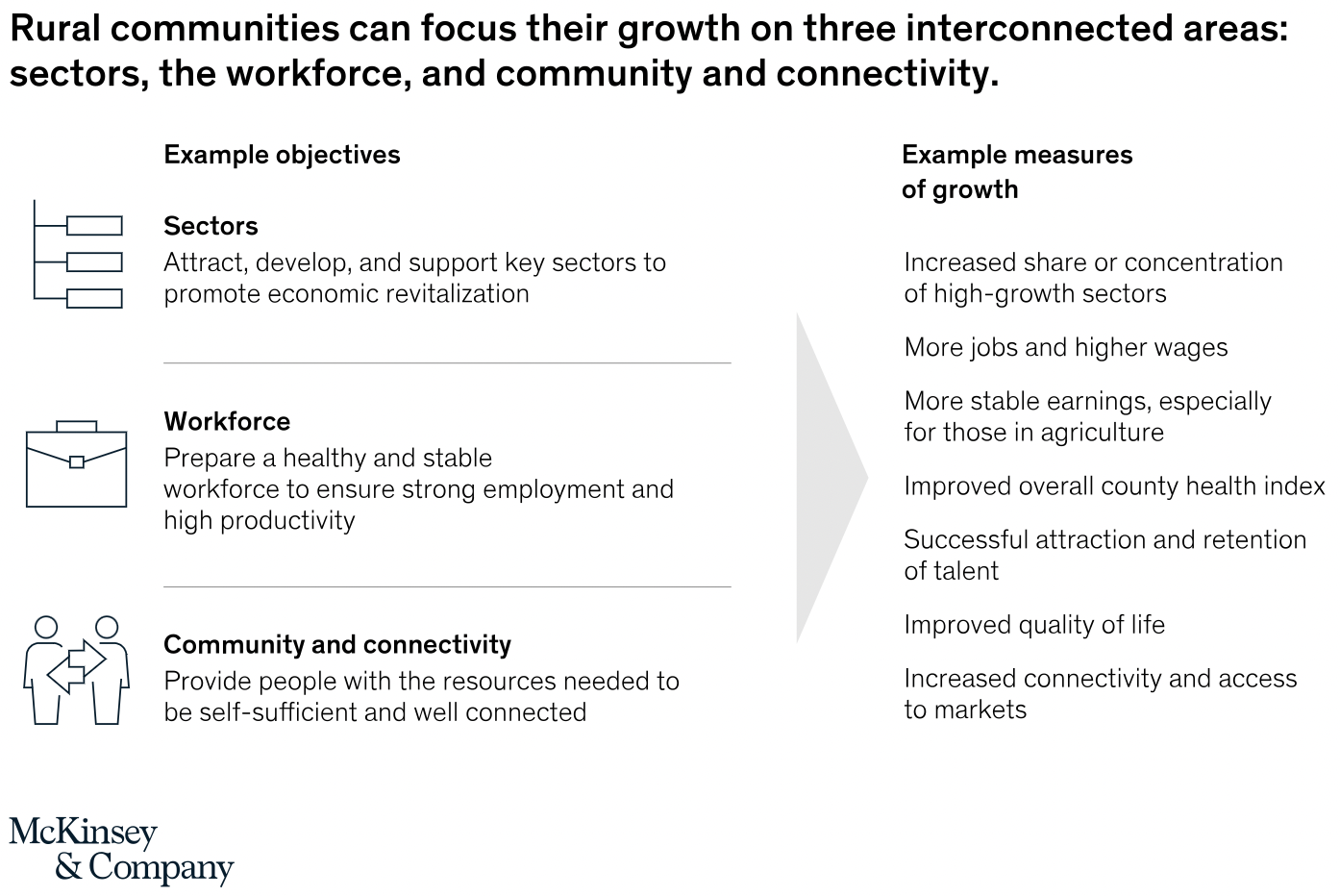 ---
10) Dean Barber's talking points from the Southern Economic Development Council's Meet the Consultants event in Dallas are great:
A corrosion of globalization
Brave new world in today's office market.
Batteries are the new oil.
Home prices are going through the roof.
Ever notice that quit and shit rhyme?
Economic developers need not genuflect.
---
11) China's lockdown impact: Rosemary Coates, founder of the Reshoring Institute on supply chains:
---
12) Mexico's Mexico: Traditional manufacturing centers like China are imploding, would-be replacements like India are a world unto themselves, while Mexicans have become so skilled that they are no longer competitive at the lower skilled work that once dominated the maquiladoras of the US-Mexican border. To put it bluntly, Mexico now needs a Mexico, and Colombia is by far the best candidate.
(From the soon-to-be-released book: The End of the World Is Just the Beginning: Mapping the Collapse of Globalization/)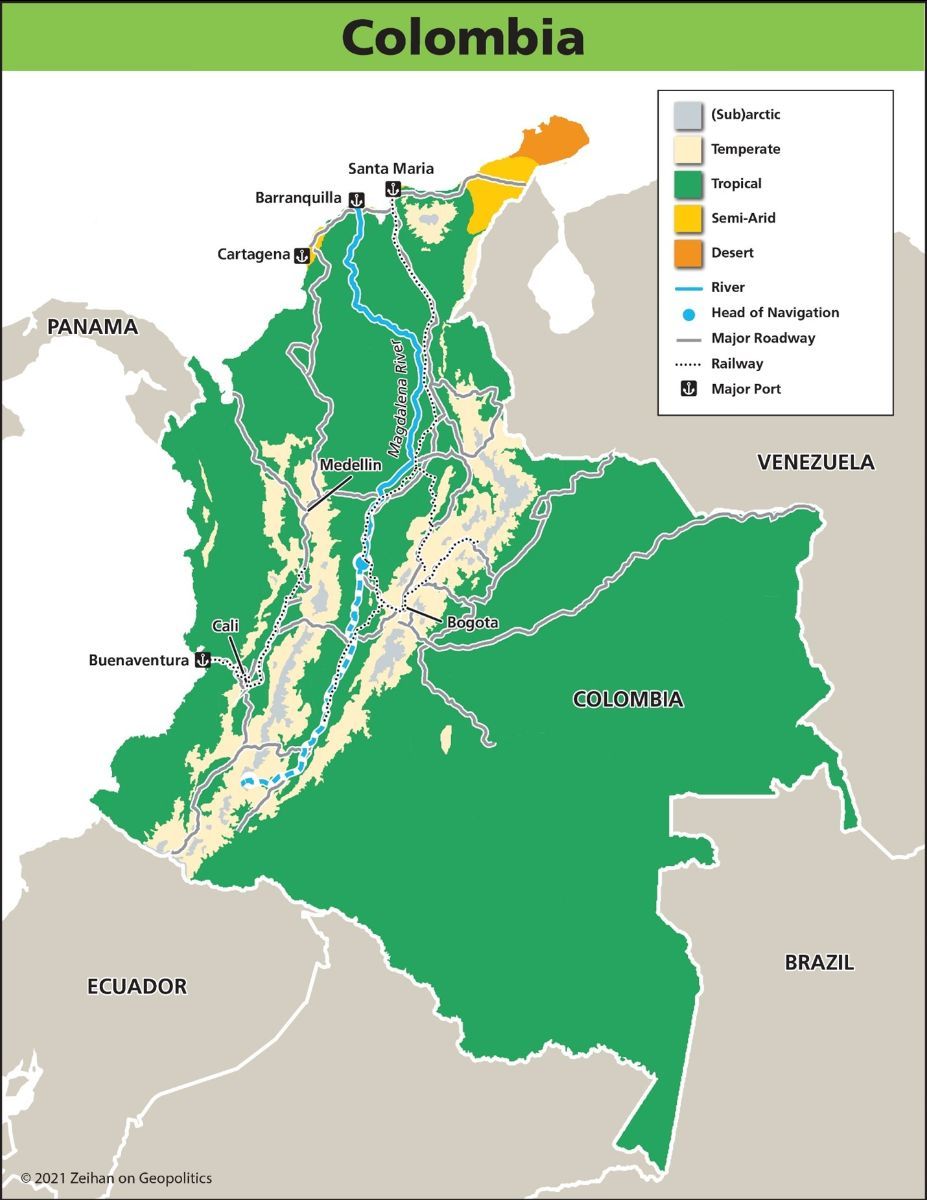 (Economic developers: Brush up on your Spanish or start Duolingo!)
---
13) Bipartisan bill to create a permanent office for rural prosperity at the White House: The Rural Prosperity Act is meant to cut red tape and make it easier for rural Americans to access government services and economic development initiatives.
---
14) The case for American seriousness: We don't need aging institutions to pave the way for 21st-century dynamism. What we need is will. And audacity:
Build housing for the middle class. Build schools for the kids who want to learn math. Build next-generation defense capabilities with young people who grew up coding. Build PCR tests so that a nasal swab stops the nation from closing businesses at the mere sight of Covid case increases. Build trade schools. Encourage men and women to work with their hands again. Cut the red tape that stops us from building infrastructure fast. Build factories in America. Build resiliency in the supply chain. Build work cultures that support mothers and fathers so they can have more children.
---
15) The productivity pay gap is real: According to data from the US Bureau of Labor Statistics, the amount of "stuff" produced by a typical worker in the US per hour (what an economist would call productivity) has gone up roughly 127% since 1975, but the real compensation of workers has only gone up by around half of that amount (63%). That's a far cry from the 1947-1975 period, when those two variables moved almost in lockstep.
---
16) How bricks might save clicks: Rising costs of doing business online is making physical retail more appealing for e-commerce brands.
---
17) How America's farmers got cut out of the supply chain: As shipping companies concentrate on the most lucrative routes from China to California, almond growers are struggling to transport their wares.
---
18) The invisible hand's visible swarm: Or, why I'm optimistic the problems that matter will get solved.
---
19) Construction physics: The pivot to prefab.
---
20) Post pandemic, people are eager for experiences: Demand for experiences seems hotter than ever before.
---
21) Gen Z does not dream of labor: On TikTok and online, the youngest workers are rejecting work as we know it. How will that play out IRL?
---
22) The Amazonification of the American workforce: The e-commerce giant's labor issues expose the complicated truth about getting what we want when we want it.
---
23) Robots in nursing homes? The pandemic has given a new urgency to the development of robots and 'virtual assisted living' that can help care for aging adults, physically and emotionally.
---
24) Economic development incentive report: Deals in Kentucky, Michigan, Missouri, Mississippi, North Carolina, Ohio, South Carolina, Virginia, and Wisconsin.
---
25) Excellent advice from Site Selection Group: Realistic real estate strategies for manufacturers.
---
26) Harassment and intimidation are driving local leaders away from public service, and we all stand to lose: "I genuinely worry about how our nation's cities, towns and villages will attract and retain the talent we need."
---
27) A day in the life of an economic developer, with Brad Thomas, who does economic development for Kentucky's Touchstone Energy Cooperatives.
---
28) Consistency is the key to success:
---
29) US adults' social platform use, by demographic group: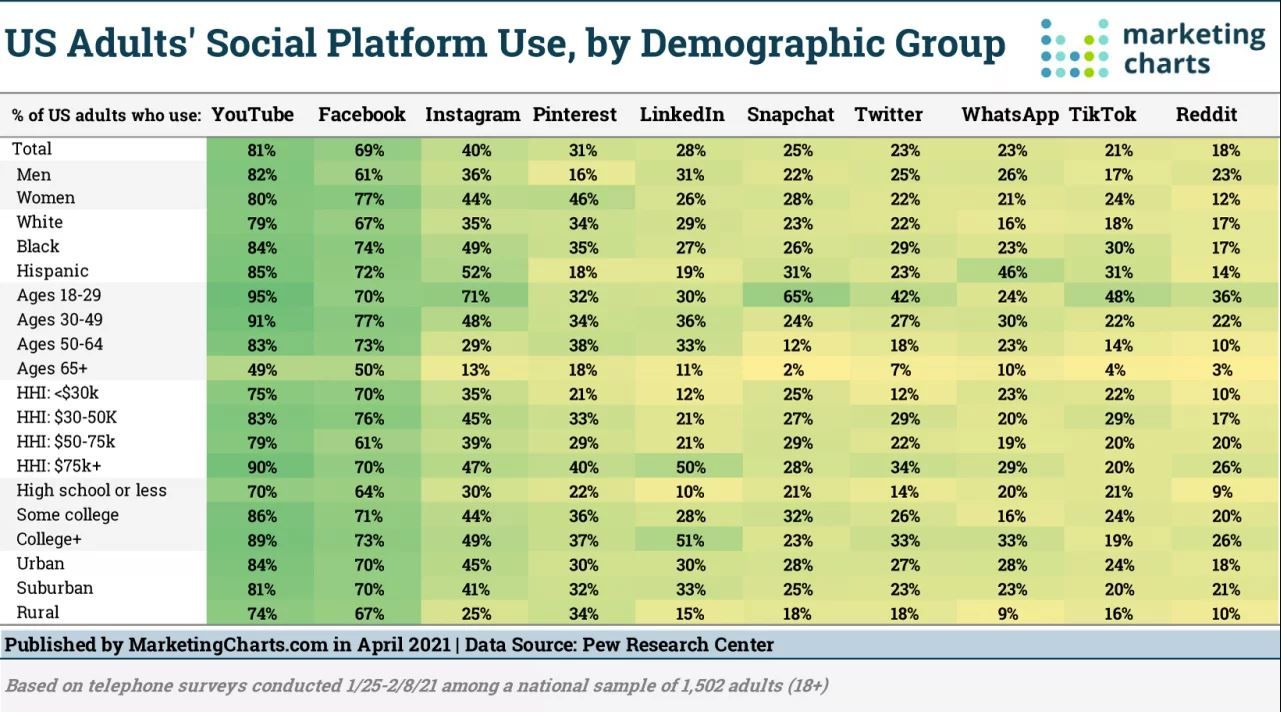 ---
30) A very nice explanation of the "floor space index" also known as the "floor area ratio":
---
31) Why skyscrapers are so short:
There's a pattern that we frequently see in the development of a new technology. Initially, the practical functionality is limited by the technology itself – what's built and used is close to the limit of what the technology is physically capable of doing. As the technology develops and its capabilities improve, there's a divergence between what a technology can physically do and what it can economically do, and you begin to see commercialized versions that have lower performance but are more affordable. Then, as people begin to build within this envelope of economic possibility, capability tends to get further constrained by legal restrictions, especially if the new technology has any (real or perceived) negative externalities.
---
32) Inside Nebraska's surprisingly effective COVID strategy: Nebraska's obsession with government efficiency gave it an advantage when the virus struck.
---
33) "If you're getting a W-2, you're a sucker": There are many differences between the rich and the rest of us, but one of the most consequential for your taxes is whether most of your income comes from wages.
---
34) Why pessimism sounds smart:
I've realized a new reason why pessimism sounds smart: optimism often requires believing in unknown, unspecified future breakthroughs—which seems fanciful and naive. If you very soberly, wisely, prudently stick to the known and the proven, you will necessarily be pessimistic.
No proven resources or technologies can sustain economic growth. The status quo will plateau. To expect growth is to believe in future technologies. To expect very long-term growth is to believe in science fiction.
No known solutions can solve our hardest problems—that's why they're the hardest ones.
---
35) 'The sound of money': Wind energy is booming in deep-red Republican states.
---
36) $1,000 a month: Half of parents still financially support their adult children.
---
37) Why fertilizer prices are so high and might go higher in 2023:
---
38) Sorry, collectibles are terrible investments: Nobody wants your beanie babies. And even "serious" collectibles are mathematically destined to underperform.
---
39) Home prices keep going ⬆️:
The average new single-family home sold for $360,000 in April 2020. Less than two years later, in March 2022, that number had risen by 45% to $524,000. (The median price rose 41% in the same period.)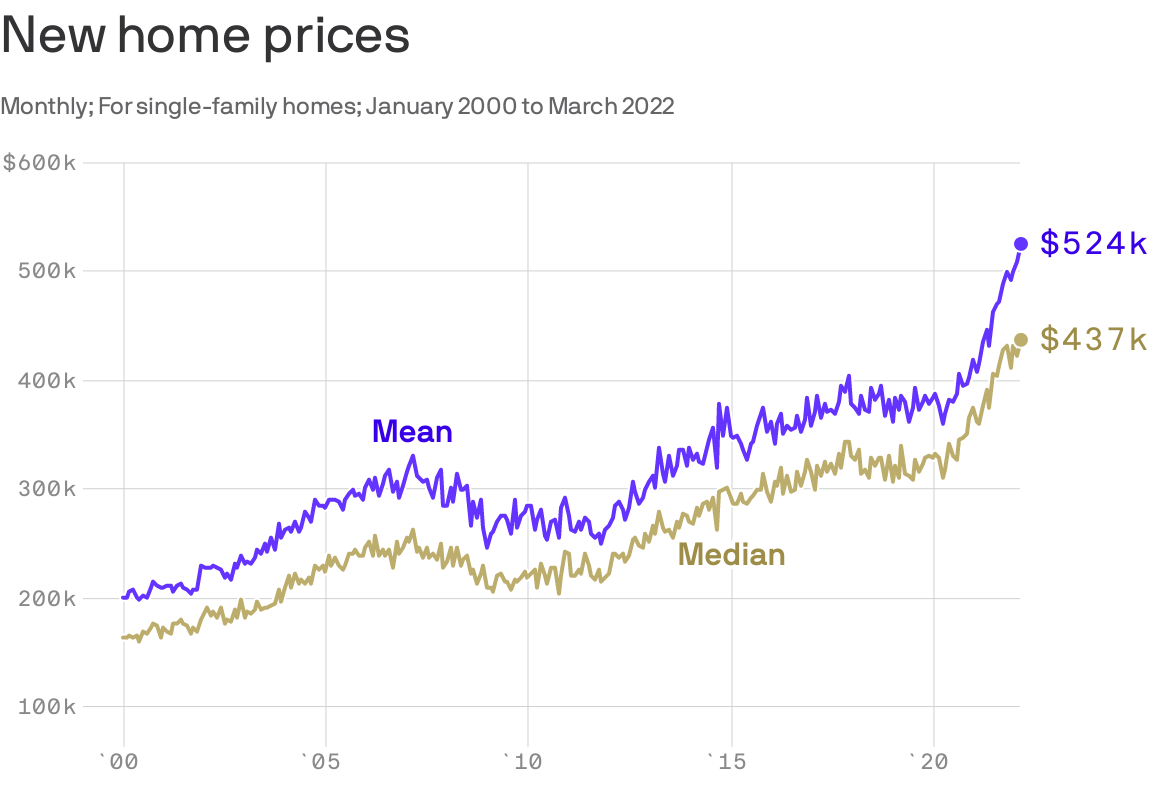 ---
40) Even floating cities need economic developers: Here's what the world's first floating city in Busan, South Korea, could look like.
---
41) How to: Understanding retail store clusters with local outlier factor analysis
---
42) Don't write like a rambling old man: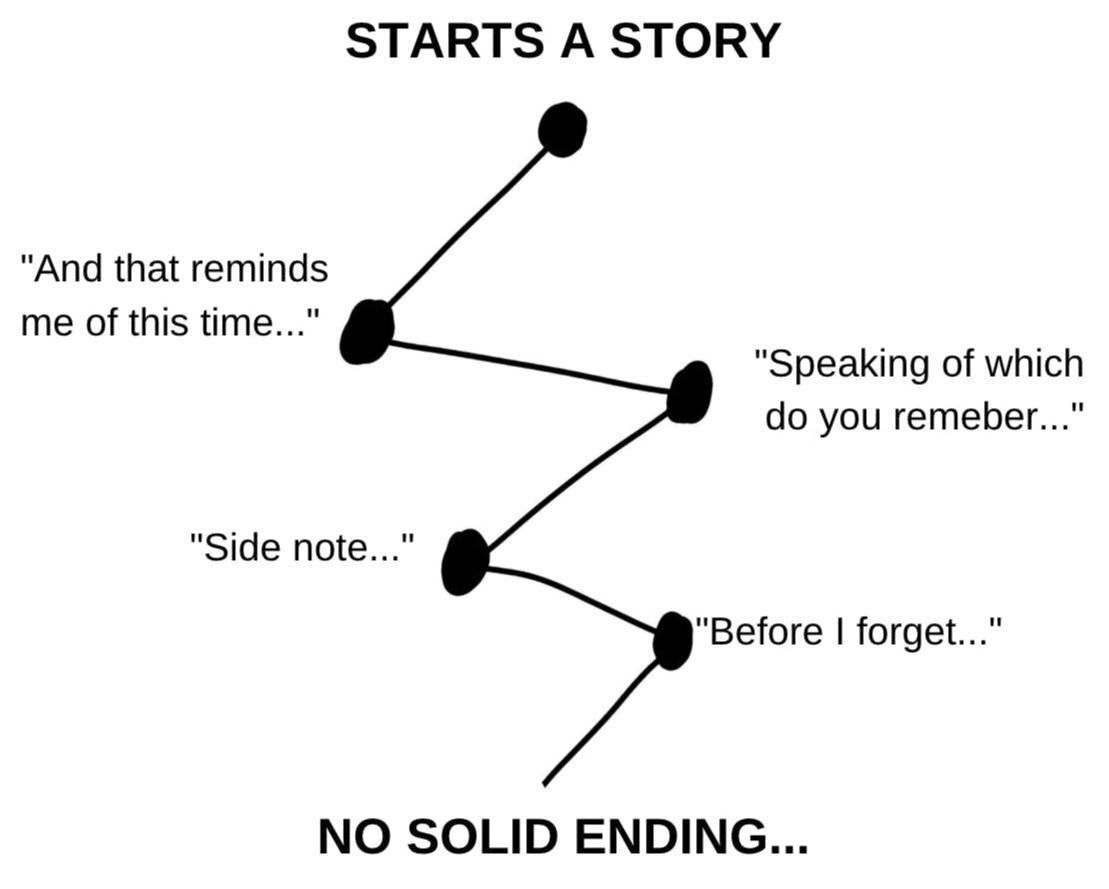 ---
43) Supply chain chaos: Here's a sample of responses from the Dallas Fed's latest survey of factories in its region:
In plastics and rubber, "the supply chain is in chaos right now. Everything is continually increasing."
A paper manufacturer said that while "supply-chain issues have eased a little," labor issues "continue to be a challenge" and "there is an expected pullback in economic activity ahead."
A maker of transportation equipment said this: "We build vehicles for first responders, and in spite of having a record order backlog, we have frozen hiring and slashed spending and future investments to conserve cash because we cannot get the truck chassis we need."
A machinery producer expects a downturn in the second half of the year, amid "out-of-control material costs" and "supply chain, supply chain, supply chain."
---
44) De minimis are breaking the bank:
The rule that allows American tourists to bring back souvenirs from overseas duty-free is now being used by companies to avoid billions of dollars in tariffs—and it's perfectly legal. Known as the de minimis rule, the exemption has been around for decades, deriving its name from the Latin term for something too small to fuss with. For many years, it was just that—accounting for such a sliver of imports that U.S. Customs and Border Protection didn't even bother to keep track of them. It's a sliver no more. The known value of de minimis imports soared to over $67 billion in 2020 from an estimated $40 million in 2012.
---
45) The cost of solar:
---
46) Baby boomers are the biggest Netflix moochers: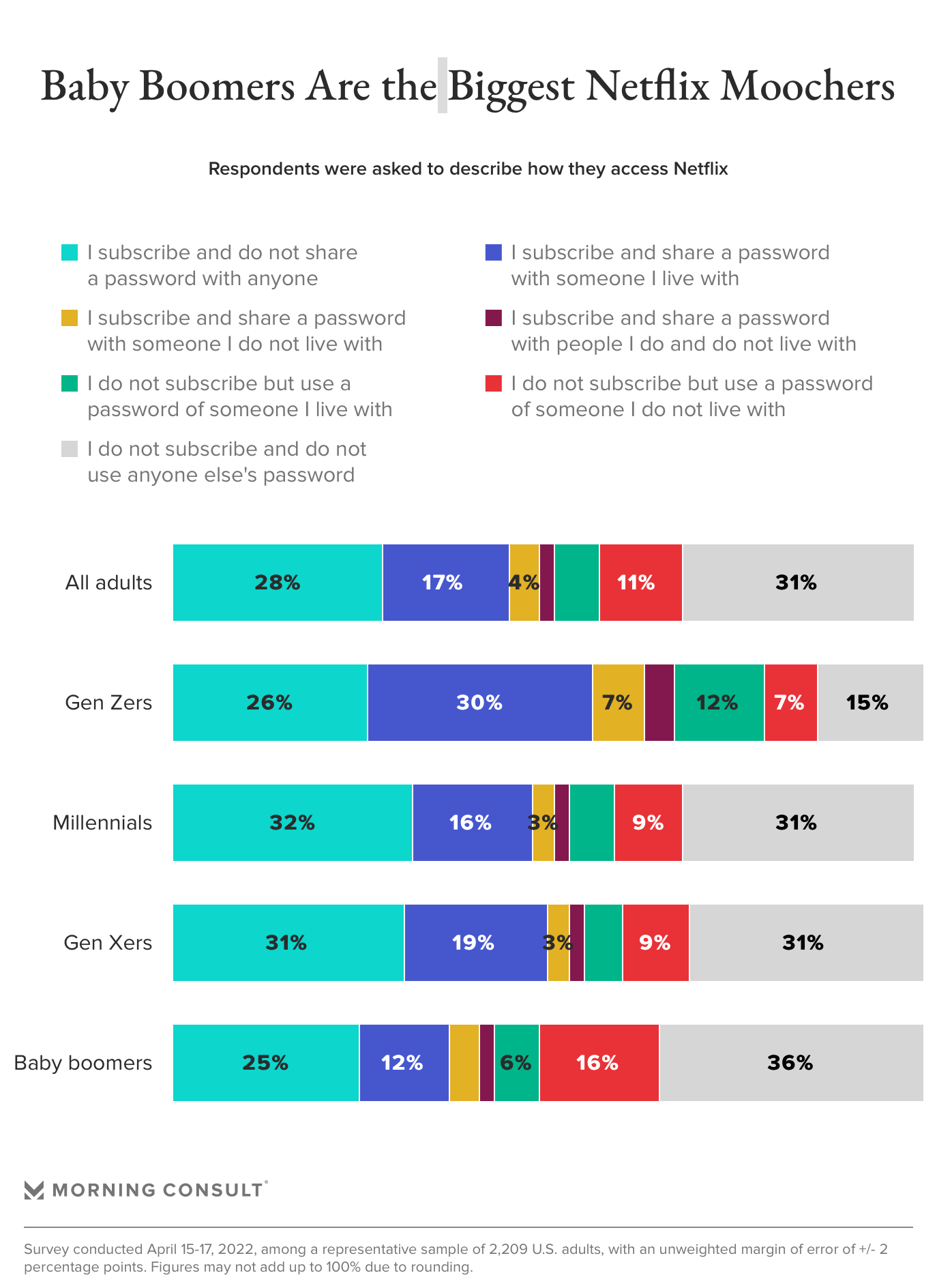 ---
47) Even more bad news from the housing market:
The typical household is now spending 31% of its income on mortgage payments. That's the largest share since 2007 and up from 24% at the end of last year.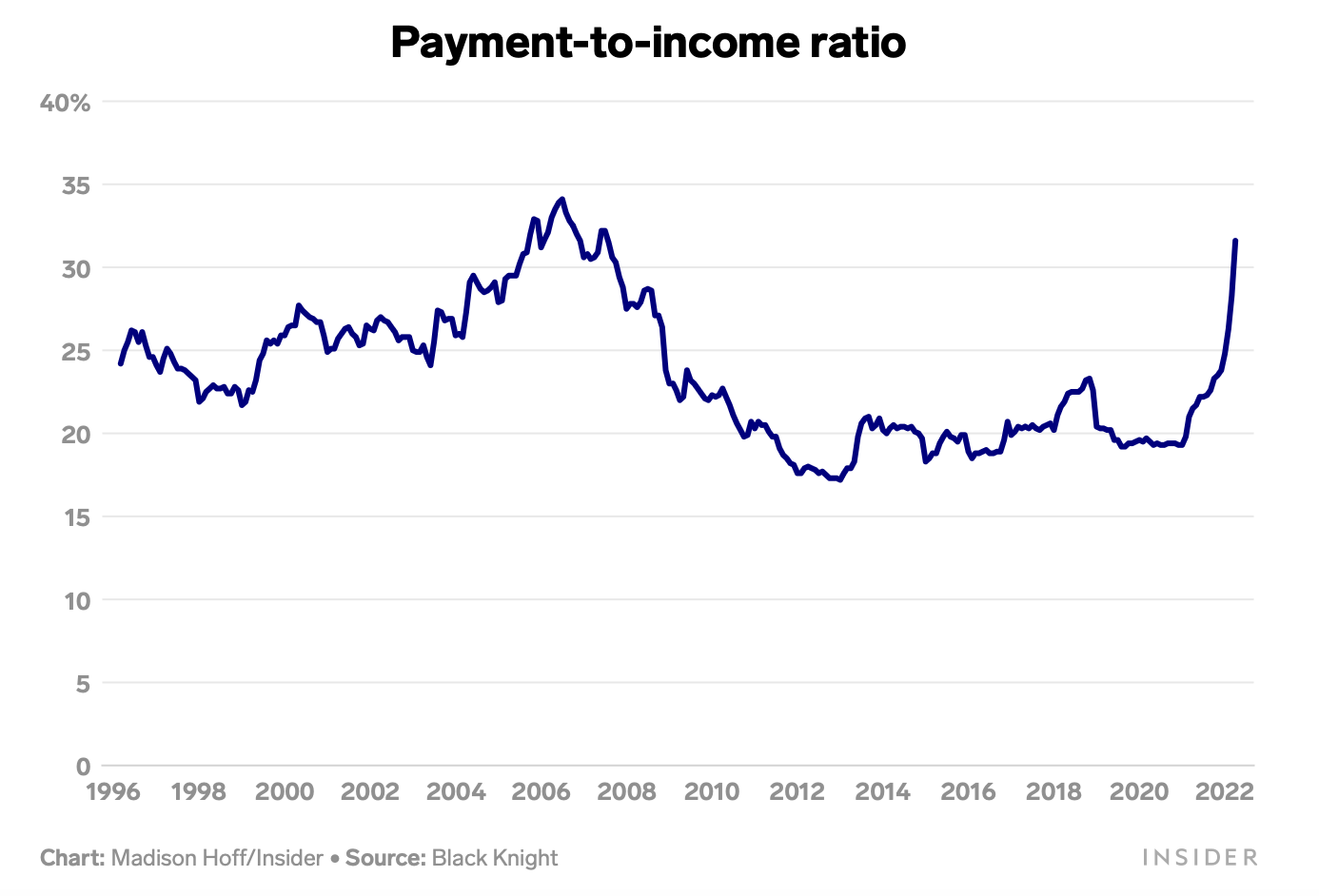 ---
48) Four in ten US small businesses plan to raise prices by at least 10%:
Overall, more than two-thirds of the respondents plan to increase prices in the next three months, according to a National Federation of Independent Business survey. Almost half of the small firms are planning increases of 4% to 9%.
---
49) 🐓Chicken prices are ⬆️ 97%: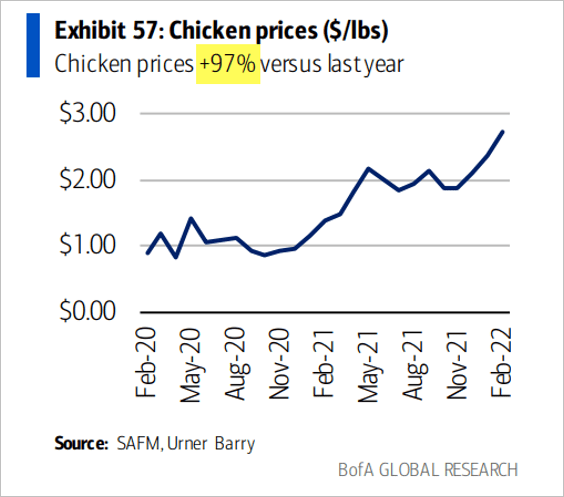 ---
50) America's best employers for diversity in 2022: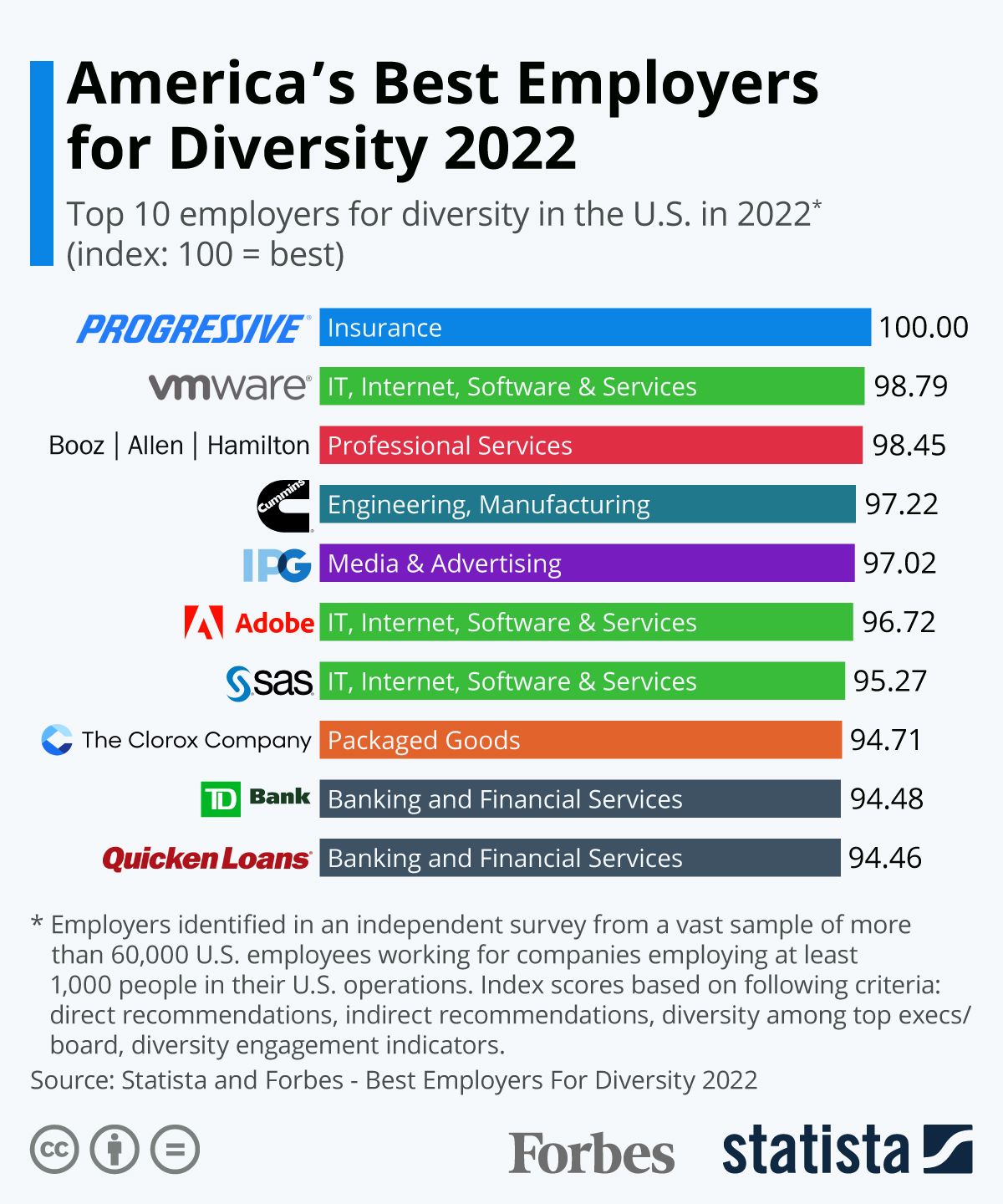 ---
51) Elon's Twitter deal is the one of the largest buyouts in history:
---
52) Early risers vs. night owls by generation:
---
53) Consumer confidence is holding steady: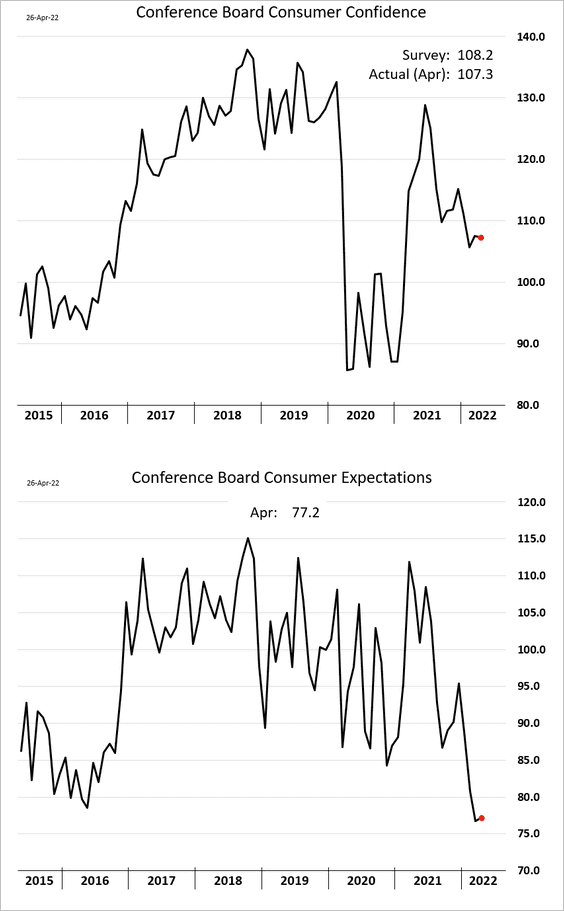 ---
54) The labor differential is still near the highs, as households remain confident in the jobs market: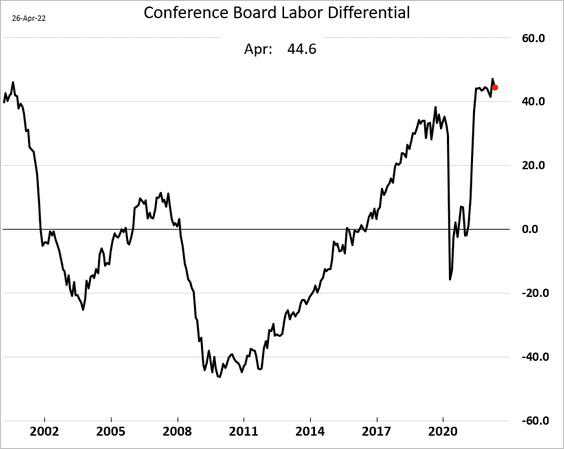 ---
55) The Q1 GDP growth consensus is 1.1%: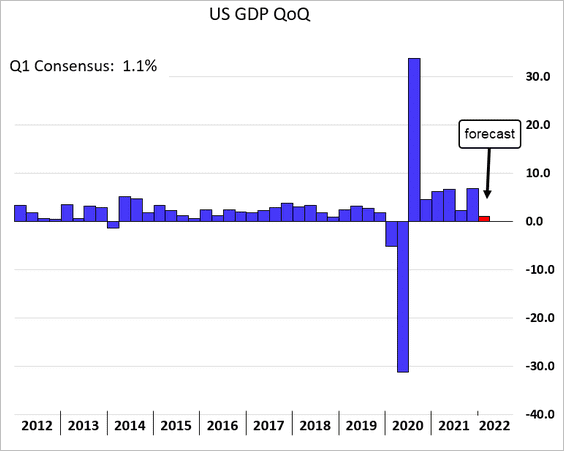 ---
56) Durable goods orders remained strong last month, pointing to vibrant business investment: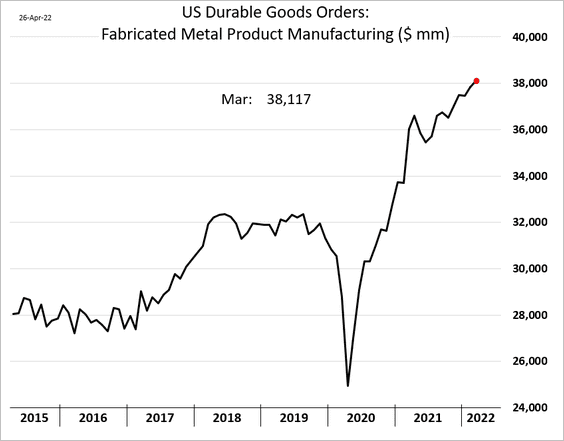 ---
57) US pandemic-driven demand for appliances is declining:
Whirlpool , the dishwasher and refrigerator maker. has cut its sales forecast and is reportedly looking into a review of an international division. Sales for the company fell 8.2% in the first quarter, compared to the same time a year prior.
---
58) Supply bottlenecks seem to have peaked: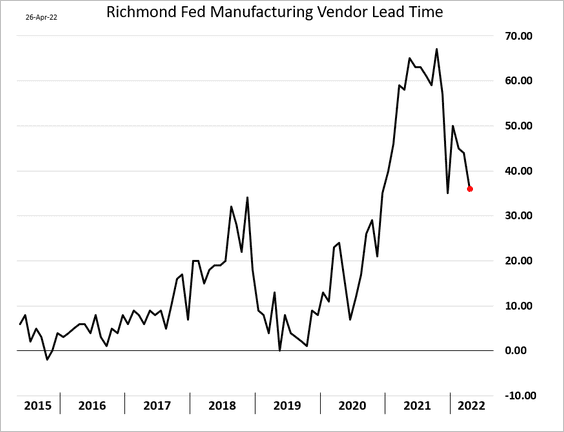 ---
59) 💰🏡 Housing affordability is taking a hit: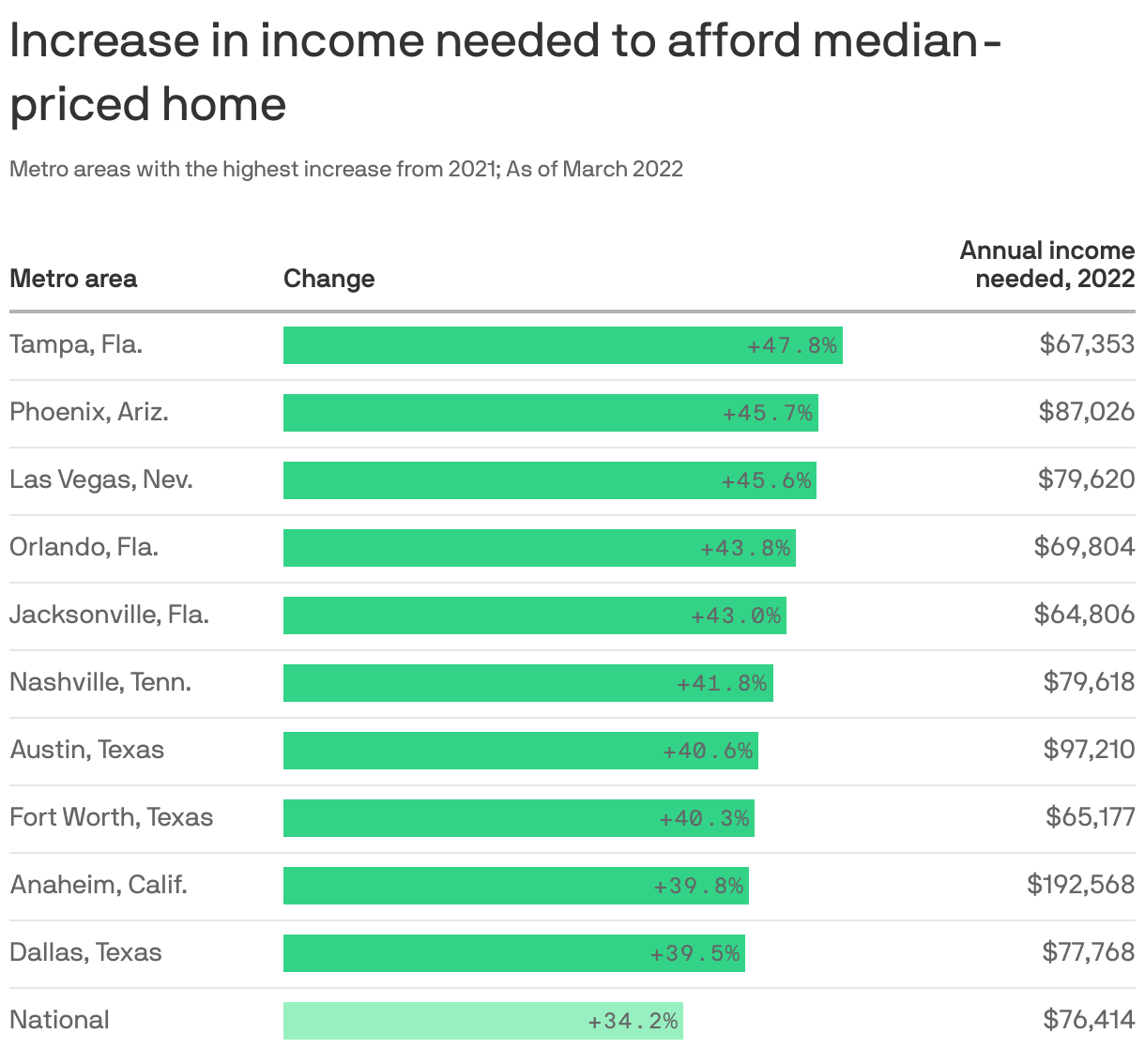 ---
60) This is good news: The share of adults making less than $50,000 per year who are worried about losing income over the next month hit its lowest point (12.4%) since May 2020: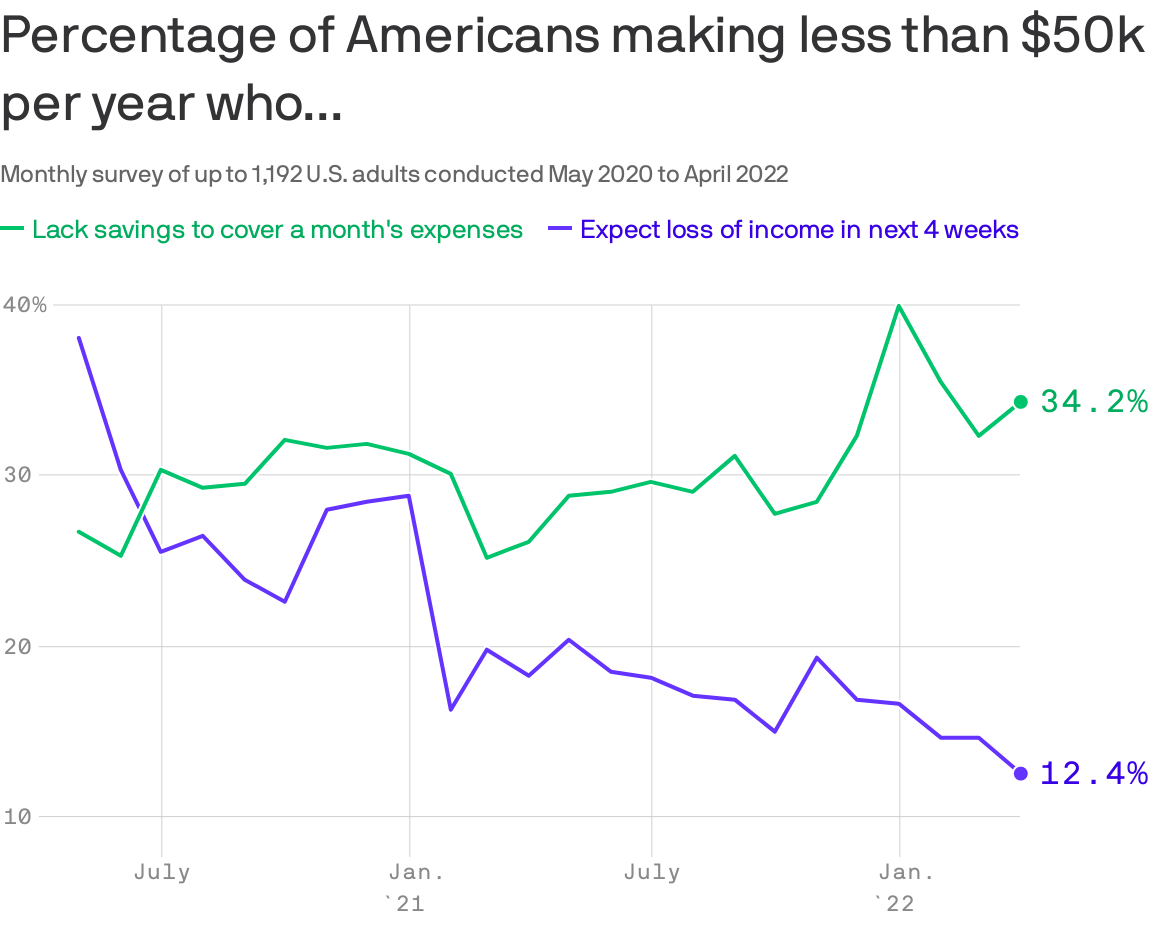 ---
61) China's port problems: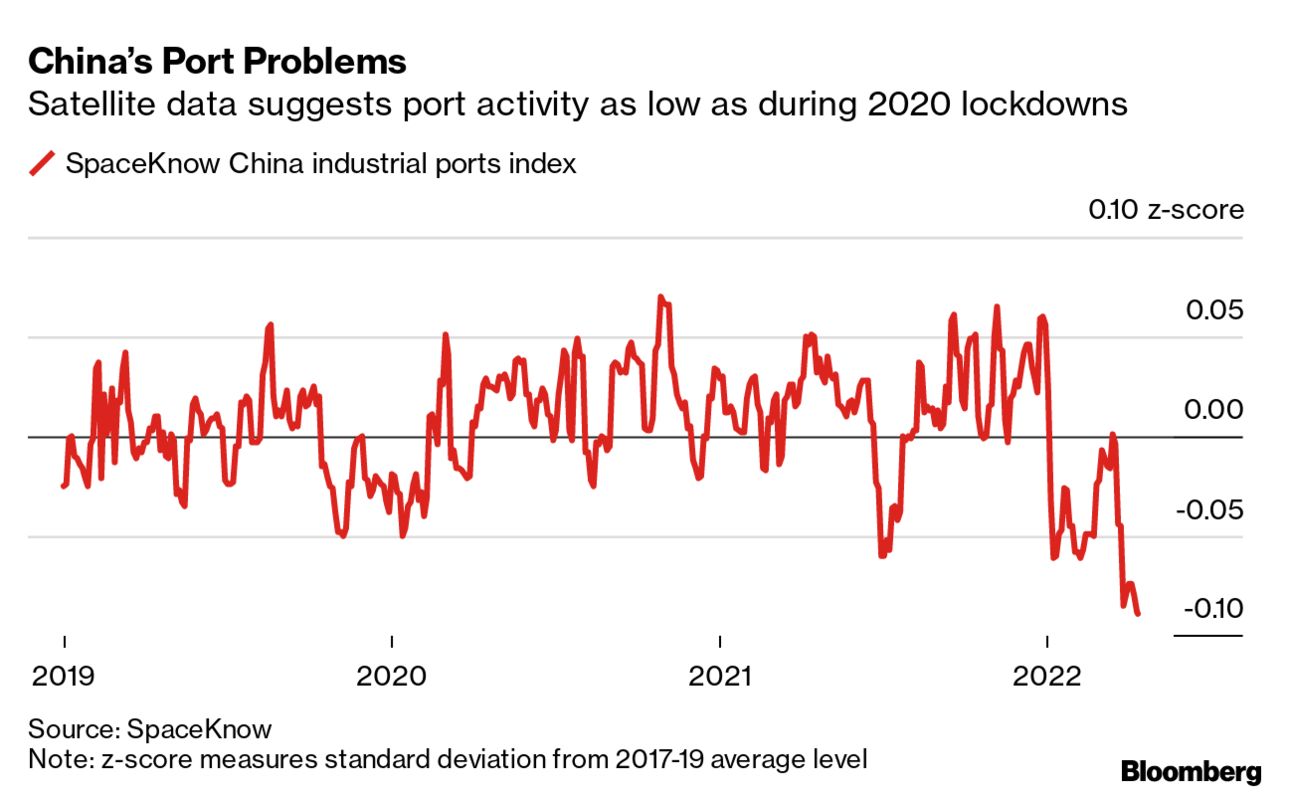 ---
62) 😷 58% of Americans caught COVID:
Blood tests show a majority of Americans (roughly 190 million people) — including 3 in 4 children — have been infected with COVID, according to CDC data released yesterday.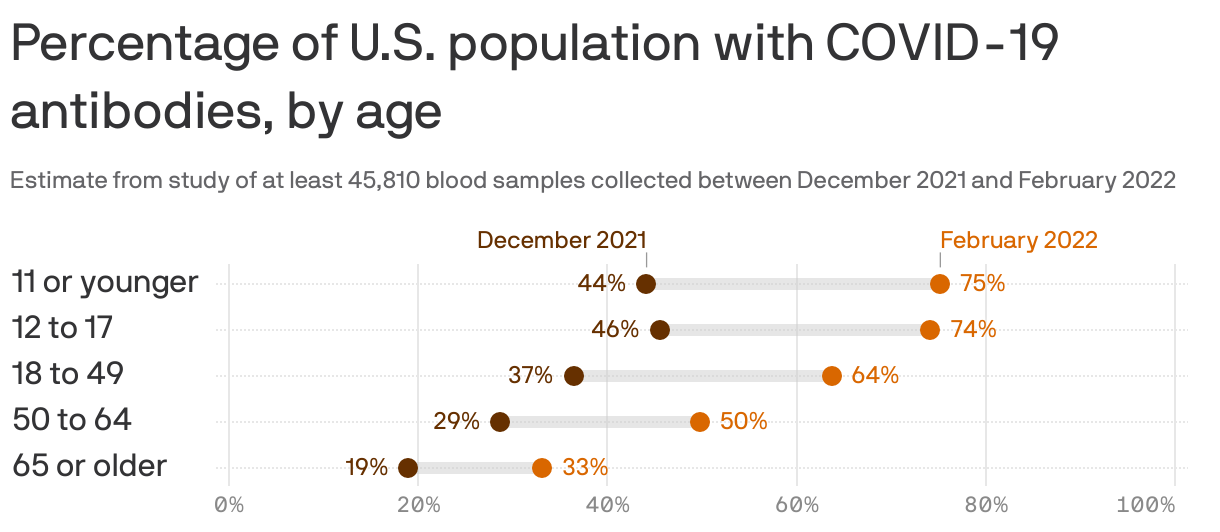 ---
63) Speed dating is back: Several new companies are catering to app-fatigued singles — in some cases, at a steep price.
---
64) Why US oil companies aren't riding to Europe's rescue: American energy production has only inched up because executives fear that oil and gas prices won't stay high.
---
65) Investing in business equipment: Orders for durable goods from US factories -- items meant to last at least three years -- increased 0.8% in March after a revised 1.7% decline in February.
---
66) Know your variants: A coronavirus 'cheat sheet'.
---
67) Energy prices are up, and so are green jobs: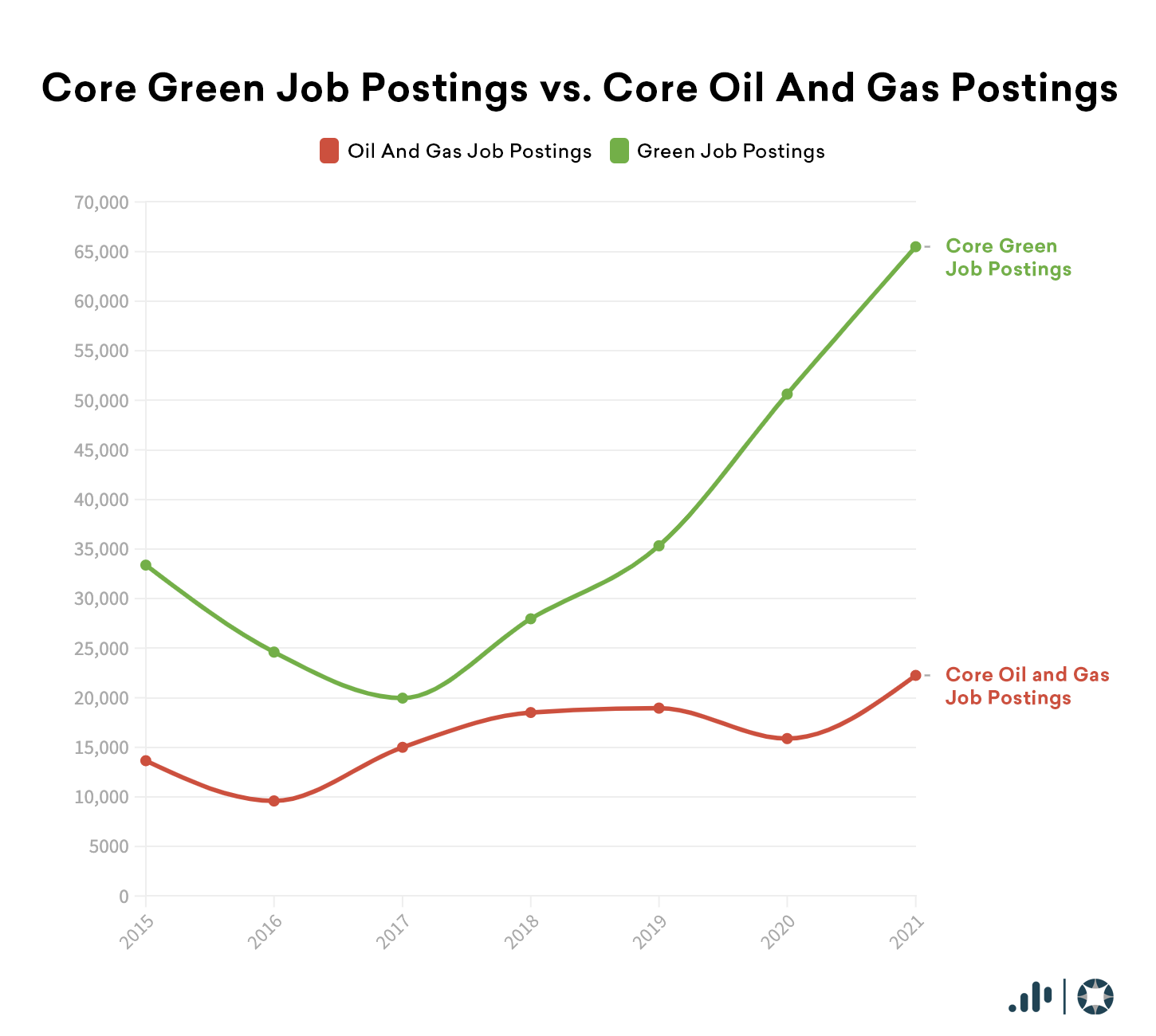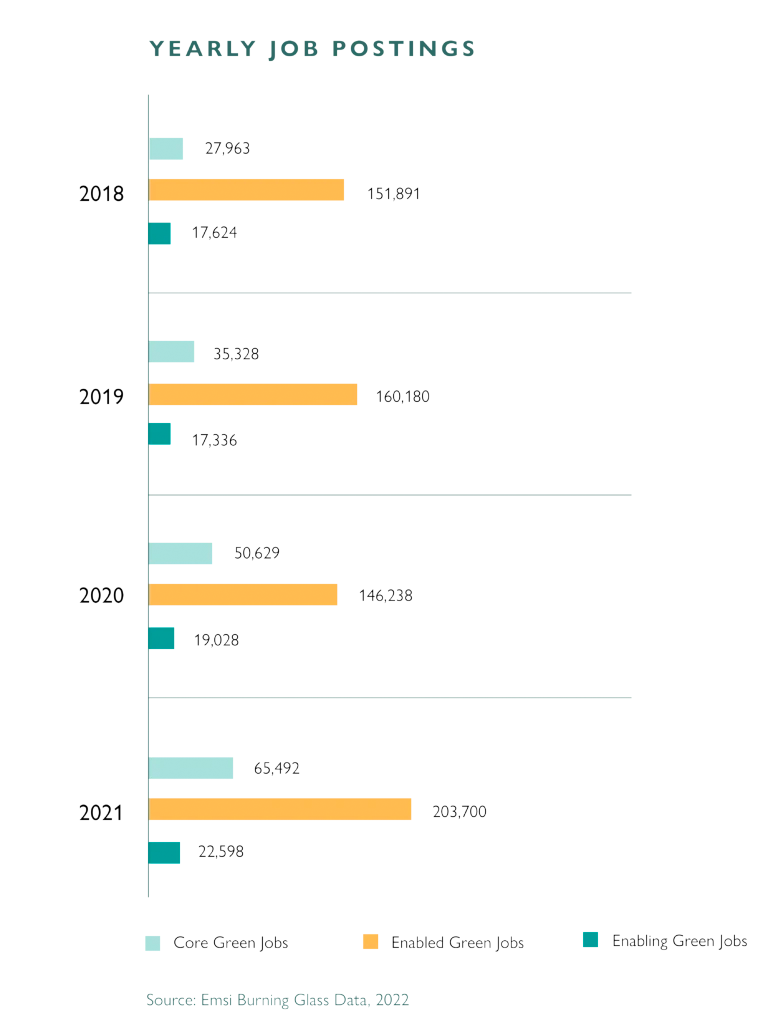 ---
68) In its latest Commodity Markets Outlook report, the World Bank predicts that energy prices will soar 50.5% this year from last, after nearly doubling in 2021. Food prices are projected to rise 22.9% this year after rising 31% last year.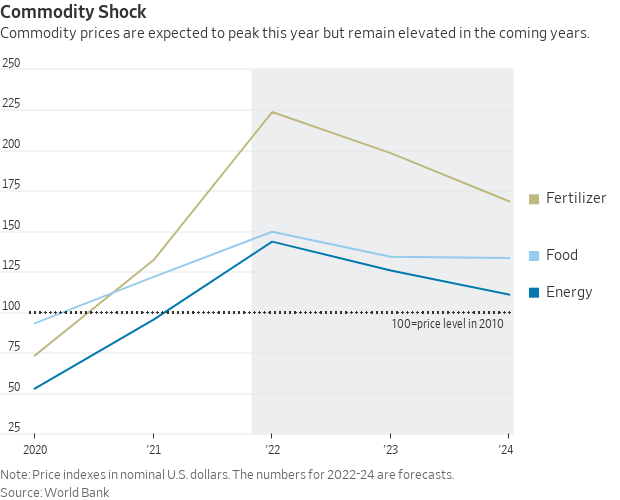 ---
69) The share of homes for sale that have not yet been started or are under construction is historically elevated, suggesting that homebuilders are taking longer both to start and finish projects amid supply shortages, rising material prices and competition for workers.
---
70) Changing summer plans: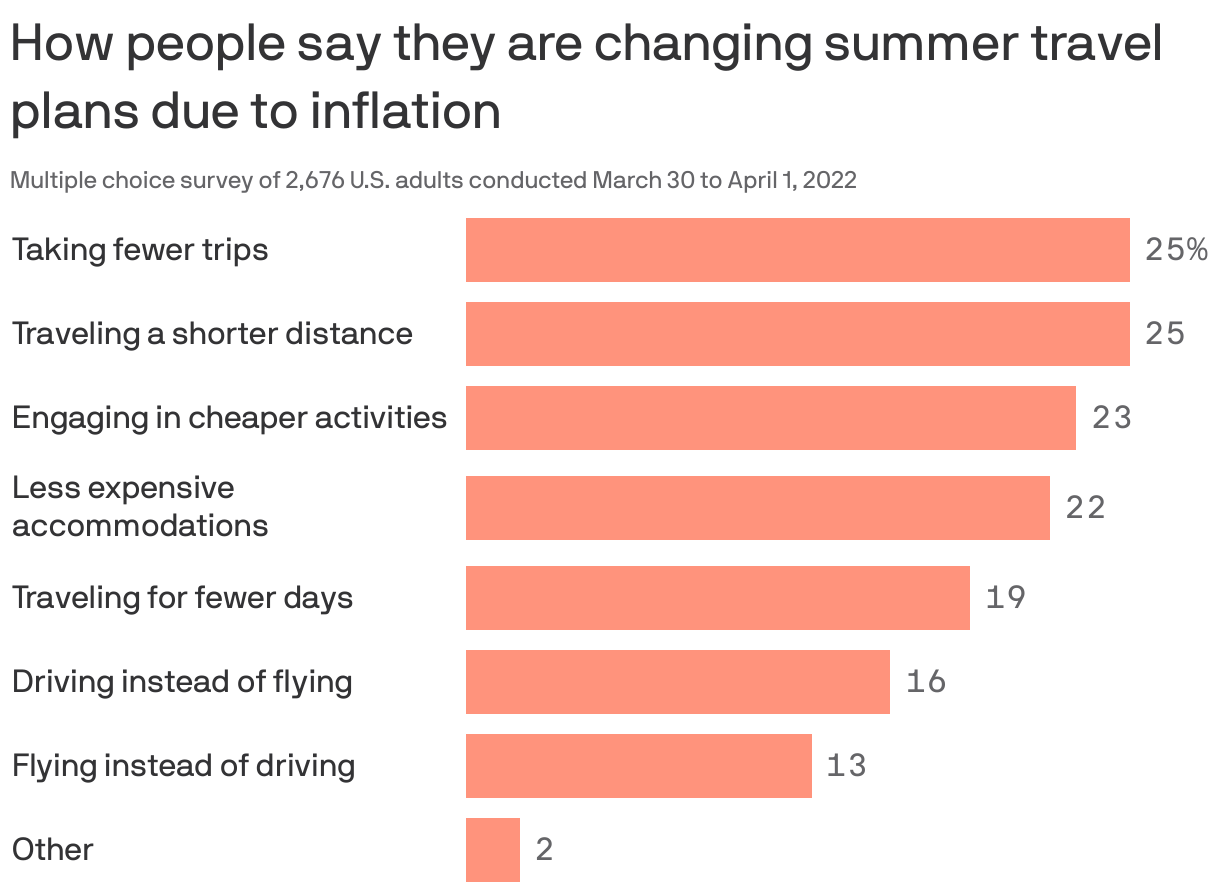 ---
71) The leading edge for successful B2B sales (and economic development) growth is digital. Here's why: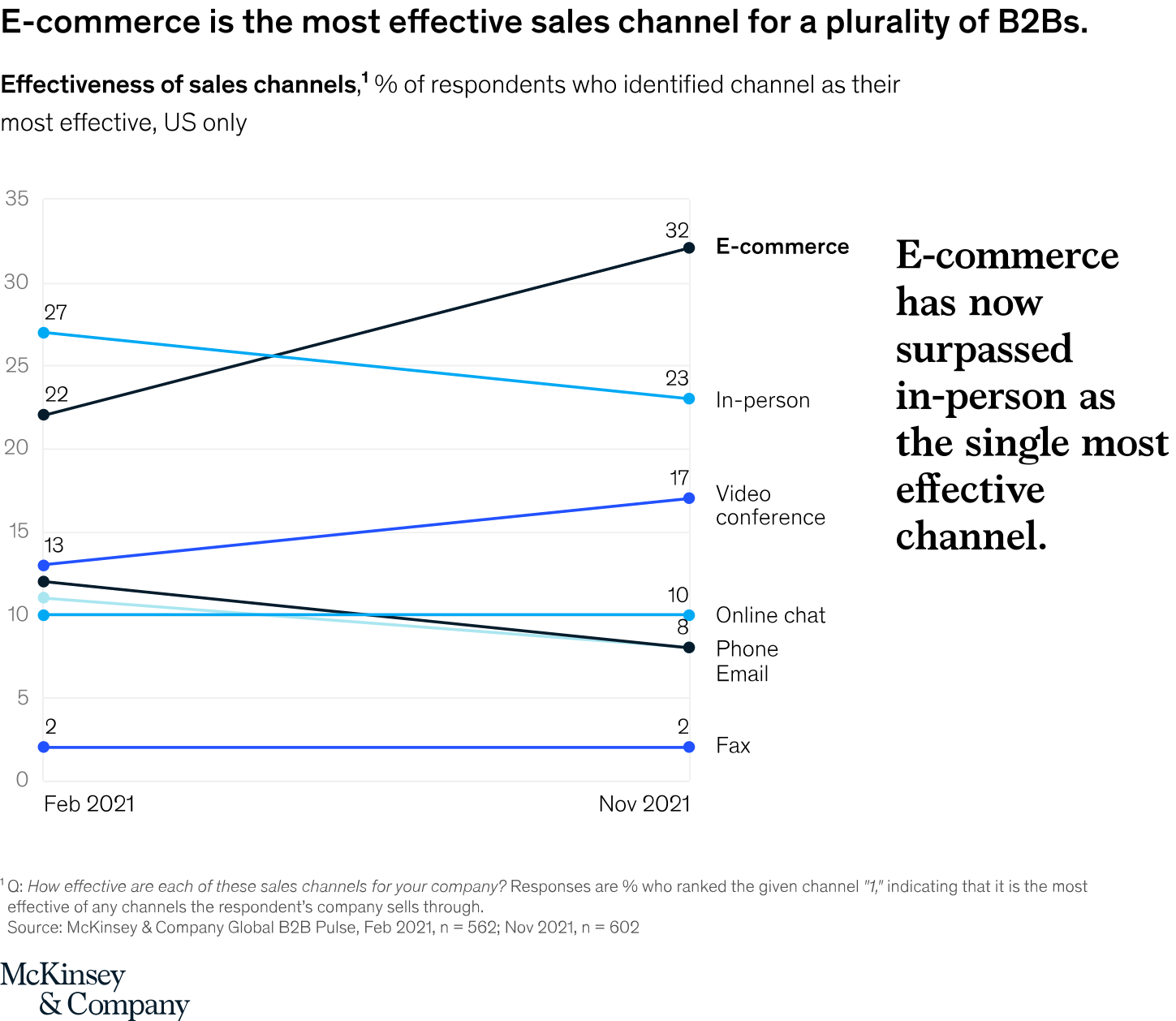 ---
72) This is not a buyer's market: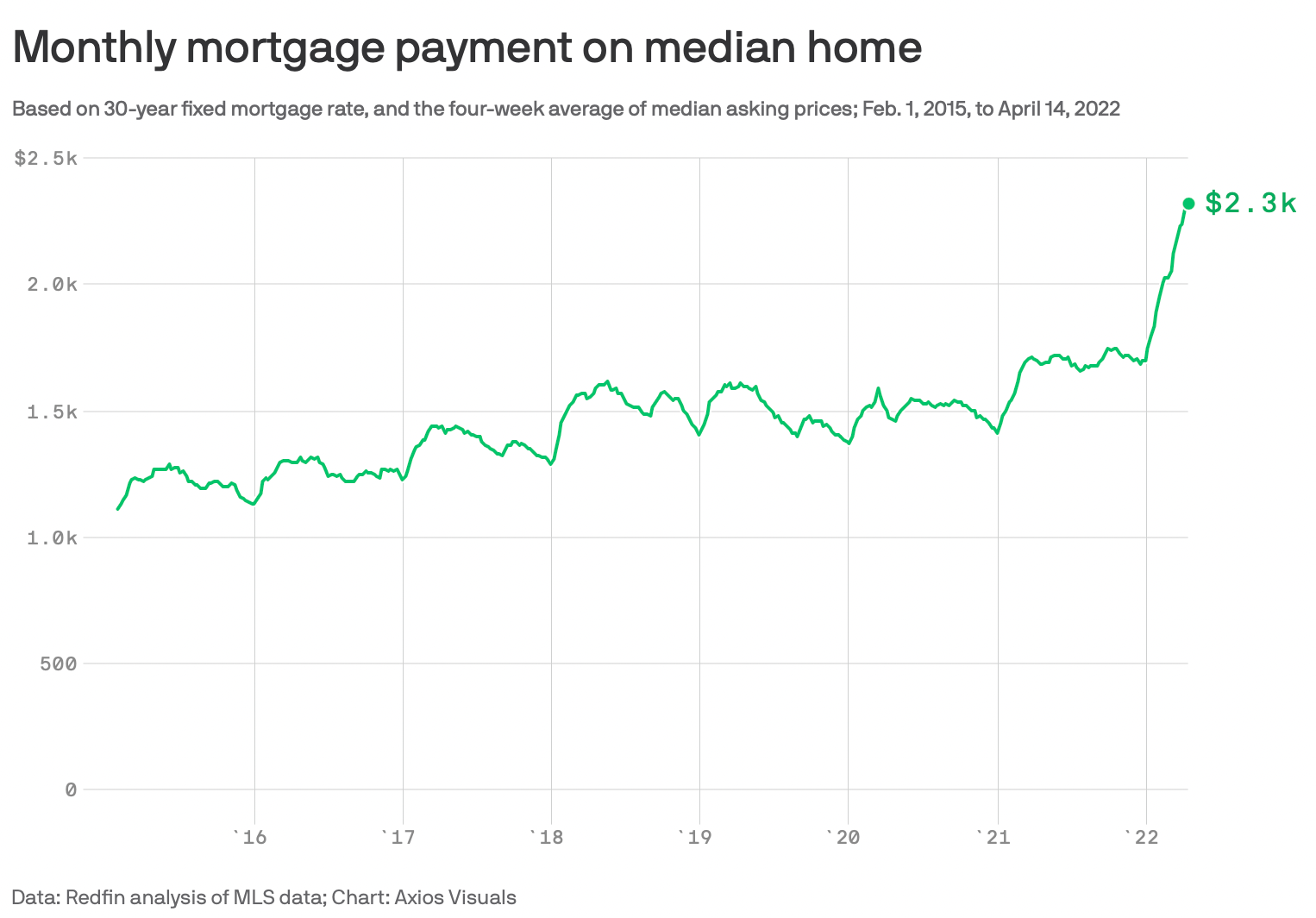 ---
73) LinkedIn is booming: LinkedIn continues to see 'record levels' of engagement, revenue up 34%. If you gave up on LinkedIn a decade ago, it's time to log back in. -Dane
---
74) Collapsing freight demand: Trucking demand is "near freight recession levels," according to Bank of America. Shippers' outlook on rates, capacity and inventory levels are matching attitudes not seen since May and June 2020, when pandemic lockdowns sent freight volumes into a historic decline.
---
75) How Scotland is leading the way in seaweed farming: A new academy dedicated to seaweed industry hopes to help the industry thrive in coastal communities around Britain.
---
76) Sweet and squishy as ever, the gummy universe keeps expanding: On its 100th anniversary, the colorful candy has evolved from dancing bears to a booming industry — and for some, a bountiful obsession.
---
77) Issue # 57 Economic Development and Developers in the News - Econ dev news from 94 economic development executives and organizations in 32 states, and Canada.
---
78) 11 Strategies to be a Better Economic Developer - Check out number four!
---
79) Podcast Episode # 47 - Economic Development in Arizona with Carrie Kelley - We hear from Carrie Kelly, the Executive Director of the Arizona Association for Economic Development.
---
80) 53 New Economic Development Jobs This Week - Econ dev jobs in 22 states, and remote: Managers, directors, executives, coordinators, specialists, planners, interns and more.
---
81) The 52 Things Economic Developers Need To Know This Week - The stories that Dane thinks you need to see from this week. April 21, 2022 edition.
Econ Dev Show Newsletter
Join the newsletter to receive the latest updates in your inbox.