6️⃣ Economic Development and Developers in the News
Economic development is about property, projects, places and people; but not always in that order.
Table of Contents
Happy Easter and welcome to the Econ Dev Show Newsletter.
Nearly every day we publish a collection of stories to make you smarter and a better economic developer.  If you missed any this week, here they are: Sunday, Monday, Tuesday, Wednesday, and Thursday
Also, if you enjoy this, be sure to read last week's issue of our newsletter: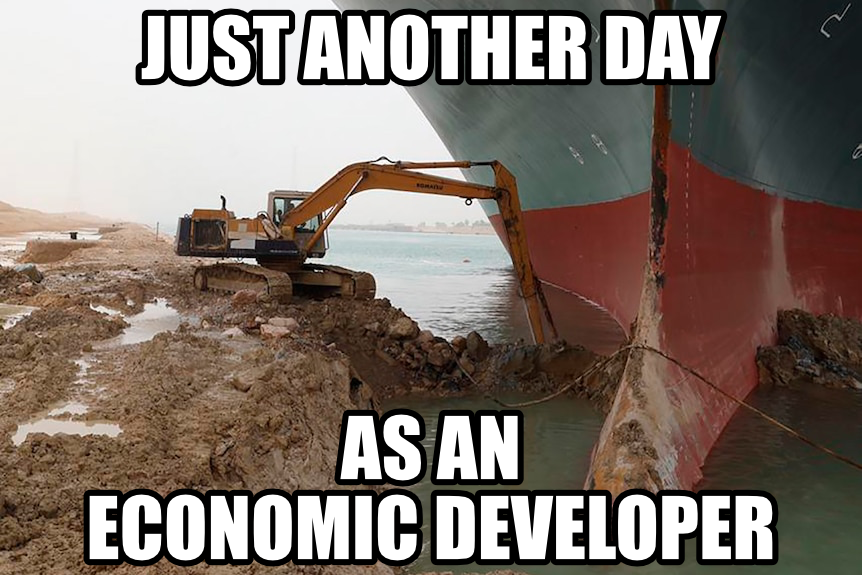 Finally, if you're not subscribed, please do so.  If you're already a subscriber, thank you, and please forward this to a colleague.
---
California
The coming year could shape what becomes of the largest undeveloped parcel of oceanfront land in Long Beach, the so-called "elephant lot" named for its prior use by the Ringling Bros. and Barnum & Bailey Circus, according to Long Beach Economic Development Director John Keisler.
Connecticut
IsoPlexis is on forefront of boosting jobs in Connecticut's bioscience industry, crucial to state's future economic growth.  "You keep attracting more and more quality people," Dan Wagner, senior managing director at Connecticut Innovations, a quasi-public state agency that invests in early-stage companies.
Florida
City of Orlando to prioritize new job incentives and more in economic recovery, said city Economic Development Director Brooke Bonnett.
Gainesville and county tap Waldo Road as east Gainesville's potential economic hub, according to GCRA Director Sarah Vidal.
Tech firm seeks $23M break in taxes, fees from St. Johns County: part of deal would include a 150,000-square-foot building for 'digital media operations' in the information technology field.
Georgia
Berkshire Hathaway HomeServices Georgia Properties named Wylly Harrison, the former director of the Georgia Department of Economic Development, as manager of business development.
The City of Chamblee recently announced that is has a new Economic Development Director: Laura Linman will serve the city as the new Economic Development Director, assuming the position immediately.
A Defense Department grant is giving central Georgia the chance to take a closer look at what is needed to sustain its military communities. In this Middle Georgia Innovation Project program, Future IQ, a global research and consulting firm, is looking ahead to define the technological trends that await while working to define and shape the future.
Idaho
Bannock Development to host economic development summit, according to  MiaCate Kennedy I, CEO of Bannock Development Corp.
Rocky Mountain Power presented the Four County Alliance of Southeast Idaho with $2,000 last week. the funds are used by 4-CASI to support economic growth and job creation in Bear Lake County, Caribou County, and Oneida County as well as Clifton and Preston in Franklin County, according to executive director Kathy Ray.
Illinois
The Peoria county board approved a Comprehensive Economic Development Strategy presented at a March 16 meeting by the Greater Peoria Economic Development Council's CEO Chris Setti.
Springfield Mayor Jim Langfelder doesn't know if or when he would bring in a replacement for Val Yazell, who was terminated as the city's economic development director Thursday.
Indiana
The Economic Development Coalition of Southwest Indiana, Growth Alliance for Greater Evansville, and Southwest Indiana Chamber have merged into the Evansville Regional Economic Partnership. The new organization will focus on new business attraction and retention, support of existing industry expansions, and advancing pro-economy public policies in the four-county region of southwest Indiana.  Co-CEOs are Tara Barney, formerly with the Chamber, and Greg Wathen, formerly of the Economic Development Coalition.
Anne Anderson, economic development director for the City of Hammond hopeful for a brighter 2021.
An economic development agreement is now in place for a massive project on U.S. 30 in Fort Wayne, but residents will have to wait a bit longer to officially learn the name of the 634,000-square-foot distribution center's tenant.
Promising investments set Gary up for strong year ahead, says Eric Reaves, Executive Director of Community Investment.
Economic development officials Greg Winkler, executive director of the Anderson Economic Development Department, and Rob Sparks, CEO of the Corporation for Economic Development, expect the economy to rebound this summer.
Kansas
Governor Laura Kelly has announced the Kansas Tourism Division will officially be part of the Kansas Department of Commerce.
The Bourbon County Economic Development Council, Inc., will start from scratch in its search for a full-time economic development director.  Gregg Motley, president of the BEDCO Board of Trustees said that Mark Vaux, a candidate who was offered the position, did not accept the offer of employment.
Massachusetts
Jeff Leiden, the new chairman of the Massachusetts Competitive Partnership aims to use its power to reshape local economy.
Michigan
The Lansing Economic Development Corporation's 2020 Annual Report says that more than $3-million dollars have been distributed to Lansing businesses since the start of the pandemic.
Detroit businessman Dan Gilbert and his wife, Jennifer Gilbert, pledged $350 million through their Gilbert Family Foundation to support economic development among Detroit's low-income neighborhoods and build up financial stability for struggling Detroiters.
Muskegon food processing incubator provides 'stepping stone' for small businesses.  The facility is operated by the West Michigan Food Processing Association with support from Greater Muskegon Economic Development, Muskegon Community College and Michigan State University.  With over 5,000 farms in West Michigan, GMED considers food processing and agribusiness a key industry to the region.
Minnesota
The Aitkin County Board of Commissioners has approved a job description for the existing vacant economic development coordinator position.  The candidate will "establish, implement, and administer a uniform economic development program to stimulate economic and retail development in Aitkin County through attracting new businesses to the communities, working to strengthen existing businesses, and promoting business and tourism."
Mississippi
Madison County is chasing some $2 billion in new economic development and is hopeful that some $29 million in recent investments in a new industrial site that will give the county a leg up in securing at least a portion of that business. The county, along with the Madison County Economic Development Authority, is working to attract new industry to its Megasite, a roughly 900-acre development-ready swath of property near Canton, according to MCEDA Executive Director Joey Deason.
Montana
The City of Hamilton has agreed to submit a joint application with Ravalli County to the Montana Department of Commerce for a Community Development Block Grant-Economic Development Program (CDBG-ED) grant, according to Julie Foster, Executive Director of the Ravalli County Economic Development Authority.
Nevada
Nevada OKs incentives for 9 companies moving or expanding into the state.
New Hampshire
A new state office created to promote New Hampshire's outdoor recreation assets has its first leader. Scott Crowder has been hired as the first director of the office of Outdoor Recreation Industry Development. The office was established in 2019 to expand the state's workforce and attract businesses by supporting the state's outdoor economy.
New Jersey
East Brunswick mourns the loss of the township's Economic Development Officer Kenny Armwood.
West Orange Council reinstates their Economic Development Commission.
New Mexico
Melinda Allen has been promoted by The New Mexico Partnership to president and CEO. Allen has served as the interim president for New Mexico Partnership since July 2020.
Economic development discussion gets new life in special session, according to Economic Development Department spokesman Bruce Krasnow.
New York
Philmont residents eye economic development opportunities.
Greenburgh hires economic development consultant. The Greenburgh Town Board approved the services of Grella Partnership Strategies for economic development-related consultation to the Town.
The Genesee County Economic Development Center is considering an application for $628,166 total in sales tax and property tax exemptions for a proposed solar project on 1,616 acres of land in Byron, according to President and CEO Steve Hyde
The Jefferson County Industrial Development Agency has applied for a $500,000 federal grant to help with startup costs for a potentially massive solar manufacturing plant that would be built in a proposed business park near Watertown International Airport.  David J. Zembiec, chief executive officer of Jefferson County Economic Development, said he's been working on several aspects of the project since it was announced.
City names new leadership for Buffalo Urban Development Corp.  BUDC's board appointed Brandye Merriweather president of the economic development agency, succeeding Peter Cammarata, who is retiring on April 1 – one day after he turns 64.
North Carolina
Robinhood Markets, Inc., a California-based financial services firm, will create nearly 400 jobs in Mecklenburg County, Governor Roy Cooper announced. The company will invest $11.7 million to establish an office in Charlotte focused on customer experience roles.  "With this announcement by Robinhood, Charlotte further cements itself as a leading city for the ever-growing fintech industry. Our city's strong concentration of talent creates an ideal pool for companies who are looking for innovative and skilled workers," said Tracy Dodson, Assistant City Manager and Economic Development Director.
The Wilkes Economic Development Corp. hosted a ground-breaking ceremony for the Town of North Wilkesboro's start of construction on a 500,000-gallon, 140-foot-tall water tank in the town industrial park, according to LeeAnn Nixon, president of the Wilkes EDC.
An ambitious five-year strategic plan for Anson County has been revealed and approved during the Anson Economic Development Partnership's annual meeting on March 18, according to John Marek, Anson EDP executive director.
Gene McLaurin, a former state senator, was recently appointed chairman of the Economic Development Partnership of North Carolina by Governor Roy Cooper.
Economic development officials say that $3.6 million earmarked for the extension of water and sewer infrastructure to 120 acres owned by New Hanover County will be a benefit to growing investment and jobs in the county.  The county contracted with Wilmington Business Development to do a project to study the site and due diligence work on the property, allocating funding to WBD to do the work.
Ohio
JobsOhio announces plan to invest millions taking ownership stakes in start-up companies.  JobsOhio President and CEO JP Nauseef described the new program as a "pilot program," which could mean it could be expanded in the future.
Cleveland Heights Economic Development team weathers a rough year with aplomb. "In my opinion, the program is working as intended," Cleveland Heights Economic Development Director Tim Boland stated in his 2020 annual report to City Council.
Appalachian Ohio State of the Region Conference to be held in May.
The Youngstown/Warren Regional Chamber aided in 24 completed projects in 2020 valued at more than $2.8 billion in investment, with another $1.2 billion worth of projects in the pipeline.
Edge Plastics Inc., a manufacturer of industrial injection molding products, plans to expand in Mansfield as the company continues to reinvest in its product offering.  "This is a major investment in Mansfield by Edge Plastics, and we were pleased to work with them throughout this process," said Barrett Thomas, director of economic development for Richland Area Chamber & Economic Development.
The Holmes County commissioners approved the recommendation of the Tax Incentive Review Council regarding the enterprise zone agreements the county has with a number of businesses, according to Economic Development Council Executive Director Mark Leininger.
North Olmsted council eliminates economic development manager position.  As part of its recently approved 2021 budget, City Council has eliminated the position of economic development manager, which for roughly the last decade has been held by Greg Myers.
Pennsylvania
PIDC, Philadelphia's public-private economic development corporation and master developer of the Philadelphia Navy Yard chooses top engineering firms for life science hub expansion, according to Kate McNamara, Senior VP at PIDC.
South Carolina
Governor McMaster issues executive order to recruit medical, pharmaceutical supply manufacturers to South Carolina.
Aiken City Council approves $200,000 in seed funding for Aiken Municipal Development Commission.
Tennessee
Governor Bill Lee, Department of Economic and Community Development Commissioner Bob Rolfe and Miller Industries officials announced today that the company will repurpose a portion its Greene County operations and create approximately 80 new jobs over the next five years.
Texas
San Antonio goes all in on $55 billion economic development plan.
How do you build and maintain $26 billion 'Ike Dike'? Bonds, taxes, eminent domain, says senate bill.
Nancy C. Windham, President and CEO of the Texas Forest Country Partnership, was appointed by Governor Abbott to the Stephen F. Austin State University Board of Regents. She previously served as interim Executive Director of the Lufkin Economic Development Corporation, President and CEO of Nacogdoches Economic Development Corporation, and Vice President of the Frisco Economic Development Corporation.
Cameron Cox, the Bastrop Economic Development Corporation's CEO whom the board fired March 12, filed a whistleblower lawsuit last week seeking unspecified damages against the city of Bastrop, the Mayor, the EDC and the corporation's chairwoman.
Texas high-speed rail could be first in line for funding from Biden, Congress.
For highest-paid real estate agents go West — West Texas, that is, and Midland.
The Forney Economic Development Corporation Board of Directors issued a letter to the Forney City Council on Thursday raising concerns about City Manager Anthony Carson, missed economic opportunities under his direction, and a culture and atmosphere of retribution and intimidation.  The letter states the EDC has been unable to secure a candidate, since the departure of former EDC Director Warren Ketteman and Specialist Stewart McGregor, who is qualified and a good fit for the Forney community. The City of Forney is now in its third round of applications to fill the vacated seats.
Utah
Governor Cox has a new economic vision aiming to turbocharge post-vaccination Utah
Vermont
The town of Poultney was awarded $75,000 to develop a plan that will connect its downtown to existing recreational assets, according to Sarah Pelkey, town economic development coordinator.
Virginia
Startup EDai and founder Sean Brazier gives AI jolt to economic development site-selection process.
Tazewell County announces new economic development director: Tim Danielson from the Midland Development Corporation.
Washington
The Economic Alliance Snohomish County announced Monday it is hiring Terrie Battuello as its vice president of economic development. Battuello has spent the past eight years with the Port of Everett as its chief of business and economic development.
Doug Lein, economic development manager for the city of Auburn since 2011, has retired.
West Virginia
West Virginia University serves as educational, economic leader for Mountain State, according to Javier Reyes, vice president for Startup WV.
Jennifer Pharr has been hired by the Charleston Area Alliance to oversee a new economic development program focused on supporting minority and women-owned businesses and entrepreneurs in Charleston and the Kanawha Valley.
Wisconsin
Chris Hardie CEO of 7 Rivers Alliance: Welcome visitors with open arms
Building on Wisconsin's existing venture capital network to retain and grow young companies was the subject of a March 24 webinar that discussed a proposal to create a "fund of funds" with a mix of public and private dollars.  The event featured Sam Rikkers, the deputy secretary for the Wisconsin Economic Development Corp., and Jason Fields, an early stage investor who recently became executive director of the Madison Region Economic Partnership.
Leaders defend Dodge County economic development agency: THRIVE president Vicky Pratt presented evidence of their work to those attending. Among the facts compiled for both Dodge and Jefferson counties are 197 investment opportunities managed, 31 projects wins — including business retentions in Dodge County – with more than 350 jobs impacted and $39 million invested. In 2021, THRIVE has logged 15 new projects and has 33 active projects carried forward from 2020.
Canada
Dillon Consulting has been hired to create a new economic development strategy for the Cape Breton Regional Municipality that will define targets for the next 15 years and create an environment attractive to businesses and entrepreneurs.
---
Thanks for reading!  If someone forwarded this to you, subscribe here.
Econ Dev Show Newsletter
Join the newsletter to receive the latest updates in your inbox.