6️⃣ Economic Development and Developers in the News
Economic development is about property, projects, places and people; but not always in that order.
Happy Easter and welcome to the Econ Dev Show Newsletter.
Nearly every day we publish a collection of stories to make you smarter and a better economic developer.  If you missed any this week, here they are: Sunday, Monday, Tuesday, Wednesday, and Thursday
Also, if you enjoy this, be sure to read last week's issue of our newsletter: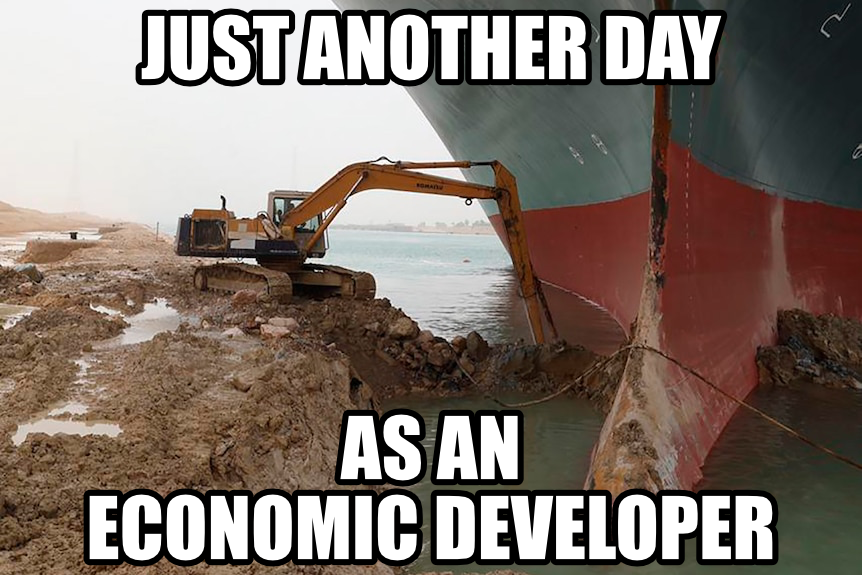 Finally, if you're not subscribed, please do so.  If you're already a subscriber, thank you, and please forward this to a colleague.
---
California
The coming year could shape what becomes of the largest undeveloped parcel of oceanfront land in Long Beach, the so-called "elephant lot" named for its prior use by the Ringling Bros. and Barnum & Bailey Circus, according to Long Beach Economic Development Director John Keisler.
Connecticut
IsoPlexis is on forefront of boosting jobs in Connecticut's bioscience industry, crucial to state's future economic growth.  "You keep attracting more and more quality people," Dan Wagner, senior managing director at Connecticut Innovations, a quasi-public state agency that invests in early-stage companies.
Florida
City of Orlando to prioritize new job incentives and more in economic recovery, said city Economic Development Director Brooke Bonnett.
Gainesville and county tap Waldo Road as east Gainesville's potential economic hub, according to GCRA Director Sarah Vidal.
Tech firm seeks $23M break in taxes, fees from St. Johns County: part of deal would include a 150,000-square-foot building for 'digital media operations' in the information technology field.
Georgia
Berkshire Hathaway HomeServices Georgia Properties named Wylly Harrison, the former director of the Georgia Department of Economic Development, as manager of business development.
The City of Chamblee recently announced that is has a new Economic Development Director: Laura Linman will serve the city as the new Economic Development Director, assuming the position immediately.
A Defense Department grant is giving central Georgia the chance to take a closer look at what is needed to sustain its military communities. In this Middle Georgia Innovation Project program, Future IQ, a global research and consulting firm, is looking ahead to define the technological trends that await while working to define and shape the future.
Idaho
Bannock Development to host economic development summit, according to  MiaCate Kennedy I, CEO of Bannock Development Corp.
Rocky Mountain Power presented the Four County Alliance of Southeast Idaho with $2,000 last week. the funds are used by 4-CASI to support economic growth and job creation in Bear Lake County, Caribou County, and Oneida County as well as Clifton and Preston in Franklin County, according to executive director Kathy Ray.
Illinois
The Peoria county board approved a Comprehensive Economic Development Strategy presented at a March 16 meeting by the Greater Peoria Economic Development Council's CEO Chris Setti.
Springfield Mayor Jim Langfelder doesn't know if or when he would bring in a replacement for Val Yazell, who was terminated as the city's economic development director Thursday.
This Content is for Free Subscribers
Already have an account? Log in