5️⃣ Economic Development is that Guy on the Tractor
That lone guy on a tractor trying to free the Ever Given is the most apt visual metaphor for economic development I've seen in a long time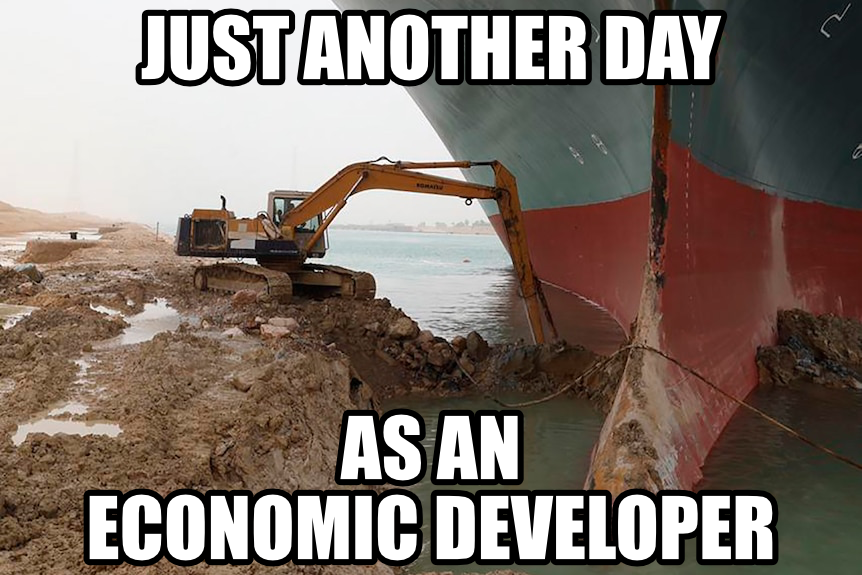 Table of Contents
"If you want to have good ideas, you must have many ideas." - Linus Pauling
Good morning economic development fans and practitioners.
Welcome to all of our new subscribers.  I'm glad to have you aboard!  (Our newsletter subscriptions have doubled in the past week.). My name is Dane Carlson, and I'm your host and publisher.
Seeing that lone guy on a tractor trying to free the Ever Given, stuck in the Suez Canal, is the most apt visual metaphor for economic development I've seen in a long time.  Whether it is moving inetractable boards,  communities, developers, or landowners, economic development on a daily basis feels like you against the world, doing the impossible in tiny movements, until finally the ship moves and commerce begins to flow.
Podcast update and Personal note: I'd hoped to have a podcast or two out by now, but my middle child is in the middle of six weeks of proton therapy, and it turns out that sitting in a waiting room or in the car are not the most productive places to record audio interviews.
In other news, both DCI's class of 40 under 40, and the list of new CEcDs came out in the last week.  Congrats to both those groups.  We hope to have up podcasts with many of them in the coming weeks.  
If you'd like to be a part of our podcast, please drop me a line.
Assorted Links
The assorted links posts are what I'm reading that day.  Some of it will only be useful to me, others should be of interest to you, and some will hit the sweet spot of being great for both of us.  Either way, I strive with these links to make you smarter every day and hope that you enjoy them.
Some highlights:
Is it a farewell to the handshake?
Is this economic development's next frontier?  Wanted: A public option for finding work in the gig economy.
How to assemble an economic development crew.
Bob Cook: Mexico – Part of the Solution for North American Supply Chain Challenges. Brush up on your high school Spanish, your next ED job might be in Mexico.
The great Grape-Nuts shortage of 2020 is over.  Also, Grape-Nuts to reimburse customers who purchased boxes on the black market.
Someone forget who their customers are: Site selector Dean Barber was invited to a webinar from a  statewide economic development org -- then he found out that they wanted him to pay to attend.
Here's the entire list:
Economic Development in the News
Tons of great news from around the country and across the planet.  Beginning this week, I'm going to start combining these into a single weekly post.
Jobs
Looking for a job?
Videos this Week
Video: How to Be an Economic Development Leader with Jeffrey Finkle
Video: The Fundamentals of Economic Development
Video: What is an Economic Development Officer?
If you missed last week's excellent explainer from Economic Development Winnipeg, here it is again:
Econ Dev Show Newsletter
Join the newsletter to receive the latest updates in your inbox.