62 Things Economic Developers Need To Know This Week
The stories that you need to see from this week. August 19, 2021 edition.
Welcome to everyone's favorite make you a smarter economic developer newsletter!  Thanks for reading!  If you missed any of our other awesome five week-day newsletters, I've included the last week's worth below.
1) Economic Development and Developers in the News - Econ dev news from 99 economic development executives and organizations in 44 states, Puerto Rico, the US Virgin Islands and Canada.
2) Get Personal in Econ Dev - When I first started in economic development: I thought that there was a hierarchy.  There's not.
3) Podcast Episode 15 - Dane Talks to Himself About the Econ Dev Show - Not content to to just do interviews, in this episode host Dane Carlson tries talking to himself.
4) Economic Development Jobs This Week - 21 new econ dev jobs in 13 states.
5) 45 Things Economic Developers Needed To Know Last Week - The stories that you need to see from this week. August 12, 2021 edition.
---
6) The evolution of economic development swag: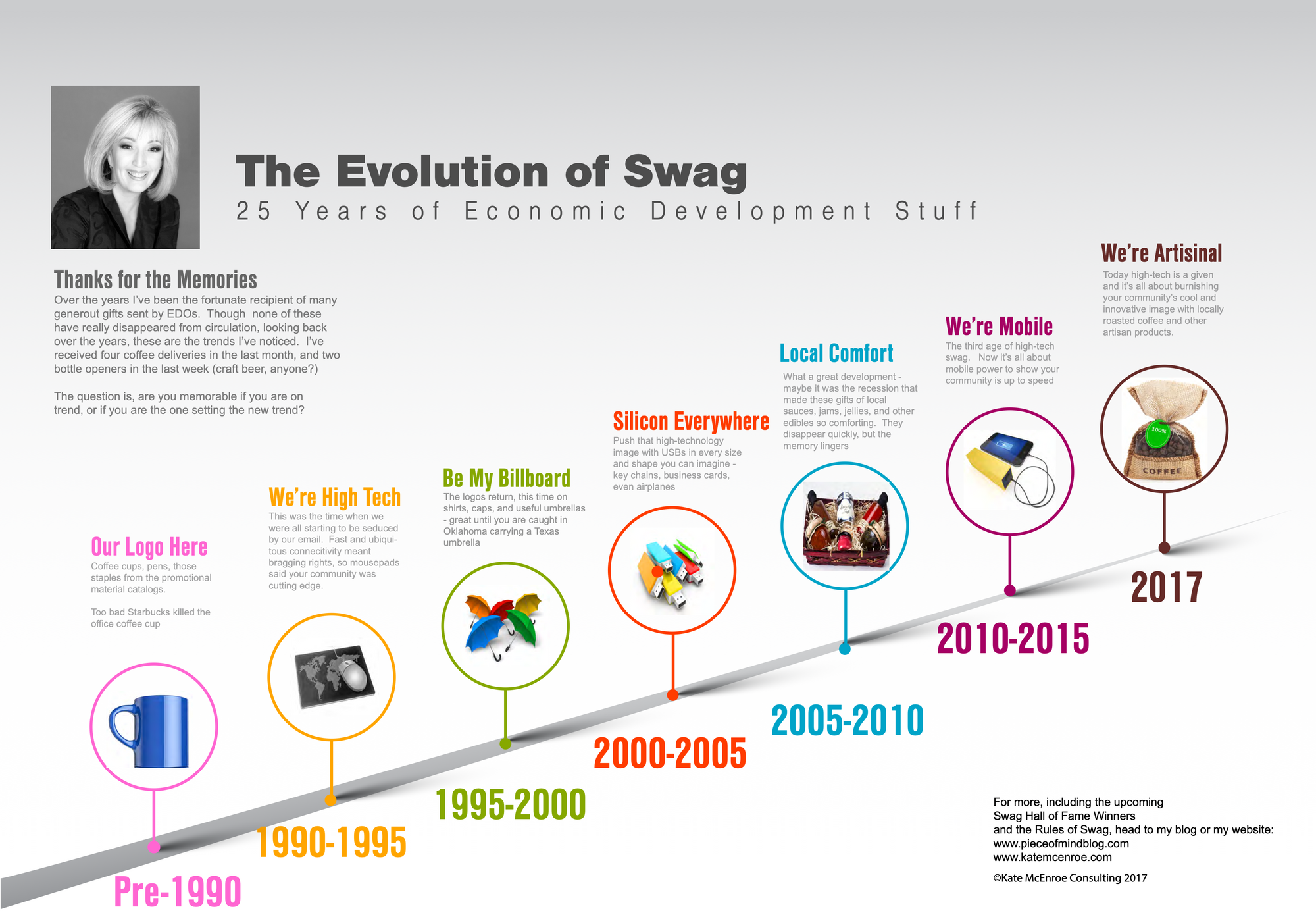 ---
7) The global economy is shrugging off the delta variant, for now: Even as delta risks loom, early signs from the third quarter show growth accelerating and inflation peaking after its recent jump, a reassuring sign for policy makers and investors worried about the risks of faltering demand and surging prices. GDP nowcast shows 1.8% expansion in Q3 as U.S. inflation peaks.
---
8) Will the pandemic productivity boom last? Fewer workers are making more stuff. If it lasts, that's big news for the economy of the 2020s.
---
9) Want to improve your career? Become an uncertainty killer: Reduce uncertainty for others as much as you can. Become an uncertainty killer. That's it. I guarantee that if you can make other peoples' lives more certain, they will sing your praises. You will build trust at every turn and create allies wherever you go. People may even publicly call you "a machine" and impart positive attributes to you that you may not actually have.
---
10) 🏡 There's a big shift hitting the housing market:
Home shoppers are finally showing some reluctance to pay top dollar.
---
11) The world in CO2 emissions: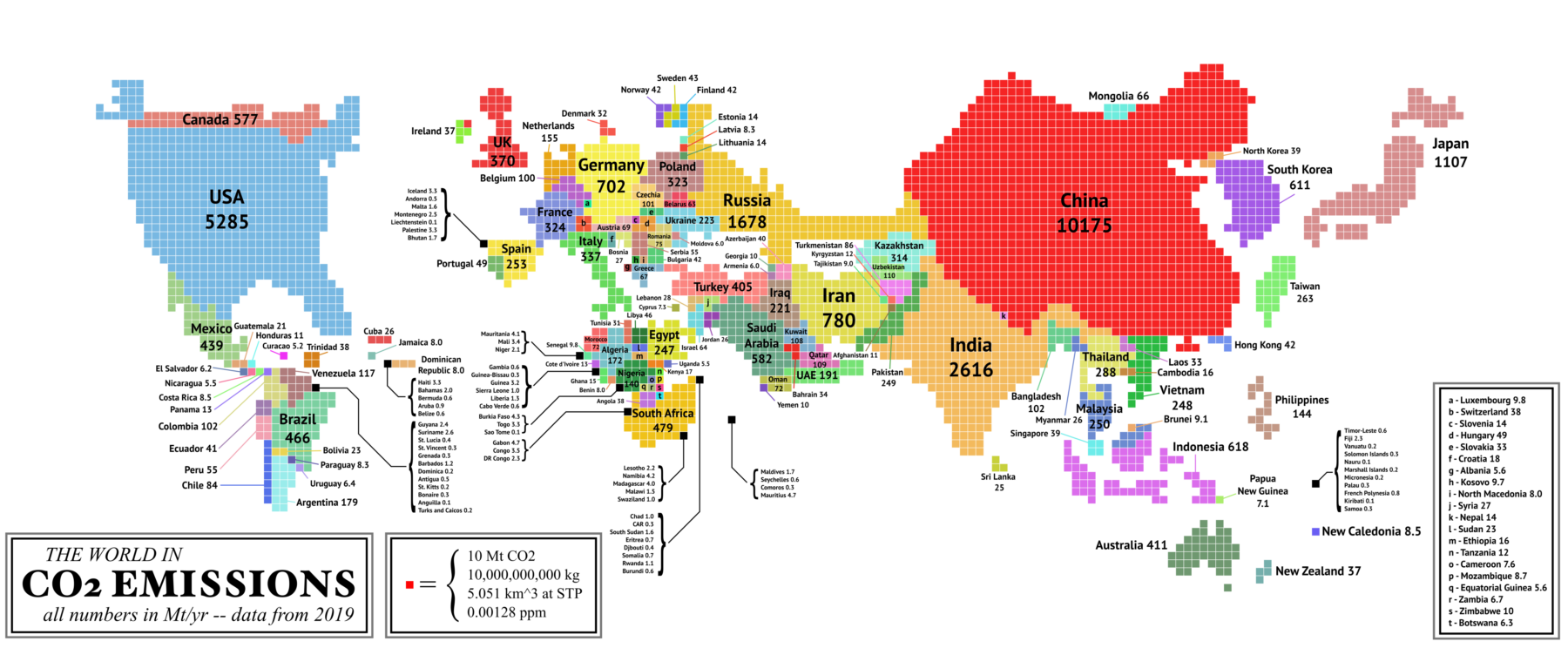 ---
12) Growing counties (and shrinking counties):
---
13) COVID-19's impact on the demand for manufacturing and production workers: The following map represents all metro areas with a population over 1 million shaded by percent change in unique job postings for production occupations over the last 90 days.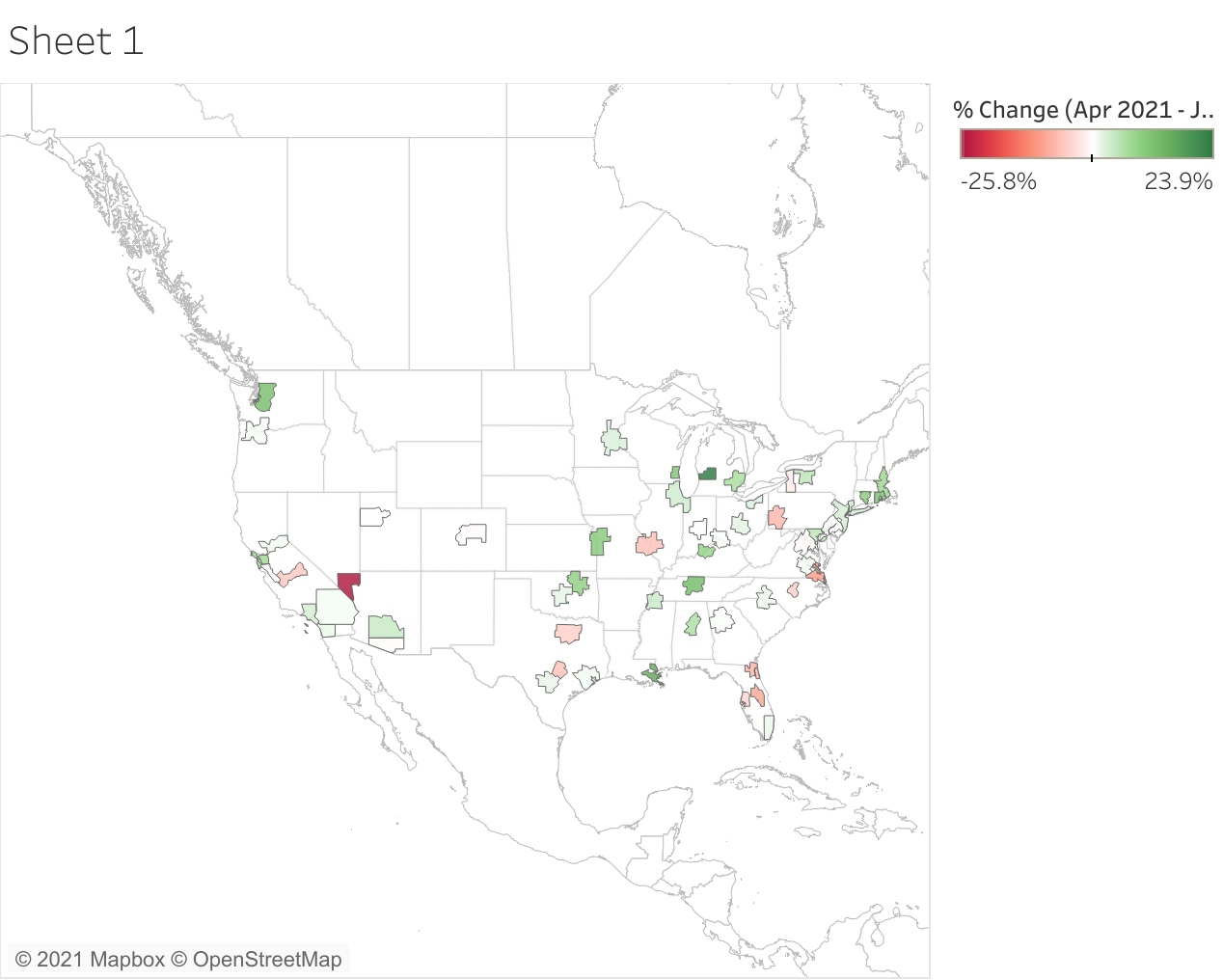 ---
14) A Californian experiment in the provision of guaranteed income returns its first results: It turns out that people like receiving free money.
---
15) Tech should remain an essential focus of economic developers: Start-up activity boosts opportunities for locations and under-represented groups.
---
16) Uh oh: These are the worst Consumer Sentiment numbers in a decade?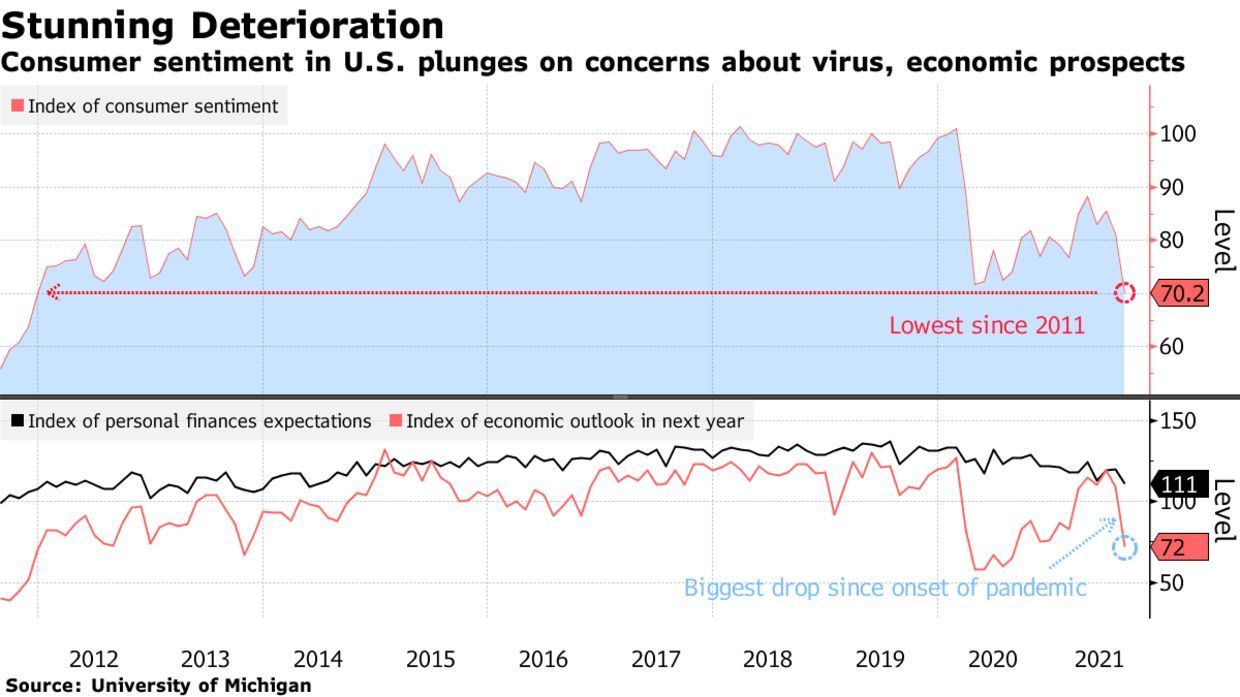 You can blame Delta.

---
17) There's a big shift happening in the housing market: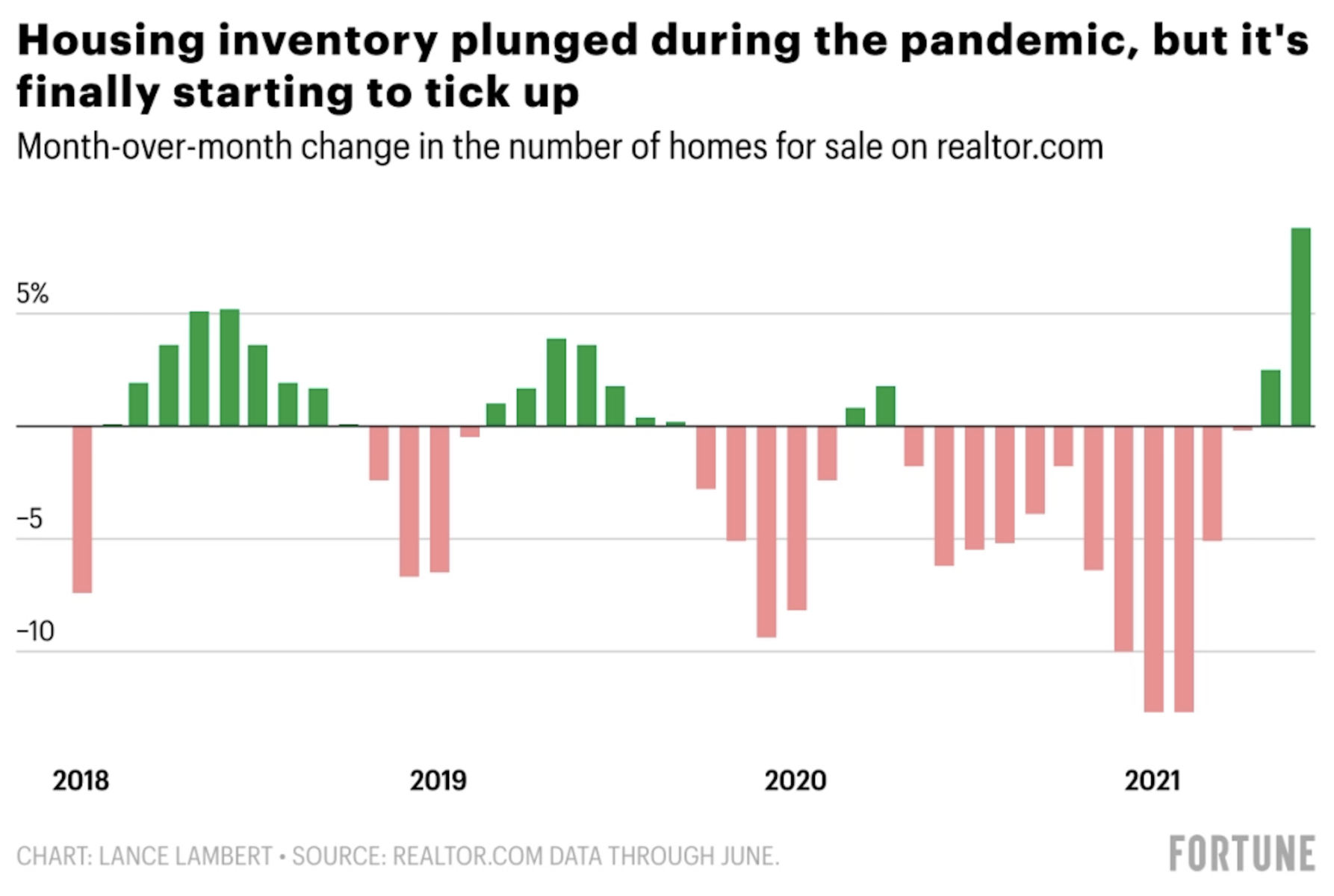 ---
18) And, finally: Visualize mining the ocean:

---
19) The great American dog shortage: Demand for pet dogs is far outstripping supply, and the imbalance is expected to worsen as young adults consider dog ownership a normal life stage (before kids), dog breeders face increasing regulation and the U.S. cracks down on illegal dog imports.
---
20) Critical care doctors are in crisis: Who's caring for the ICU physicians?
---
21) These people who work from home have a secret - they have two jobs: When the pandemic freed employees from having to report to the office, some saw an opportunity to double their salary on the sly. Why be good at one job, they thought, when they could be mediocre at two?
---
22) Pay cut: Google employees who work from home could lose money.
---
23) Touchless Taco Bell could be the future of drive-thrus:
There are four drive-thru lanes, three of which are dedicated to mobile or delivery orders.
The fourth lane is a traditional drive-thru, where you place your order at a kiosk and drive ahead for pickup.
Food is delivered from the elevated kitchen above via a proprietary lift system similar to the pneumatic tubes used by those bank branches.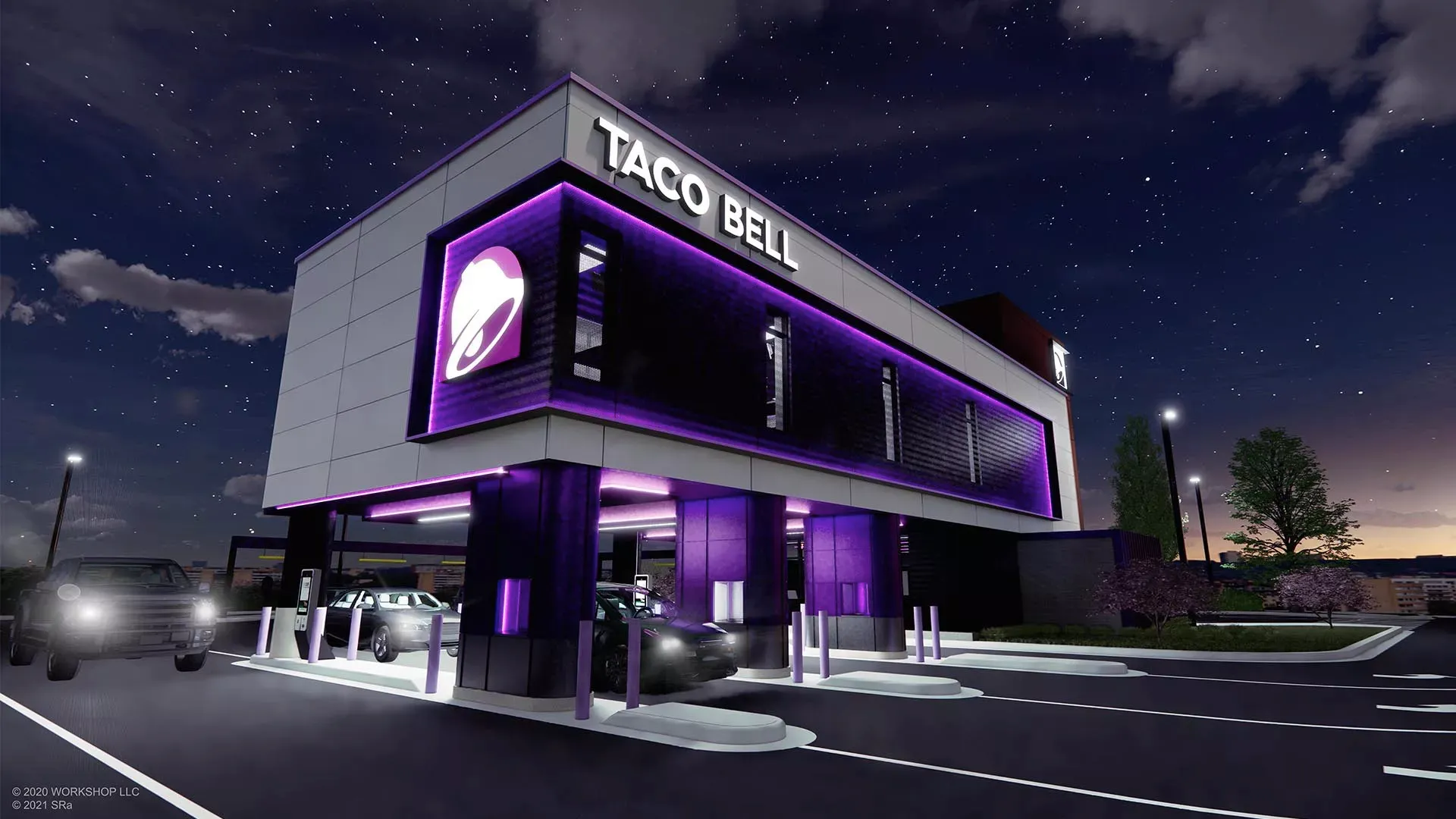 ---
24) The share of job posts that require a Covid vaccine were up 34% on Aug. 7 when compared to the prior month, according to Indeed data.
---
25) Wholesale prices jump 1% in July, matching June increases: Dimming hopes that the upward trajectory of prices would begin to slow.
---
26) Can we have prosperity without growth? The critique of economic growth, once a fringe position, is gaining widespread attention in the face of the climate crisis.
---
27) China coronavirus infection closes shipping terminal at massive Ningbo-Zhoushan Port as container rates soar: Operations suspended indefinitely at critical terminal servicing North America and Europe, but rest of Ningbo shipping port remains operational
---
28) Wall Street is the most bullish on stocks in almost two decades: About 56% of all recommendations on S&P 500 firms are listed as buys, the most since 2002.
---
29) Don't want a vaccine? Be prepared to pay more for insurance.
---
30) The auto industry is betting on sustainability: The automotive industry and its suppliers are realizing that they must invest in sustainability initiatives because of their importance to customers and shareholders alike.
---
31) Tyson Foods raises prices, scrambles to keep up with inflation: Tyson cannot increase prices for chicken and prepared foods fast enough to keep pace with rising costs for raw materials like grain, Chief Executive Donnie King said on Monday, after the company reported higher-than-expected quarterly earnings.
---
32) Delta is already leaving its mark on business: The Covid-19 variant is damping demand and raising costs after a spring and summer that seemed to promise a rapid recovery
---
33) Pandemic puppy boom fetches deals in Silicon Valley: It's raining cat and dog deals in startupland.
---
34) Creative packaging to sell low-carb buns 😀 💪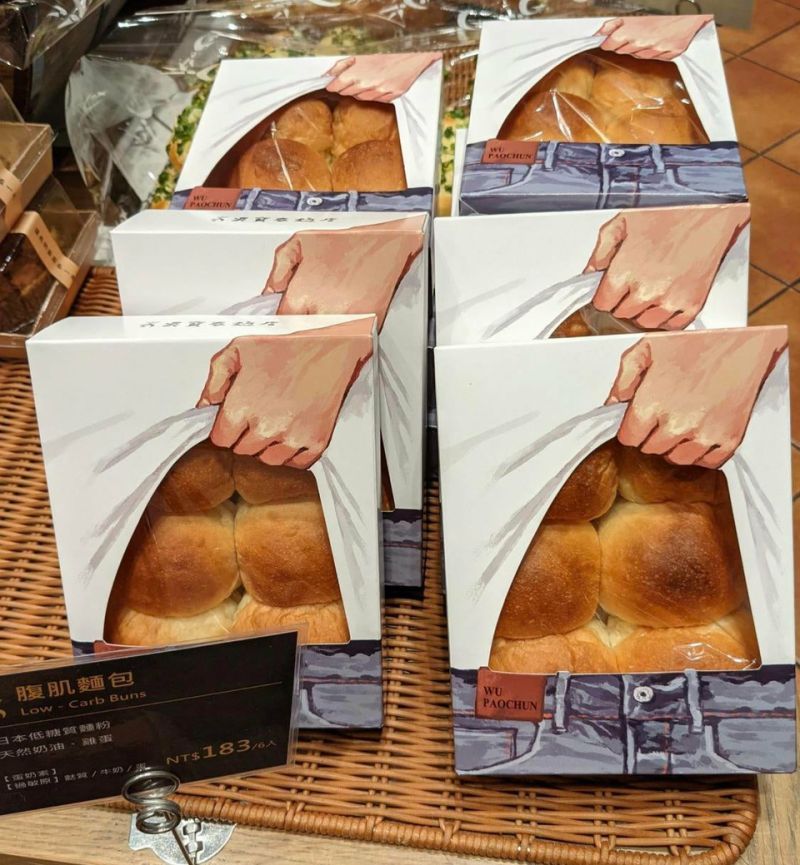 ---
35) An update on the current state of the US economy, COVID, and mitigation measures from Peter Zeihan:
---
36) For a clean ocean, just add oysters: From picturesque Mediterranean isles to New York's bustling harbor, strategically placed oyster colonies are depolluting the sea with ease.
I'm trying to promote oyster farming as economic and destination development in Galveston Bay.  I think it'd clear it right up.
---
37) What are stores even thinking with all these emails? Your inbox is now a shopping mall.
---
38) Visualizing US oil production by state: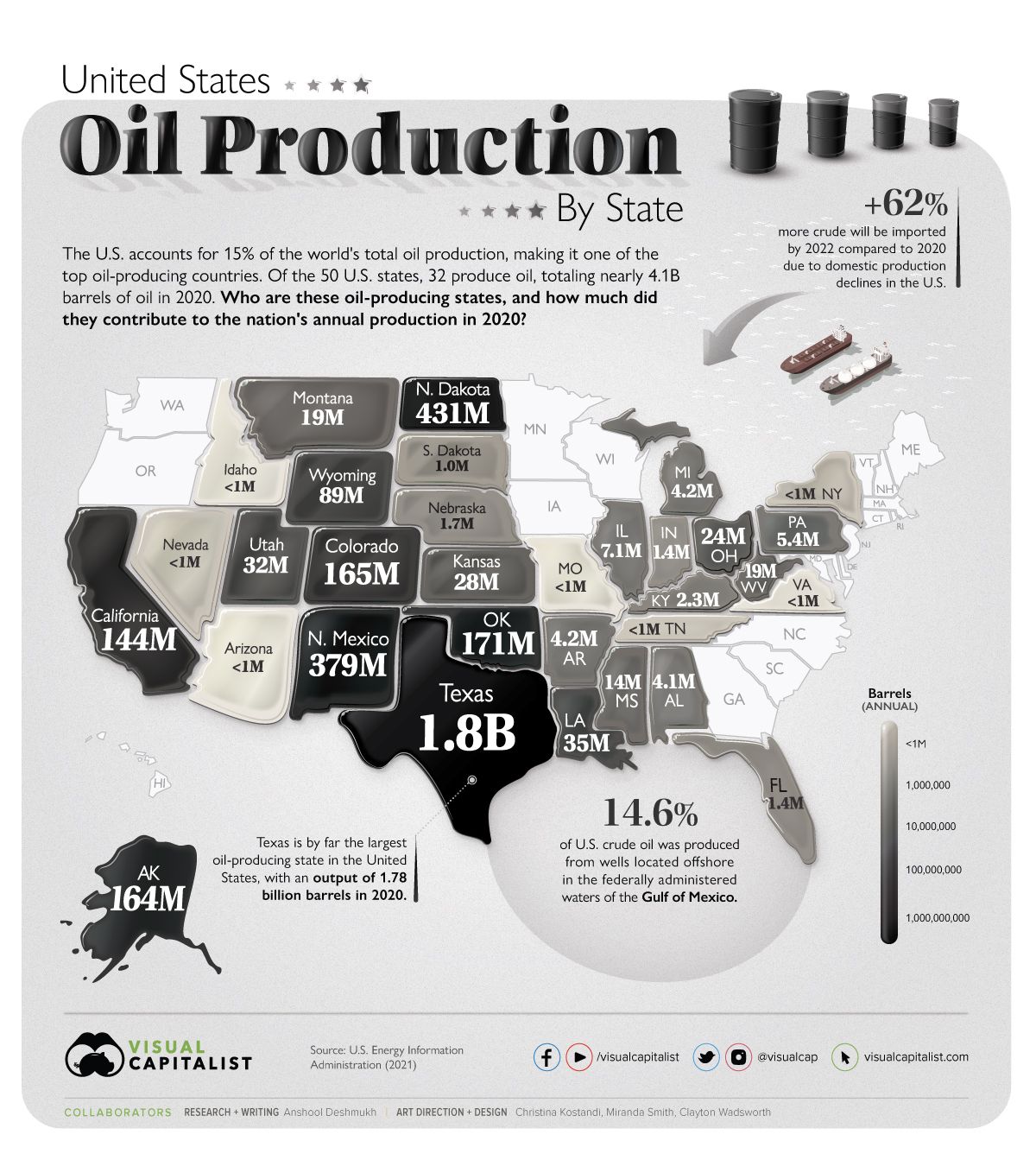 ---
39) Inflation at the gas station: Consumer prices up 5.4 percent in 12 months ended July 2021: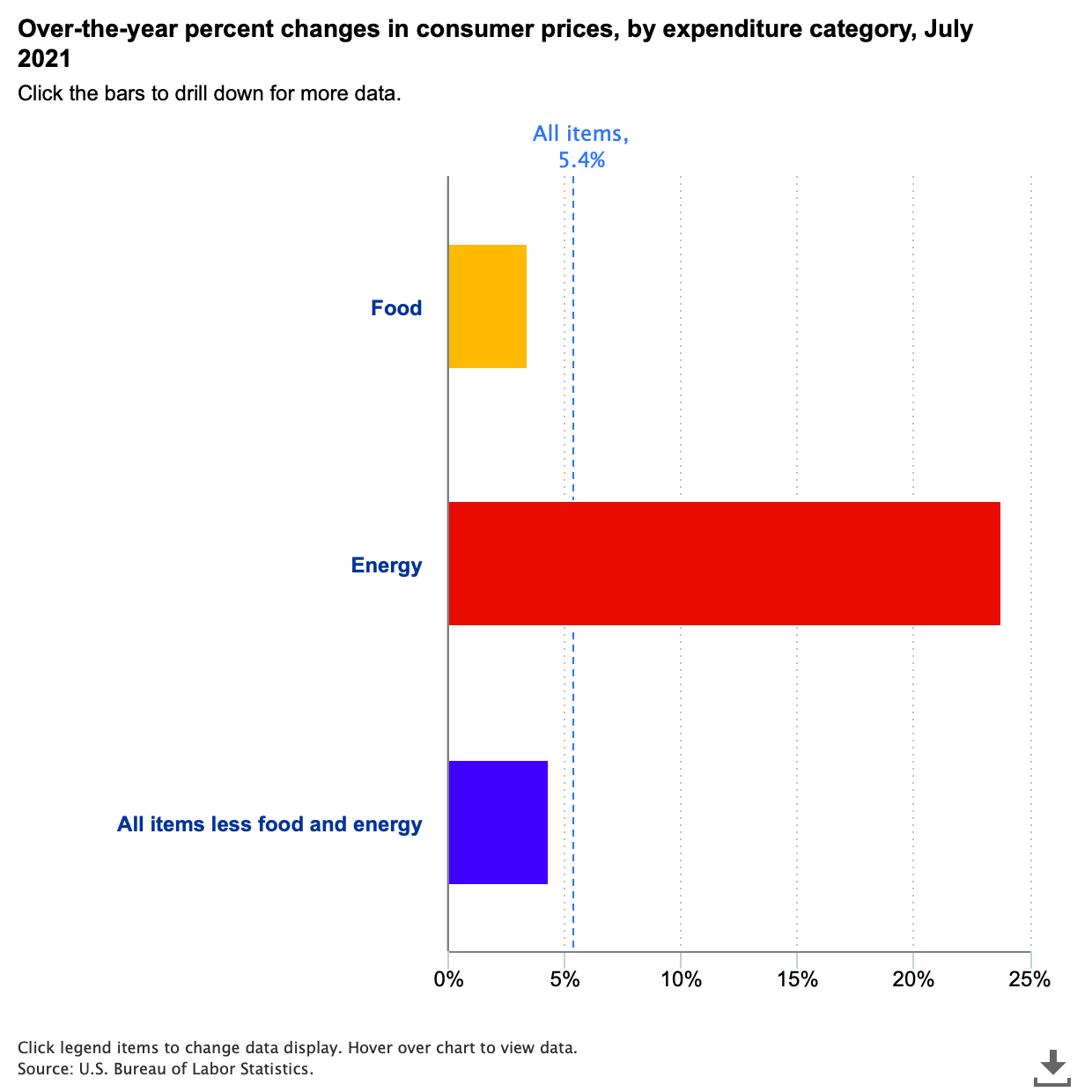 ---
40) A community-based approach to spur economic development for microbusinesses - Q&A with New Economy Initiative executive director Pam Lewis and associate director Don Jones:
If a community has some funds to support small business, where should the earliest investments be made? Is it directly to the small businesses, or is it to the business support organizations? Or is it something else?
---
41) Fastest growing cities, worldwide - none of them are in Europe or the Americas: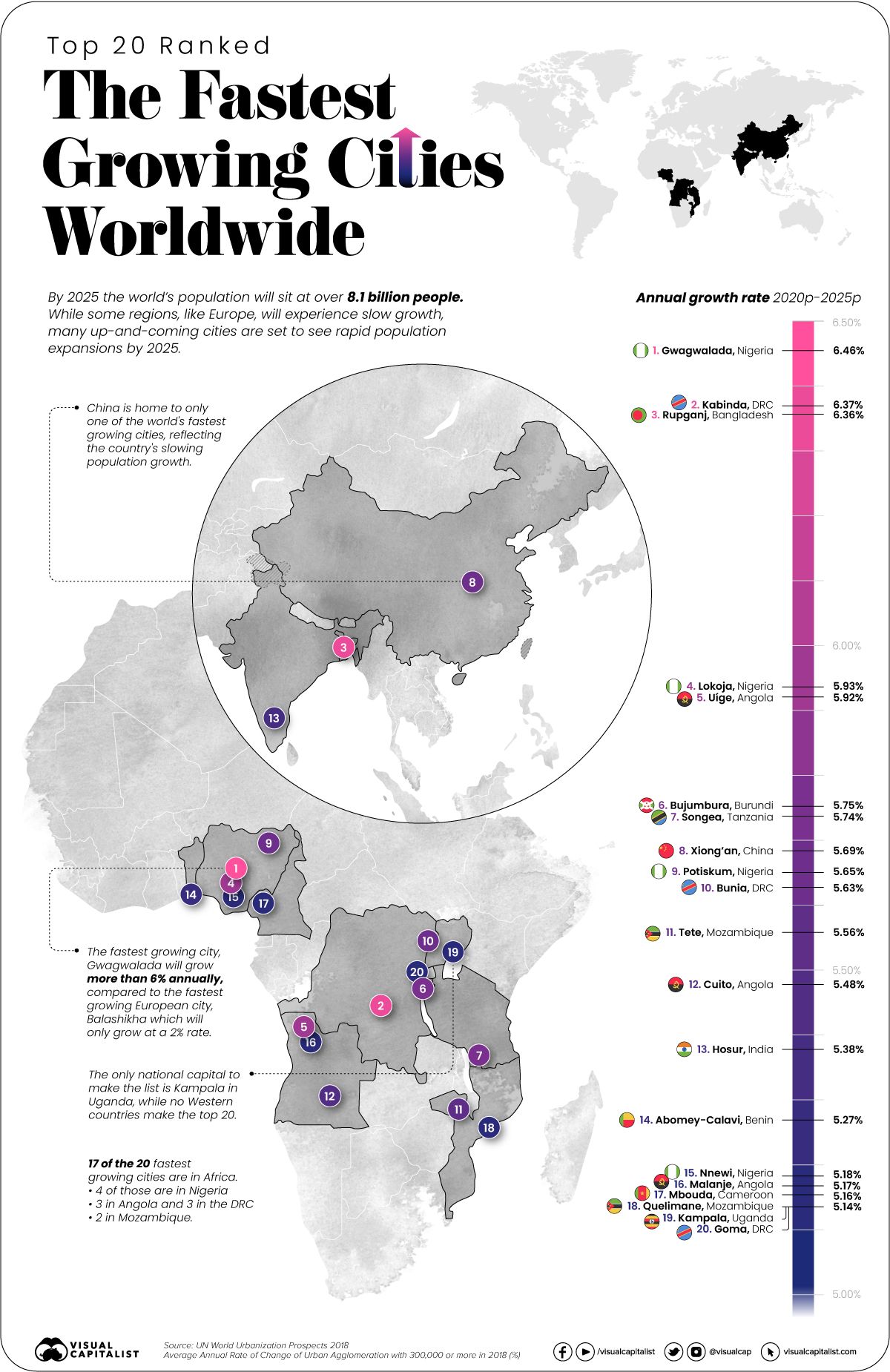 ---
42) This town is the first in the US to ban new gas stations – is the tide turning?  A movement in California seeks a moratorium on new pumps – and a transformation of the US transportation system.
---
43) Perfection, the enemy of good:
PERFECTION says: I don't want to run because I won't be able to get further than a mile without coughing up a lung…I don't want to swim because my breaststroke is laughable and I can't engulf air properly on my side strokes…I don't want to exercise this morning because my energy levels are weak and it'll be a poor showing
GOOD says: I got up. I showed up. I owned the action, not the outcome.
---
44) What's next for America's workforce post-COVID-19? After a year of change, employee priorities are shifting on location, benefits and skills.
---
45) Changes in job post duration due to COVID-19: How many days it takes to fill positions, is an indication of how hard it is for employers to find qualified candidates: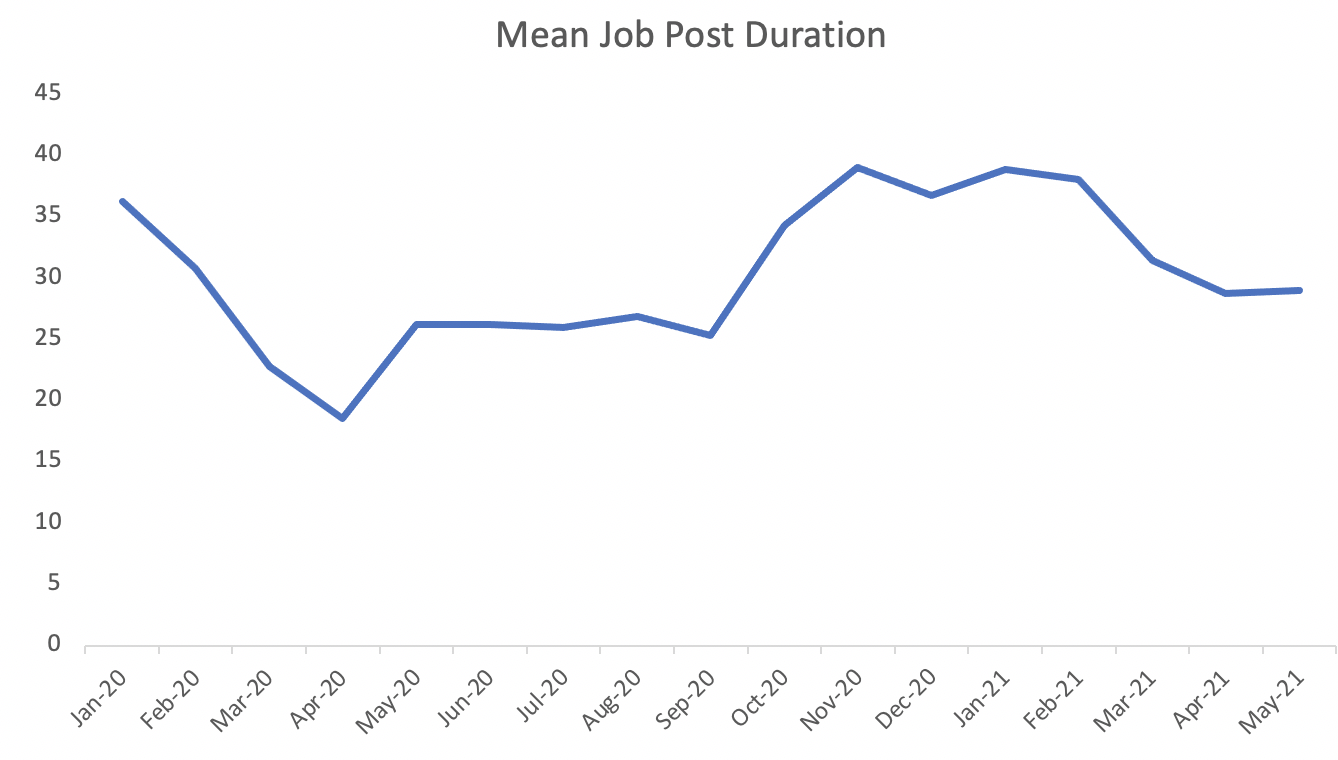 ---
46) Investors clean up in car wash space: Drawn in by quick returns, newcomers should focus on customer service --- or get hosed.
---
47) There is a misguided emphasis on youth in entrepreneurship: Are young founders more likely to build successful companies? New research suggests that this is not the case. Instead, the authors of Age and High-Growth Entrepreneurship have found that the most successful founders are middle-aged.
---
48) The North American investment sales market is powering back to normal, a positive sign after a year of uncertainty. Multifamily and industrial remain the top investment choices by volume.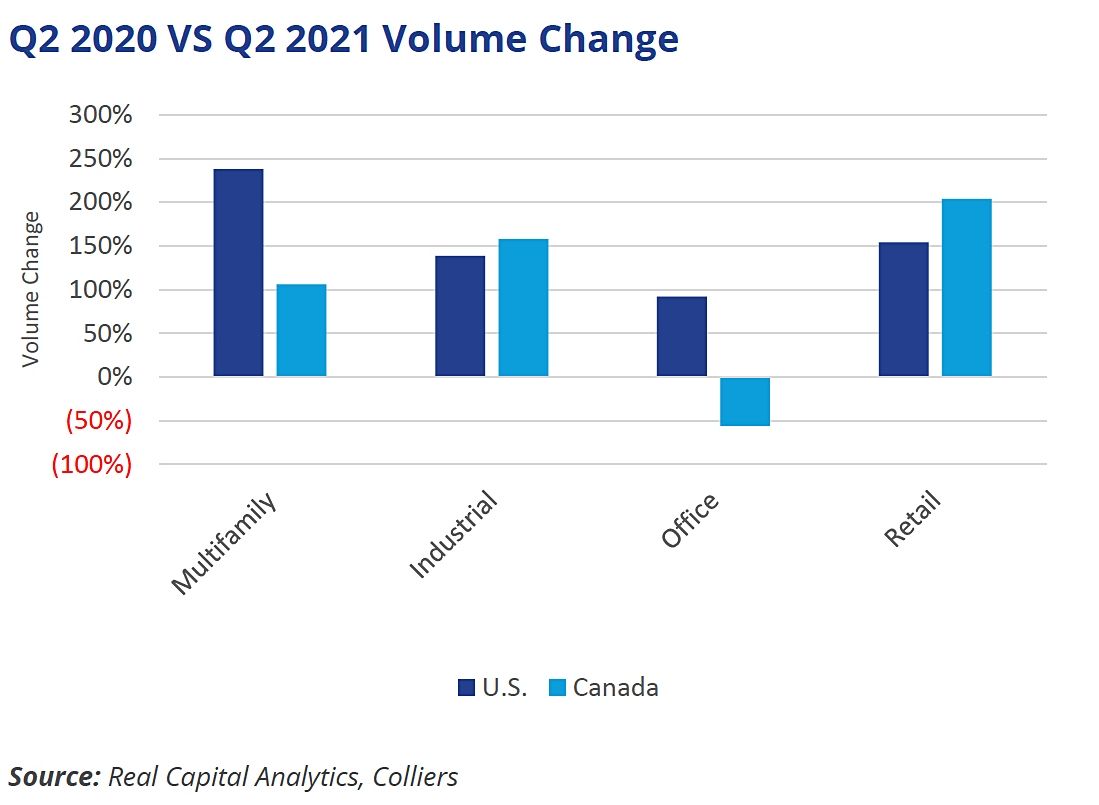 ---
49) An excellent take, as always, from Peter Zeihan about the unceremonious end to the war in Afghanistan: The return of American narcissism.
---
50) Why the global economy is unraveling: Global supply chain logjams and global credit/financial crises aren't bugs, they're intrinsic features of Neoliberalism's fully financialized global economy.
---
51) U.S. container-ship bottleneck off Los Angeles near its all-time record.  This does not bode well for Christmas: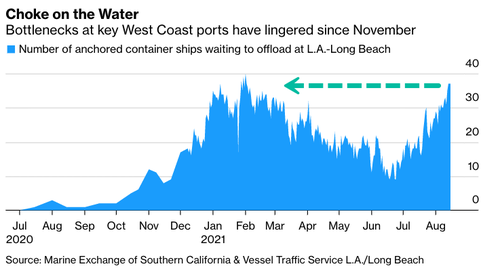 ---
52) Industrial Production has just now finally gotten back to pre-COVID-lockdown levels: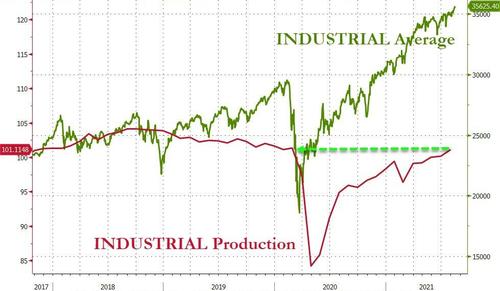 ---
53) U.S. homebuilder confidence crashed to 13-month low in August: The NAHB/Wells Fargo Housing Market index declined 5 points to a reading of 75 this month, its lowest level since July 2020, from 80 in July. Economists polled by Reuters had expected the index to remain unchanged from the month prior.
---
54) More shortages. This time at school: bus drivers, counselors and substitute teachers, and ketchup packets.
---
55) Why the productivity boom isn't over: One disappointing quarterly reading aside, there are reasons to expect productivity, and hence the economy, to keep growing.
---
56) We need to build our way out of this mess:
Many of our country's problems are reducible, in one way or another, to the fact that we have lost the imperative to transform the physical world. While the soft technology of the internet has marched forward, development of real stuff — of steel and concrete — has slowed, hampered by laws that privilege the status quo.
---
57) "How to remember what you read", because consuming information is not the same as acquiring knowledge. No idea could be further from the truth.
---
58) I try to stay abreast of this topic because I want to do lunar economic development in my old age: The future of commerce in space.
---
59) California tax incentive's success is in its failures: Even though half the companies winning the credit aren't able to keep their promises.
---
60) If you need a refresher, listen to a repeat from March 2020: The Site Selectors Guildpodcast on the the impact of COVID-19 on manufacturers and supply chains.
---
61) Understanding VC and tech: It's like flying X-Wings into the Death Star.
---
62) Citylab: An audacious case for an ancient building style, the courtyard:
The idea of arranging housing around enclosed central spaces could find fresh applications in crowded urban areas like Manhattan, designers say.
Econ Dev Show Newsletter
Join the newsletter to receive the latest updates in your inbox.