1️⃣3️⃣ Economic Development and Developers in the News
Econ dev news from 26 states and Canada. June 2, 2021 edition.
Table of Contents
Welcome to this week's edition of Economic Development and Developers in the News.  Please forward this to your friends and colleagues in economic development (especially, but not necessarily, those mentioned!)
Podcast
Because of the holiday weekend and the timing of this issue, we have two Econ Dev Show Podcast episodes to tell you about.  (Don't miss another episode, follow/subscribe.)
In Episode #3, Dane spoke to Shad Burner.  Shad made the jump from economic development at a chamber of commerce, to a startup tech company, and then back to economic development for the state of Missouri.
Along the way, he learned not only how to be entrepreneurial, but how talk to entrepreneurs in their own language. He understands what keeps them up at nights, what they care about, and most importantly what they don't care about at all.
In Episode #4 (released yesterday), we talked to Chad Chancellor, CEO and co-founder of the Next Move Group.  
Dane and Chad had a wide ranging conversation, touching on Chad's history and the founding of the Next Move Group, why now is a good time to find an economic development job (and double your salary), whether or not you should take jobs outside the region, and why your EDO needs two podcasts (one for local stakeholders, and another for outside attraction.  Chad even takes a swing at giving you ideas for potential guests and interview questions for your EDO's podcasts.
Assorted Links
We only published four sets of our daily Assorted Links this week, but all four were chock full of that fruity goodness that econ devs love, and the vitamins and minerals that moms (and board chairmen) know build strong mental muscles.  For dessert, we share something awesome that Greater New Orleans sent to site selectors:
In Wednesday's edition we looked at the southwest is America's new factory hub, how the world ran out of everything, and more.
On Friday it was Could the global home price boom haunt COVID recovery, what's up with the "parking lot" off the coast near California's ports, and more.
For Tuesday it was What I'm reading today on housing unaffordability, cosmetics as the new toilet paper, an unappetizing return of Brood X, and more.
And on Sunday, we shared: Apple and the end of the car as we know it, more microchips, corporate relocations, and Kenny McDonald on post-COVID.
We also shared a full look from Matt Wolfe, VP of Brand and Marketing at Greater New Orleans at GNO's insanely relevant gift for site selectors in Mailing Record Players to Site Selectors.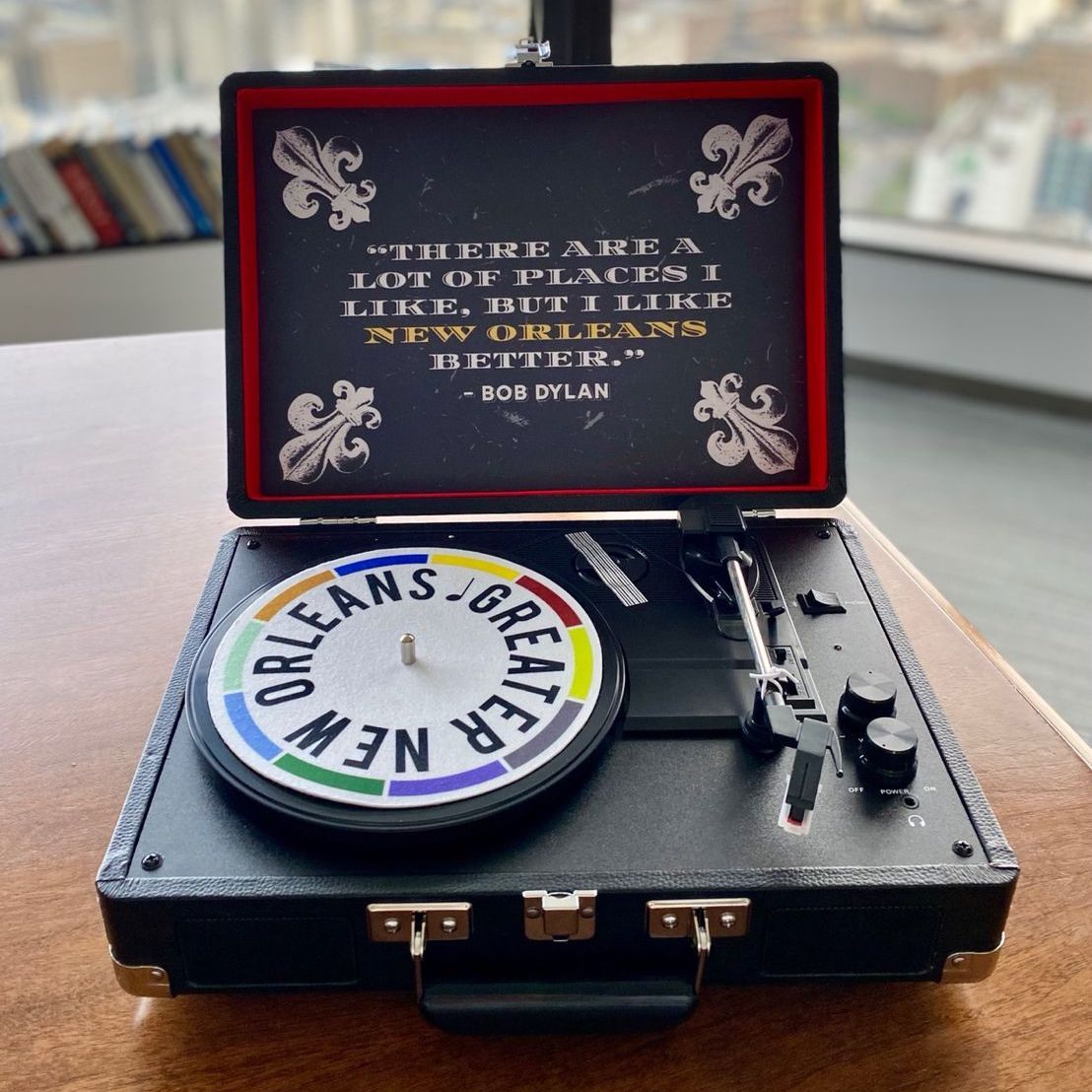 Arkansas
David Keck, building inspector and code enforcement officer for the city of Gravette, recently completed the Mid-South Basic Economic Development Course offered through Arkansas Economic Developers and Chamber Executives. He joined 44 other participants from four different states in the four-day spring program held April 5-8 in Little Rock.
California
Fifteen months after Santa Barbara hired an economic development manager, Jason Harris, the city has released a 27-page economic development plan to rescue Santa Barbara from the financial doldrums.
The California Association for Local Economic Development appointed Tara Schiff, economic development specialist for Mariposa County, to her second term as the Rural Liaison to the Board.  Fun fact: I used to work in the same county with Tara, and there she's experienced a total of fifteen economic disasters in the last 8 years.  I'm not saying that's why I'm not there anymore, but I'd be lying if I said that wasn't a huge part of it...
The startup Bludot's  business retention and expansion platform is designed to further the work of small economic development departments by bringing together various sources of data and enabling what CEO and Founder, Sophia Zheng, called "concierge-like" services to local merchants and other stakeholders.
Colorado
Datadog Inc has chosen Denver for its new Western U.S. hub, a move that will bring more than 400 jobs paying an average annual wage of $122,194, the Colorado Office of Economic Development and International Trade announced Wednesday.
The Grand Junction Economic Development Commission approved Hayden Data for the Rural Jump-Start Program.  Hayden Data created a technology to monitor structural, environmental and operational conditions of infrastructure equipment including utility poles, oil and gas assets and telecommunication towers. The technology helps identify fires and other issues before they become catastrophic events. Hayden Data is the 20th company to be approved for the Jump-Start program in Mesa County and the third this year.
Connecticut
On a virtual drive, in a virtual format, Economic Development Coordinator Kristen Gorski provided an update that highlighted new businesses throughout West Hartford as well as future plans.
Delaware
Delaware River & Bay Authority Executive Director, Thomas J. Cook, released the findings of a recent study of the Cape May–Lewes Ferry and its impact on the local economies of South Jersey and Southern Delaware.
Florida
The grassroots high-tech incubator and co-working space, Groundswell Startups, founded in 2016 in Brevard County by Jenna Reid, Bud Deffebach, Mark Mohler and John Vecchio has already assisted more than 175 fledgling companies and helped 30 of these gain access to more than $50 million in venture capital funds.
Georgia
Meghan Duke, Director of the West Point Development Authority Economic Development Director, was named in 20 under 40 class of 2021. The 36-year-old graduate of the University of Georgia has been with the WPDA for five years and has been working within the economic development community for nine years.
The State of Georgia and the Savannah Harbor-Interstate 16 Corridor Joint Development Authority have been authorized to purchase a 2,284-acre mega-site in Bryan County. The site has access to rail, interstates 16 and 95, and the Port of Savannah.
Indiana
A European can manufacturer has announced plans to build an aluminum can plant in Muncie, making an initial investment of $380 million and hiring 345 workers within two years. (Traci Lutton, vice president of the Muncie-Delaware County Economic Development Alliance)
Ambrose Lester has joined the Economic Development Corporation Michigan City team with the help of Horizon Bank to center on housing initiatives.
Northwest Indiana is now better able to attract people to live there, thanks to some economic development projects that include West Lake Corridor Expansion and the double tracking of the South Shore Rail Line, both of which are rail projects that make it easier for people to work in Chicago and live in Indiana.  Heather Ennis, CEO of the Northwest Indiana Forum said the upgrades to rail transportation will make it easier for commuters to work in Chicago and live in Indiana.
Ivy Tech Evansville and Pike County Progress Partners have announced a collaboration with the Elmer Buchta Entrepreneurship & Technology Center to offer education and training to the area. (Ivy Tech Chancellor Daniela Vidal)
West Central Indiana will take a run at its share of $500 million in economic development money to be distributed by the state.  Mark Wasky, vice president of innovation and strategic initiatives for the Indiana Economic Development Corporation, shared with stakeholders in the west central Indiana region details about the $500 million Regional Economic Acceleration and Development Initiative.
Kentucky
The Economic Development Administration is awarding Pike County Fiscal Court almost $1.9 million in a grant for water and sewer infrastructure. This will serve the new Wolf Pit Industrial Park, part of the region's federal Opportunity Zone.
The Johnson County Fiscal Court has received $35,275 in funding from an economic development grant from Kentucky Power for improvements to the Hager Hill Industrial Site. The grant is funded through the Kentucky Power Economic Growth Grant program. The grant will help with the design and engineering phase of Johnson County's plan to attain a Build-Ready certification for the site.
Massachusetts
Westmass Strives to Become a More Impactful Force in Economic Development: The primary role of the Westmass Area Development Corp. — as the agency recently stressed in a letter to area stakeholders — is to "to manage the entire economic-development process — from conception to completion." (WestMass CEO Jeff Daley)
Michigan
Lakeshore Advantage to host five-year celebration for Surge program: An economic development organization serving Ottawa and Allegan counties will host an in-person celebration of five years assisting local startups.
Several contributors to economic development in Northern Michigan recently received recognition as part of the Northern Lakes Economic Alliance Annual Showcase event.
The Michigan Economic Development Corportation announced two tech projects, Workit Health and Nexient. They are expected to create 279 new, well-paying jobs, and generate a private investment of $27.2 million in the Ann Arbor region.
Mississippi
Pearl River County's new economic development director Lindsay Ward was recently hired to replace Blaine Lafontaine, who left to take a new position with Hancock County Port and Harbor.
The Vicksburg Warren Economic Development Partnership has received a $10,000 Entergy Mississippi grant to help rehabilitate a warehouse at the Port of Vicksburg. Partnership President and CEO Pablo Diaz said the money will be used to paint what is called the May Warehouse at the port, which has already undergone some upgrades.
Missouri
Over the course of three days, a cleanup of the Lulu Heights neighborhood in the City of Wellston is taking place. A demolition crew with heavy equipment including an excavator and skid loader are working alongside volunteers to clear the properties of debris. The properties in the Lulu Heights neighborhood are owned by the St. Louis County Land Clearance for Redevelopment Authority, which is operated by the St. Louis Economic Development Partnership.
New Jersey
Biggins Lacy Shapiro & Company has hired Haley Hop as its newest Site Selection and Incentives Consultant in its Princeton, N.J., headquarters. BLS & Co. provides site selection, incentives advisory, redevelopment, energy and economic development services to clients across the country. Hop's work experience includes positions with the University of Alabama, Garver and BIO Alabama. During her time at BIO Alabama, she coordinated efforts to create the organization's economic development strategic roadmap.
New Mexico
The ABQ Home for Life recruitment campaign is working to bring back former Albuquerque residents and attract more. The marketing initiative, now in 11 cities, is aimed at attracting remote workers and former New Mexico residents and initially focused on Houston, Portland, and Los Angeles when it launched early this year. The City's Economic Development Department, which manages the program, added New York, Dallas, Seattle, Phoenix, Denver, San Francisco, Boston, and Washington, D.C., to the research-driven geographic mix in April, and the results indicate remarkable early success. (EDD director Synthia R. Jaramillo)
New York
Gov. Andrew Cuomo on Tuesday announced the New York Power Authority's board of trustees approved three low-cost hydropower allocations that will create 102 jobs across Western New York and spur $145 million in private capital investments. The approved awards of 3,580 kilowatts of hydropower from the Power Authority's Niagara Power Project in Lewiston are to Americold Real Estate in Chautauqua County, SGS Recovery in Niagara County and Sumitomo Rubber USA in Erie County.
North Carolina
In January some of the Swansboro Board of Commissioners were surprised to learn that the private Swansboro Economic Development Committee existed. (Mark Sutherland, executive director of the Jacksonville-Onslow Economic Development Council)
Madison River Park opened Friday along the Dan River as one of the Southeast's first recreational sites to wed a fish-preserving weir system with a small town's need for a dam and tourism.  Economic development officials here estimate Madison River Park could see about 250,000 visitors annually, which could produce tourism dollars of about $20 million.
Personal finance technology company Credit Karma will invest $13 million to expand in Charlotte with a new high-tech engineering hub, creating 600 with an average annual salary of $156,605. The high-paying jobs are expected to create a payroll impact of more than $93.9 million per year.
The recreational boat manufacturer White River Marine Group will open a manufacturing facility in New Bern after acquiring Hatteras.
The biotech company CARsgen Therapeutics Corporation will invest $157 million to establish its first North American biomanufacturing site in Durham. The investment is expected to create 200 jobs in Durham County.
The personal investing business Fidelity Investments will create a new regional center at its existing campus in Research Triangle Park. The center is expected to create 500 jobs in Durham County.
The aluminum can manufacturer Ardagh Group will invest at least $195 million to expand its facility in Winston-Salem. The investment is expected to create 94 jobs in Forsyth County.
Invitae Corporation: The medical genetics company will invest $114.6 million in Morrisville to build a testing and laboratory facility. The investment is expected to create 374 jobs in Wake County.
The windows and doors manufacturer JELD-WEN Holding will invest $7.9 million to establish a new production facility for VPI Quality Windows in Statesville. The investment is expected to create 235 jobs in Iredell County.
Carolina Coops: The custom chicken coop manufacturer will invest $2.1 million to open a production facility in Butner. The investment is expected to create 147 jobs over three years in Granville County, and up to 500 jobs by 2026.
The food distribution company eGourmet Solutions Inc. will invest $500,000 to expand its distribution center in Wallace. The investment is expected to add 40 jobs in Duplin County.
The Wilkes County commissioners unanimously approved a revised economic incentive policy for companies making significant new investments and/or adding jobs in the county during their May 18 meeting. The new policy adds a method for scoring economic development projects to determine incentives large companies qualify for and also adds new incentives for smaller companies.
North Dakota
The Williston City Commission has approved another round of STAR Fund applications from Williston Economic Development. Economic Development Director Shawn Wenko presented the items to the board at the Tuesday, May 25 meeting.
Ohio
Appalachian Partnership, Inc., Ohio Southeast Economic Development, and Appalachian Growth Capital held a virtual annual meeting Tuesday, May 25, sharing the impact made across Southeast Ohio in 2020 and celebrating the accomplishments of local economic development partners and regional businesses. "I don't have to tell you that the past year has been a challenging time in so many ways," began API and OhioSE Board Chair MarJean Kennedy. "However, what struck me most was the determination and resilience of the business leaders and residents of our region. We can all recount so many stories of struggles and strife, but watching our business leaders — watching you — pivot and adapt to the changing environment is truly inspiring."
Terry Louk, director of SBA lending at Valley Economic Development Partners was joined by Executive Director Teresa Miller and Mario Nero Sr., director of economic development lending, for a webinar on May 20. During the webinar, Louk, Miller and Nero discussed growth strategies for high-risk industries.
Among all of central Ohio's commercial real estate transactions in March, the one for 145 S. Front St. might have raised the most eyebrows. The 200,000-square-foot state office building, empty since 2007, was sold for $3 million.  Instead of a developer, the buyer was the Columbus Partnership, the private, nonprofit collection of the area's most powerful corporations, which announced plans to turn the seven-story building into a mix of offices, retail space and residences.
Peloton Interactive Inc., a manufacturer of popular home bikes and treadmills, has announced plans to build its first U.S. factory in Ohio. Peloton plans to commit approximately $400 million to construct the facility. Peloton Output Park is expected to create 2,174 new manufacturing jobs in Wood County across corporate, manufacturing, assembly and quality assurance positions.
SentriLock, the leading real estate lockbox, showing service, and experience management solution provider, today announced its plans to add 79 new jobs over the next three years, and to invest $4.3 million in the Cincinnati region.
Pennsylvania
Just five years after opening the first LaunchBox, Invent Penn State's LaunchBox and Innovation Hub Network has grown to 21 locations across Pennsylvania. The network has supported 3,325 community entrepreneurs and helped to launch 164 new Pennsylvania companies, develop 247 new products, and create 194.5 jobs.
Tennessee
Nine Whataburgers are coming to middle Tennessee! (Gallatin's Economic Development Agency Special Projects Coordinator Rosemary Bates)
Texas
A new 150-acre beachfront RV resort is slated to open in Crystal Beach on the Bolivar Peninsula, east of Galveston Island. This resort will expand the boundaries and redefine the experience of RV'ing on the Texas Gulf Coast, said Brad Ballard, founder and developer of the Bolivar Beach Club & RV Resort. "We want to modernize the RV industry and at the same time create a sandy hideaway for our guests to kick back, put their toes in the sand, have a cold drink and enjoy the beach with family and friends." (Dane Carlson)
Governor Greg Abbott announced that the City of Mont Belvieu has completed the multi-step training and certification process, and has been designated as a Film Friendly Texas community by the Texas Film Commission, which for 50 years has helped to grow local jobs and economies.
The Lubbock Economic Development Alliance, gave the public a sneak peek at new local jobs and something it called a huge investment on Tuesday.  Four companies in Lubbock will be creating over 500 jobs, and an investment of $11.4M into the city's economy, according to a news release. The names of the businesses have not yet been released, but a press conference will be held regarding them soon by CEO and president of LEDA John Osborne.
Members of the New Braunfels Economic Development Corporation board last week unanimously approved a plan that will help design a portion of the Dry Comal Creek Hike and Bike Trail as well as one that will keep the city's small business center up and running.
The Dallas City Council passed its new Economic Development Policy. The Policy will begin with a one-year transition period by which the City of Dallas will put in place processes and infrastructure to support the decade-long Policy implementation.
Utah
While the COVID-19 pandemic was expected to be economically detrimental to communities across the country, the future opening of a major arms manufacturer in St. George shows that was not the case for Cedar City. (Economic Development Director Danny Stewart)
Twenty southern Vermont emerging leaders were recognized on May 12th during day one of the Southern Vermont Economy Summit.
Vermont's creative sector is organic fertilizer for all other sectors: In the past year, we've seen our communities, leaders and changemakers work together to support Vermont in crisis. We saw arts centers converted to mask-making facilities, school cafeterias operating as food banks, and our own households repurposed as classrooms. Every sector of Vermont — from arts to health care, education to industry — applied versatility and innovation to bust out of their silos and leverage varying assets toward collective achievement. (Jody Fried)
Virginia
Bedford County marked National Economic Development Week from May 9-15 to celebrate the contributions and dedication of economic developers and explain the role of the profession in the local and regional community. (Traci Blido, Bedford County Economic Development director)
Earlier this month, Arlington Economic Development took part in National Economic Development Week, which celebrates the positive contributions that the profession of economic development makes on localities, regions and states across the United States. (Adam Henry)
Shirley Dodson, business and community development manager in Winchester's Economic Development Department, has resigned to accept a position with the Virginia Economic Development Partnership (VEDP) in Richmond.
How Richmond AI startup EDai plans to support economic growth: Sean Brazier, like many entrepreneurs, had an "Aha!" moment that led to the creation of his startup. That moment came after Braizer led the development of the 900-page second-round proposal to convince Amazon to select northern Virginia as its second headquarters location.  To pull together the necessary data, then tell a compelling story to convince Amazon to build its HQ2 project in Arlington, had been challenging. "What if," he wondered, "there was an easier way?"
West Virginia
Following 18 months of work, officials from the Wheeling area and West Virginia University unveiled the Wheeling Area Strategic Action Plan for Spring 2021 on Thursday that focused on ways to spur economic development in eight local counties. (Michael Dougherty Extension Professor with WVU Extension, and Eric Bowen, a Research Assistant Professor at WVU BBER)
Wisconsin
Oneida County Economic Development Corporation is hosting a summit to support businesses. "I think the folks that suffered the most are small businesses, particularly service type businesses where that personal contact was important. As we're coming out of the pandemic, what we're trying to do is just how do we support them," said Jeff Verdoorn, Executive Director of the Oneida County Economic Development Corporation.
---
Canada
Manager of Economic Development, Mary Lee Prior, snagged the prestigious title of Alberta Economic Developer of the Year. This award is given to someone who has made significant contributions to economic development within their community and as well Alberta.
NioBay Metals Inc., a company focused on Environmentally, Sustainable, Governance, and Indigenous  compatible metals exploration, development and deployment is pleased to congratulate the Company's colleague and Director, Dawn Madahbee Leach, for her appointment as the new chair of the National Indigenous Economic Development Board.
The Village of Burns Lake's Economic Development Officer left the village last week. Lorie Watson, who served for a little over two years, resigned earlier this month and will soon be moving to Alberta.
Will George, Manager of Communications, Tourism and Economic Development, is saying farewell to the City of Merritt after more than five years at City Hall.
---
Mailing List
Thanks for reading.  Please subscribe to our mailing list for weekly updates.
Submissions & Corrections
If you have any submissions or corrections, please reach out.
Finally
Please forward this to your friends and colleagues in economic development (especially those mentioned!)
Econ Dev Show Newsletter
Join the newsletter to receive the latest updates in your inbox.