Newly CEcD Certified
Congrats to the follow economic developers who passed their CEcD exam in March 2021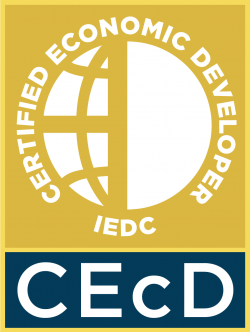 Table of Contents
Congrats to the follow economic developers who passed their CEcD exam in March 2021:
Alex Gonski, Ashburn, Virgina.
Ashley Gossen, San Antonio, Texas
Ashley Pringle, Portland, Maine
Clint O'Neal, Little Rock, Arkansas
Cody Mosley, Oklahoma City, Oklahoma
Derrek Jerred, Cheyenne, Wyoming
Devin Harrison, Baton Rouge, Louisana
Evan John Williams, Gallup, New Mexico
Greg Caffey, Alton, Illinois
Isabella Nunez, Largo, Florida
Jeff Borling, Maple Grove, Minnesota
Jennifer Marsh, Rochester, New Hampshire
Jessica Inacio, San Antonio, Texas
Jessica Reynolds, Baltimore, Maryland
John Bristol, Steamboat Springs, Colorado
John Hall, Ames, Iowa
John Hendrix, Choctaw, Mississippi
Joseph Collins, Norwood, Massachusetts
Karl Dye, Kennewick, Washington
Leslie Dingmann, St. Cloud, Minnesota
Marcus Dufour, Vicksburg, Mississippi
Nicole D'Souza, Austin, Texas / Concord, California
Patrick Pierce, Clayton, North Carolina
Rebecca Naragon, Nashville, Tennessee
Sabina Mora, Mountain View, California
Shad Burner, Jefferson City, Missouri
Sheena Bryant, Haughton, Louisana
Zachary Barker, Colorado Springs, Colorado
Econ Dev Show Newsletter
Join the newsletter to receive the latest updates in your inbox.